Images of a Vanished Chicago
Chicago Public Library, Special Collections, SPP, Box 46, Folder 6  
Chicago's Stanley Paul and New York's Peter Duchin, two popular 20th century American orchestra leaders in 1966.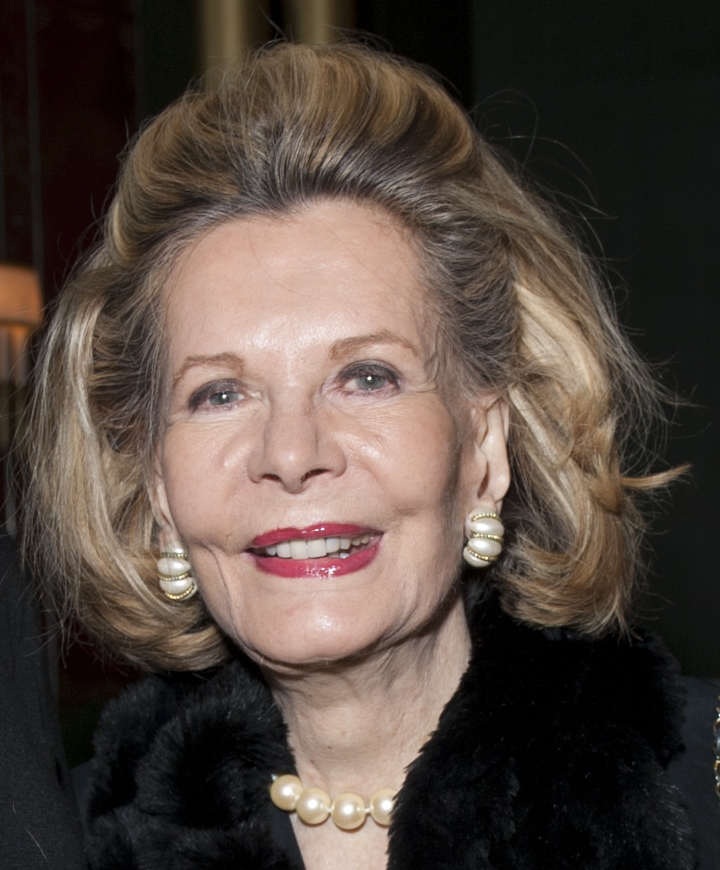 By Megan McKinney
Stanley Paul has been at the center of Chicago's entertainment and social life since December 1964, when he arrived in the city from New York to lead the Pump Room orchestra. There he rapidly became a favorite not only of film stars stopping at the Ambassador East Hotel between trains from Los Angeles to New York and back but also of the Chicagoans who were attracted by the Pump Room's Hollywood glamour.
Chicago Public Library, Special Collections, SPP, Box 46, Folder 4 Photographer: Fred Krueger  
Ernest Byfield with Hollywood's Gloria Swanson.
The dazzling environment in which Stanley so immediately became immersed had been Chicago's epicenter of glamour for a quarter century when he entered it. The legend began in 1938 when hotelier Ernest Byfield created the Pump Room, a sleek restaurant/night club in his Ambassador East Hotel and skillfully populated it with some of the world's most glamorous diners.    
Film stars traveling back and forth between New York and Los Angeles did so by train, and very elegantly. They would be ticketed for a cross-country Pullman drawing room, compartment or roomette, which would be switched from one luxurious rail line to another in Chicago. Those traveling from east to west would board the New York Central's 20th Century Limited at Grand Central Station before 6 p.m. and arrive at Chicago's LaSalle Street Station at 9 a.m. the following day.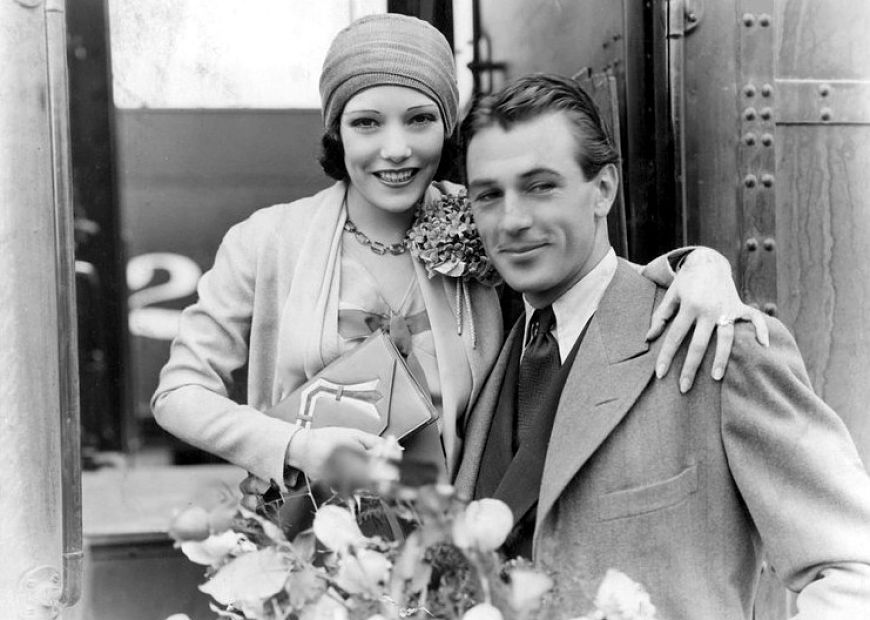 The Mexican Spitfire Lupe  Vélez between trains with Gary Cooper.
Ernest Byfield sent limousines to meet appropriate trains as they pulled into Chicago stations, and traveling stars were then whisked to the Ambassador East, where—after freshening up in courtesy suites—they would board elevators down for lunch in The Pump Room. Following a three- to four-hour layover, the remainder of the journey would be made on the Santa Fe Railway's Super Chief, leaving from the Dearborn Station, to which the Los Angeles-bound car containing the star's Pullman suite with his or her luggage, had been re-routed. The Hollywood to New York trip reversed the process, but always there was The Pump Room between trains—and sometimes longer.
Joan Crawford and her new husband, Pepsi-Cola CEO Alfred Steele at their honeymoon breakfast in The Pump Room.
Stanley Paul added playing for the city's growing number of gala benefits and other social events to his Pump Room duties. Always with a sense of history and his role in it, he systematically accumulated every picture, invitation and party program associated with these events to add to a growing collection of press clippings, and, in 1991, he began donating them to the Chicago Public Library Special Collections at the Harold Washington Library Center. There they rest today for current and future students of the city's popular culture, as well as for those who simply wish to experience a recent past of joy, fun and colorful personalities.
Chicago Public Library, Special Collections, SPP, Box 47, Folder 1
A trio of mid-century Chicago celebs: Irv and Essee Kupcinet with Stanley.
Chicago Public Library, Special Collections, SPP, Box 46, Folder 16
Stanley with Gloria Swanson . . .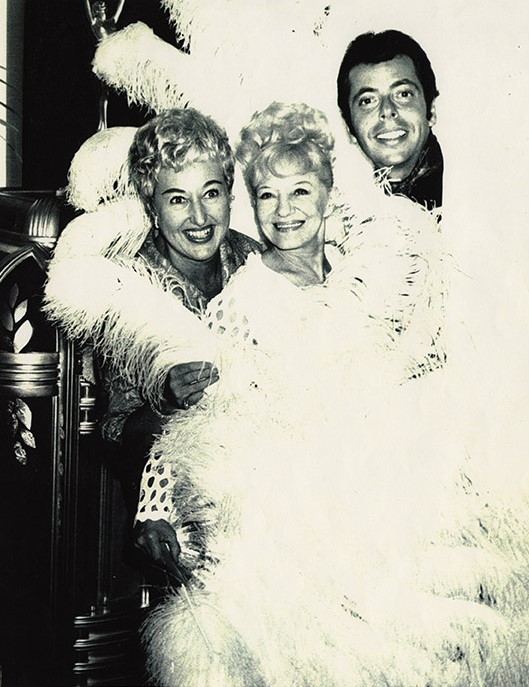 Chicago Public Library, Special Collections, SPP, Box 46, Folder 8
Or with Pump Room publicist Lucia Perrigo, left, and Sally Rand in 1968 . . .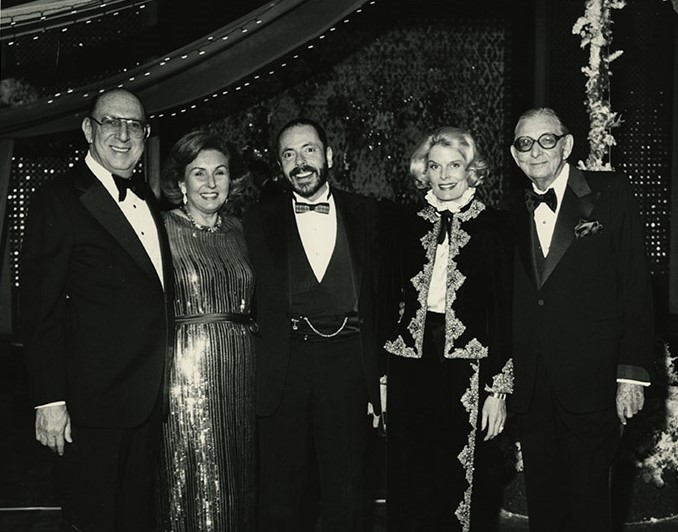 Chicago Public Library, Special Collections, SPP, Box 46, Folder 27, Paul Hansen Photography
And with Mr. and Mrs. Bernard Mitchell, left, and the Arthur Rubloffs . . .
Chicago Public Library, Special Collections, SPP, Box 47, Folder 14, Photographer Linda Matlow/Pix Int'l
Or, more recently, with Victor Skrebneski and Donna LaPietra.
If nothing else, the collection would provide an opportunity to view Stanley's evolving appearance through the decades. There is also the evolving appearance of the Ambassador, including the long-gone Greenery, which was in the hotel's basement in the 1960s and '70s.
Chicago Public Library, Special Collections, SPP, Box 49, Folder 10
The Greenery.
A sample of the extraordinary nougats tucked away in The Stanley Paul Papers.
Chicago Public Library, Special Collections, SPP, Box 48, Folder 12
Another surprise photo of Frank and Nancy Klimley with Preston Robert Tisch and a horse.
And who among our readers has spent enough time on this earth to remember Jack Webb, far right, as Sgt. Joe Friday in early television's Dragnet?
Finally, we offer an extended montage of some of the many clippings from Stanley Paul's long career.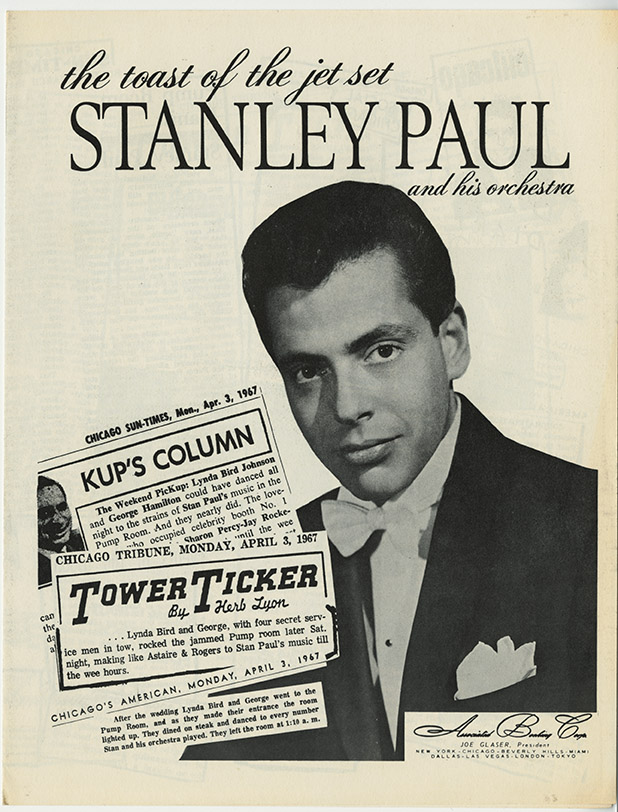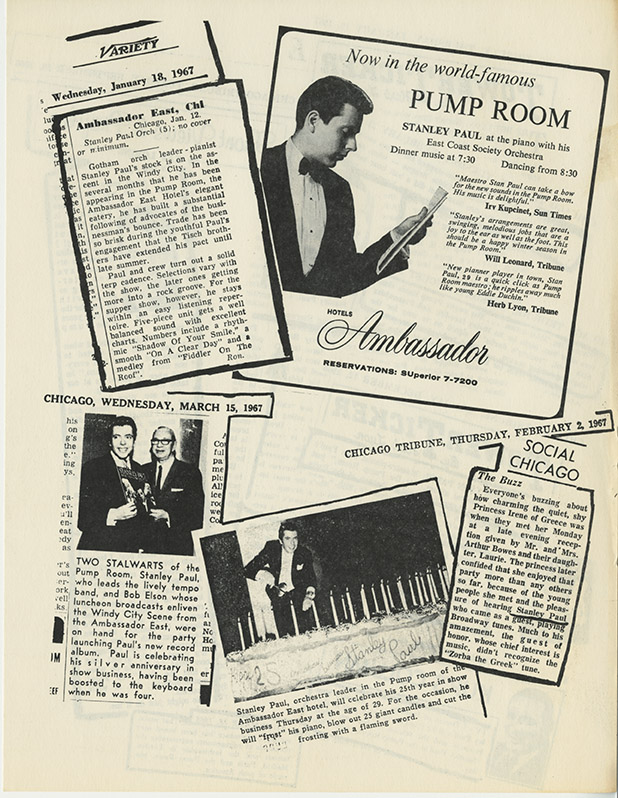 This post is just the beginning. Classic Chicago discovered wonderful treasures tucked away within The Stanley Paul Papers. Following several sessions perusing Stanley's papers at the Harold Washington Library with Special Collections Senior Archivist Morag Walsh, we found images with which we will return during the coming season. You may find friends, acquaintances or even yourselves in features based on these photographs and programs later in the fall and during the winter.      
Author Photo:
Robert F. Carl