Hosts The 43rd General Assembly
By Brian D. White
The cream of the Hereditary Society and Social Register world showed up in droves to celebrate the 43rd General Assembly held this past June 9th – 12th in Chicago.  The Society of Colonial Wars in the State of Illinois'- Governor – Edward K. Rutledge was thrilled to welcome over 250 Warriors and Guests on hand to honor outgoing Governor General Myron Harrington Jr. (from the National Society) and to welcome incoming Governor General Charles Neuhauser at one of our finest club's spectacular rooftop terrace with live Calypso, flowing cocktails, gorgeous flowers (from Bunches) and sumptuous buffets of  Maryland crab cakes, New York Strip steak and  Mini waffles with fried chicken along with the most exquisite hors d'oeuvres imaginable.  Guests arrived from all over the country, including , attendees from NY, Palm Beach, Rhode Island, Charleston, Savannah, Virginia & other states, to see each other as they do every year for this highlight that connects old and new friends annually in an alternating host city- each rolling out the red carpet for their esteemed guests.  The Welcome Reception chaired by Edward Rutledge along with Alexander Jacobs and Ryan Ruskin –set the tone for a spectacular 4 days & kicked things off splendidly!
| | |
| --- | --- |
| (L to R) Brian Kearns & Rodger Owen as "Captains of Transportation" directing guests to and from various venues xxxxxxxxxx | (L to R) Barden Brown, Jr. (GA) & Mary Elizabeth Brown with Karen & Marvin Campbell (AL) on the Spectacular Private Club Rooftop xxxxxxxxxxxxxxxxxxxxxxxxxx |
(L to R) Sumner Anderson (NY), Suzette Brading (GA) with Andrea Vincent at the Welcome Reception

xxxxxxxxxxxxxxxxx

View of the guests & skyline from the Welcome Reception for over 250 guests coming in from all over the country

xxxxxxxxxxxxxxxxxxxxxxxxxxxxxxxxxxxxxxxxxxxxxx
| | |
| --- | --- |
| (L to R) Billy Bitting (MO) with 43rd General Assembly Co-Chairman Brian D. White xxxxxxxxxxxxxxxx | Kent Arnsbarger providing a cool, tropical vibe with his Calypso Drumming xxxxxxxxxxxxxxxxxxxxxxxxxxxxxxxxxxxxxxxxxxxxxxxxxxxxxxxx xxxxxxxx xxxxxxxxxxxxxxxx |
The 43rd General Assembly (which was 3 years in the making) was co-chaired and organized by Brian D. White and Robert L. Burell along with the invaluable support & dedication of 30 other IL Warriors serving on the "Host Committee" and featured luncheons & dinners at our city's finest Private Clubs, as well as exciting tours of our city's top cultural destinations including The Chicago Architectural Foundation's Boat Tour, our own curator and docent, lead private tours of The Art Institute of Chicago and a look at the private collections of The Newberry Library.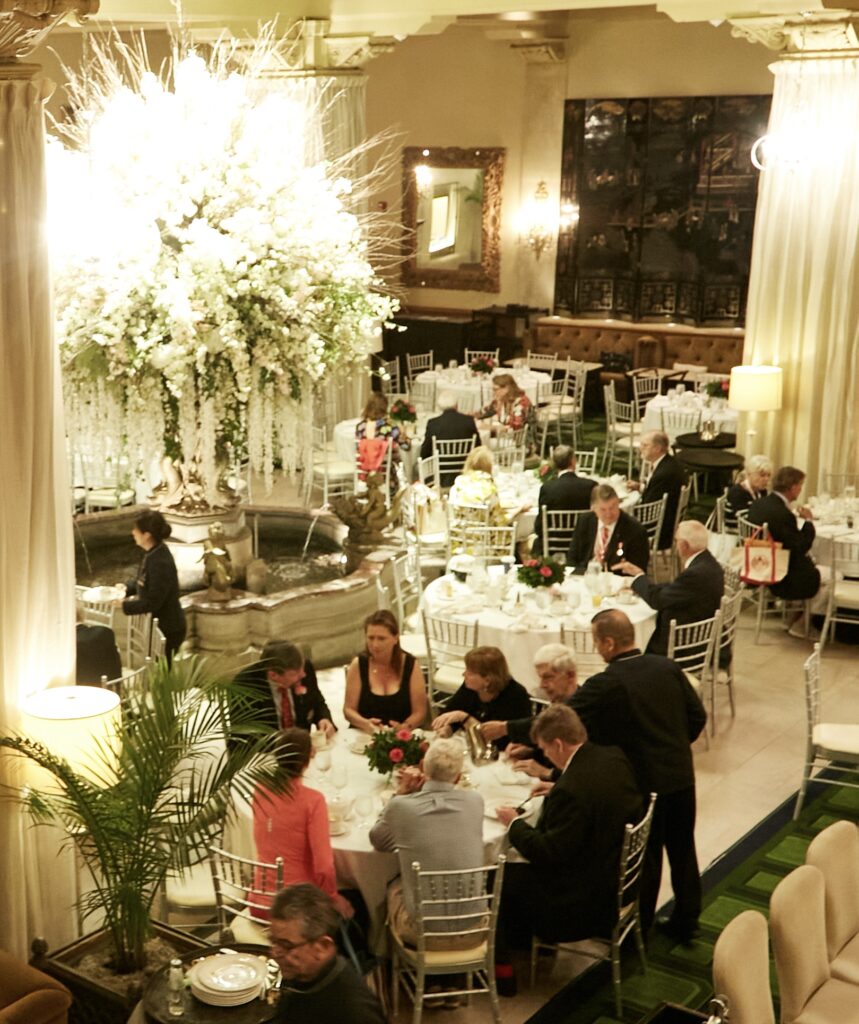 Gourmet breakfast buffet served each morning in The Palm Court of The Drake Hotel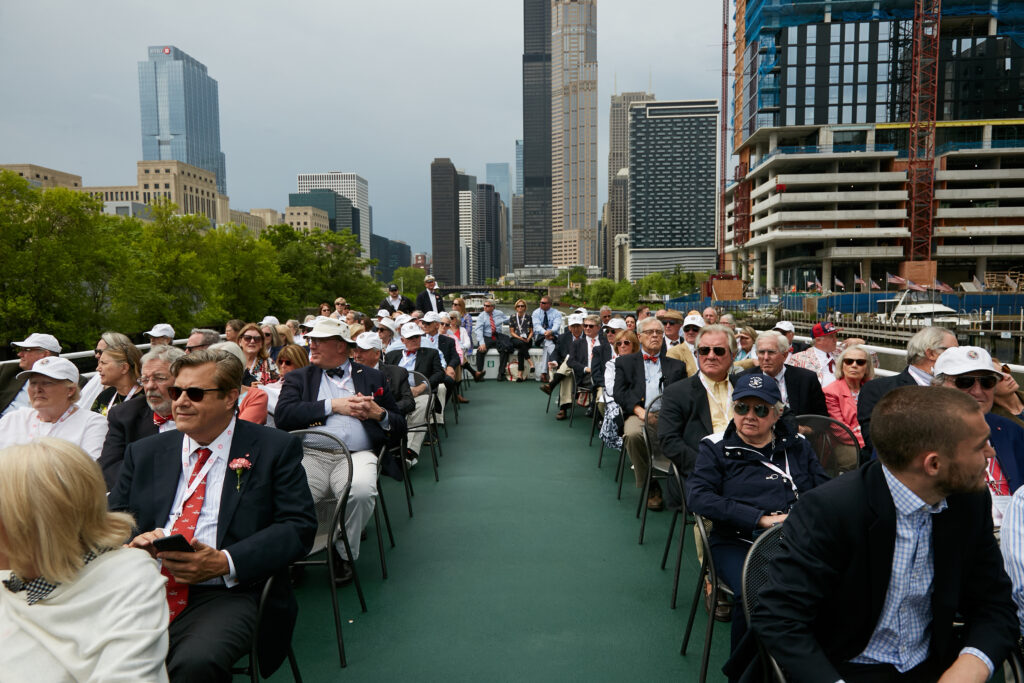 Architectural Boat Cruise along the Chicago River
Guests stayed at The Drake Hotel- the legendary Benjamin Marshall masterpiece which opened its doors on NYE in 1920 – right on East Lake Shore Drive & overlooking Oak St. Beach were treated to a gourmet breakfast buffet in The Palm Court each morning.  The Warriors also held their morning business meetings there, while the ladies and guests toured the historic Prairie Avenue Glessner House, 2nd Presbyterian Church & the Henry B. Clarke House – then continued on to a Private Club for the ladies lunch where Celia Hilliard gave a fascinating & insightful talk about the Club's history & founding members at a luncheon chaired by Angie Euston – along with other members of the "Ladies Committee"  Barbara Linville, Jean Perkins, Coco Burell and Mary Carter.
| | |
| --- | --- |
| (L to R) Barbara Linville, Jean Perkins, Angie Euston, Coco Burell and Mary Carter at the Ladies Luncheon. | (L to R) Allison Brokaw, Liz Chalmers, Julia Jackson and Courtenay Wood at the Ladies Luncheon |
Table Setting & flowers by "Bunches" at the Ladies Luncheon
The men's lunch, chaired by Leland E. Hutchinson, was held in another Private Club where bloody bulls were served upon arrival (much richer flavor with a shot of bouillon added!) with guests there treated to a program by Andrew Roberts, in from the UK, on his recent book "The Last King of America".  Mr. Roberts was presented the 2022 Distinguished Book Award by The Society of Colonial Wars.  An extraordinary lunch with wine pairings – a Torchon of Foie Gras, Roasted Quail Veronique, Camembert cheese course and petit Fours was served, prompting  Jonathan Yates (in from Charleston) to observe "The men's lunch at (the private club) had some of the finest food served in ANY club I've ever had."
| | |
| --- | --- |
| (L to R) Leland Hutchinson, Philip May, featured speaker- Andrew Roberts (UK)  and Robert L. Burell at the Men's luncheon. xxxxxxxxxxxxxxxxx | (L to R) The Right Rev'd Robert Todd Giffin (MO), Will Forbes (PA), Tom Bitting (MO) and Scott Shiland (NY) xxxxxxxxxxxxxxxxxxxxxxxxxxxxxxxxxx |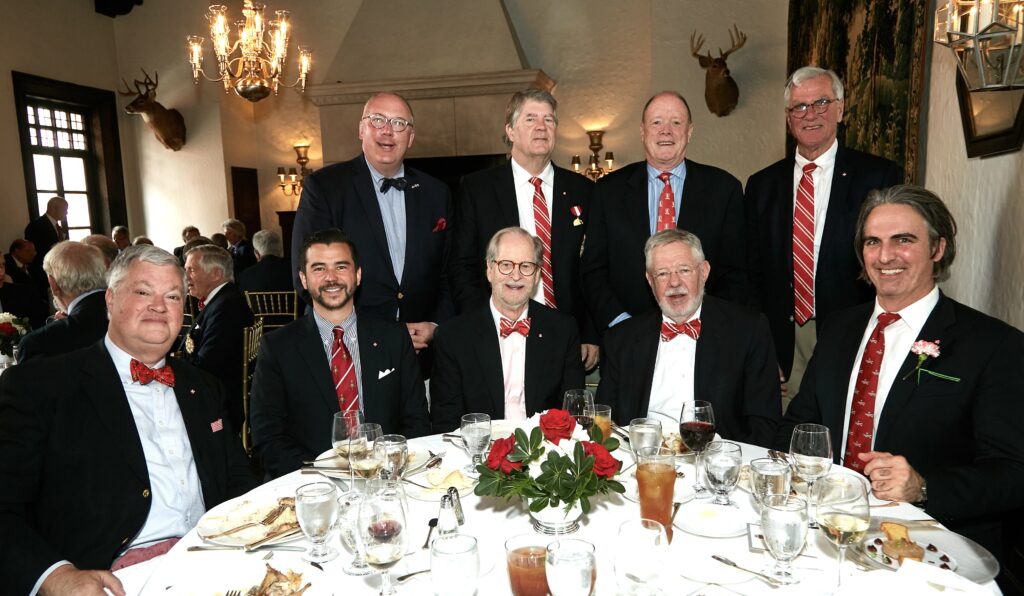 (L to R) seated- Gregg W. Hawes (MD)  Ryan J. Woods (MA), Glenn M. Davis (NC), James Winn (MD) and Warner Boutin with -(L to R) standing- Ian Montgomery (NY), Daniel McKelvie (CA)  , Franklin Wyman (DC) & Irving Sheldon (RI)
That night was a Southern Barbecue – Dinner Dance at our very own Country Club in the City, chaired by Todd D. H. Schwebel, which showcased "Old Illinois" with re-enactors on the lawn from Fort de Chartres, Illinois' colonial gem on the shores of the Mississippi River, to authentic corn fritters (Todd's grandmother Alice's recipe) dusted with powdered sugar, Ambrosia salad with pecans, whole roasted pig, sweet corn Succotash, buttermilk fried chicken finished with buttermilk pound cake & assorted fresh berries with whipped Chantilly cream.  The best Chicago Blues dance music was provided by Lynne Jordan & The Shivers– it was a night to remember that made Illinois proud!  No detail was overlooked down to the lavender infused hand "cooling towels" presented on silver trays with fresh lavender following the dinner.
 Re-enactors on the lawn from Ft. de Chartres- our Colonial gem on the shores of the Mississippi River
| | |
| --- | --- |
| Todd D. H. Schwebel Chairman of the Country Club dinner dance | (L to R) Shelby Carr & Schuyler Neuhauser (NY) |
To quote a visiting guest– Betsy Akers (Mrs. Calvin S. Akers) in from Georgia – "Every detail was thought out to perfection- from the rooftop opening evening, to the wonderful barbecue with that great band (we danced as if we were still in college!) to the grand finale with Alex Donner at the fabulous (Private Club) – I can't remember when I have EVER had such a great time!!!"
Evening Dinner Dance on the terrace with the stars & moon above
| | |
| --- | --- |
| (L to R) – seated- Bill Parke, William Fox, Elizabeth Nemeth, Cab Morris and Mary Carter with (standing L to R) Louie Margaglione, Martin Starr, Eugene Ballantine and Allen Carter. xxxxxxxxxxxxxx  | (L to R) – seated- William Hamm IV (PB, NY) , Alex Donner (PB,NY) , James M. Kinney, Renee Anderson and Peter Knowles (PB, VA)  &  with (standing L to R) Ann Carol Hamm,  Annette de Lorenzo, Brantley Knowles, Brian D. White and Sumner Anderson (PB,NY) |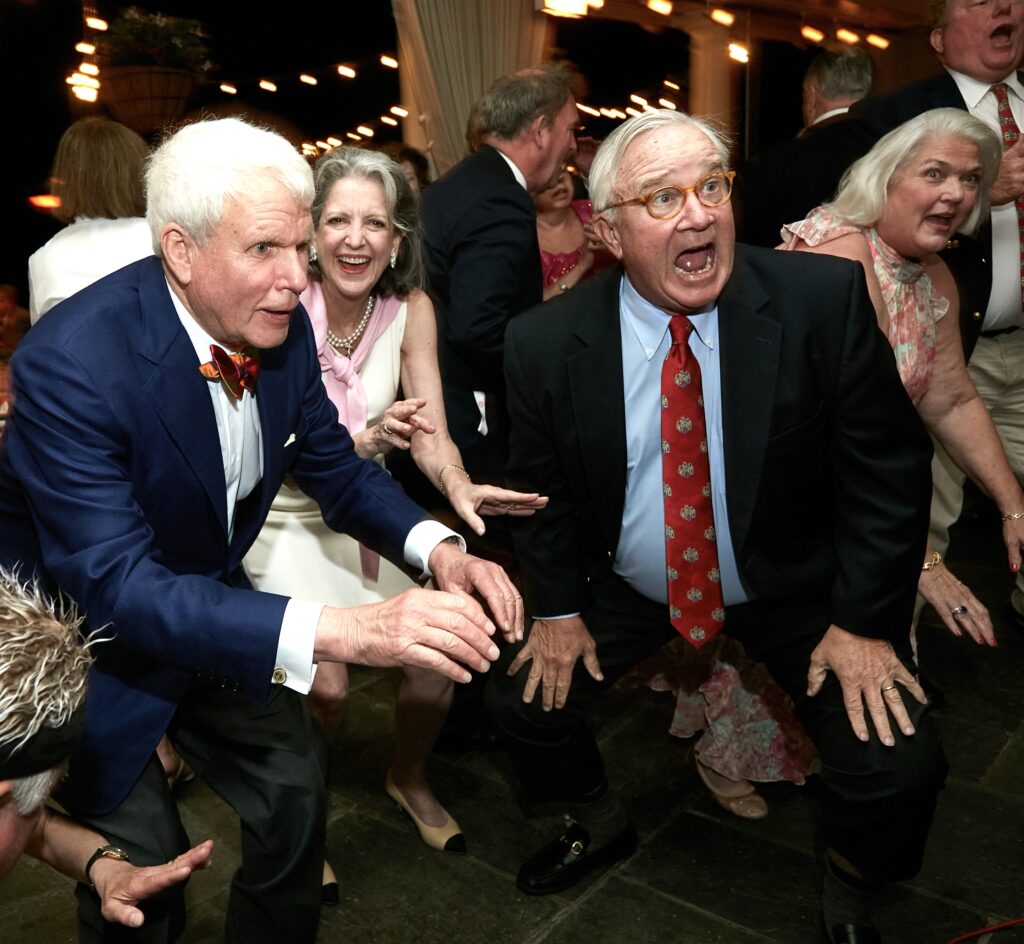 "Getting Down" to the grooves of the FABULOUS Lynne Jordan & the Shivers
Also mentioned by a most distinguished guest from Palm Beach & Virginia: "I have been fortunate to attend SCW events with my husband for nearly 20 years.  The recent (2022) Society of Colonial Wars 43RD General Assembly held in Chicago was a triumph!  The club venues were non-pareil, and every attention to detail was perfection. This event will be chronicled as one to be remembered in The Society of Colonial Wars history." Brantley Carter Bolling Knowles  (Mrs. Peter I. C. Knowles, II) – PG Order of the Crown of Charlemagne and Past PG Colonial Dames of America.
Saturday morning the ladies & guests enjoyed a Private Tour of the famous Lathrop House (built in 1892 also known as the Bryan Lathrop House)- another jewel of a private club built in the Georgian style, followed by a tour of the private collections at The Newberry Library.
Then ALL gathered at another imposing private club in their Cathedral Hall, chaired by Louis Margaglione and Noel Jackson, as guests were greeted by the Warriors Bagpiper, bloody mary's & mimosas – with a wonderful program by Pulitzer Prize winning author Alan Taylor on "The Settling of N. America".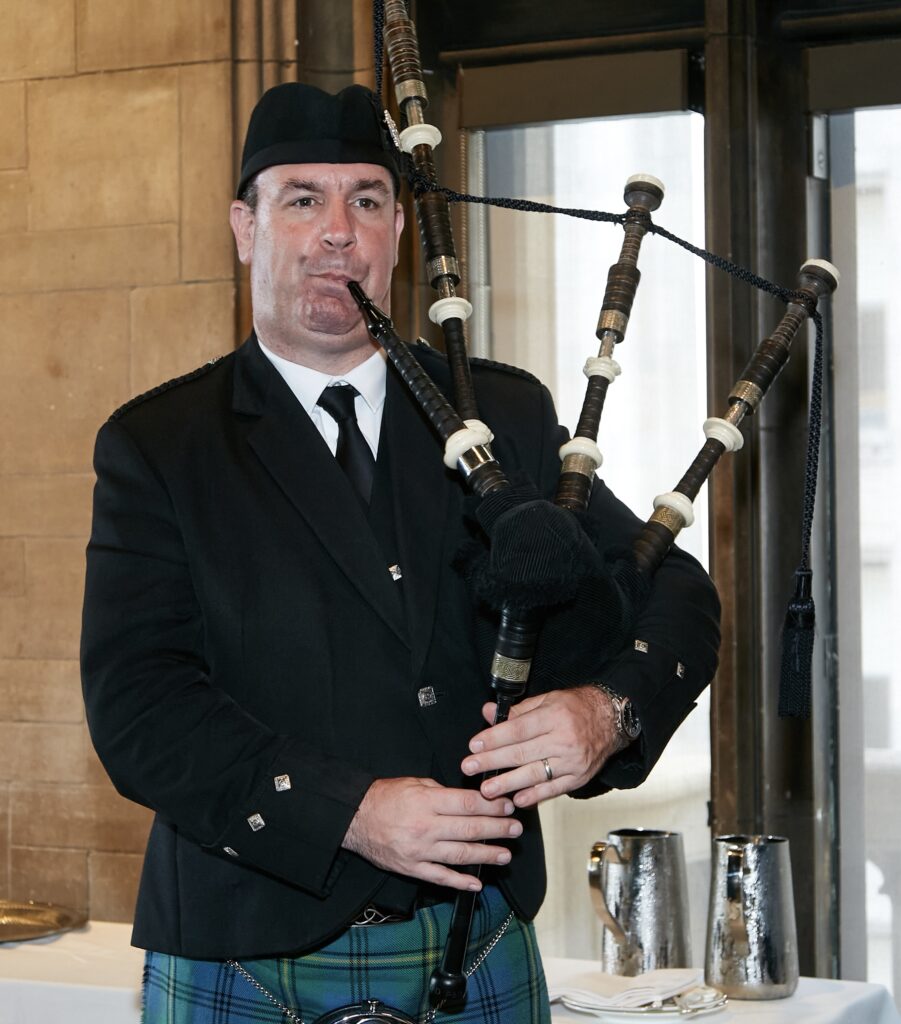 Bagpiper leading the way into Cathedral Hall.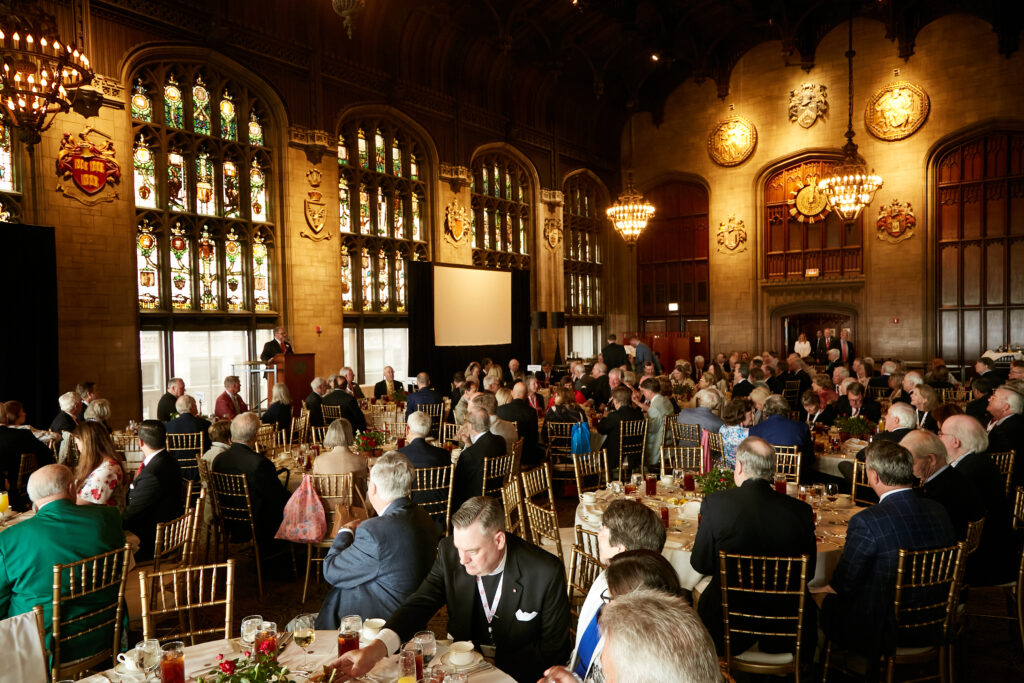 Gorgeous Room in a Private Club in Chicago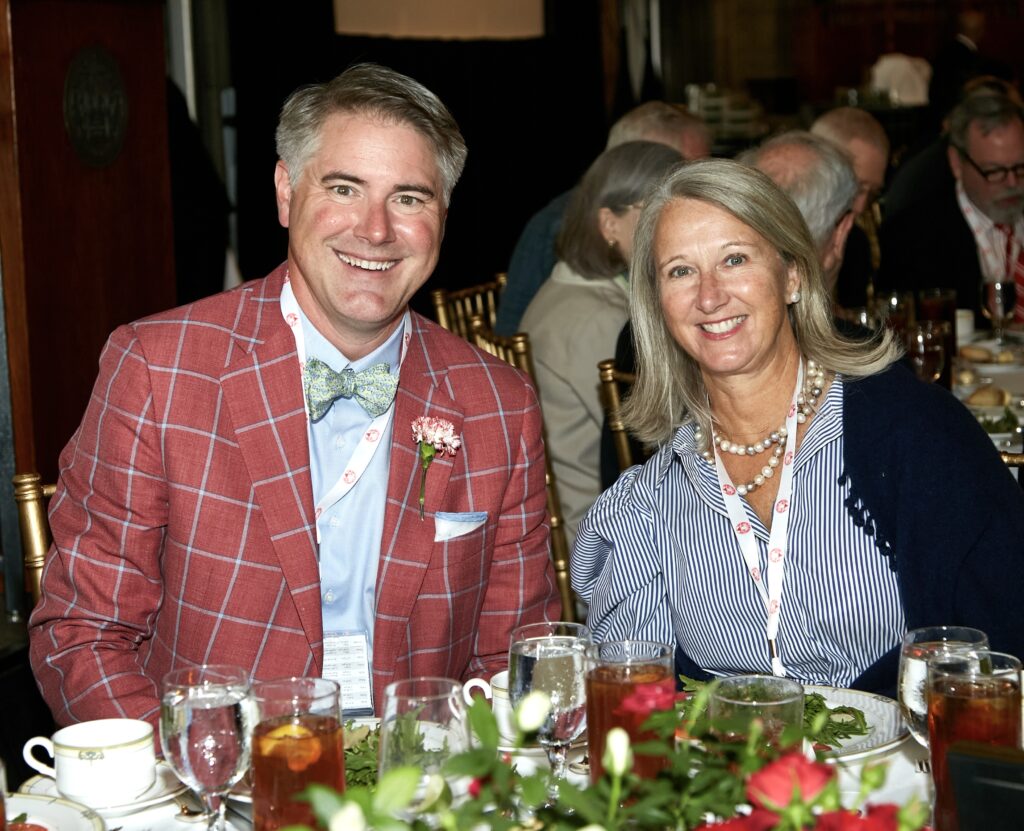 (L to R) Edward K. Rutledge – IL Governor of the Colonial Warriors with Kate Rutledge
That evening, the highlight of the week's activities – was the GLAMOROUS – White Tie (and yes…..medals are always de rigueur in the Hereditary World whether Hereditary, Military or Chivalric) dinner dance held at a Private Club co-chaired by Brian D. White and Edward K. Rutledge featuring The (incredible!) Alex Donner Orchestra.
(L to R) Charles Neuhauser (NY) – new Governor General of the National Society, The Hon. Alan Gogbashian – British Consul General to Chicago, Coco Burell, Robert L. Burell (43rd General Assembly Co-Chairman), James M. Kinney, Lili Neuhauser and Brian D. White (43rd General Assembly Co-Chairman & Gala Co-Chairman)
| | |
| --- | --- |
| (L to R) Myron Harrington (SC) Immediate Past Governor General of the National Society with Tobin Richter | (L to RO Diane Montgomery(NY) with Will Forbes (PA) (background) and John (partially obscured) &  Deana Booker (KY) |
(L to R) Megan Marquardt & Edmund H. Lester – Deputy Governor General for the State of IL
Starting off with cocktails & hors d'oeuvres the club guests mixed & mingled throughout the Art Deco, Regency and Empire masterpiece with some of the most beautiful rooms EVER created- (to Quote Alex Donner "The (private club) is our FAVORITE BALLROOM in the world….…..next to Versailles")  then entered the ballroom to the sound of "Midnight, the Stars & You" my favorite hauntingly elegant song- (Ray Noble 1920's London – done to perfection by Alex Donner!)  followed by a Welcome by our General Assembly Co-Chairmen:  Robert L. Burell and Brian D. White– who said how honored they were for Chicago to host our General Assembly and how delighted we were to have such a strong turnout with our MOST important members from around the country in attendance.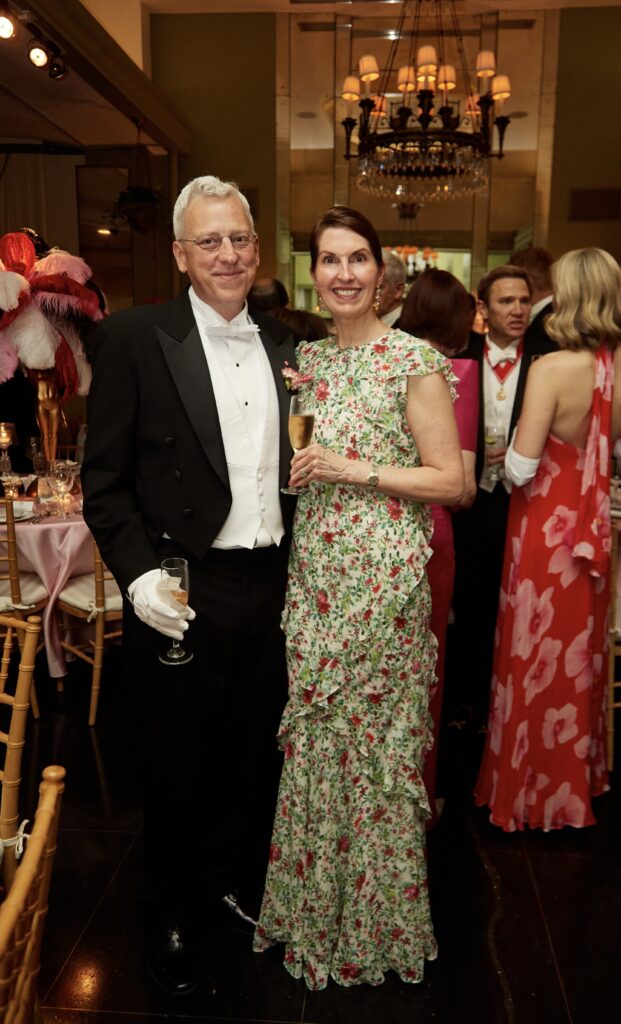 (L to R) Doug and Liz Chalmers
(L to R) Eugene Gordon Hay, V (SC), Eva Ravenel, Mary Elizabeth (SC), Darren & Heidi Guillot (DC), Mikell Scarborough and Genny Hay at the Gala Dinner Dance featuring The Alex Donner Orchestra.
 The "Presentation of the Colors" by the Navy Honor Guard, Naval Station Great Lakes, IL
To quote (myself) at the Gala "I will confess- when I approached the manager of the club some 3 years ago I told her this group & gala was even MORE important to me than the Gala dinner dance I had just chaired for 300 at the club for HRH Prince Edward for the Duke of Edinburgh's International Award, USA….AND I MEANT IT!! ….. And nothing….even a Pandemic…..was going to stop us!"
Governor Edward K. Rutledge then continued the evening with the Presentation of the Colors, given by the Navy Honor Guard, Naval Station Great Lakes, Illinois, Procession of the Flags, (where each state Society honors their most distinguished member), an Invocation given by The Right Rev'd Robert Todd Giffin, the Broken Arrow Ceremony (honoring those we've lost) and then the  Governor General's Address given by Honorary Governor General Myron Charles Harrington, Jr and Governor General Charles William Neuhauser.  In between courses, the crowd flooded onto the dance floor with Zack & Violet Sudler leading the charge in between every course of Lobster Bisque, Rack of Lamb and of course…..Baked Alaska!  Later in the evening formal toasts were made including one by The Hon. Alan Gogbashian, British Consul General to Chicago, who started off with a Proclamation from Dame Karen Pierce, The British Ambassador to the US, on behalf of Her Majesty, Queen Elizabeth II, congratulating the Society of Colonial Wars on its successful General Assembly.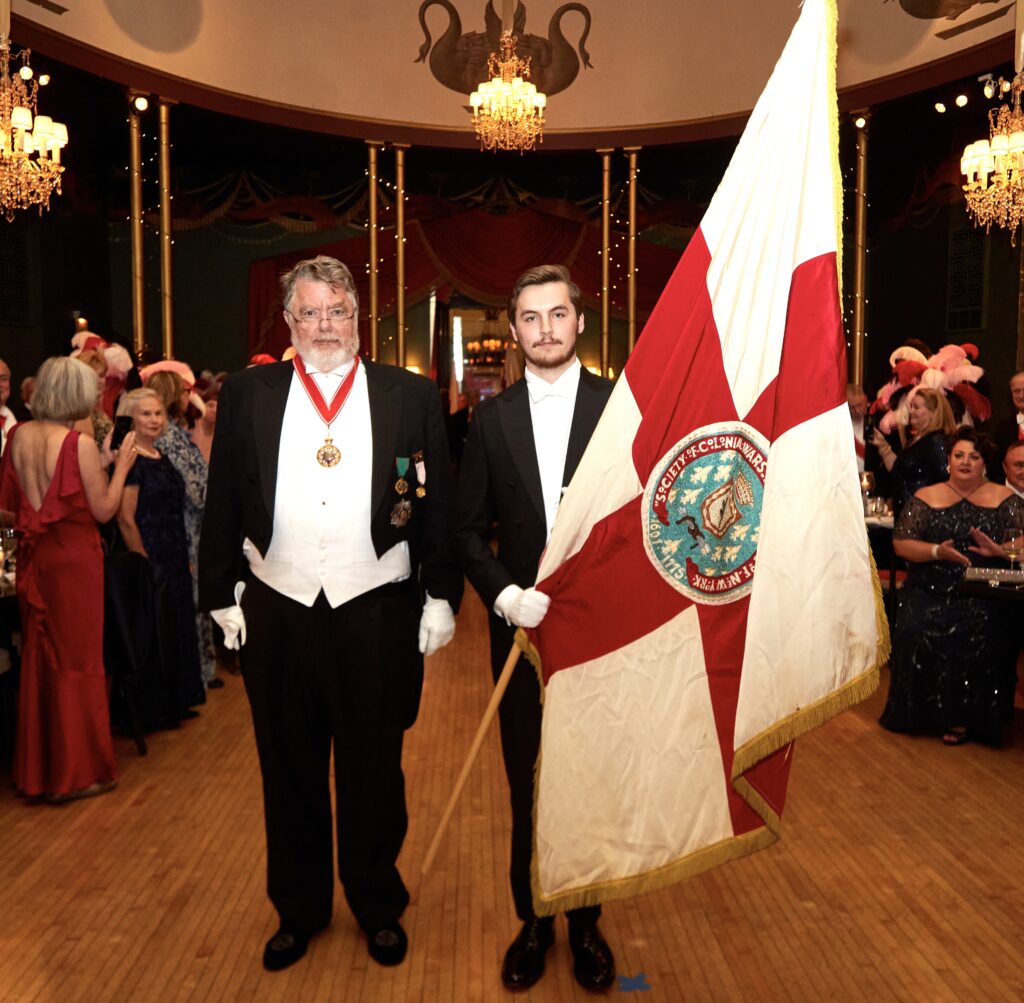 (L to R) NY State Honoree during the Presentation of Flags- Steven Madsen with Flag Carrier Schuyler Neuhauser
| | |
| --- | --- |
| (L to R) Violet & Zack Sudler dancing the night away | The INCREDIBLE – Alex Donner & His Orchestra |
Dancing lasted until past Midnight……and then we took the famous "Secret Tunnel" directly to The Zebra Lounge!
The activities wrapped up Sunday with a church service at 4th Presbyterian Church, followed by a final "Farewell Reception" with over 150 remaining guests attending – in The Camellia Room featuring bloody mary's & Chicago Dogs…..which were a perfect ending to a marvelous weekend!
To quote Robb Aley Allan, The Governor of The Florida Society: "Chicago is a terrific city, exciting and vibrant to visit…Your many years of planning were obvious…..and Your city offers some of the best clubs and venues in the country, and everyone commented on how impressed they were.  We are all proud of our hometowns, but few have as much to offer- and in some of the most elegant settings to be found."
And a final note from Karen Campbell (Mrs. Marvin Campbell) in from Alabama- "The Chicago Society has set a new bar for a spectacular series of events!  Chicago is a world class, elegant city with the most stylish clubs and gorgeous settings combined with outstanding cultural institutions……..and fabulous shopping!"
Yes- we are proud of "OUR" Chicago that WE enjoy every day and the TEAMWORK our IL Warriors put forth to create a lasting impression which our National membership will savor the memories & NEVER forget!
The End.
PHOTO CREDITS– Jesus Santos