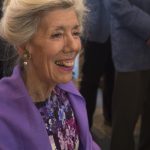 BY JUDY CARMACK BROSS
What now? What if? Why not?
Challenged by COVID-19, the 2020 Lake Forest Showhouse and Gardens, featuring the work of over 30 designers at the magnificent 1906 Pullman estate, could have been cancelled like many non-profit events were forced to do this spring. Triumphantly, the show will go on—July 11 through August 9—thanks to a talented team who successfully and safely answered those three questions.
We salute Jennifer Camino Mower who, as its president, called together her team from the Lake Forest Chapter of the Infant Welfare Society of Chicago, which benefits from the event, to insure the safety of visitors within COVID-19 guidelines. One of the oldest and most successful show houses in the country, it will be open daily, with a restricted number of tickets sold, divided into morning and afternoon sessions.
Also the event's co-chair, Mower remembers visiting as a child the first Showhouse in 1985 with her mother, Lanie Camino, a longtime board member and founding co-chair: "The first house featured lots of chintz and floral patterns, really so fun back then. It is almost as if we have come full circle with the Pullman estate. No room is cavernous and beautiful papers are used throughout. It has a Hamptons feel and you can imagine a family living here," she says. "And the gardens are magic."
Mower, a Showhouse co-chair once before, was not about to break with tradition, but ready to act within the new normal guidelines. "We had to insure social distancing throughout the 23-room house and on our buses, invent fun virtual events to create a buzz, and do right by our designers who began designing their rooms last November. That the house is close to downtown and people can walk to it is a plus. All tours will be self-guided this year, and we will have a 120-page catalogue for visitors instead of the guides who spoke in every room in the past," she explains. "This is a much beloved event. I had a friend who started to cry when she thought it would be cancelled for the year."
Mower and her co-chairs, Chrissy Davis, Sarah Georgi, and Jen Horan, vow to be there daily to welcome guests. Since its beginning, the biannual Showhouse has raised over $4.5 million for The Angel Harvey Family Health Center of the Infant Welfare Society of Chicago, which provides full medical, vision, dental, maternal, and mental health services to people who desperately need them.
The chairs have worked closely with Honorary Chair, Houston designer Paloma Contreras, transformer of the house's dining room. Repeatedly named to the prestigious ELLE Décor's A-List of top interior designers in the world, she has also been recognized as a Next Wave interior designer by House Beautiful. The Forbes list of the Top Social Media Influencers in the Home category featured Contreras at number four.
Mower tells us: "Paloma was in town last week finishing her room. She is the most delightful, genuine, talented person. I wish more people could have met her in person, but I am so glad so many people all over the world are able to see her talent and charm through our social media. Go on Instagram @palomacontrerasdesign, and you can see the video she made from the house to help us kick off the event. Ticket sales soared after her presentation, and the video is up to almost 15,000 views."
Contreras shares, "The most fun thing about a show house is that you have dozens of designers with varying tastes, styles, and points of view coming together under one roof. Regardless of what style you most identify with, there is something for everyone here, and I have no doubt that visitors will leave feeling inspired and having found clever design ideas they may not have thought of on their own."
And this house in particular provided immeasurable inspiration: "The Pullman House is so special. It has the most beautiful millwork and gardens. In spite of its large size at 11,000+ square feet, it feels like a very cozy, inviting house. The rooms feel intimate rather than imposing. It's a sweet house with a very happy energy."
Originally designed by Frost and Granger in 1906, the colonial-style home was completely renovated by architect Stanley Anderson in the late 1920s for investment banker William Allan Pinkerton Pullman, grandnephew of railroad magnate George Pullman. Anderson made many contributions to the visual character of Lake Forest, including the design the concrete post and lantern-style streetlights throughout the city and Lake Forest High School, picked the most beautiful public high school in Illinois by Architectural Digest.
An avid gardener and co-founder of the Chicago Botanic Garden, Pullman worked with New York landscape architect Annette Hoyt in 1937 to create world-class gardens on the property. Some of the original plantings still exist, from a Ginkgo tree of epic proportion to rare Chinese maples and Japanese lilacs, as well as the original boxwood hedges, the same ones that inspired others to plant "Pullman boxwood" in formal gardens.
Contreras describes her goal in designing the dining room, Eternal Eden, as creating a space that felt inviting while showcasing her signature style of brining together classic elements. This includes a beautiful Chinoiserie wallpaper by Iksel and Louis XVI dining chairs and a Louis XVI buffet, among other antiques, mixed with more modern pieces, like the Loop Chairs in the manner of Frances Elkins, a custom settee upholstered in a graphic Cubist fabric by Schumacher, and contemporary art by Josef Albers, Hunt Slonem, and Jane Timberlake Cooper.
But bringing a show house together in the midst of a global pandemic was no easy feat: "Since I am based in Houston, the hardest part was not being able to come during the construction process to check on the progress, but I am incredibly grateful to the organizers, in particular Jennifer Mower and house manager Kurt Roegner, who were my eyes and ears on the ground. We had a wonderful contractor, George Markoutsas with The ABL Group in Highwood, who was great about keeping the ball rolling as much as possible," she says.
Contreras says it has been an honor being associated with one of the oldest, most well-regarded show houses in the country. "As Honorary Chair, I am most proud of participating in a show house that benefits such a worthy charity," she relates. "Charitable organizations have been deeply impacted by the pandemic since they have not been able to bring forth their usual fundraising efforts. The whole purpose of The Lake Forest Showhouse is to raise funds for this very worthy cause."
Many of the items at the Lake Forest Showhouse and Gardens will be for sale. Designers for the East Lake Forest estate include Studio Gild, Studio CAK, Elizabeth Krueger Design, Shelley Johnstone Design, Sarah Vaile Design, James Thomas Interiors, Wendy Labrum Interiors, Joey Leicht Design, and Konstant Home. Upon entering the three-acre estate, guests will be greeted by an entrance garden designed by JMR Landscaping. Scott Byron and Co., Mariani Landscape, Schmechtig Landscapes, and JLC Landscaping have created additional gardens. A sixteen-foot tall garden folly, constructed by Bulley and Andrews and designed by Manhattan-based architecture firm Bories and Shearron, will be available for purchase with 100% of the sale price benefitting the Infant Welfare Society of Chicago (more on the folly in a future story!).
Though the team has worked long hours to pull this all off, Mower says they've still found time for fun along the way: "On April 24th, what would have been our Preview Party had we not had the pandemic shutdown, I had a Zoom party with 'Paloma Cocktails.' I dropped off a little care package at the three chairs' homes with a bottle of tequila, limes, and mixers so we could each make our own cocktail and do a toast to the show being saved. Although it was just the four of us, we had a good time!"
And we, in turn, toast their hard work in making it all possible. On with the Show(house)!
***
Visit lakeforestshowhouse.com for more information on the show, its designers, and to buy tickets. Tickets are $40 and must be purchased in advance. The show runs July 11 – August 9. Hours: Monday – Friday, 9 a.m. to 2 p.m.; Saturday and Sundays, 10 a.m. to 4 p.m.
The public is also invited to follow @lfshowhouse on Instagram for a virtual glimpse at the estate's transformation, both inside and out.