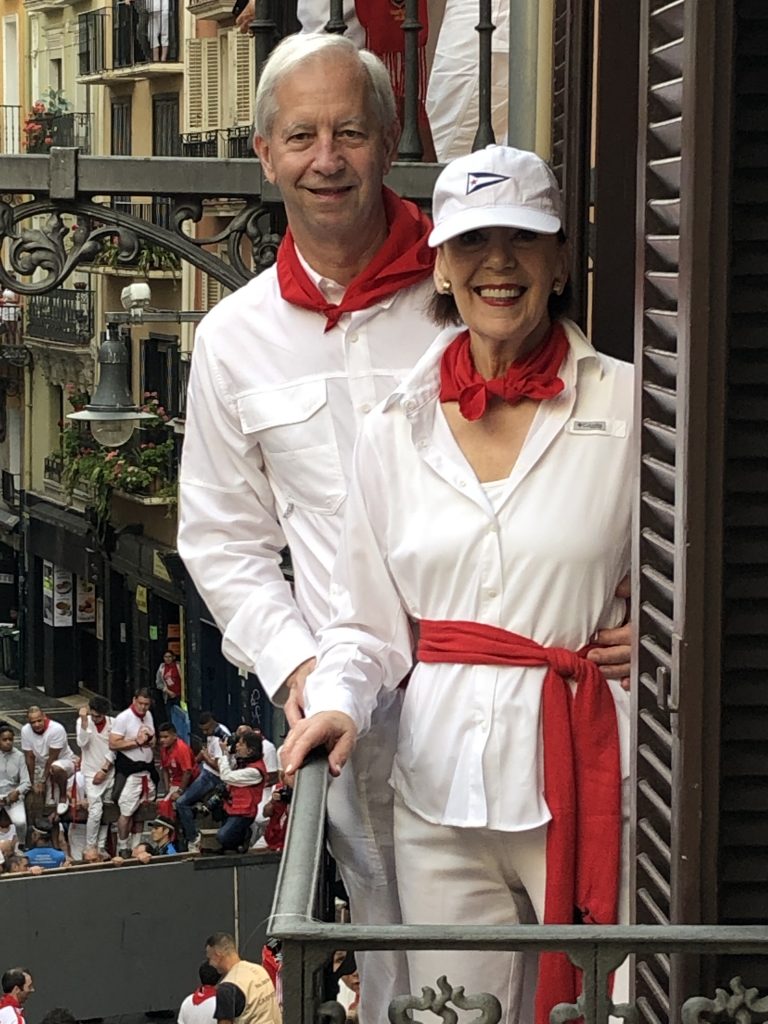 Janet and Rodger Owen, Biarritz, France and Pamplona, Spain, 2019 Photo Journal
Having heard many stories throughout the years from my husband, Rodger, about the time he ran with the bulls in Pamplona, Spain during the summer after he graduated from Lake Forest Academy and prior to his year abroad in Madrid during university, this was the year we decided to go back and have another look for Rodger and a first look for me.
I must admit the entire idea  was not really  "my thing" at all, but every year, one of Rodger's "bull running" buddies, George Skakel would e mail Rodger to say that they should go back to Pamplona and since 2019  was an anniversary year of their adventure ( I won't say which anniversary… suffice to say many years ago!) we all decided this was the year!  George rather resembles Ernest Hemingway, so Rodger could not resist photoshopping this photo below placing Hemingway's head on George. The resemblance is remarkable and a fun way to start what became an amazing and unforgettable trip!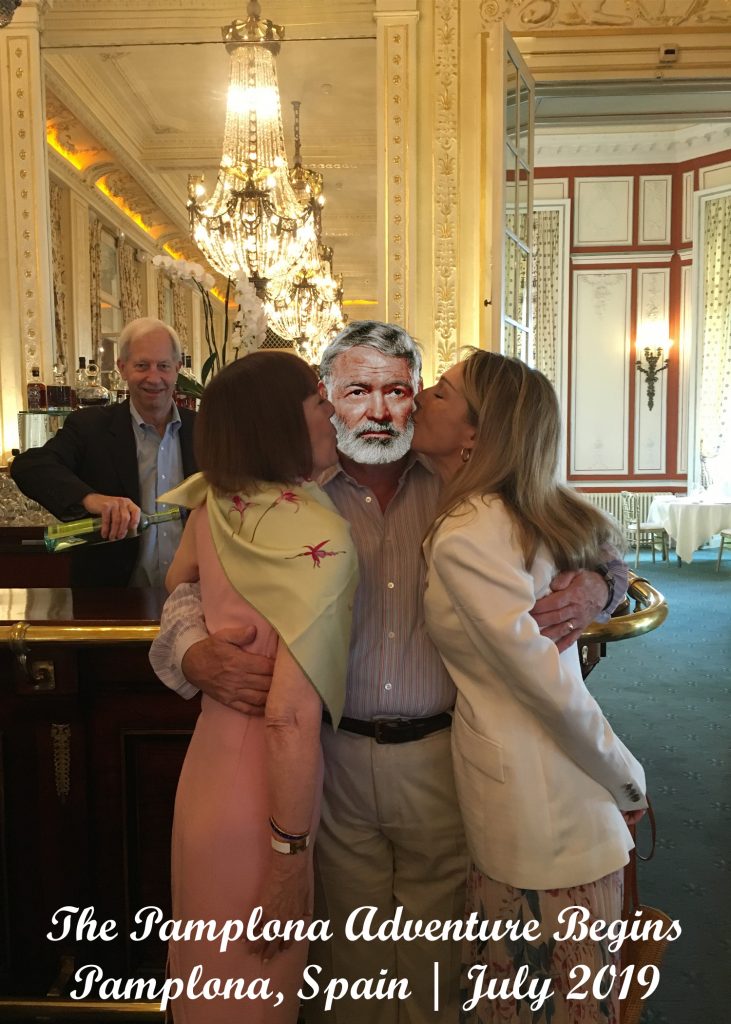 We were so fortunate to have the assistance in finding the very best guide in Pamplona from our good friend Peggy Bodine's sister, Patricia Wood Winn who is  Manager of Press and Public Relations for the Tourist Office of Spain. That combined with Rodger's magic with using miles to upgrade and booking terrific hotels, our trip to Biarritz, Pamplona and Madrid was seamless and enjoyable in every way!
The trip begins. Biarritz! An historic and beautiful seaside resort with breathtaking scenery and world class shopping.  It is here that we met up with George and Alisa Skakel who arrived from Greenwich Connecticut via a whirlwind 24 hours in Paris arriving in Pamplona on the day we arrived. We all stayed at the just reopened and beautifully renovated Hotel du Palais, which added to the enjoyment of our time spent in Biarritz with it's excellent service, gorgeous views of the sea, world class shopping and elegant dining. Needless to say, Alisa and I shopped till we dropped!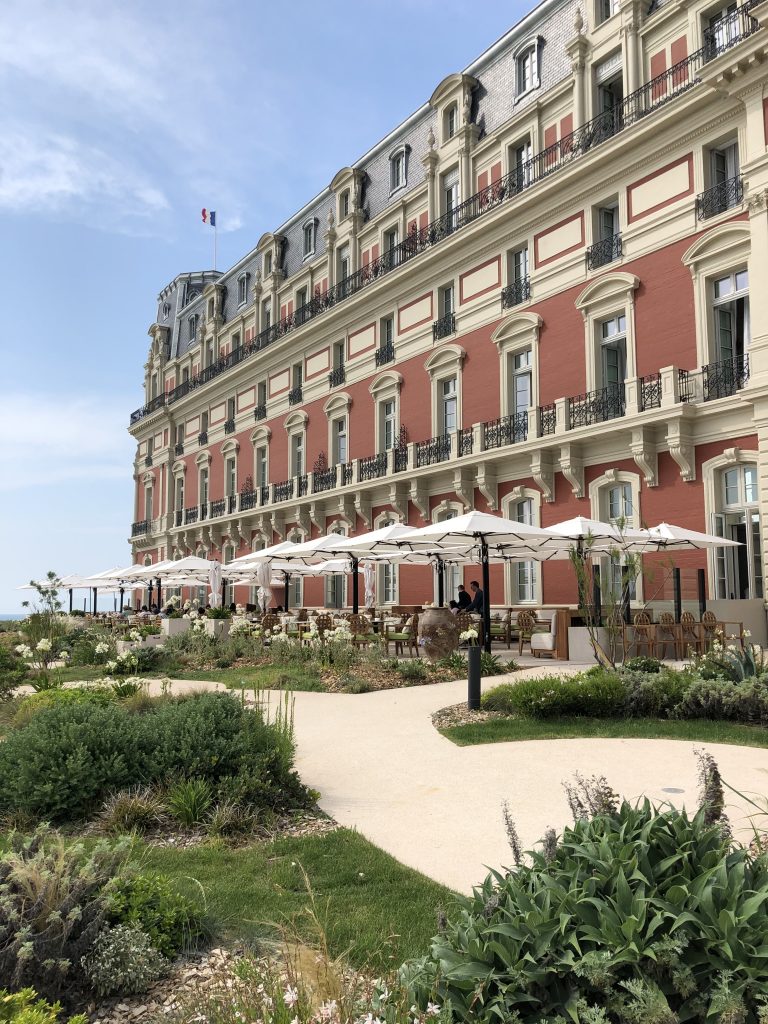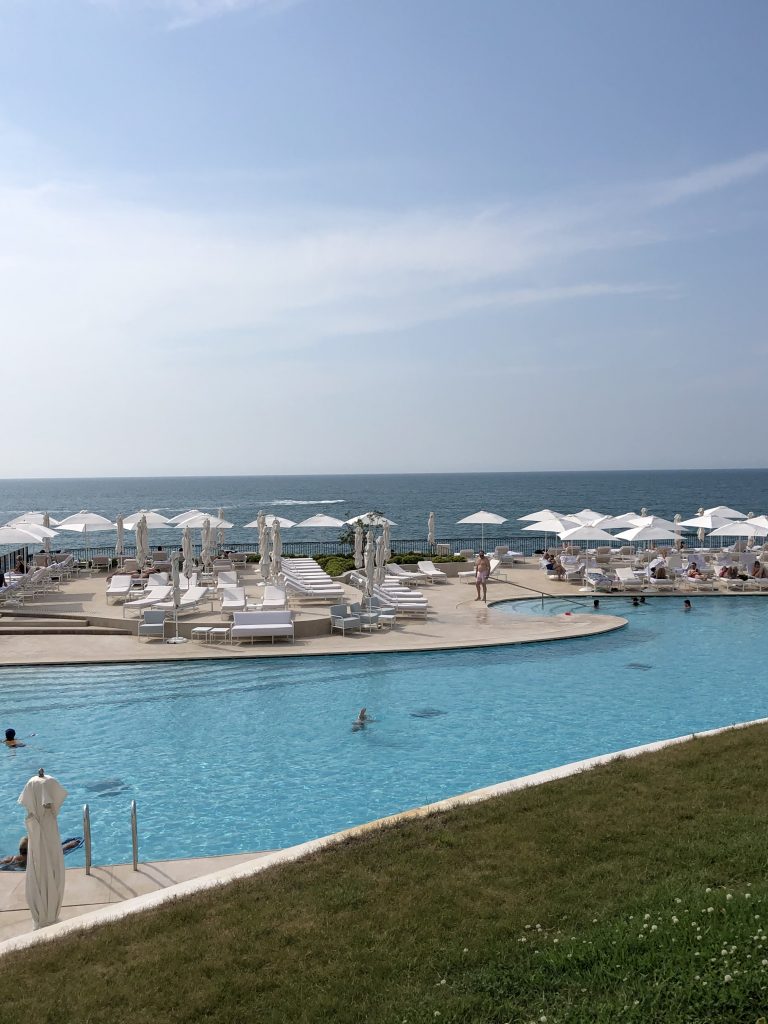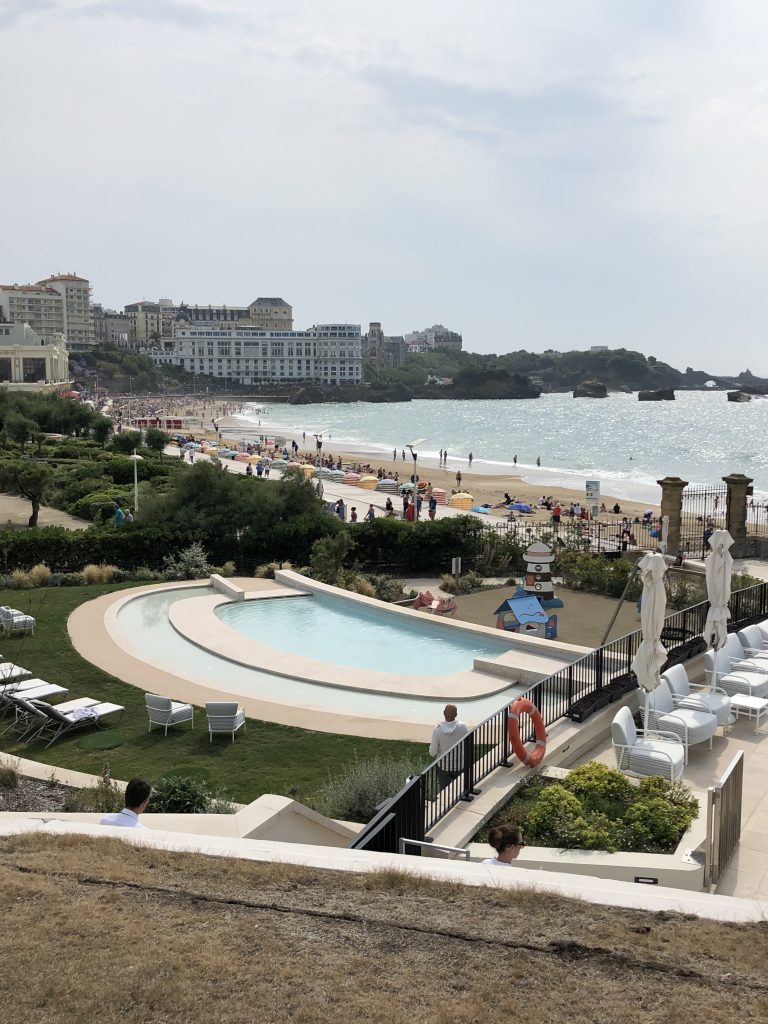 It's not exactly easy to get there,  but it is well worth the trip and if you are a sun worshipper (I'm not)  and a shopper ( I am) and enjoy a luxurious hotel by the sea ( I do)… then be sure to put Biarritz, France  on your "must-go" vacation list! You won't be disappointed! It was a perfect way to relax, get over jet lag and prepare for what was to come in Pamplona!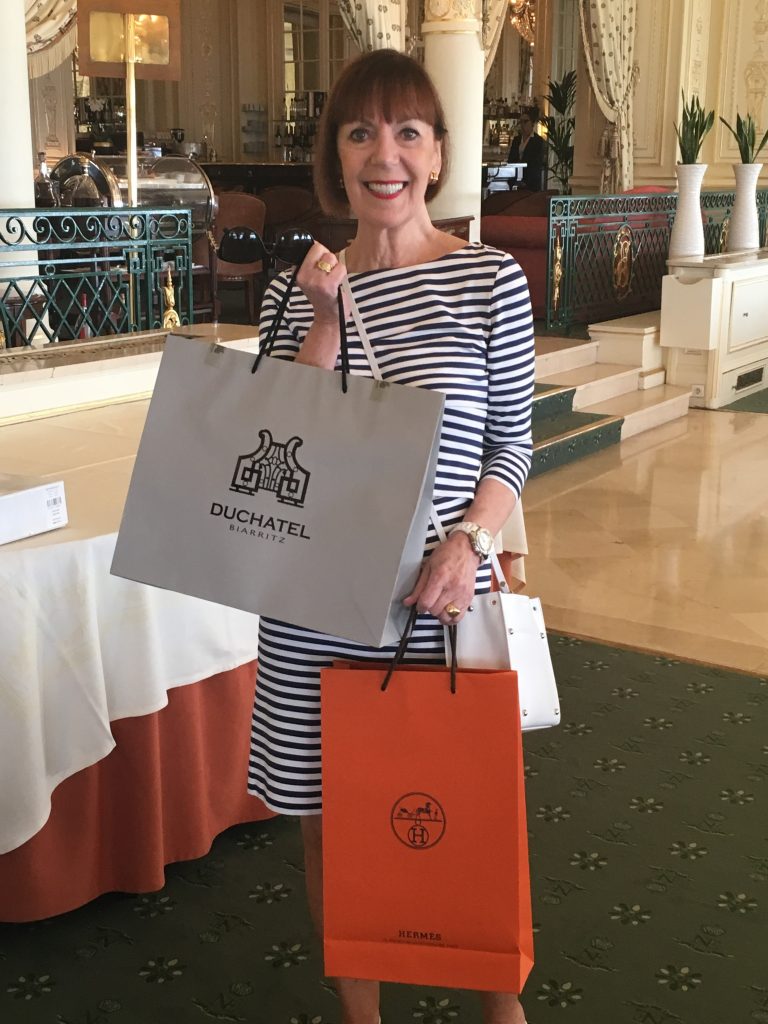 After three idyllic days in Biarritz, our driver drove through the Navarra mountain range, a scenic and lovely drive not far from the border between France and Spain, to Pamplona. Steeped in tradition, this small town and the San Fermin festival was little known until the 1920's when Ernest Hemingway wrote about his experiences in Pamplona in his iconic The Sun Also Rises. We checked into the Hotel Castillo de Gorraiz, which is just outside of town, but easily accessible to the "action" or to put it another way, far enough away from the all craziness! My brother-in-law Jim Owen surprised us and flew in from Indiana to join our group for the fun! Our Pamplona itinerary is at the end of this journal.
And so, it began… the Running of the Bulls! The tradition occurs during the religious festival of San Fermin and lasts for 9 days. If you go, I highly recommend being there for the Opening Day Ceremony as it is really quite a spectacle!
We met up with our guide, Francisco Glaria Baines when we arrived, and the fun began!  It is said that the bulls run every year at the "seventh hour of the seventh day of the seventh month, but they actually run at 8AM. However, we arrived early, guided by Francisco, at our private reserved balcony and we were offered coffee and deliciously sweet Spanish churros, all very civilized… so far!
I soon learned that the required attire by absolutely everyone… no exceptions… is all white with a red bandana and a red sash.  The sash can only be worn tied on the left side according to tradition and one does not wear the red bandana until exactly noon on July 6th at the Opening Ceremony. I took my bandana off once I learned about that, but I was ready for the opening! And what an opening it was!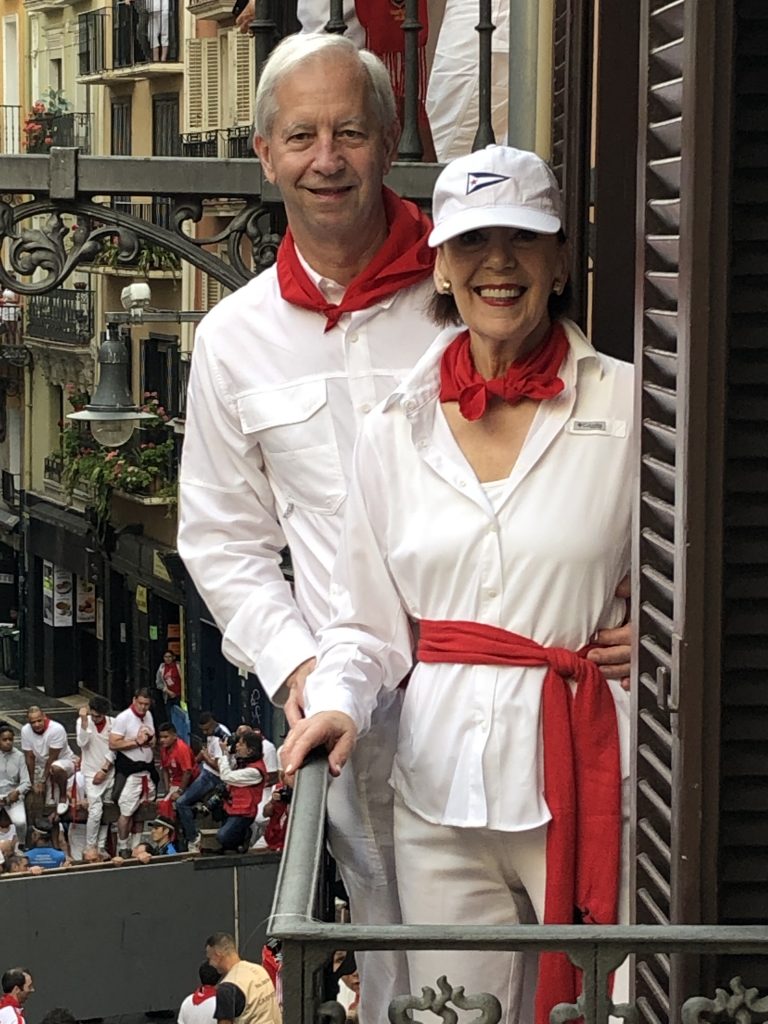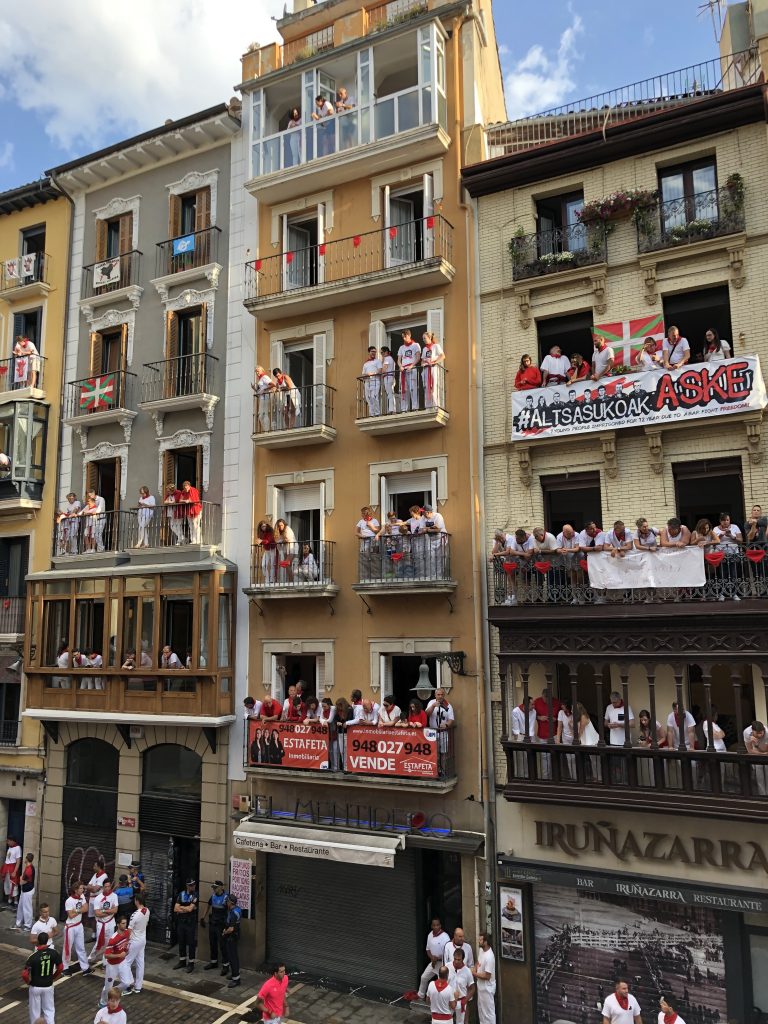 Try to imagine one million people from all over the world gathering in a town of 200,000 packed into the narrow streets, drinking tinto, Spanish red wine, and in (very… yes very!) high spirits…. as mentioned previously, not my "thing" …, but… "when in Pamplona…" I must admit I was truly grateful for our balcony offering a terrific view and being able to take it all in from above!
As we watched the gathering of mostly young runners singing patriotic songs accompanied by a uniformed band and listened as the mayor of the town rallied the runners with a great tribute to the tradition and then  he began the countdown to noon! Basque, Spanish and flags from  many nations were flying everywhere and the excitement began to mount in anticipation of the opening!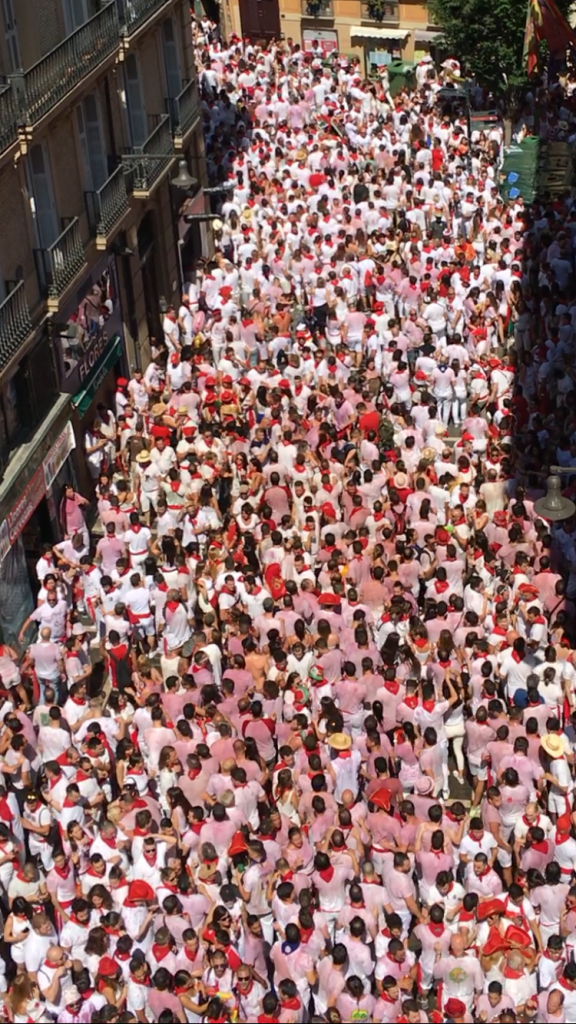 There were three rocket blasts and everyone was waving their red bandanas when, at the stroke of noon, the confetti and streamers were everywhere, the bandanas were donned by all and the fiesta of the Running of the Bulls 2019 officially began! However, the first run would not take place until tomorrow morning, but the party was certainly in full swing!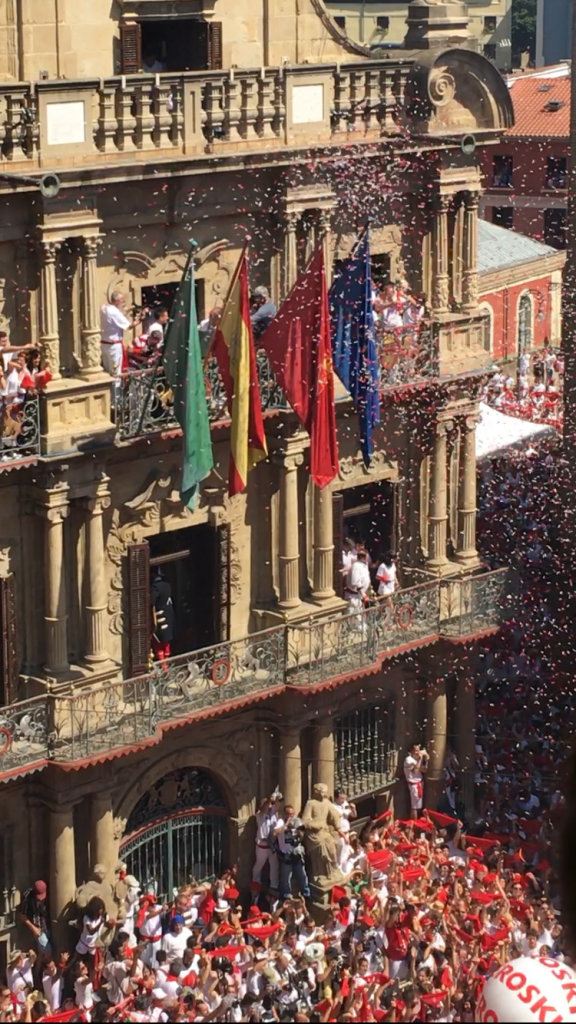 After the excitement of the Opening Ceremony, Francisco took us to Cafe Iruna where  Hemingway and the "lost generation" of writers and artists gathered to talk, drink and write. Francisco gave us a short tour of lovely Pamplona and its beautiful historic buildings and town square, which at any other time of year is a quiet and very charming town.
That afternoon the children and families enjoyed the traditional Parade of the Giants, similar to Mardi Gras in feeling, with very tall characters with huge heads all of whom children and adults enjoyed as they marched through the town adding to the fun of Opening Day!
The following day Francisco guided us to another pre- reserved private balcony to finally watch the Running of the Bulls! A rocket is set off at 8 AM to alert the runners that the corral gate is open. A second rocket signals that all six bulls have been released from the Bull Pen and are on the street. The third and fourth rockets are signals that all of the bulls have entered the Bull Ring, marking the end of the event. The average duration between the first rocket and the end of the run  is approximately two minutes, 30 seconds and is less than 1,000 yards.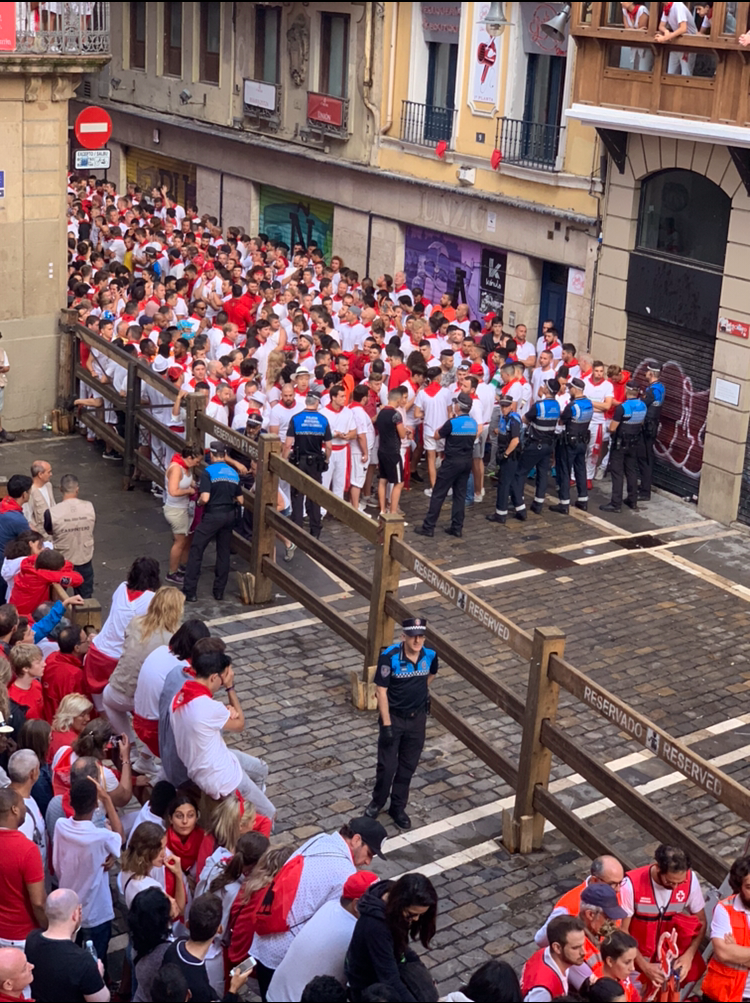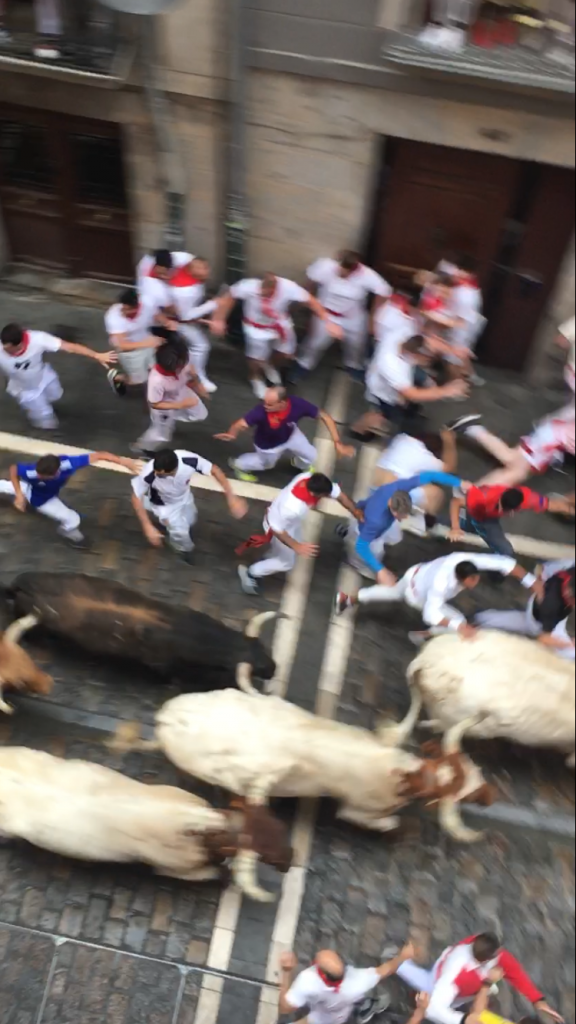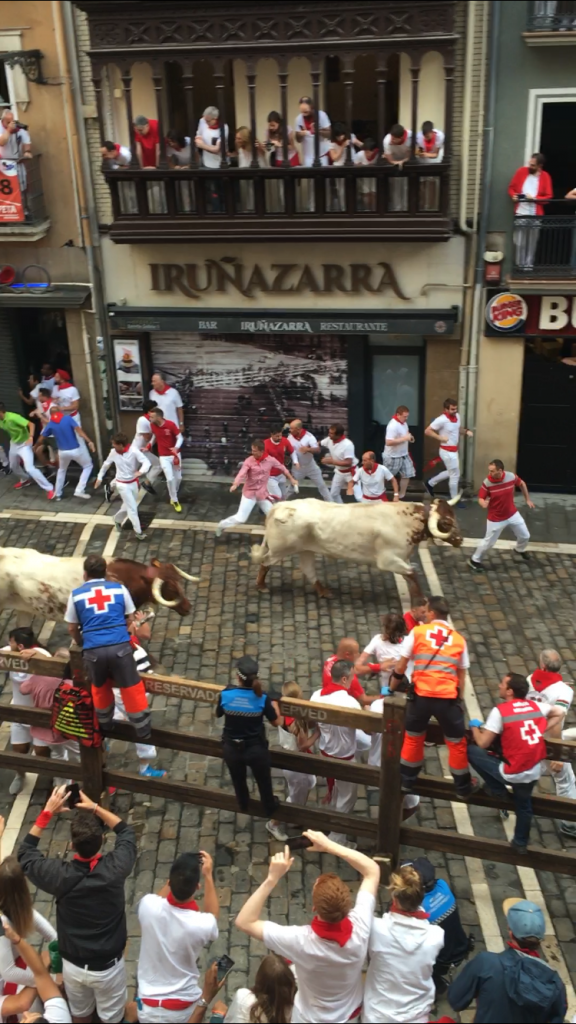 Only the photos can really capture the hundreds of thousands of runners and the moment when the six huge 1,000-pound bulls ran directly under us! The runners and the bulls end the run inside the Bull Ring. I must admit, I had a mix of goosebumps, excitement and fear for the runners and for the bulls!
That night was the first Bullfight. (Alisa and I did not go… that is most definitely not my "thing", nor was it hers) but the rest of our group did attend and came back to the hotel for dinner rather subdued. I won't go into the amazing pageantry, ceremony and tradition of the fight and the incredibly dramatic Dance of the Matador, but suffice to say, the bulls lost.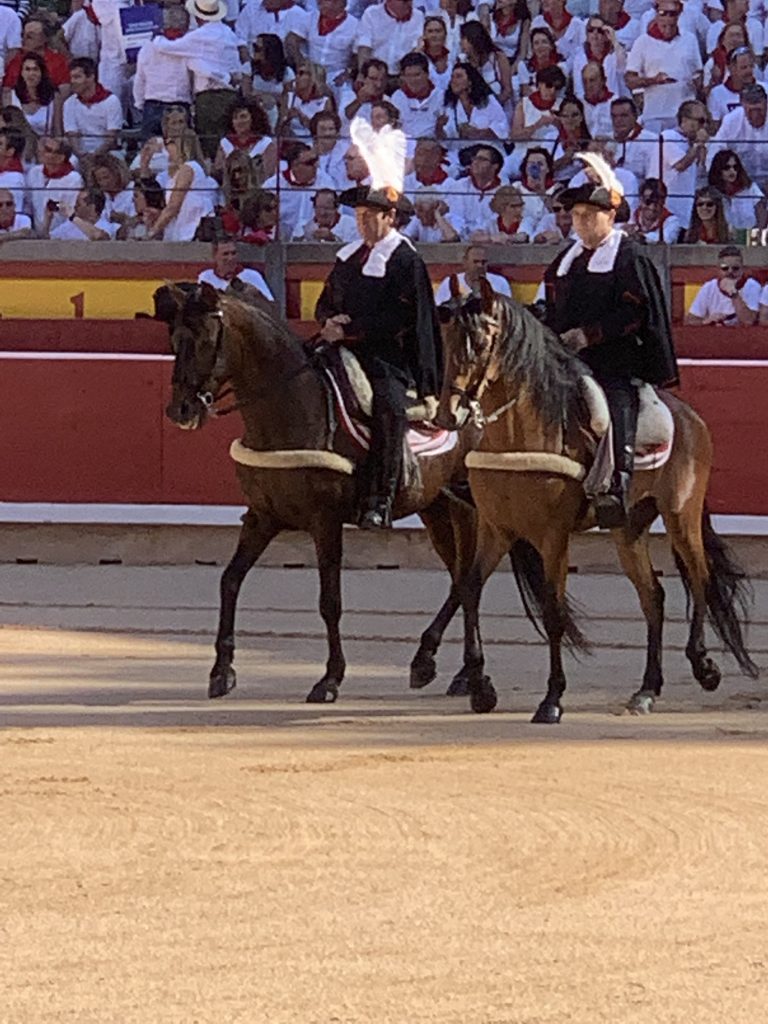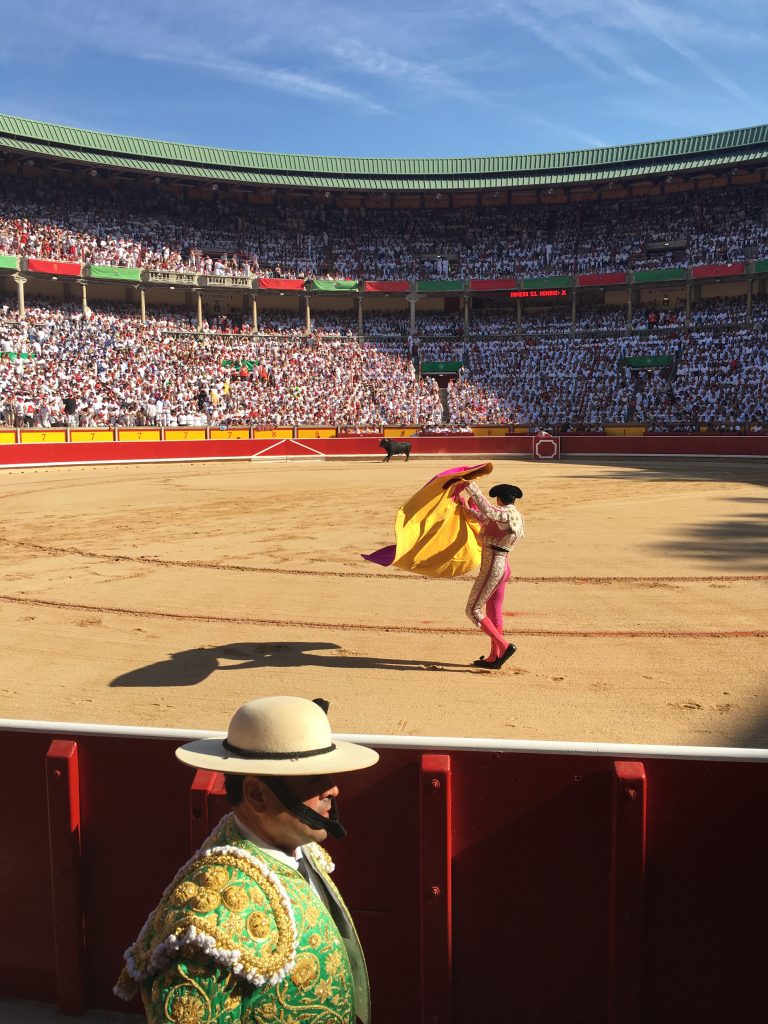 We had another full day the following day as we watched the run from another reserved balcony with an amazing vantage point of the run. The excitement mounts each day until the Closing Ceremony when thousands of people are in the street after dark holding candles as the festival comes to an end for another year.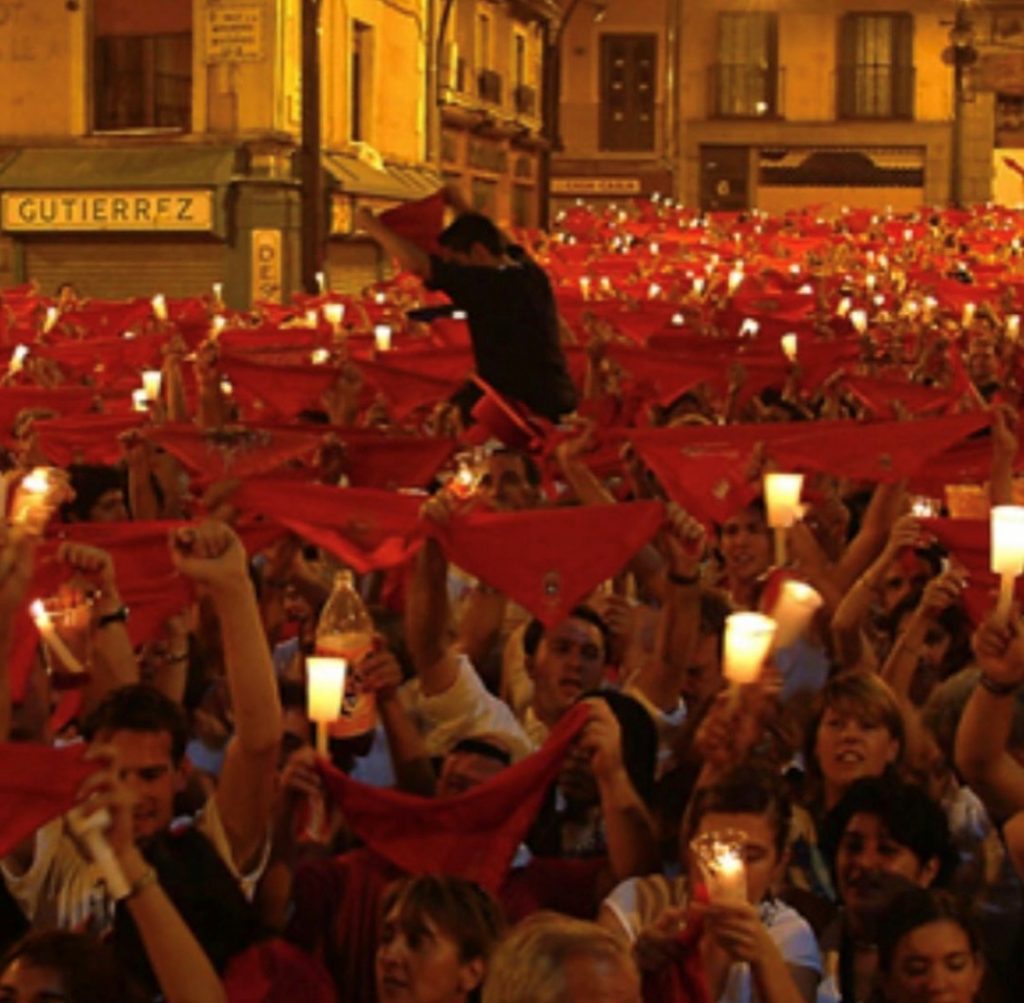 We were fortunate to have  two more days of sightseeing in the beautiful Basque Country surrounding Pamplona, guided by our knowledgeable and fun Francisco and our excellent driver Santiago.  We visited the Castillo de Javier and the following day enjoyed a lovely drive to the beautiful seaside town of San Sebastián where I thoroughly enjoyed the stunning and very architecturally modern Balenciaga Museum! The current exhibit featured Balenciaga's creative journey and a well curated retrospective of design and dresses from the 1930's through the 1960's.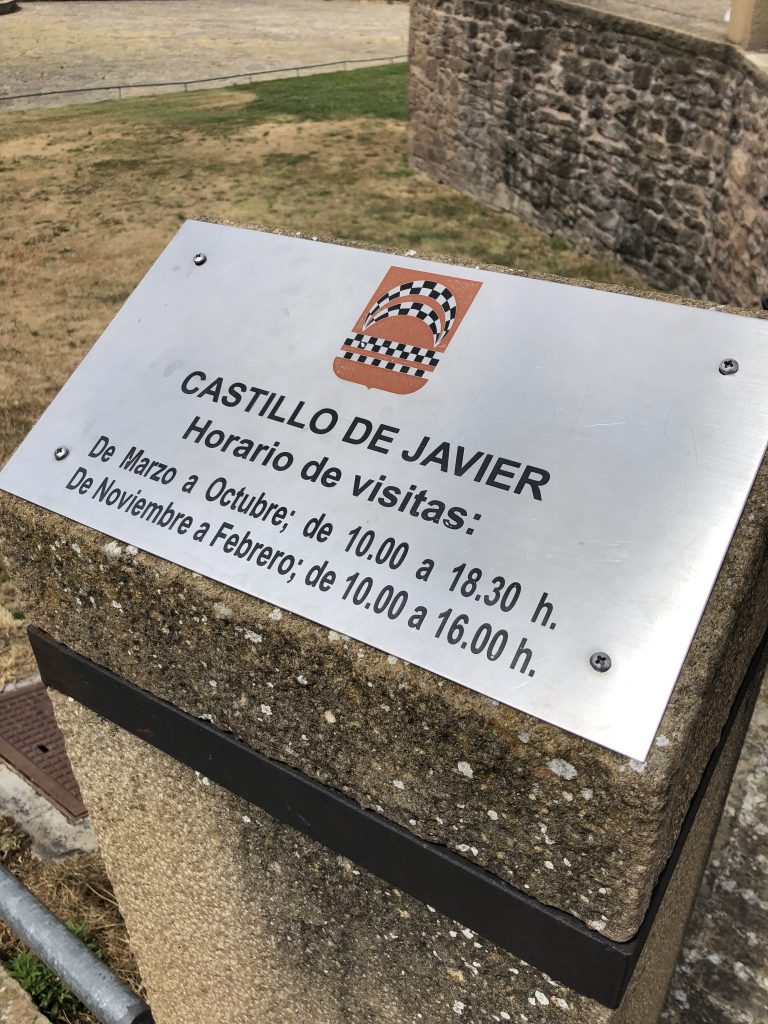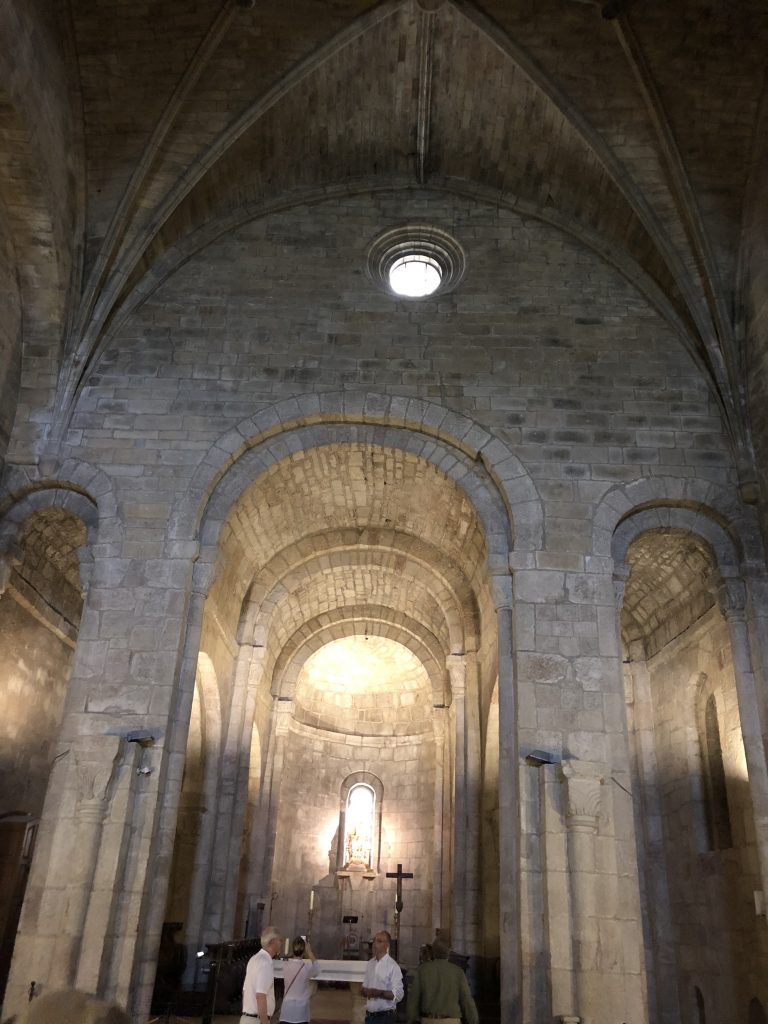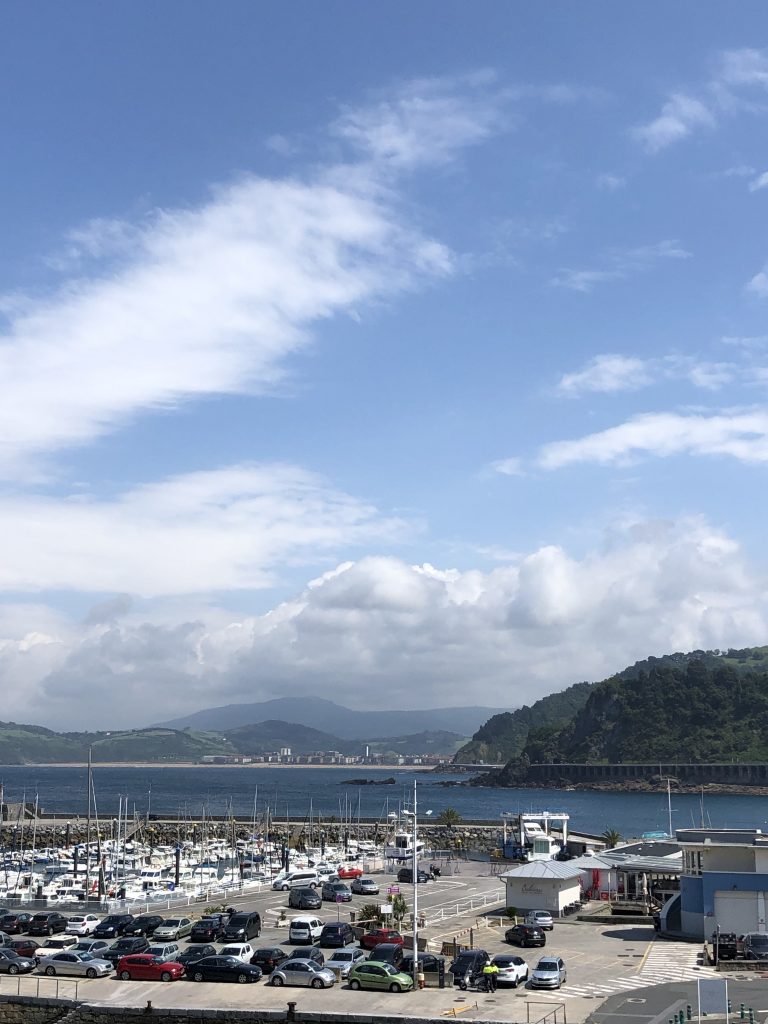 We lunched at a lovely seaside restaurant in San Sebastian, TXOCO, with a view of the mountaintop with a statue of Christ, reminiscent of Corcovado in Brazil.
Once back in Pamplona, we enjoyed a memorable dinner at Rodero to celebrate our last evening in Pamplona. It is an elegant family restaurant having earned a well-deserved Michelin star! A refined and elegant culinary experience and a perfect way to end our stay in Pamplona.
The following morning, after bidding farewells to George and Alisa who were off to Barcelona and to our guide and friend, Francisco and a fond farewell to Pamplona, Rodger, Jim and I flew to Madrid.
Rodger and I have visited Madrid often throughout the years and never tire of this incredible and beautiful city. We usually stay at the Ritz, but it is currently undergoing a 2-year renovation, so we comfortably settled into The Palace, just across from the Plaza Neptune, the Thyssen and the Ritz. Madrid is for another story, but suffice to say, every time we return, we feel at home and this visit was no exception. It was a perfect way to visit friends in the city and to end our incredible journey and to experience the Running of the Bulls, but this time from the balcony!
Our itinerary is at the end of this journal, if the mood strikes… I would recommend every restaurant, all three hotels and definitely our guide in Pamplona,( follow Francisco at pamplona_fiesta on Instagram) who really made the adventure exciting, easy and a lot of fun! We were so fortunate that Patricia recommended him and also that we were able to share this journey with friends and family and that Rodger was able to once again attend the Running of the Bulls!
Itinerary, Restaurants, and Hotels in Pamplona:
July 6th
Meet your guide at city center at 10.00
Walk to balcony to watch the opening ceremony. (5 reserved balcony spots)
Around 13.00 your guide will walk you to your restaurant for lunch.
Evening on your own. The party is on the street, no need to arrange anything.
Dinner on your own
July 7th
Meet your guide at city center at 7:15 – 7:30
Walk to Balcony to watch the run (5 reserved balcony spots)
After the run city tour with your guide, until lunch time.
Guide will finish at restaurant for lunch.
After lunch, you go back to hotel on your own and rest (Spanish Siesta)
Bullfight starts at 18:30, but you should be there by 18:00 (on your own) (3 bullfight tickets)
After bullfight, you return to hotel on your own and dinner at hotel
July 8th
Meet your guide at city center at 7:15-7:30
Walk to different balcony to watch the run from different perspective (5 reserved balcony spots)
After The run, go to a private dance (Alpargata Dance)
After the dance, take off  to visit Leyre, Javier and Olite ( we organize the driver)
Return to Pamplona around 18:00
At 21:30 dinner at Baluarte and enjoy fireworks On your own. (cost of dinner not included)
July 9th
Meet your guide at 7:00 to watch the run from Bullring
After bull run, take off to visit San Sebastian, Guetaria and Balenciaga Museum.
Return to Pamplona by 19:00
Dinner at 21:00 on your own
Restaurant recommendations:
July 6th Lunch:
San Ignacio Restaurant (http://www.restaurantesanignacio.com) Traditional food, 2 minutes away from city center, enough to be away from the craziness.
Casa Manolo  ( http://www.restaurantecasamanolo.com)  Traditional food, 4 minutes away from city center.
July 7th Lunch:
San Ignacio Restaurant (http://www.restaurantesanignacio.com)
Casa Manolo  ( http://www.restaurantecasamanolo.com)
July 8th Lunch:
Restaurante Tubal ( http://www.restaurantetubal.com/es/inicio )  Good traditional cooking in a beautiful environment
Restaurante  Uxue ( http://www.restauranteasadoruxue.com )    Traditional shepherd´s food with amazing views
July 8th dinner:
Palacio de congresos Baluarte ( http://www.baluarte.com/cas/restauracion-1)  Perfect to watch the fire works
July 9th lunch:
Restaurant Txoko ( http://txokogetaria.com/home-2/ )  Great grilled fish overlooking the fisher-mans port
July 9th dinner:
Restaurant Rodero ( http://restauranterodero.com ) Amazing food. 1 Michelin star
Restaurante Abaco ( http://www.abacorestaurante.com )  Fun modern food, this year awarded as the best restaurant in town (not michelin star yet)
Hotel-Biarritz
Hotel Du Palais:
Lucie Robin
L'équipe réservation ¬| The Reservations Team
Hôtel du Palais – Imperial Resort & Spa – 5 ***** Palace
1 Avenue de l'Impératrice – 64200 BIARRITZ – France
t +33 5 59 41 64 00
www.hotel-du-palais.com
http://www.hotel-du-palais.com/
Hotel Pamplona:
Castillo De Gorraiz Hotel Golf & Spa