By Margaret Mary O'Neill
2020 transformed our lives with the Covid Pandemic.  "Shelter in place" for the first months of spring brought us together at home in isolation from our friends and families.  But we also hunkered down and returned to our kitchens.  Many of us found it enjoyable, an adventure, some were not so enthusiastic or enthralled.  There will be many stories written about survival in the year 2020/21 including how we changed our dining habits and the way we eat together.
Starting March 15th through May 15th I stayed home, cleaned closets, read books, and explored the art of dining at home with my husband.  My personal challenge was to present a beautiful dinner and set the table with the treasures in my house, things that had been hidden away or saved for special occasions.  Every night became a special occasion and for the next 60 days.   I set a different table each evening.  China, Crystal, Silver, and linen appeared from my closets, gifts from families, and wedding presents, all magically appeared to embellish our table.  I photographed the table each night; it is a diary full of new recipes and various table settings.
In summer 2020 we all spent as much time as possible outside but still isolated. Sitting outside in the evening, it was such a pleasure to hear the neighborhoods come alive.  You could hear the voices of families gathering, sharing meals, and relishing in the warmth and laughter of summer.  It was the beginning of the return of the small dinner party in family circles.  But Winter brought us back indoors.
The Vaccine has opened the doors and we are beginning to open our homes, safely, to small groups of friends and family.   I look forward to the return of the Small Dinner Party especially since I have found so many treasures to set the table and share with friends.
The Dinner Party has changed drastically in the last few years, no longer are they limited to the formal affairs at a sit-down dinner, they now embrace informal gatherings featuring "grazing" throughout the home.  Today's architectural design endorses this way of life as the open kitchens incorporate room for dining and the separate dining room has been minimized or even disappeared.
| | |
| --- | --- |
| | |
Covid has also created a much more casual lifestyle, so "fancy at the table" will be a very special occasion, but spontaneous and roaming will be just as much fun and prevalent. No matter the venue, the evening will focus on sharing a meal and engaging in conversation. Complicated feasts with multiple courses are a gourmand's delight, especially showing off those new recipes found during covid isolation. That secret chef is going to surprise you!  But equally pleasing is a combination of carry-out menus from an exotic grocer.  It does not have to be homemade; it's all about the ambiance.  The most successful hosts have everything prepared in advance and do not spend the evening in the kitchen.
| | |
| --- | --- |
| | |
Where to start? Keeping in mind social distancing and ventilation, a dinner party for 6 seems to be the perfect place to begin.  Conversation flow and seating for 6 is intimate yet not overwhelming for the hosts. It also allows for everyone to connect as a group. We need to ease back into gatherings, creating a comfortable engaging environment.
Starting with cocktails, the night begins with the ICE.  Large clear square cubes help to make an artful presentation for that masterful beverage.  Most important the clear cube does not dilute that wonderful cocktail concoction.  You can purchase Chicago Milled Ice or make them yourself with distilled water in large silicone ice trays. (found at Sur La Table)
Ice has been enjoyed since ancient times.  The Romans and Persians used Ice Houses and Ice pits to keep their drinks and food cool.  The Romans enjoyed glacial ice from the mountains, stored in their cellars.  In the 19th century, ice was no longer for the rich.  Fredrick Tudor, "the ice king" started the ice trade and eventually employed 90,000 people.  In the 1930s American homes started to get their ice from the Ice Man, later home refrigerators added built-in-freezers.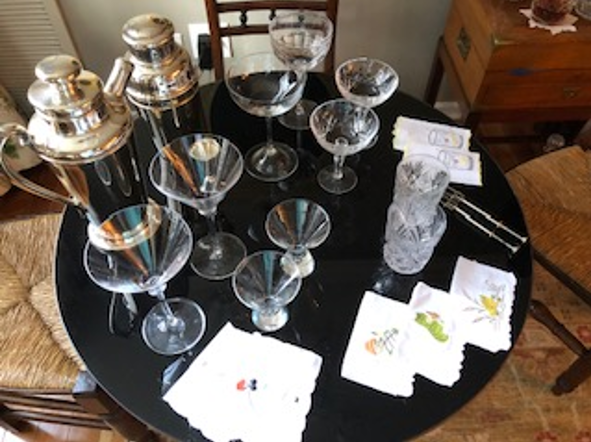 The cocktail shaker also became the bar tool in the mid-19th century.  Originally mixing smooth drinks was done by tossing the mixture back and forth between two glasses.  According to Stephen Viskay, in "Vintage Bareware", "Finding that the smaller mouth of one container fit into another, he held the two together and shook, for a bit of show".  Results were an artful method of mixing cocktails.  So be sure to have a great shaker on the bar.
Setting the table is like creating a painting, The Tablescape sets the mood for a memorable evening. Choose your tabletop like an artist, with texture, lighting, layers, and color. Remembering that there are no rules for making great art.  But there are some tips that help for that blissful experience.  Establish a theme; clean and simple, bold and colorful, traditional, modern, or just your own personal style.
Mix and match sound so clichéé, but it is such fun to set each place setting with different flatware and stems.  It gives life to the table.  Be sure to have extra forks and spoons so that each course has its own utensils. Wine glasses give the table height, don't be afraid to have more than one shape for more than one style of wine.  In the spirit of social distancing, ensure there is ample comfortable space between each guest, it will also allow you to fill the
table with treasures.
Large linen napkins (22" square) placed in a festive napkin holder can change your table instantly.  Remember that the napkin is the first article on the table that your guests will touch. The texture should
be sumptuous, 100% linen or cotton, exuding luxury and comfort.  Just like good bed sheets, this first touch sets the mood."
 Lighting definitely creates the ambiance; we all look lovely in soft candlelight.  When it comes to candles more is more.  Don't scrimp on those tealights and always use the new one.   Floating candles around a simple low arrangement of flowers make a very romantic table.
My favorite finishing touch is the flowers.  Low, brilliant, and seasonal.  Below are my two favorite containers;  the chain of bud vases from TSE and the silver epaney's.  They are easy to fill and give movement to the centerpiece.
Seasonal flowers from the summer garden in shades of pink
The simplicity of Magnolia's.
The bold flowers of spring, a mass of daffodils and iris.
Last, as the evening comes to an end, some words of advice.  Don't be afraid to use the dishwasher, just remember social distancing applies to your dishes and silverware. Keep them apart and they stay healthy. Do not use detergents with fragrance, just like hand sanitizers, the best ones do not have additives.  At the end of the cycle open the door, poor ventilation, or staying in the heat and humidity of a closed space can cause undesirable reactions.  Don't let the dishwasher dry your precious china and silver by hand, using a soft cloth lint-free cloth to avoid spots.
I welcome the small dinner party back into our lives.