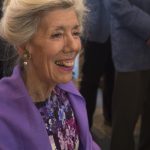 BY JUDY CARMACK BROSS
It was quite a party! As our Executive Director and Chief Curator Solveig Øvstebø returns home to Norway after seven years at the Renaissance Society at the University of Chicago, we wanted to hit it out of the park for her last gala. —Mirja Haffner, RenBen Co-Chair.
For top art collectors, philanthropists, and supporters, RenBen is one of the year's most anticipated galas for defining glamor. This year's co-chairs, Mirja and Ted Haffner, Jennifer and Ashley Keller, and Catherine and Mamadou-Abou Sarr, welcomed over 250 guests to Rockwell on the River, exceeding their fundraising goal of $500,000.
An independent and non-collecting museum that's free to the public, the Renaissance Society raises a significant portion of the museum's annual operating budget and makes possible an ambitious program of contemporary art exhibitions, events, and publications for the entire year through that one dazzling night a year.
Mirja Haffner and Mamadou-Abou Sarr, both passionate about contemporary art, told Classic Chicago about the evening's excitement, including its eye-popping selection of 50 art works at auction. Sarr, who says weekends for him and his wife, Catherine, are opportunities to visit a multitude of art exhibits, explained, "Planners of the RenBen auction have real savvy as to what is relevant in the art world now, both with emerging and renowned artists. Many of our guests have been coming for years and know the quality of the works at auction. It doesn't mean, however, that you don't do a lot of pre-selling of the event to your friends and getting the word out about the artists at auction."
Haffner, part of the art world at Christie's International when she lived in New York and then on the staff at the Art Institute here in Chicago, related, "This year we really worked to expand our audience to the younger generation. Support groups of the museum helped us with that. You have to get new people to keep it going. There are so many benefits in Chicago, so it's a gala leadership challenge to find fresh, new, and intriguing aspects of your event."
The silent auction was populated by generous gifts from artists including Walter Price, B. Ingrid Olson, Matthew Monahan, Elisabeth Wild, and Molly Zuckerman-Hartung. The live auction, conducted by Melyora de Koning of Phillips, featured Hiejin Yoo, an exciting young artist from Los Angeles, Renaissance Society alumni Josef Strau, Jim Lutes, Richard Rezac, Robert Grosvenor, and Kevin Beasley, and Chicagoan Amanda Ross-Ho.
The Renaissance Society emphasizes that it is driven by an uncompromising commitment to artists and their ideas. Since it was founded in 1915, the organization has set out to offer artists the time, space, resources, and freedom vital for ambitious experimentation and risk-taking. The society's work with artists frequently results in newly commissioned art, and their presentations in the 3,000-square-foot gallery spur further scholarly and creative reflections in publications and public programs. Events, including artist talks, lectures, screenings, concerts, readings, and more, are all free to the public and offer further opportunities for discovery and discussion.
For further information about the Renaissance Society at the University of Chicago, visit renaissancesociety.org.
Photo credit: Michael Courier