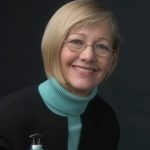 By Elizabeth Dunlop Richter
It's the Friday after Thanksgiving. No, I'm not heading for Black Friday sales. I tend to do my Christmas shopping throughout the year or online. Today, however, as we unpack Christmas decorations, I am forced to contemplate the Nutcracker Dilemma.
Some 40 years ago, on Christmas morning, a wondrous object appeared under our Christmas tree. It was a handsome nutcracker king, made in Germany, a gift from friends. He graced our mantel and found a new family to love his kind. My husband and I had always celebrated Christmas, but we had never owned a nutcracker of the carved German variety before. Growing up, I thought of nutcrackers as purely functional objects of metal or wood we used to crack nuts, an important holiday activity before one could buy a year's supply of shelled walnuts for $8 at Costco. Introduced to the character nutcrackers, we suddenly began to notice these nutcrackers everywhere and were hooked. But nutcrackers historically had been used for their original purpose for over 1000 years.
According to the Nutcracker Museum in Leavenworth, Washington, "a bronze nutcracker in the form of two hands was discovered in 1930 in a grave near Tarente, Italy. It has been dated to the third or fourth century B.C." The first wooden nutcrackers were crafted in 15th century France and England from boxwood, appreciated for its grain. Animal and human shapes emerged in Austria, Switzerland and northern Italy in the 18th and 19th centuries. Victorians were fond of nutcrackers shaped like ladies' legs. Name an animal or a character, and chances are there's a nutcracker in its shape. From Santas to sailors to French courtesans, you can find one in the Nutcracker museum.
Standing nutcracker figures as we know them evolved in Germany in the 17th century and were considered good luck, frightening away evil spirits. Commercial production of the standing nutcrackers was launched in Germany in 1872 by Wilhelm Fuchtner, "the father of the nutcracker, "using a lathe to create replicable shapes. Until the mid-20th century, they were functional and could actually crack nuts.
Spreading in popularity throughout Europe, the nutcrackers, now associated with Christmas and decorative only, came to America thanks to soldiers returning from World War II. Contributing to their popularity was the Nutcracker ballet, written in 1892 by Pyotr Ilyich Tchaikovsky and based on the 1816 story by E.T.A. Hoffman, being performed more and more frequently in the U.S.
After the first nutcracker figure appeared in our house, a new and different nutcracker (or two) appeared under our Christmas tree every year for the next 30 years. Some were from Santa, some from my husband or me given to the other, later to the children. Nutcrackers became part of our regular holiday décor. It took until about 2015 for us to realize we had enough nutcrackers, some 57 in all. This realization came when we ran out of convenient storage space for their boxes. I don't mean to suggest that we have an inordinate number of nutcrackers; I recently heard about a chef who had a collection of 400! We have friends whose nutcrackers filled an entire room of their own off season, and adorned their library, living room and dining room during the holidays. We were awe struck when we visited. There is little overlap in our collections, so you know there are a lot of nutcrackers out there.
Storage space had not been a problem when we were in our collecting mode. More and more charming characters appeared: chimney sweeps, 19th century firemen, Santa Clauses, soldiers of various nationalities, mountain climbers, chefs, butchers, shepherds, and the list goes on. I once even saw a Pope nutcracker. I resisted that one. It just became worse when the Christkindlmarket opened at Daley Plaza. Beautiful German nutcrackers! One or two slipped into our collection. They were also getting very expensive. My great find one year was a nutcracker hiker at a discount store missing his hiking stick. I whittled a chopstick to replace it and saved $200!
There was a second problem. Chinese nutcrackers! We realized about 20 years ago that the woodworkers in Germany had not cornered the market. Nutcrackers made in China were proliferating. You could almost always easily tell the difference, and we became rather snobbish about the arrivistes. Chinese nutcrackers usually had painted mustache; German mustaches were usually carved or had fabric attached. Sometimes the part that was supposed to crack the nuts was not the mouth but appeared below the chin in selected Asian designs. There was obviously also a huge price difference. One occasionally succumbed to the temptation because of the subject matter (and money saved), like the set of four Wizard of Oz characters an unnamed family member purchased for our children for a quarter of the cost of one of German design. We also weakened when our travels took us somewhere with a handsome nutcracker souvenir, like the Canadian Mountie I found on a business trip to Toronto, well-made despite its Chinese origin. The University of Virginia basketball player tempted my husband, a Virginia alumnus.
| | |
| --- | --- |
| A Canadian Mountie stands guard | Nutcracker athletes |
As we contemplate downsizing in the coming decade, the true shape of the Nutcracker Dilemma is emerging. We gave our grandchildren each a nutcracker a few Christmases ago, but our son was adamant about no storage room for any more. He repeated that this year when I optimistically inquired. It had never occurred to me that the collection would not stay in the family! Our daughter is a college professor with similar storage issues. Clearly her research materials take precedence. I'm beginning to realize that we have a future problem. Cousins perhaps?
My husband and I each have our favorites with which we would be completely unable to part in a move. I love the baker and the butcher, the skier and the early aviator, the three kings, and the chimney sweep. My husband not only loves the UVA basketball player, but naturally Thomas Jefferson as well as the charming Sheriff of Nottingham and the Scottish bagpiper. We are both fond of the pair of firemen, who stand guard on the fireplace mantel. And I am slightly embarrassed to admit that I could not resist a Mariachi nutcracker complete with tasseled sombrero, though he was obviously not a German creation. I could continue, but you get the point.
| | |
| --- | --- |
| A baking nutcracker | Early aerial adventurers |
| | |
| --- | --- |
| The Sheriff of Nottingham | Christmas music from around the world |
We made some progress last year when we only got out half the nutcrackers stored in a bathroom closet and ignored those living under our bed. No family members were coming for the holidays, thanks to Covid. This year, everyone is coming for Christmas, and we are unpacking them all. The Nutcracker Dilemma is again front of mind. What is the future of the collection? I admit I have checked offerings on eBay. Prices range from $9.49 to $456.00. Do I need to hire an appraiser to evaluate what we have?
Researching this article, I first learned about the Nutcracker Museum. My husband suggested when the day of reckoning comes, we could drive the collection to Leavenworth, WA and deposit our treasured collection on the front step and claim a tax deduction. Fortunately, we have no immediate plans to move and so in January, the Nutcracker Dilemma will be packed away for another year.