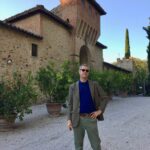 By Francesco Bianchini
'The enfilade that attracted us, with our faux marbre door surround and vivid colors.
With money from the sale of a small cottage, Dan and I roamed the Umbrian countryside for a few months visiting other sad ruins.  One Friday afternoon in November we ran into Beatrix, our real estate agent.  Uncomfortable about not being able to find something for us yet, she suggested we follow her to her office in the center of Todi.  First, however, she had to stop and lock up a building she had just shown to some clients.  We trailed behind her as she shut the windows overlooking a medieval alley.  In the dim light of dusk and the flashlight of her cell phone, we caught glimpses of rooms enfilade, high beamed ceilings, double doors.  The following Monday Beatrix's clients came back with an offer for the palazzo and were very much surprised to find out that it had been sold.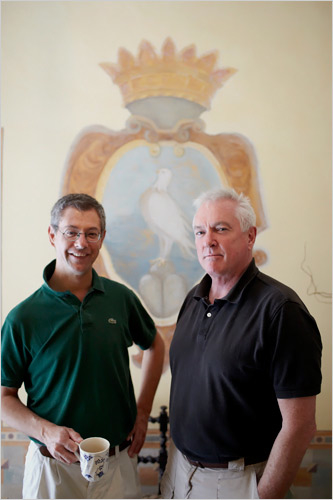 (© David Yoder NYT) The heraldic motif was supposed to include a falcon, but our bird seems more like a pigeon with an attitude!
Palazzo is an overblown term to describe our purchase.  It was actually the ground and second floors of a patrician townhouse, built on the terraced ruins of the Roman theater, even on older Etruscan foundations.  Part of the legacy of a local family, we judged by its state that it hadn't been given much consideration, perhaps hardly inhabited for a hundred years – no running water, no lights, no heating.  However, the elegant space, punctuated by nineteenth-century doors, beautiful windows set in deep recesses, the expanse of red terracotta convinced us.  The price was attractive and if we had stalled the opportunity might have slipped out of our hands.
The 'new' kitchen that never seemed new, with the wood stove in the alcove we created, and its marble, stone and tiled surfaces.
After a few months, and several tens of thousands of euros spent to consolidate load-bearing walls, ceilings; in re-plastering walls, closing doors and opening others; creating bathrooms, and a kitchen, installing water, light, and gas, we found ourselves the owners of a large apartment of graceful proportions – yet desolately empty and entirely painted white for fear that it would not be bright enough.  We bought a dining table and chairs from a used furniture shop and invited my father for lunch.  He, who never splurged on compliments, said our dining room reminded him of the refectory of a cloistered convent.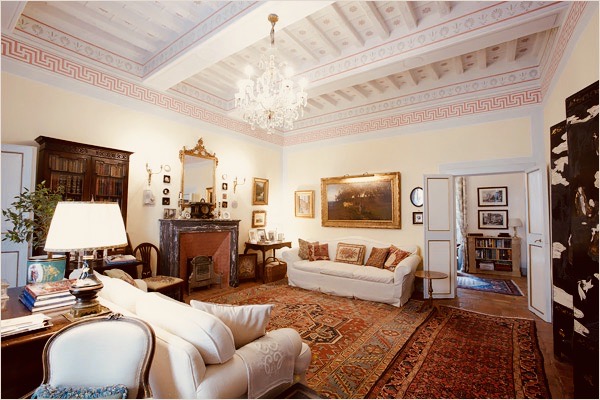 We transformed the salon by boxing ugly steel beams and painting the ceiling to look like three-dimensional cassettone, with pale lemon walls.
Something was wrong despite Dan painting the doors cream and blue, and edged in gold in imitation of those of the municipal theater, plus the pieces we found in the markets to tame the empty rooms. That was when we turned to a muralist to fresco in eighteenth-century fashion the coat-of-arms of the old owners in the foyer. She said she would rather show us how to do it ourselves.  Dan had helped his parents – lifelong members of amateur drama groups – to make and paint scenery, but I had never picked up a brush in my life.  Yet Meg taught us how to hold a brush and draw regular, soft lines like children do in elementary school.  We followed her instructions step-by-step and painted the crest ourselves.  Now that we'd broken the ice, why not try something else?  After all, the house had expanses of white walls, beams, and ceiling tiles waiting like blank canvases.  Five years later, we sold the house to an elderly couple of Californian artists, there wasn't even the memory of white paint.
The studio became our favorite room when we found and installed the marble mantel and added the decorative motifs on ceiling and walls.
One of the joys of that house for me was to have, for the first time, a real dining room and the kind of kitchen for which I had always longed – airy, convivial, filled with sun.  We created it from scratch in a former hallway that received afternoon light from a large window.  Under it we installed an old sink in Trani marble that we found in the cellar, tiling it all around with eighteenth century Vietri ceramics recovered in a dark and fetid basement in Rome.  The rest came to life a bit at a time.  An orphaned stair-step in grey sandstone came handy to invent a fireplace hood over a door we'd walled up to house a 1930s wood stove.  From the beams we hung a Victorian cast-iron laundry frame to dry the kitchen towels, and on the walls – alternating with the copper pots and pans we'd bought second-hand in France – we placed our collection of antique samplers and stitchery.  It was a kitchen that never felt new.  I imagined heartbreaking whispering over the American wall telephone (one with a cord long enough to walk from the sink to the fridge and back); could see floured hands opening and closing the Art Nouveau cherrywood cupboard with its frosted glass; smelt the scent of freshly baked bread under the stern gaze of king Vittorio Emanuele and queen Elena in their vintage portraits; heard the rustle of the pages of a calendar in search of the saint of the day.
I cooked with delight in that kitchen, my favorite place in that home, experimenting with new recipes, and having fun coordinating my concoctions with the color of the plates and the table linens.  Dan and I completed a far-reaching project that had kept us busy for weeks and had gone through many pentimenti.  We were no longer afraid of making mistakes.  If something didn't work, we painted it over and started again.  We redeemed the dining room from the refectory seediness reproducing from another Todi palazzo a grotesque grisaille band and a stylized flower motif on the beams and tiles.  We mixed various shades of tempera until we achieved a pleasant apricot hue for the walls, combining them with a grey band to match the habit of Poor Clares.
The elegant refurbished dining room with our fresco work and jolly apricot and grey color scheme.
To celebrate our new dining room we prepared a color coordinated dinner with a main dish of chicken fricassée.  I sautéed onion, carrot, and celery in a copper casserole, and then added the chicken cut into pieces and floured, simmering when necessary.  The chicken cooled before moving to the second phase:  diluting two egg yolks with the juice of one lemon in a bowl and adding a handful of chopped parsley.  The saucepan went back over the heat and was stirred quickly to prevent congealing.  Presented on an old Limoges barbeaux service, decorated with tiny cornflowers – the chicken arrived on the dining table bubbling in its yellow-apricot and parsley-studded cape.