By Laurie Toth
The Chicago History Museum Costume Council event, the Glory of Galanos, was held at an Art  Deco private club on Thursday, May 4th. The evening began at 6pm with a Champagne reception for VIP patrons, with doors opening at 6:30 for guests. 152 guests in all enjoyed this  wonderful evening. Co-Chairs for the event were: Tanner C. Branson, Stuart Dyer and Aaron J.  Shirley. 
Event Co-Chairs Aaron J. Shirley, Stuart Dyer, and Tanner C. Branson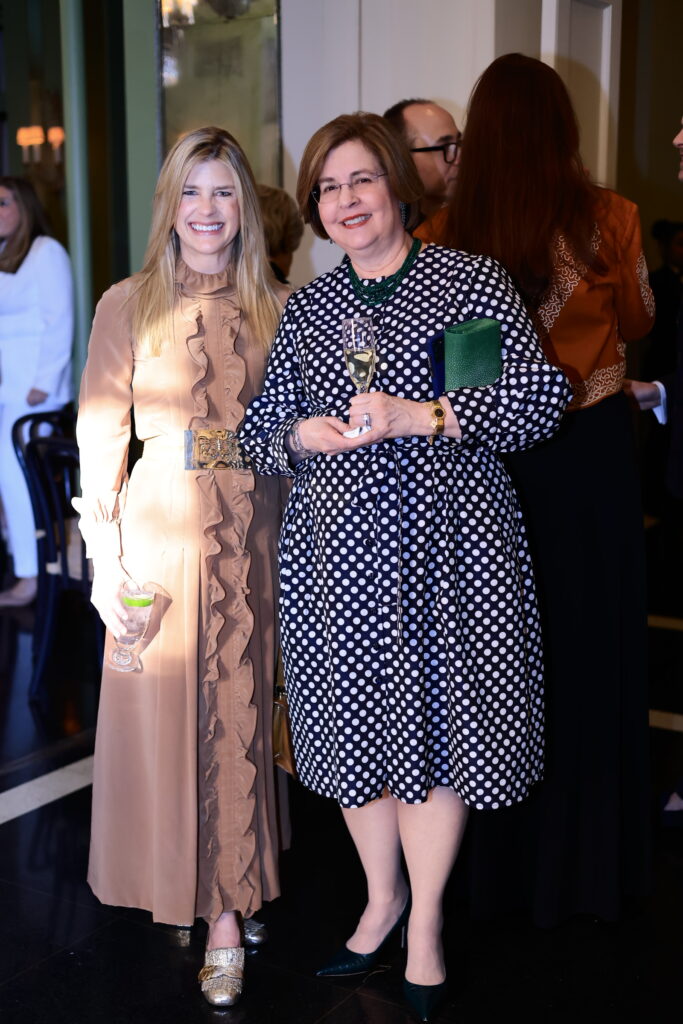 Stuart Dyer and Gabriella Cleveland
Stuart Dyer commented: 
"It was an enchanted evening celebrating one of America's greatest couturiers James Galanos in one of America's greatest cities, while at the same time raising money for the Costume Council and all of the considerable work they do to preserve our past". 
Speakers David Nash and Steven Stolman
Connie Barkley and Costume Council President Maggie M. Morgan 
Board President Maggie Morgan and Co-chair Tanner Branson
The program began at 7pm with speakers David Nash and Steven Stolman. David Nash is a  California-based journalist. He was a friend of James Galanos for over ten years. David owns probably the largest private collection of Galanos garments. Steven Stolman is an author and designer. He is a member of the Council of Fashion Designers of America and a new member of  the Chicago History Museum's Costume Council. Their discussion included many fun facts of his early family life. James Galanos's parents were Greek immigrants who owned and operated a  restaurant in New Jersey. He had three sisters, and he loved designing their clothes: even designing their wedding dresses. After graduating from high school in 1942, he attended a school in  New York headed by Barbara Karinska, the great Russian stage designer and costumer.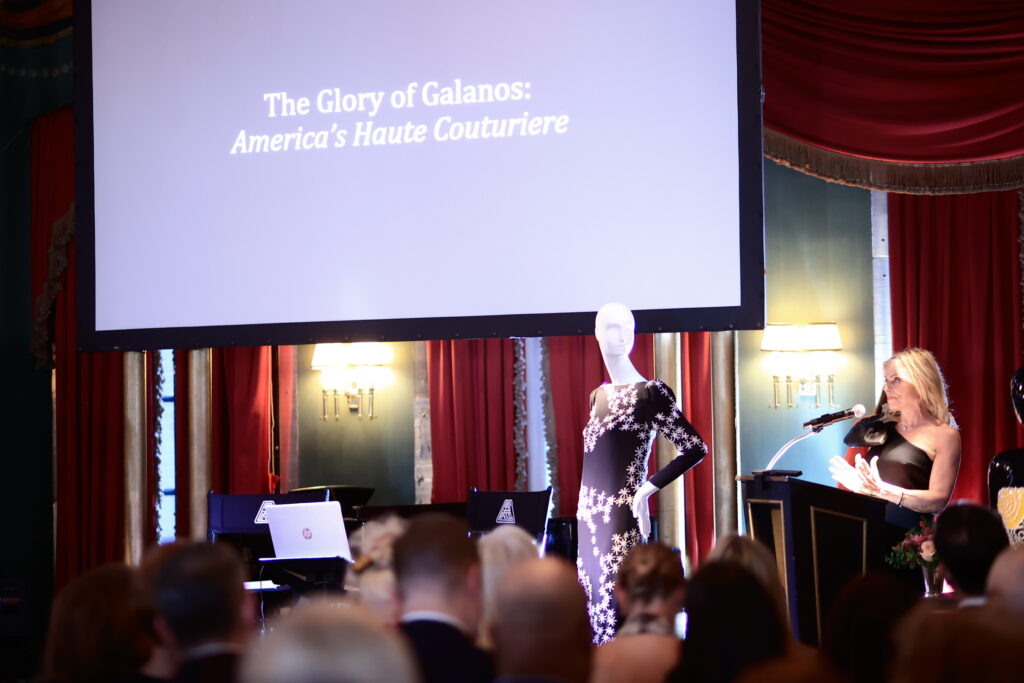 Costume Council Programs Chair Karen Peters
David Nash and Steven Stolman Presenting
James Galanos was born in 1924, launching his studio in 1951, retiring in 1998, his label spanned forty-seven years. He dressed the most glamourous women of the day. Celebrities such as Marilyn Monroe, Elizabeth Taylor, Grace Kelly, and the Duchess of Windsor, were some who wore his garments. Several well-known names built their entire wardrobes around his  clothes. Gloria Vanderbilt, Diana Vreeland and Nancy Reagan to name a few. His clothes were  expensive and included embellished detail. It was mentioned by David Nash that there were  two things one needed to be to wear his clothes, and that was rich and thin!! A significant aspect in his 50 year career is that every garment was made in his Los Angeles Atelier and at a level to rival Parisian haute couture.  
Costume Council Programs Chair Karen Peters and Costume Council Member Elda DeLaRosa
Costume Council Member Ellen Ross
The Costume Collection at the Chicago History Museum houses approximately 150 works by  Galanos. He won many prestigious awards; among them he was the first designer to receive  the Designer of Excellence in 1992 from the Chicago History Museum. 
The private club's 1920's, Art Deco interior and design was the perfect venue for this event. The stage in the Ballroom was decorated with mannequins wearing five Galanos garments from the  private collection of David Nash.  
Costume Council President Maggie M. Morgan
Costume Collection Manager Jessica Pushor and husband Justin Benton
The garments displayed were:
Afternoon into evening ensemble from 1952-53 – An early example of his work, a Silk  chiffon dress, belt and a velvet collared wool jack.  

Evening dress, fall 1966 – Bianchini printed silk evening dress, embellished with cuffs  embroidered in beads, sequins and rhinestones.

Retailed for $400-$3,500 (about  $3,700-$32,500 today) 

"Firebird" Evening dress, fall 1971. Brown Agnona wool crepe with crystal and bead  embroidery. This a featured full-page on November 1, 1971, Vogue.

Retailed for $500,  the price of a used Cadillac in 1971. 

Evening dress, spring/summer 1983 – Black and white Abraham silk crepe long dress,  with white snowflakes and randomly beaded.

Retailed for $6,700 (around $20,200  today) 

Evening dress, spring/summer 1991 – created for the 40

th

anniversary of starting his  studios.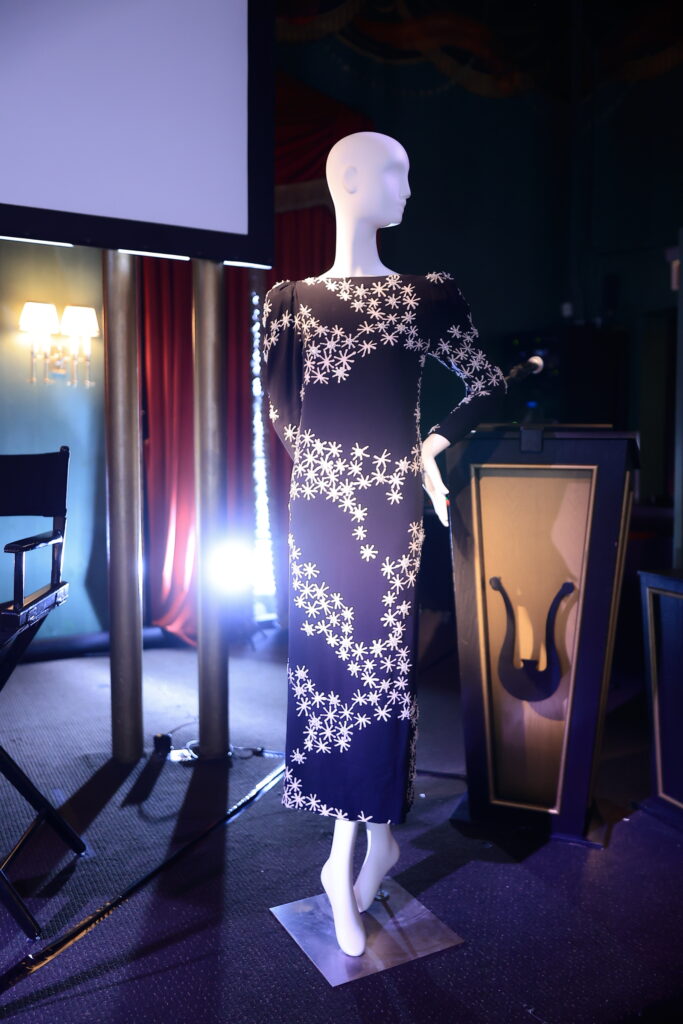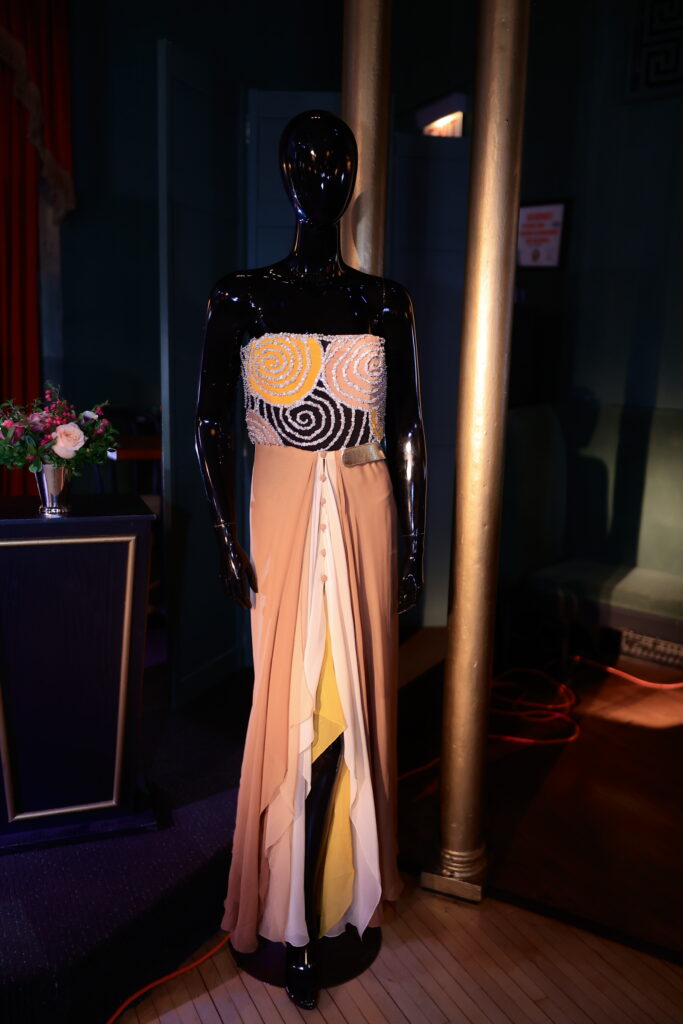 The evening ended with cocktails and hor d'ouerves being served in the beautiful rooms of the private club. The elegant, fireplaces ablaze, were the perfect selng to talk with  friends about the beautiful Galanos collection. Sherrill Bodine, a long time Costume Council member, summed up the evening with the comment: "This evening was Chicago's equivalent to  the Met Gala!" 
For more information on the Chicago History Museum Costume Collection, please visit the  website: http://www.chicagohistory.org/join-support/costume-council