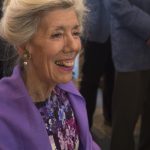 BY JUDY CARMACK BROSS
What better than a circus theme to bridge the imagination for 500 guests from their own childhood wonder to the masterful accomplishments of the Chicago Children's Museum? The evening, entitled Cirque!, raised more than $850,000, ensuring, in the words of its President and CEO, Jennifer Farrington, "more and more children access to art, science, climbing, pretending, exploring. and leaping."
Colleen Kelly Gomos and William J. Kelley, Jr. co-chaired the gala, with auctioneer David Goodman bringing in an impressive $18,000 bid for the La Dolce Vita package that included a week's tour of Italy along the Amalfi Coast to Rome and Tuscany. The Golden Paddle raffle Grecian Getaway package included a week for eight in a luxury villa in Mykonos.
Cirque! highlights included aerial silk acrobatics, jugglers and pantomimes, and other circus art performers, in keeping with its name. Guests danced to the music of Rush Street Rhythm, and enjoyed a film introducing the many programs unique to the museum.
We loved learning more from Jeff Perry, Board Chair for the past three years, who described the Children's Museum as a "magical place for early childhood stimulation and development."
He shared, "My wife Dena and I frequently took our three children, Jonathan, Donovan, and Olivia, to the museum when they were younger, and our two boys volunteered there while they were in high school in addition to their summer jobs. I regard it not only from an individual perspective but also for its collective impact. Board member Charlene Huang Olson knew that I was very passionate about making community connections for young people. She got us involved there in 2003."
"Every time I am there, I love to take a moment to see how visitors are experiencing the museum, whether they are children, parents, or caregivers," he continued. "I have noticed when I am out and about and I mention my involvement their people's eyes light up."
Perry explained that the museum is constantly researching the many ways children learn, creating programs around that methodology in order to meet young people's needs. A "museum for all," they offer a variety of programming, including "Play for All," for children with disabilities, and "Beyond Incarceration," with the Sherriff's Department, for children who have a parent that is incarcerated.
Improving children's lives by creating a community where play and learning connect is the museum's mission. Play-filled experiences, including more than 15 interactive exhibits and daily programming, engage children from ages 0-10 to develop the foundation for a lifelong love of learning. The Children's Museum aims to deliver at least one-third of its total annual attendance—this last fiscal year saw more than 400,000 visitors—to low-income or underserved community members.
For more information, please visit ChicagoChildrensMuseum.org.