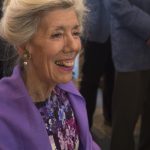 BY JUDY CARMACK BROSS
The spectacular fund-raisers of The Breakthrough Board, the group, formerly known as the University of Chicago Cancer Research Foundation Women's Board, proved once again that their event is among one of the Chicago area's most anticipated. Together with OGILVY and Verdura, this was the newly renamed board's first fundraising event in two years and a departure from their signature black-tie gala. Yet, thanks to the savvy of its membership and the co-chairs' ability to pivot multiple times during the pandemic, the evening captured just as much of its signature glamour and fun while also maximizing profits. The result: Nearly $1,000,000 was raised to support cancer research at UChicago Medicine.
Chaired by Lake Forest's Pim Alley and Whitley Bouma Herbert, over 300 guests gathered at two parties: one at The Casino in Chicago and another at Lake Forest's Onwentsia Club. A virtual component of the event was broadcast simultaneously, attracting attendees both nationally and internationally. Guests made donations via their phones while also bidding on luxury auction packages, including an exquisite 18-karat gold, diamond, and mixed-cut rock crystal necklace from Verdura.
As part of a prerecorded broadcast, Breakthrough Board President Linda Burns Coleman welcomed guests and Cancer Research Foundation Board Chair Zanna Nikitas discussed the organizations' enhanced roles. Earlier in 2021 The Breakthrough Board officially joined the Chicago Chapter of the Cancer Research Foundation in a strategic move to share resources, staff, and best practices.
Guests were then welcomed by Alley and Bouma Herbert before Gary Metzner of Sotheby's introduced some of the auction highlights, which included a weeklong stay in a luxurious Vail condo during Spring Break, Chicago Bulls courtside seats, and trips to Blackberry Mountain and high-end homes and resorts in Mexico.
Attendees then watched an emotional video developed by top industry creatives at OGILVY. The short film shed light on the resilience of cancer patients, researchers, and doctors at UChicago Medicine during the pandemic. To view 4-minute film, click here.
The parties at both The Casino and Onwentsia were designed by HMR in a palette of forest green and gold. Artist Susan Bouma, mother to co-chair Whitley, created large abstract paintings to complement glamourous living room vignettes at both locations. Upon their departure, guests were gifted potted succulents to bring home as a reminder of the resiliency highlighted in The Breakthrough Board's mission video. These little takeaways were generously donated by HMR and expertly wrapped up the Bringing Breakthroughs Home theme.
For 75 years The Breakthrough Board has been providing seed funding to support some of the most cutting-edge research at UChicago Medicine. This support provides new tools, talent, and technologies that have led to breakthroughs in the treatment of cancer. To help The Breakthrough Board reach its $1MM goal by December 31, 2021, please visit cancerbreakthroughs.org or contact nseidlitz@thebreakthroughboard.org.