By Judy Carmack Bross
The beautiful Four Seasons Ballroom shines the light

The 2022 Breakthrough Board Steering Committee gathers to kick off the evening (left to right): Annemette Clausen, Annette Carroll, Jennifer Rhind, Karen Slimmon, President Elizabeth Luttig, Anne Hokin, Kristi Nuelle, and Mary Conrad (not pictured: Terry Brumfield)
The recent Breakthrough Ball at the Four Seasons Hotel given by The Breakthrough Board lit up the night with its theme "Shining A Light Where Science Meets Creativity". Breakthrough Board President Elizabeth Luttig set the tone for the guests that evening saying, "We will, in the course of this evening, shine a light on the unique approach to cancer research at UChicago Medicine. What is this intersection of science and creativity? It's where the magic happens. It's innovation, it's collaboration, it's determination. It's bringing the best minds to bear on the mysteries and challenges of cancer. The doctors, scientists and researchers at the University of Chicago think outside the box and indeed, this is what makes their work distinctive." 
Ayo Odunsi and Kunle Odunsi, MD, PhD, Director University of Chicago Comprehensive Cancer Center
Breakthrough Board President Elizabeth Luttig and Michael Luttig
Dining and supporting: Top left to right: Jeffrey Smith and David Rhind. Bottom left to right: Laurel Elzinga, Jillisa Brittan and Jennifer Rhind
Cindy and Ben Chereskin
The Breakthrough Board is a champion of innovation.  Formerly the University of Chicago Cancer Research Foundation Women's Board, the 75-year-old board reinvented itself in 2021 with a new name and joined forces with The Cancer Research Foundation, a like-minded fundraising organization also dedicated to fueling the next big breakthroughs in cancer prevention, diagnosis, and treatment.
Zanna Nikitas, Chair, Cancer Research Foundation and Aram NIkitas
Christopher Olopade, MD, MPH and Funmi Olopade, MD, FACP
(Left to right) Lee and Jill Pollock with Laura and Michael Werner
Rob and Mary Conrad
The board's 2022 gala honored The Duchossois Family as its Partner in Breakthroughs for their commitment to philanthropy at the University of Chicago. For decades the Duchossois family has been shining a light on the imperative of cancer research.
Raising a glass to toast the night's honorees, The Duchossois Family, are friends (Left to right moving counterclockwise): Amy Vogg, Scott Vogg, Stacey Pitzaferro, John Pitzaferro, Skip Gianopulos,  and Gayle Gianopulos
The success of the gala, which raised nearly $1.5 million for the cause, was influenced by a modern model for gala leadership. A cross-generational Steering Committee model tapped a wide range of board talent and experience to help maximize financial success and to attract a broad spectrum of supporters to ensure an evergreen approach to building donorship. Event Planning lead Jennifer Rhind shared, "Important to our goal was our Event Planning Sub-Committee which included some of our younger and newest board members to help shape a modern, vibrant look and feel for the evening. A special thanks to Tricia Cox, Jen Kasten, Wells Ryan, and Anna Smith."
Left to right:  McKay and Astrid McKinnon with Karen and Andrew Slimmon

Kristi and David Nuelle
Meredith Parrish and Heidi Carey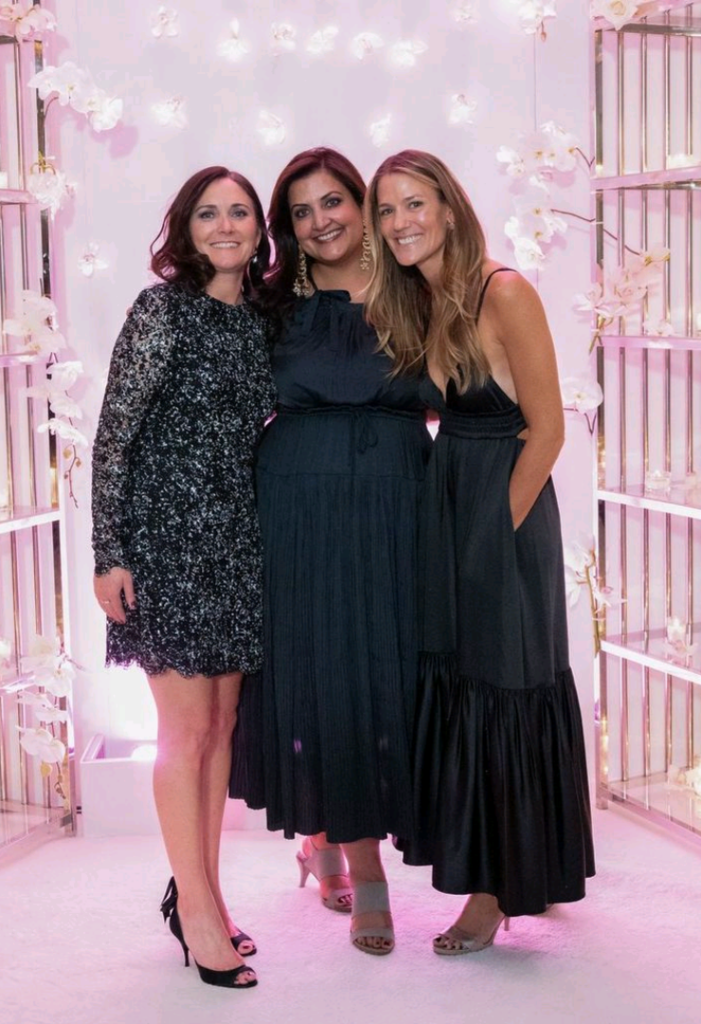 (Left to right) Mollie Ring, Cheena Chandra and Kelly Moore
Left to right:  Anna Smith, Kayme Gianatasio, Erica Swansey and Angela Carneli enjoy the cocktail hour scene
The Steering Committee chose to depart from the gala's historic black-tie tradition, opting for chic and elevated cocktail attire. The ballroom had a vibrant, dynamic look and DJ Madrid gave the evening an exciting new energy. 
Celebrating a very successful Live auction and paddle raise, DJ Madrid calls the guests to the dance floor

Anne and Kyle Rockey
Left to right:  Karen McEniry, Cindy Chereskin, Liz Ryan, Beth Hughes, Elizabeth Cole and Robin Tebbe enjoy the festivities
The board further evolved the event with a streamlined auction focused on unique travel and life experiences versus "things", another tip to contemporary values.  The team also focused on sustainability in its fundraising plans, using an online bidding platform with QR codes taking bidders to the event website for marketing and bidding activity, reducing the carbon footprint for the tried-and-true event.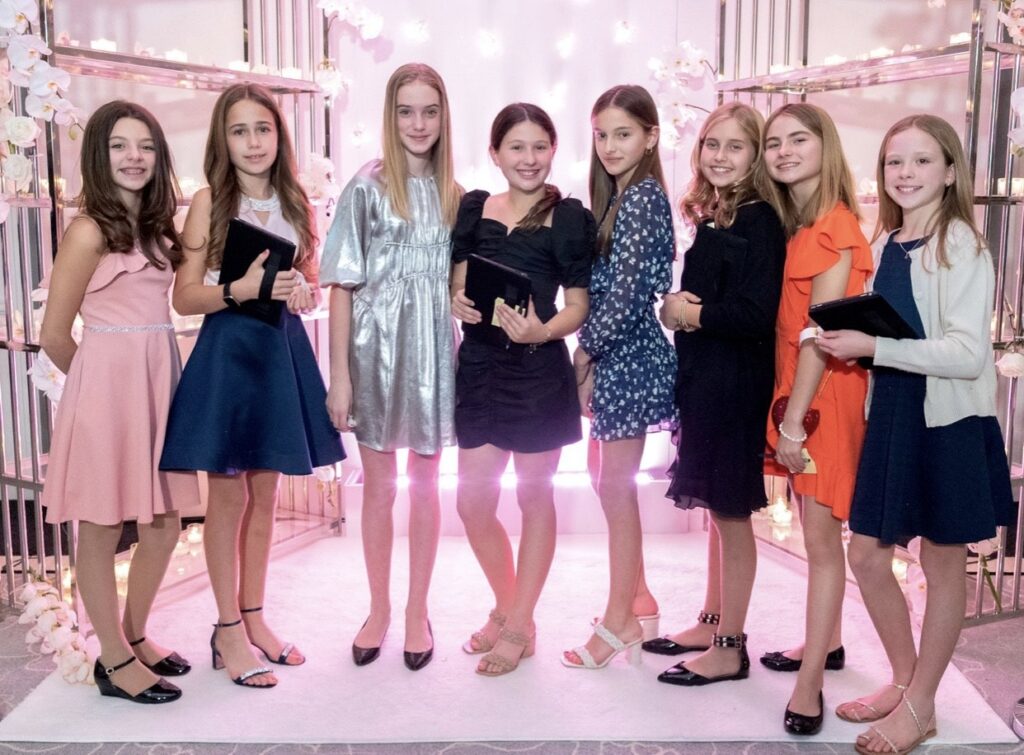 The Breakthrough Board Raffle Team working very hard for the cause (left to right): Giovanna Carneli, Alessandra Smith, Ava Bushonville, Ruthie Barlow, Sienna Prassas, Leighton Malec, Addie Schwalm and Macy Cruz
Sotheby's Gary Metzner expertly navigates a sea of paddles to support the cause
Linda Coleman enthusiastically supports the paddle raise
Working in partnership with marketing giant Ogilvy for the past 12 years, Communications Co-leads Mary Conrad and Kristi Nuelle turned to the firm not only for streamlined printed and digital invitations, but also to create the impactful video shown at the gala. Ogilvy created a beautiful story showcasing how UChicago doctors bring innovative approaches to solving cancer's most perplexing challenges. The film movingly combined doctor and patient stories and demonstrated how they successfully move their work from research bench to patient bedside. Several of the doctors and patients were in attendance at the event and could feel the appreciation in the room.
Elise Covic, PhD and Samuel L. Volchenboum, MD, PhD, MS

Longtime supporters of University of Chicago Cancer Research, Joan and Paul Rubschlager
"As a board which recently restructured and re-branded ourselves, we are always looking for ways to modernize our approach to successful philanthropy," Conrad commented. "At the heart of our success is the powerful research done by our doctors and the generosity of our donors. And then there is the passion of our board members.  There is probably not a single one of us whose family hasn't had to face cancer.  Each and every one of us carries a passion for our work in memory of or as a tribute to someone. My mother is the inspiration for my commitment and dedication to the cause of this board.  We all have our special someone."
Photo credit: Robin Subar 
For more information about the work of the Breakthrough Board visit:  www.thebreakthroughboard.org