By Brigitte Treumann
My plans to continue upstream to Aswan and from there to Abu Simbel succeeded more marvelously than I could have possibly imagined.  Emile, the genial Luxor travel guru, had made affordable and very pleasant arrangements to ease my progress. A comfortable car ride from Luxor to Aswan, as part of a convoy that stopped for visits to the Ptolemaic temples Edfu and Kom Ombo, took about six hours.  The road runs pretty much parallel to the Nile, following its gentle bends and curves, traversing rich agricultural land with occasional glinting vistas of the river. I have a particular memory of this early morning drive, I call it the Shapoura drive. Shapoura is an early morning fog that hovers above the ground, soon to be dispelled by the sun. I was so taken by its diaphanous nature, the filtered light, mysterious and poetic, that I then wrote a poem about it:
Shapoura
Mysteriously rising above the dew-soaked fields.
Softening the sharp outlines of sugar cane.
Hovering in mid-air, cloaking what is beneath.
Ancient souls breathe out, and women in red dresses
Gather greens, singing as they go.
Glimpsing life in these green fields and by the river was lovely and poignant in that it reminded me of those charming reliefs and frescoes of everyday life in the courtly tombs of Ancient Egypt.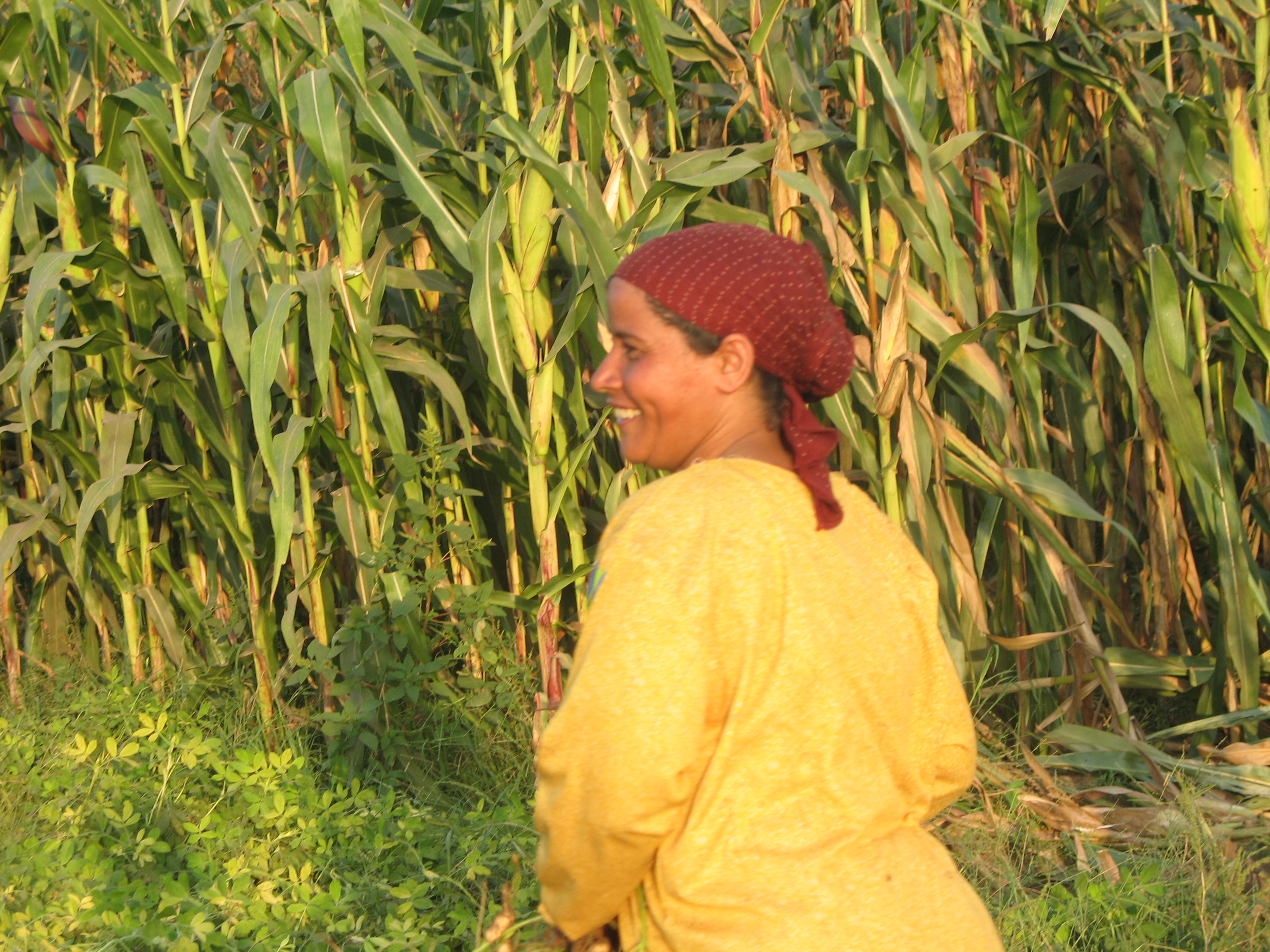 My companionable driver, Amr, dropped me off at riverside in Aswan where a small motorboat was waiting to take me to the Moewenpick Resort Hotel on the long green Elephantine Island, one of several islands in the Nile at Aswan. It may be a little corny to quote from my dog-eared Green Guide, but it perfectly reflects  my first impressions that afternoon "more than anywhere else in Egypt, this is the perfect setting for Egypt's most famous waterway, showing the country at its most picturesque, .…the sparkling blue river flows smoothly and slowly, dotted here and there with the white sails of feluccas….."
Thanks to yet another generous and most agreeable soul, proud motorboat owner, Haroun, (he explained that he was named after the famous Abbasid Caliph, Haroun al-Rashid) I spent a magnificent day on the river. He pointed to the mausoleum of Aga Khan II high above a sand dune, the famous Old Cataract Hotel (that has been completely refurbished since then and must be glorious) on the east bank, and the many smaller islands lying amid those blue waters.  We stopped at Kitchener Island, between Elephant Island and the left (western) bank of the Nile where I walked through its Botanical Garden, a "haven of greenery" with a fabulous collection of plants from the Far East, India and Africa. The gardens were a creation of Lord Kitchener who was given the island in 1898 after his successful campaign in Sudan. ( Battle of Omdurman, crushing the political separatist al-Mahdi)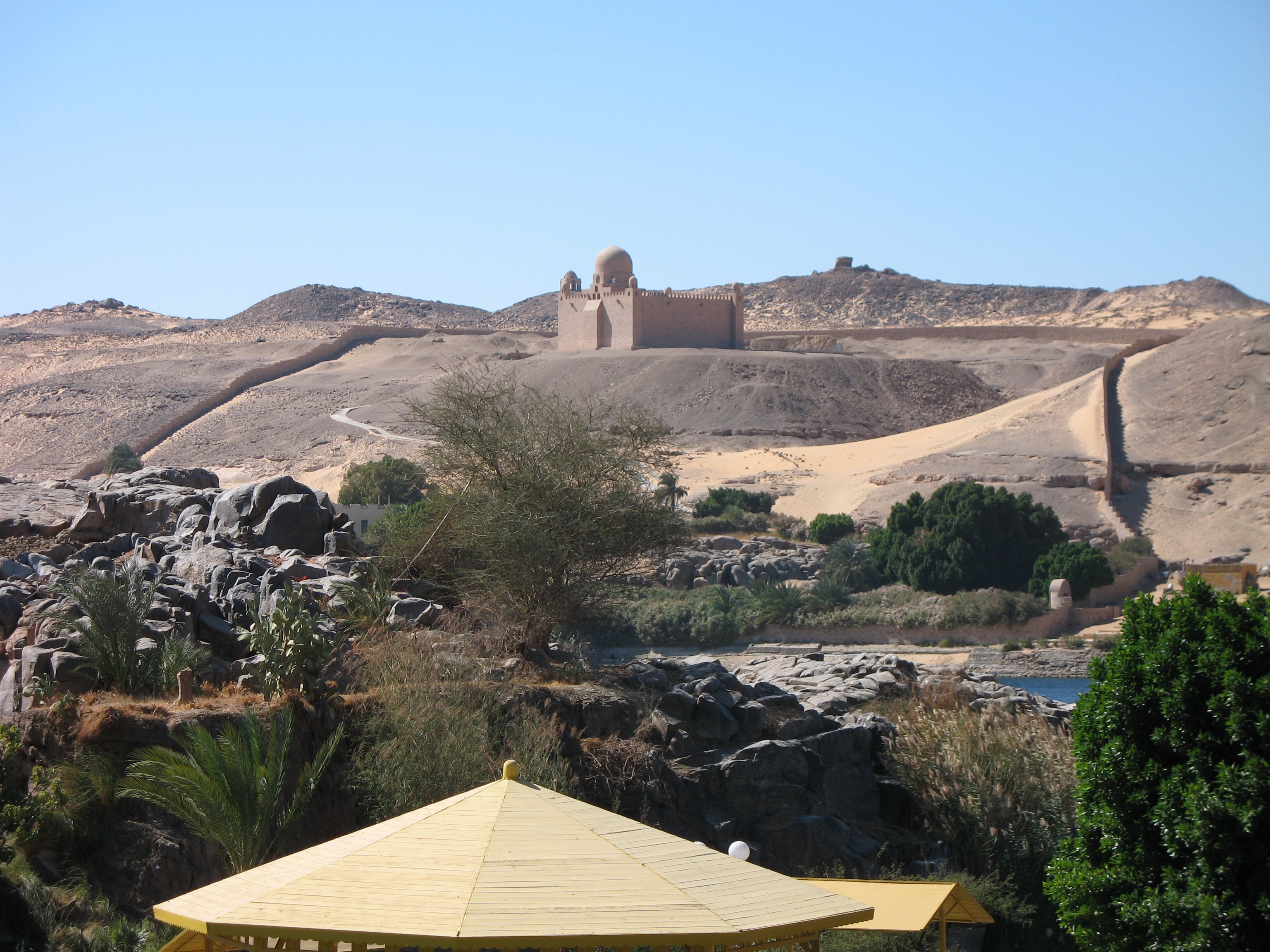 At my request, Haroun docked at the bottom of a steep rocky incline on the west bank of the river where ramshackle stairs lead to a small necropolis of some 40 tombs from the Old and Middle Kingdoms. These belonged mainly to courtiers and other dignitaries from Elephantine Island that once played an important role as the main hub for trade with Sudan. There pharaohs of the 12. 18. and 19. Dynasty built several large temples – though little remains of their former glory.
I scrambled up that hill to discover that most of those tombs looked pretty neglected — their gates half-open with rusting hinges and the wind blowing about a lot of Lybian desert dust. But, happily, I found the one I was looking for, the tomb of Sirenput II (also spelled  Sirenpowet) a dignitary of the 12. Dynasty. Its gate was open and the interior reasonably intact. Entering the pillared hall was exciting, I felt a little "frisson" since there was nobody about, only the wind blowing. For a moment I thought what could happen if the gate were to shut. Would l be forever locked in with the nomarch Sirenput II?  All went well, no evil spirit locked me up and I took great delight in contemplating the nomarch's "portrait" painted in the niche of his tomb.
But back to the living. Faithful Haroun was waiting (I guess he would have started to worry if I hadn't returned, and would have found me locked in Sirenput's tomb) to take me to the island of Sehel to have lunch in one of the brightly painted Nubian houses. The Nubians around Aswan were resettled from southern Egypt when the Aswan High Dam was built on the Nile in the 1960s. They have their own distinct culture, language, and civilization and struck me as particularly friendly and hospitable. And speaking of Nubia, Aswan has an outstanding museum dedicated to Nubian history, art, anthropology from Prehistory to Islamic Nubia.  As they say, this museum is entirely worth the voyage to Aswan.
It was time to move on even though I could have lingered on those blue waters, but I had a date with the great Pharaoh of the 20. Dynasty, Ramses II, at Abu Simbel. Well, not exactly a date, but that is how I felt anticipating the visit to this overwhelmingly majestic site. The first time I heard about Abu Simbel was in the mid-1960s from my parents. They had attended ceremonies in honor of the amazing completion of moving and reassembling block by block on higher ground two massive rock-cut temples and their colossal statuary that were threatened by the creation of the Aswan High Dam and the waters of Lake Nasser.
It was an early winter afternoon (January 2006) when I checked into the Hotel Nefertari, overlooking the still expanse of Lake Nasser and located about 20 minutes walking distance to the grand monument. I made haste, stumbling down a rocky path to catch the last light illuminating the gigantic seated statues of Ramses II and his wife Nefertari, immovable, eternal, staring east across the waters. It seemed I was the only little human standing there looking up at a long-gone and yet very present majesty. 
Back at the hotel, I found out that I was indeed the only guest. The receptionist asked politely whether I wanted dinner "before or after".  I inquired, also very politely, what he meant by before or after.  "Well, Madame, you will, of course, want to attend the sound and light show." After some hesitation, thinking of managing the rocky road in the dark, I decided to dare it.  It will, therefore, be dinner "after." With some trepidation, I admit freely, I started out after darkness had obscured signposts with a flashlight, a full moon, and an enormous starry sky to lead the way. Unbeknownst to me, the hotel had organized a small platoon of guards, stationed at each bend in the path, and equipped with walkie-talkies. I know enough Arabic to hear them say, "watch, the American is on her way." 
Thus protected I arrived safely at the amphitheater to be placed among some 20 swarthy handsome young men. Hmmm… but soon enough I realized they were my own personal body-guards. The show was fine, commented in Japanese for the benefit of a small group of Japanese tourists. Otherwise, it was a clear cold night, with the heaven above me and Ramses II and his wife Nefertari looking even more otherworldly than they had in the afternoon. I was accompanied back to the hotel by two friendly, arms-bearing young men who wanted to know all about Michael Jordan.   
The dining-room was brightly lit. I was seated, like a queen, at the best table. A white-gloved, formally attired waiter served course after course of the most delicious dinner with all my favorite Mideastern dishes accompanied by an excellent Lebanese white wine. Sleep in my spacious cabin came easily that night. 
Back in Aswan I finally had to say good-bye to all the friendly spirits who had made this stay so wonderfully happy. A friend of Haroun drove me to the airport and when I thanked him for his kindness, he lightly hugged me and said: "May God always go with you."