By Elizabeth Dunlop Richter
The ginger scones had been delicious. The seemingly ancient mix from which they came had caught my eye in a cabinet clean-out and inspired me to explore my kitchen for other ancient items tucked at the back of a shelf, unloved and unused. With extra time due to sheltering-in-place thanks to The Virus, I found quite a number of products including gifts, travel souvenirs, purchases for ethic culinary exploration, and more. In an article for this magazine at the beginning of April, I documented my finds and wrote that I had work to do. And so I began to use my inventory of The Forgotten.
The Wild Huckleberry Topping from Washington State required nothing more than to open the lid. No recipe searches or new ingredients were needed to enjoy. A pancake breakfast was planned in anticipation. My pancake aficionado husband Tobin, who's been known to complain about pancakes kept warm in the oven and not served directly from the pan when cooked (I have to agree with him, hence breakfast-a-teers in my kitchen are now served their pancakes one batch at a time), was called upon to judge. "Good as new," he said, as he waited for his second batch to cook. I found the topping okay if not fabulous. A scoring system was needed. I decided that a scale from 1-10 with 10 being the best would work. The Huckleberry Topping needed a stir; would it have been better opened five years earlier? Perhaps. Wild Huckleberry Topping: 9.
Next, feeling ambitious, I decided to try the Sourdough Starter. The directions said mix flour, water, and the starter and place in a dark warm place for 48 hours. My oven with just the interior light on had worked in the past as a good place to proof bread dough, so that's where the bowl of thin beige liquid sat. I even put a strip of blue painters tape across the oven door so I wouldn't forget about it or disturb it. With great anticipation, I opened the oven door after the requisite two days. It remained a bowl of thin brown liquid; no yeasty spell or lively bubbles. A dud. Well, I wouldn't need to learn to bake bread that day. Sourdough starter score: 0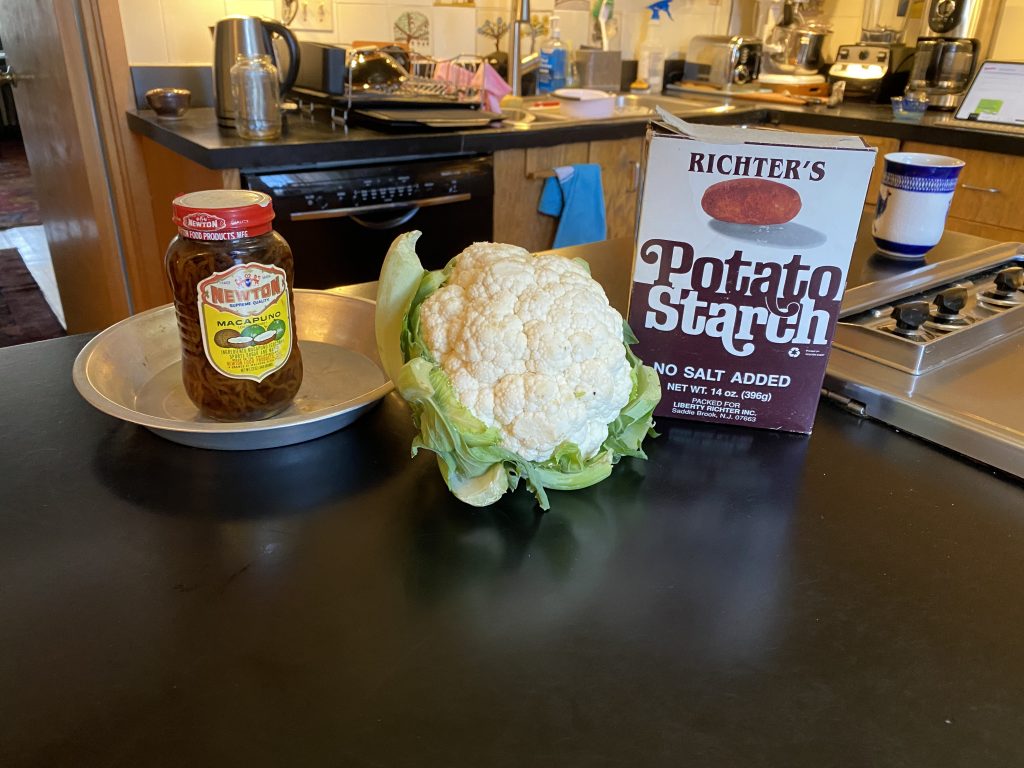 Realizing that I needed to double up on my work to get through the list, I next decided to try the Richter's Potato Starch and Macapuno on the same day. Potato starch, it turns out, is much like cornstarch, a thickening agent for sauces, or can be used to create crispness when sprinkled on other ingredients. I found a promising recipe for use on roasted cauliflower. The Macapuno (coconut sport – you'll have to read the previous article if you don't know that is) would be a layer in what promised to be a delicious custard pie, inspired by my recent re-addiction to more seasons of The Great British Baking Show. A common ingredient in dessert from the Philippines, Macapuno, appeared in many other recipes calling for ingredients I didn't have, like cassava root, condensed milk, and coconut cream. I was greatly relieved to find the custard pie recipe.
Online image                                                                                               My jar
The pie would take a bit of time. I could feel Paul Hollywood's steely blue eyes (you know who I mean if you've seen The Great British Baking Show, highly recommended) watching as I made the shortcrust in a Cuisinart and put it in the refrigerator to chill, then blind baked it. I made the custard and set it aside to cool. Now for the Macapuno. I had noticed in the photos for many online recipes that the ingredient was pale or golden; it also had a slightly odd structure of hundreds of small worm-like shapes. In the jar, mine seemed rather dark. With great difficulty, (I had to resort to using hot water and a jar opener) I finally was able to open the jar and peered inside. Hmm. Very dark in color. The inside of the lid seemed to have an unnatural smooth slightly blotchy black coating. The Macapuno itself, mahogany in color, still had the distinguishing worm-like texture (admittedly a bit creepy). I gingerly took a taste. Initially, it was sweet with a slight coconut flavor, but then, I discerned an unpleasant aftertaste. I took a second small bite. Now I felt a slight tingling in my mouth. Not at all a good sign. I rinsed my mouth out with some water. The taste remained. I drank some coffee. The taste remained. I finally tried some peanut butter and finally, the tingling and aftertaste dissipated. I assumed I hadn't been dangerously poisoned, but as a precaution, dumped the jar of Macapuno in the disposal. Macapuno: 0.
Substitute filling
The pie was half done. I realized I could turn it into a fruit custard pie. I thawed some frozen blueberries to replace the Macapuno layer on the bottom of the chilled pie shell and added the cooled custard.
30 minutes in a 350-degree oven. The pie, lacking its forgotten treasure ingredient, was not actually on the scorecard, but why not be honest and score it as well. Tobin liked it, but I thought the crust was hard/soggy not crisp or flakey (ouch). The custard was just okay (I had only almond milk) Custard Pie: 5.
Using the potato starch was much less of an adventure. It was just a matter of separating the head of cauliflower into segments and tossing them with olive oil, salt, pepper, and a teaspoon of potato starch, then baking 30 minutes at 450 degrees. The flavor was good and there were crispy bits. I think more potato starch would have helped. I decided to try a different recipe using more of the potato starch: Sand Cake. I'd never heard of this, but the recipe looked good and although the recipe called for a plain cake pan, I had a seldom-used Bundt pan and decided to try it. The Sand Cake recipe came from the New York Times archives (below). Luckily, no bits stuck in the Bundt pan. "Lightly, flavorful and fluffy. Well textured," said my resident critic. I froze chunks of it and a few days later thawed a thick slice briefly in the microwave. It was just as delicious. It would be best served with ice cream, fruit, or yogurt as it is a bit dry. Potato starch shelf life: 10 Sand Cake: 10.
It was time to roll grape leaves! Or maybe not. When I took the jar out of the cabinet, I noticed some white spots on one or two of the visible leaves. Not a good sign. Online research said canned grape leaves should be good up to five years. I'd had them almost exactly five years since the best-if-use-by date. Reading the ingredients, checking on the Internet, and opening the jar, I realized the white flecks were just a minor sodium deposit in the brine. Nothing stuck to the leaves, so I plowed ahead.
Wanting to be efficient in my treasure testing, I found a recipe for stuffed grape leaves that called for Pomegranate molasses and sumac, also on the list. Great – three for one. The recipe called for lemon juice as well as the molasses. My inadequate supply of lemons led me to make a fateful decision. Use more Pomegranate molasses.  Big mistake #1. I also used short-grain brown rice. Big Mistake #2. After an hour of stuffing and rolling and simmering (2 hours), it was time to taste. Not only was the rice still rock hard, but the flavor of the molasses was overwhelming, covering the subtle flavors of the sumac, fennel, even the raisins that I hoped would add what chefs like to call flavor layers. My Resident Taster only tried one bite. "No thanks." I wasn't ready to admit my wrapping was in vain. I hoped I could save the two dozen remaining stuffed grape leaves with longer cooking and yogurt. Sure enough, adding water, 6 minutes in the microwave on a medium setting, and served with plain yogurt resulted in a very tasty lunch, but only for me. So evaluation is tricky, with lots of footnotes. Grape leaves: shelf life: 9 (just the leaves…they were just as remembered and worked well). Pomegranate Molasses: 10  (as powerful as ever). Sumac: ? (Unable to taste). Overall dish: 2, then redone, 7 (0 for Tobin).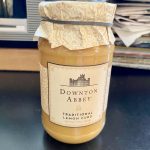 As for the Downton Abbey and Southwark Cathedral selections of Hidden Treasures, I didn't feel I had to "test" them, as much as create an event, like a British Tea Party. I also found an overlooked tiny jar of clotted cream (perhaps from tea at the Drake?), a very British accompaniment to scones or tea cake. I checked and determined that both lemon curd and marmalade were proper accompaniments for Afternoon Tea and decided to use more of the Sand Cake, potentially quite tasty with the clotted cream, lemon curd, and preserves.
I invited the Lord of the Manor to join me for a 4:00 pm break from a webinar.  He was grateful for the change of pace and in an appropriately formal way acknowledged his delight, "The ingredients have fortuitously come together at this quarantined moment in time".  He cleaned the plate! How could the rating be anything but an elegant and posh 10.
It was time for the Idli breakfast (South Asian lentil cakes with Sambal – a South Asian sauce). Following the package directions, I added water to each packet of dry ingredients. One created a ground lentil infused fluffy batter that I spooned into greased round molds and steamed. The sauce packet also said to add tomatoes or other vegetables. Tobin's reaction, "It's interesting but I don't think it's going to replace Cheerios." It tasted to me like cream of wheat. The sauce was thin and mildly spicy that the idlis soaked up quickly. I liked it as an exotic combination that did remind me of India. Shelf life: 10 Taste: 9.
The only remaining Forgotten Treasure to be tested is the Tempura batter. For some reason, I think I'll just wait on this one. We're ready for peanut butter sandwiches!
Sand Cake from the New York Times
ROBERT FARRAR CAPON
YIELD: 12 servings
TIME: 1 hour
INGREDIENTS
1 cup butter
1 cup confectioners' sugar
1 cup fine granulated sugar
4 eggs
¾ cup potato starch or cornstarch
¾ cup cake flour
1 teaspoon baking powder
1 teaspoon vanilla
Finely grated rind of 1 lemon
Add to Your Grocery List
PREPARATION
Preheat oven to 350 degrees.
Cream butter and sugars together thoroughly.
Add eggs one at a time, beating thoroughly after each addition.
Sift starch, cake flour and baking powder together and add, mixing thoroughly.
Add vanilla and lemon rind, mix batter well, pour into buttered and floured tube pan and bake for 45 minutes or until cake tester comes out clean.
When cool, remove from pan and sprinkle with powdered sugar. Serve in slices with vanilla ice cream and lingonberries.