Judy Carmack Bross
If memories of moving into your dorm room make you cringe and thoughts of carrying boxes into your first apartment give your back muscles a twinge, this moving memory of 112 parishioners at St. Chrysostom's Church on the Gold Coast might help you move on. Just after celebration of the 15th anniversary of the Fisk organ at the Episcopal church, organist Richard Hoskins related the most moving experience:
"On a bright, sunny day—September 12, 2004—a huge semi-truck from Gloucester, Massachusetts pulled up to our curb at 10:58 am, and after the 11:00 service and sexton Ron Franklin's BBQ in the courtyard, 112 of us began to carry the thousands of organ parts, including 1,729 pipes, into the church. The truck was empty by 9:30 pm that evening, and early next morning the assembly of the organ began.  About five weeks later we heard its first music, thanks to the Fisk crew of eight professionals who put the pieces together."
"Many people assume that an organ is like a refrigerator, you just buy it and plug it in. Not the case. The Fisk organ company encourages churches to get to know all the parts needed to produce this beautiful sound by literally moving in organs piece by piece. Parishioners ranging in age from adolescents Warren Shepro and Tomas McLees to 90 year old Betty Bentley participated.
"Our parishioners took possession of the new organ in a very physical way.  Several of those who helped have died or moved away, our youngsters have graduated college.  But those of us who were here—and so many others—have been swept away by the beauty of the sounds and the generosity of those who helped make it possible. It will always show how beautiful music can be a transcendence from our cares and worries."
Bringing mental pictures of barn raising in rural America in the 17th and 18th century, the participants who returned for Hoskins recent celebratory concert featuring himself and Roger Stanley, retiring after 22 years as Associate Organist, denied that it was heavy lifting at all.
Attorney Richard Shepro who served as organ committee co-chair, then chair and warden at the time, described how it all began:
"The organ committee had a tough decision—whether to repair the old organ which would have been extremely difficult or to get a new one.  We met again and again.  Not only was there controversy about what type of organ but also where the organ would be placed. The back of the church was finally selected, with a strong endorsement of that choice from both Richard and Fisk.
"A small voice was saying to me that we should investigate tracker organs whose origins date back to Bach, rather than an entirely electrical one whose tones can seem too regular.  There is something about the slightly irregular sound of a tracker organ, like bellows pumping up and down. I remember a concert on the tracker organ once played by E. Power Biggs when I first got to Harvard in 1991 capturing that feeling as well as one at my wife Lindsay's alma mater Wellesley College.
"The committee, including our then Rector Reverend Raymond Webster, visited organs in various parts of the country, selecting C.B. Fisk, Inc whose factory is in Gloucester, Massachusetts.   It's the Fisk tradition to encourage parishioners to help move in the organ pieces, and the installers often stay in parishioners' homes for up to six months as they put the organ together."
The Fisk organ builds only one organ at a time, and the St. Chrysostom organ bears the title opus 123.  The organ took two years to build and then was taken apart and loaded on the truck for the Dearborn street church.
Shepro continued:
"Richard said at the celebration recently that he gives thanks every morning for the beautiful organ which has not only provided music for our church services but has allowed the church to become the place where the great organists of the world come to practice and give concerts. At least five other highly recognized Chicago organists were present at the celebration to congratulate Richard."
Daniel Roth, Organiste Titulaire of Saint-Sulpice Church in Paris, played at the dedication of the organ on February 25, 2005 and will return to St. Chrysostom's to play on February 4. Hoskins, an internationally recognized organist, returns to Paris yearly to play on the magnificent pipe organ at Saint-Sulpice, the second largest church in Paris.  Dating back to the 18th century the church, where Victor Hugo was married and Charles Baudelaire was baptized has a tradition of renowned organists who have played there.
Hoskins grew up in a musical family in Freeport, Illinois which was made up mainly of singers who asked Richard to learn to be their accompanist. "Their philosophy was if you wanted music you made it," Richard recalled.
He first came to St. Chrysostom's 35 years ago and remembers:  "Bob Howell, who was rector at the time wanted me to expand the music program and my goal became getting a concert series going."
With the concert series launched, Richard asked famed and fun philanthropist Nancy Brooker, then senior warden at the church, to plan fundraisers for the music program. Unfading in the memories of guests who attended, the parties featured Cole Porter, the movie Casa Blanca, a Riviera picnic and other lush themes with guests arriving in glorious costumes.  Nancy's pal and extraordinary hostess Zarada Gowenlock helped create the mood for these sold out events.
Hoskins, who adores Rossini, Mozart and Bellini, a rousing Kiss Me Kate, Sarah Vaughan and Kelli O'Hara, was happy to create the musical backdrop for Brooker's events as was his choir of splendid voices, several of whom through the years have sung with major opera companies. The music program at St. Chrysostom's became an even more important part of parishioner's lives during Hoskins leadership. In addition to his highly regarded adult professional choir with a wide repertoire, Richard is proud is the Children's Choir he created.
"It not only gives children a place to participate in church and learn its great music but also, by learning to sing and read music, we know that they can do better in school in their math and English classes."
Church Rector the Reverend Wes Smedley told us:
"St. Chrysostom's Church in Chicago is hard at work renewing its 125-year heritage of extraordinary sacred music under the care of Organist and Director of Music, Richard Hoskins. The Fisk organ  and the 1927 Crane Memorial Carillon, one of the oldest in the country, make St. Chrysostom's able to become a hub for learning and playing traditional sacred music at its very best. With new Assistant Music Director Tom Colao, St. Chrysostom's plans to build its Children's Choirs, Parish Choir, and professional choir in service to God and our neighbor. Come and see what we're up to: www.saintc.org, 1424 North Dearborn Street."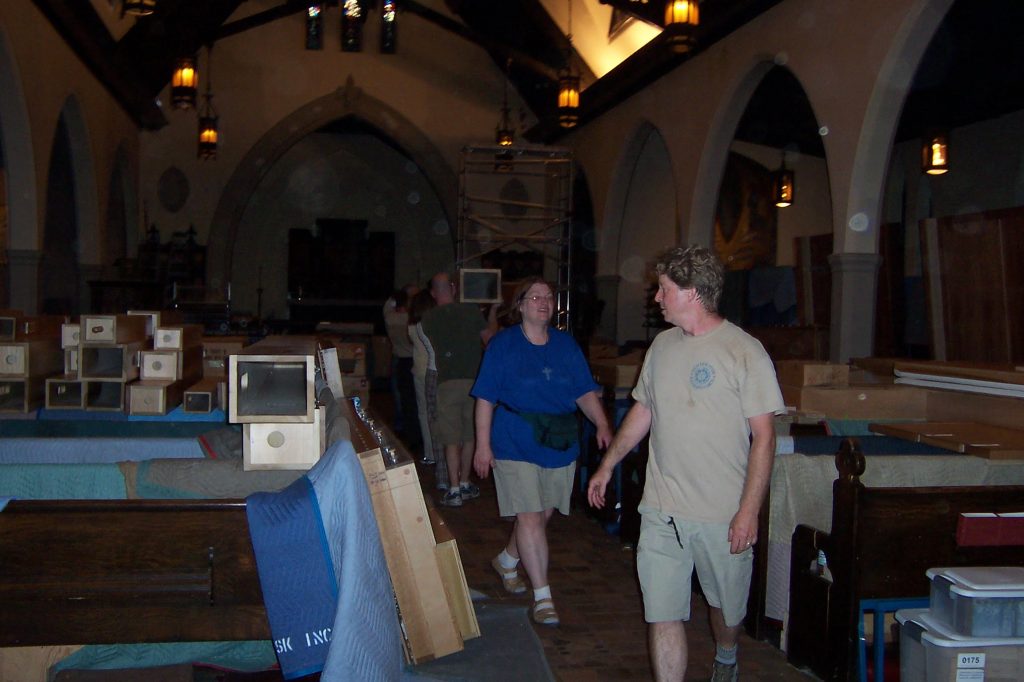 Mary Ellen Christy, founder of St. Chrysostom's Day School and a vital part of the current St. Chrysostom's Capital Campaign entitled Reaching Forth in Love, told us:
"One component of our current 15 million dollar Capital Campaign for Saint Chrysostom's Church and Day School is a state of the art, acoustically perfect music studio which will be available for our professional, community and children's choirs practices and will also be suitable for small concerts, master classes and instruction not just for members of our parish but also for the larger Chicago community.  An additional part of our Campaign is the restoration of our beautiful and historic Carillon, including adding five new bells and purchasing a new clavier, a practice instrument used to instruct students wishing to learn how to play the Carillon. We are set to move into the Community Phase of the Campaign because we have achieved 63% of our goal and look to sharing details of the Campaign with anyone who would like to participate."
At the recent celebration Hoskins said the organ is dedicated not only to the church but also to the city of Chicago.
"The organ has changed how we worship and the sound thrills the congregation each Sunday. It has significance even beyond the greater Chicagoland area where most of our talented organists have come to practice and hold concerts.  International organists have raved about its sound, and organ societies hold national conventions and competitions here.   My students, some of whom have gone on to Oberlin and Julliard, have learned on it.  A true ripple effect has been created."
And it all began one pipe at a time.