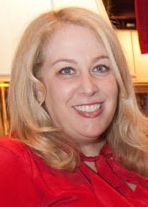 By Michelle Crowe
A still image from White Christmas. These people went all out with theme dressing.
Dressing in December ranges from the highest of the high heels to the lowest of the lounge pants. When done well, this exhilarating time culminates with the best of both extremes to celebrate the end of one year and the beginning of another.
How so? Well, a beautiful dress or suit for New Year's Eve followed by cozy cashmere for brunch on New Year's Day, of course.
For the man in the spirit – Brooks Brothers Tuxedo Jacket and Trousers.
Before the big finish of 2021, revelers have choices to make about how overtly festive they want to dress. Some go all in on plaid, skiing bear sweaters, Christmas Tree brooches and other novelty pieces.
Others avoid red, green and anything overtly seasonal, preferring to stick to a neutral palette and bring the festive with fabrics. These chic people are in the bias-cut satin skirts, the wrap blouses with barely perceptible mini sequins, or a vintage YSL Le Smoking. They gush over a clever vintage treasure a friend is wearing but are quite unlikely to choose something cutesy for themselves.
Minimalist but still merry, a slipdress from Vince. In pistachio velvet.
Perhaps they grew up in a family famous for matching plaid at parties. Possibly they are fashion professionals and have developed a devotion to clean lines and signature silhouettes.
Both groups look fantastic. A party is at its prettiest when everyone shows up as their very best selves. Lean into your chosen approach for holiday dressing.
Fair Isle and sequins from Lauren by Ralph Lauren.
Break out that velvet jacket, those beloved Stubbs and Wootton slippers with embroidered ornaments. Festoon yourself in Fair Isle sweaters, which are available this year in citron shades alongside the traditional tones.
Turn heads with your minimalist chic, channeling Carolyn Bessette Kennedy with your long and lean silhouettes. We see you, we love you, we envy your refined chicness. Keep inspiring Pinterest boards with your effortless style and large diamonds.
Tom Ford for the 007s among us.
A few among us will dress on both sides of the holiday party equation and that's fun too. We will do our best not to gape when you toss aside your column dress for a plaid ball skirt or forgo your snowman sweater for three layers of cream-colored cashmere. After this year and last, celebrate everything and dress for those celebrations however, feels right in the moment.