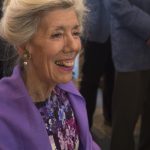 BY JUDY CARMACK BROSS
Tiege Hanley's CEO Kelley Thornton's long-lauded reputation as a community leader has been shining even brighter over the past year. The Chicago-based men's skincare company makes volunteering and giving part of its daily routine, donating enough of their signature hand-sanitizer to supply all the fire departments in Chicago.
Talking over Zoom with Thornton, I witnessed the can-do spirit we have been presenting during the pandemic as part of our "Classic Chicago Salutes" series. Hearing how he got his employees and children alike involved in this and other projects reminded us of our favorite quote for this continuously challenging time: "As you grow older, you will discover that you have two hands: one for helping yourself, the other for helping others." With his products and donations, Thornton has not only been lending a helping hand but helping hands across Chicago to stay safe.
Thornton explained, "We were fortunate to donate directly to the Chicago Fire Department cases of 18oz Tiege Hanley Hand Sanitizer. The Fire Department distributed cases to every fire department in their network for both their internal use and to donate to the community."
"What was amazing about the fire department is that they brought about a dozen guys from their team to our warehouse to pick up the product, led by Scott Ronstadt, Deputy District Chief of Chicago Fire Department, and Chief Walter Schroeder," he continued. "At the time the city was using the United Center as a staging location to receive and distribute supplies to vital workers. Our office is close to the United Center so our hand sanitizer was distributed in about 48 hours! Another interesting aspect of the donation was that we shifted to hand sanitizer production so fast we couldn't get the bottles labeled in time by our manufacture."
Thornton shared that they purchased a label machine and labeled every bottle by hand before replacing it in boxes for the fire department. They also supplied hand sanitizer to the Elmhurst Police and Fire Department as well as the fire department of Milford, Connecticut, where his business partner resides. Local stores were also the recipients of Tiege Hanley hand sanitizer.
Since its beginnings in 2016, the company has donated more than 100,000 new, full-sized products directly to organizations that help men get back on their feet.
"The culture at Tiege promotes the greater good over the individual, and I know this has a lot to do with the company's success," Thornton said. "While COVID-19 presented many challenges, it became apparent that guys continued thinking about skin during quarantine. We like to keep things simple and think that men can commit to a three-minute routine both morning and night The company has realized 20-30 percent growth each month since inception and is projected to increase its lifetime value revenue in the range of $20 to $30 million by 2022."
One of the non-profits that has most benefitted from the company's community outreach is I Grow Chicago: "On December 8th I sent a note to our team asking for donations for I Grow Chicago. I Grow is in the Englewood community of Chicago, which has been hard hit by violence, unemployment, and poverty. Much of their work is to support single parents—many of them mothers—families, and justice for their community. Tiege participated in the opening of I Grow's Peace House in 2019 and their Martin Luther King birthday celebration. We have met people from the community, engaged in activities, and broken bread with them," he shared.
"The outcome was amazing!" he added, describing the organization's recent record-breaking Share the Love holiday program, during one of the hardest years of many of our lifetimes. "I Grow provided gifts for 1,200 children, and people are still coming to the Peace House!"
Through I Grow Chicago and other community efforts, Tiege Hanley has donated products to the YMCA, Salvation Army, RAGE (the Residents Association of Greater Englewood), Kidz Express, Breakthrough, and more. As part of their quarterly giving strategy, the company has also allotted 7,000 full-sized skincare solutions to the K.W.O.E. Foundation, a nonprofit organization that utilizes music and motivational speaking to instill hope, teach life skills, and generate opportunities to help youth make productive life choices and succeed.
For those looking for book recommendations from Thornton, that have been a guiding factor in his community efforts, he had two great suggestions: "You Want to Talk About Race by Ijeoma Oluo gives clear and constructive ways to address racism and better understand its complexity. Delivering Happiness by Zappos' CEO Tony Hsieh redefines corporate culture in terms of great customer relations and working to achieve happiness in those around you."
Part of the equation towards happiness for Thornton has always been faith, growing up in a Catholic family. He is now a father of three: a son and a daughter, now enrolled at DePaul and Fordham, and another son, currently at St. Ignatius, who frequently volunteers with his father at Our Lady of the Angels for Sister Stephanie on weekends. In addition to product donations for a recent Jessie Tree fair, father and son took apart old radiators to repair. Hands-on volunteering is in their blood.
Named for one of Thornton's ancestors, Tiege Hanley came into being after Thornton walked through a department store skincare aisle. He said he was struck by three thoughts: "Guys don't know much about skincare. Men's skincare products are complicated and confusing. And man, those products are expensive."
Thornton turned to his college roommate Rob Hoxie to help address the challenge of creating a product that was simple sensible, affordable. He explained, "Rob lost his father to melanoma and from the very first, we developed products to protect against the sun, including FDA-approved SPF products and lip balms. In 2021 we will introduce a sun spray."
"We believe skin care for men should be simple, affordable, and effective, and we want to help every guy take better care of his skin. Our subscription-based service gives men an uncomplicated, no-excuses approach to skincare and skin health, including to avoid excessive sun exposure, eating a nutritious diet, staying hydrated, following a skin care regimen and seeing a dermatologist."
Tiege Hanley has customers in 108 different countries and offers graduated levels of skincare products ranging from washes and scrubs at level one, which Thornton promises takes just three minutes twice a day, to items like Eyes, for reducing swelling around the eyes, and Super Serum, to give a more youthful complexion, as part of level three.
Thornton's own exuberant smile and the positivity he radiates are a testament not only to the effectiveness of his products but clear results of another way to be ageless: through doing good and helping others. From the first days of the pandemic to this very moment, he has demonstrated the many ripple effects that come from taking care of yourself and taking care of those around you.
For more information about Tiege Hanley products and the company's corporate commitment to philanthropy, visit tiege.com.