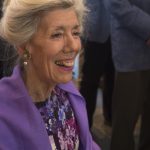 By Judy Carmack Bross
(Second in our series on Young Entrepreneurs is baker Aly Rumel)
With bountiful batches of every type of chocolate chip cookies tempting Chicagoans across the city, what is Aly Rumel's secret ingredient that keeps people reaching for more of Ali's Cookies?
An Account Executive at The Marketing Store, a customer experience agency, supporting the McDonald's Digital Innovation team, Aly Rumel finds time to pursue her dream of starting her own cookie business. She recently shared her amazing chocolate chip cookies with volunteers at the Old Town Art Fair where people kept asking what makes them so sensational.  Rumel says she experimented with that secret ingredient (think magical syrup) in childhood.
"My love of cooking goes back even before I can remember. According to my mom, when she needed to keep me busy as a preschooler so she could feed my newborn sister, she would turn on PBS cooking shows to keep me occupied. I would sit on the carpet right in front of the TV and turn around every two minutes to make sure my mom wasn't missing any of the chef's instructions while she was taking care of the baby: 'Two cups of flour, Mom! Two tablespoons of sugar!'
"In elementary school, my best friend and I taped an "audition" video that we planned to send to The Food Network as a pitch for our cooking show, which was for kids who were aspiring chefs. We wrote a script and everything! Her mom sat at the kitchen counter and recorded our cooking debut on their family camcorder…I don't even know if we ever mailed the tape in after all that!"
We asked Rumel, a resident of Old Town, to tell us about baking her brand:  Aly's Cookies.
"The funny thing about this recipe is that even since the very beginning, I've almost always made them by the hundreds. There was a time in quarantine recently when I just needed a dozen to send to a friend, and I was just SHOCKED at how quickly I could make just one batch. Though it was nice that the process was quick, I honestly missed the chaos of baking by the hundred (in a home kitchen!). There's something so special about having cookies covering every surface in the kitchen, knowing soon they'll make their way into hundreds of different hands, connecting us all in a tiny way."
Rumel studied Marketing and Spanish at Indiana University. In addition to baking, storytelling became her passion—and that's in the career mix as well.
"In the business school at IU, I immediately gravitated to Marketing because, at its core, marketing is about storytelling. It's about understanding people and our common humanity.
"In college I also studied in Seville, Spain for a semester. Then I returned to Spain after graduation for a summer as an au pair in Granada. The culture and history in Spain is so rich – talk about storytelling! It's just so comforting to me that even across time, oceans, languages, and cultures, we all ultimately have these common threads that connect each of our stories."
We asked Rumel about what are the challenges of starting your own business.
"I think I've always had an entrepreneurial spirit. What excites me most about this point in my life is that I'm finally learning to trust myself enough to follow the spark.
"As I explore different career paths, I've talked to dozens and dozens of folks who have started their own businesses, and one thing I can tell you: it's not for the faint of heart! I have so much respect and admiration for individuals who have the courage to pursue a dream. "
"Creating anything that you share with the world — a business, art, an idea — requires such vulnerability and so much faith in yourself. I love to listen to NPR's "How I Built This" podcast because the entrepreneurs behind enormously successful brands talk about their scrappy beginnings and the pivotal failures and moments where they nearly lost the faith, but instead trusted themselves. I think any venture is a practice, one where you make a choice to keep going every single day.
"To me, being an entrepreneur is having the intuition to feel a spark in your gut, the trust to listen to it, and the courage to choose to follow it. Over and over and over again."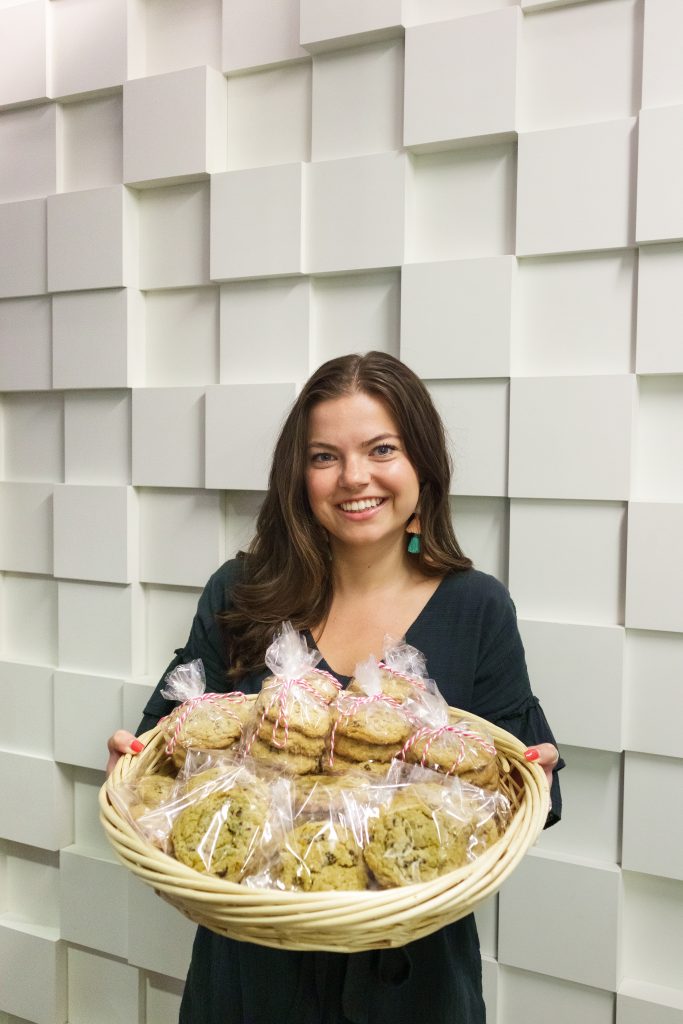 Over tea at Nookie's—Old Town's quite essential breakfast stop–I asked Rumel to tell me a little about her work now and her ongoing interest in storytelling.
"I also lead our agency's Diversity, Equity, and Inclusion team. The goal of the team is to impact the culture, processes, and policies across our agency so that employees feel safe and empowered to show up authentically at work. So much of this role is about creating space for individuals to share their own stories and showing up for one another in a way that makes folks feel truly seen and heard. Marketing in essence is telling a story that will resonate with your audience, so it's so important for me to listen and understand the consumer narrative, observing patterns in culture and lifestyle.
"Storytelling gives the gift of compassion. When we take the time to listen to someone else's story we're each reminded of our common humanity."
For the Old Town Art Fair Rumel enlisted her friends and family to assist.  "I had a different friend over every night to help — sometimes packaging, sometimes cleaning, and sometimes just bringing wine and moral support."
Like me, Rumel loves living in Old Town.
"There is something just so, so special about the historic Old Town neighborhood. There are times you feel like you're not even in the city. Sometimes when I'm walking home, down the same streets I pass through every day, it still somehow feels like I just happened to stumble upon a quaint little secret corner of the city. The magic is always there, but occasionally it will sneak up on you and just stop you in your tracks."
We asked Rumel what advice she for others who are thinking about doing something entrepreneurial.
"At some point, you just have to go for it. I'm giving myself this advice right now! I'd consider myself a 'recovering perfectionist' and one of the most liberating things for me has been realizing that in reality, nobody has figured it out. The most successful people are those who simply take the leap and trust that they have the tools and the grit to adapt and evolve.
We asked Rumel how she likes to spend her spare time.
"Recently my spare time has been devoted to baking! Now that the city is opening up again, I love going out to eat and meeting friends for a cup of coffee or a glass of wine. I love going to the Lincoln Park Farmers Market every Saturday, and one of my favorite things is making Sunday dinner for my friends using all of the treasures I found at the market that week. I love going to antique stores and thrift shops to find vintage furniture and housewares — I love to fill my home with pieces that have their own stories."
She admits that baking gives her the most joy. "Especially after a year of working from home and staring at screens all day, it's just so refreshing to return to something so physical and meditative. There's a reason so many people started baking sourdough and banana bread during the pandemic."
As we ended our breakfast I asked Rumel how she juggles it all:  "I will let you know when I figure this one out!! So far, I think you just have to follow the spark when you feel it. My mantra lately has been, "Don't decide where it ends."
We loved what Rumel wrote recently about how she began Aly's Cookies:
"In high school, I started a cookie business called Cookies for a Cure to raise money for Children's Memorial Hospital, now called Lurie Children's. I wanted to sell my own original chocolate chip cookies, so for weeks I tested recipes, making my friends and family sample every single version and complete a feedback form. The recipe I make today is the winner after many rounds of consumer testing!
"I'd often wake up at 5 am to finish baking and packaging cookies before school so I could sell them at track meets, soccer games, school plays, and even during class. My friends ordered them by the dozen for their graduation parties, and in college I would make them for fundraisers. Today, they are a staple at every family gathering, and I give them as a gift for just about every holiday.
"This recipe is one that feels as familiar as my own two hands but continues to connect me to new people and new traditions. Since I was very young, I've always loved the innately effortless way that food connects people across distance, time, and experience, and I hope that my cookies will be that bridge for you, too."
Rumel currently accepts orders via phone (630-956-6747) or email (alyrumel@gmail.com) for pickup or delivery. She is developing a website and Instagram page.