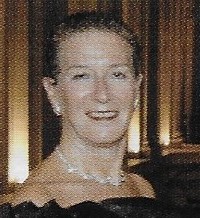 By Katherine Harvey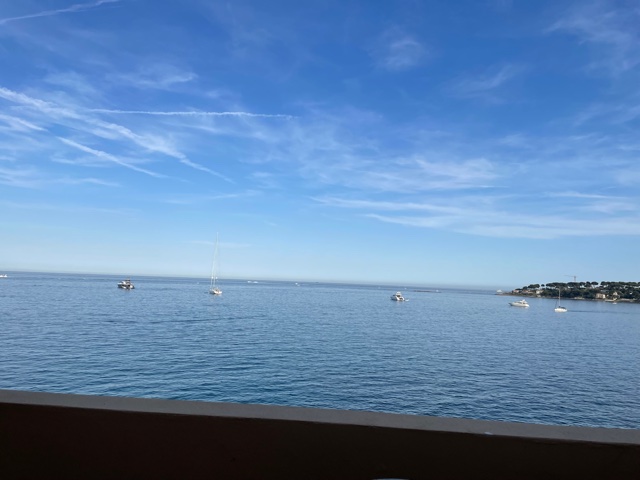 It has been 15 months since we have been in Antibes due to the Covid and curiously in many ways it seems as if the last 15 months never were; our own Brigadoon. We had work done in the house during those 15 months, new bathrooms and new cabinets to replace a horrid fireplace in the upper part of the living room whose mantle was obviously made from a mold and looked like it had been cut off at the knees; it didn't work and we needed more cabinet space. 15 months of Mediterranean Sea air has taken its toll on our facade but it will have to wait; we all deserve some time to get used to our former life.
The market has changed: no longer are there stands in the middle which means more space for the customers but fewer stands. Some of the stands that had been in the middle have moved to the sides; all the regulars you would expect to be there are there but those who were part of the daily lottery are not. The crowd is thinner but it is just the beginning of the high season and the French border was only opened a few weeks ago. Usually, on Thursday, Saturday, and Sunday the crowd is so dense it is hard to make your way from one end of the market to the other but not now.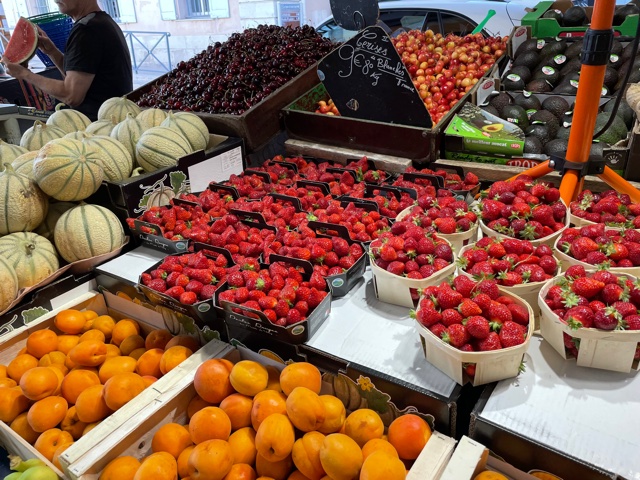 Michel's produce stand with nectar perfect Cavaillon melons, sweet, gem-like Mara des Bois strawberries, Meyer lemons from nearby Menton and fat white asparagus has a crowd as always and he shouts his version of a platitude to his friends on the other side of the market or to no one in particular. The butcher with the usual beef, pork, etc., has Sisteron lamb, quail, and guinea fowl in addition to numerous pates including mushroom and duck just waiting for a picnic; they have a line as always. The oyster man who usually sticks it out until early July called it quits leaving La Sirene (The Mermaid) the only game in town and this is an oyster town. They are now selling chicken along with their usual Mediterranian fish, crustations, mollusks, Alaskan King Crab legs, succulent giant crab claws and bivalves. To be fair, the owner of La Sirene also has a restaurant next door so he is making good use of his kitchen. Nico and his movie star handsome associate are their usual jovial, accommodating selves and always ask how your purchase of yesterday was.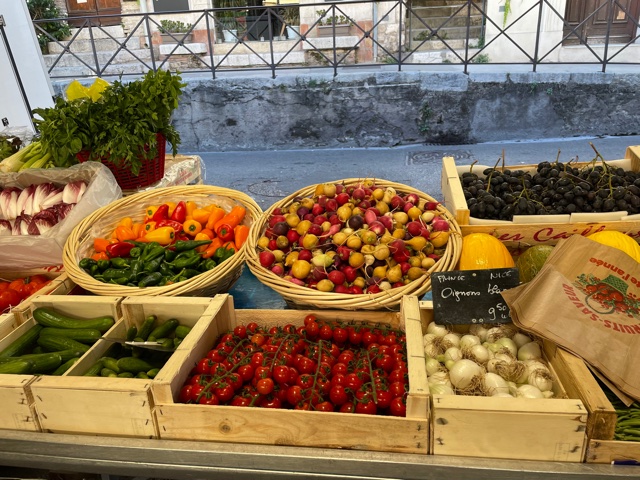 Marielle is back with her array of exquisite varied color mini vegetables: carrots, radishes, tomatoes along with mini eggplant and cucumbers. To cap off her fame for mini vegetables she also has cauliflower and round yellow or green squash. The tomato lady has returned in her iconic cocktail party attire selling every kind of tomato you have ever heard of and probably a lot you have not. Luscious brown, pink, yellow, green and red tomatoes and more are just waiting to be sliced and joined by some buffalo mozzarella, a drizzle of EVOO, a few Basil leaves and a twist of pepper.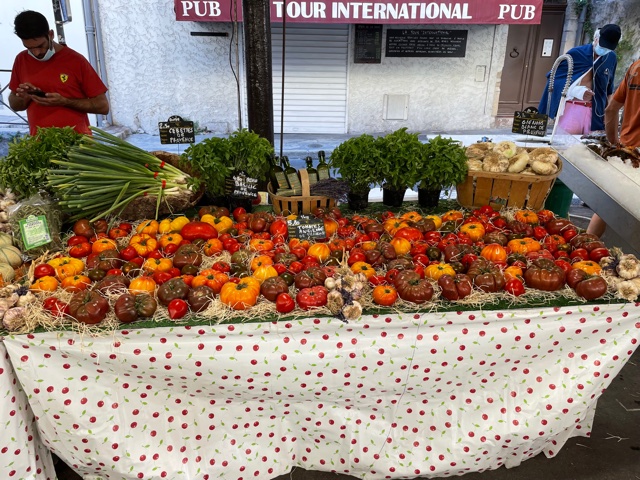 Socca, a specialty from Nice made with chickpea flour, oil, water and salt with an optional shake of pepper is back at the far end of the market. The line is long but it is worth it for the simple, tasty thin crepe-like treat served on a piece of aluminum foil that sears your fingers. The wood burning oven makes a lot of soot and is quite controversial but socca continues to be popular so it stays.
The restaurants are glad to be back in business after having been closed for seven months and it can be difficult to get a reservation. The terraces are full and some have been allowed to expanded theirs. There are tourists but not as many as in the past although it is expected that July and August will bring back Americans. Hotel du Cap Eden Roc will be full in July and August and they look forward to having their regular international clients return; last summer they had mostly French clients due to the Covid.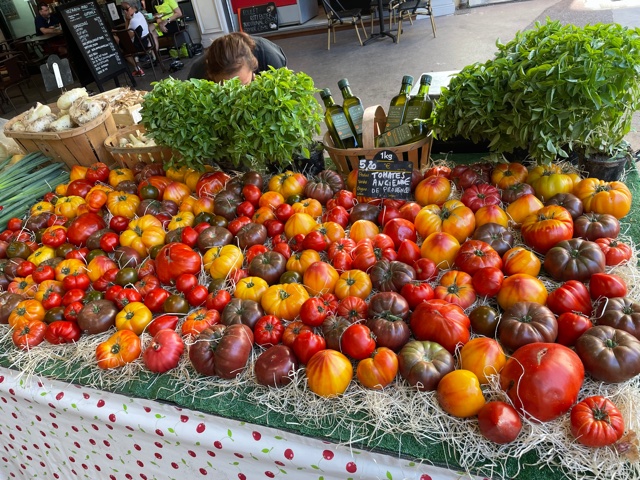 Due to the Covid, the Cannes Film Festival is in July this year instead of May and the annual amfAR dinner which usually takes place at Eden Roc will instead take place at the Villa Eilen Roc. Built in the 1860's, it was bequeathed to the town of Antibes-Juan les Pins in 1982 by Mrs. Louis Dudley Beaumont, the British widow of an heir to May's department stores who died in Monte Carlo in 1988. Her one condition to the donation was that the garden be open to the public which it is, but infrequently. Antibes is the rose capital of the world and the Eilen Roc garden pays tribute to that glorious flower. Urban myth has it that the villa was built from plans by Charles Garnier, architect of the opera houses in Paris and Monte Carlo, but there is no proof. Many movies have been filmed there including Woody Allen's Magic in the Moonlight. This year only 400 mega watt guests will be allowed to attend as opposed to the usual 900.
The Eden Roc pool manager says he has yet to figure out what he will do when all the stars want to come to the pool as they usually do during the Festival when they stay at the hotel but won't be able to this summer as the hotel will be full of regular hotel guests. We can only wish him luck.
There are at least three new wine shops in town, one replacing a camera store leaving just one camera store but they are up to date with all the modern machinery available. Crocs, just when it was making a comeback in the States, has been replaced by yet another real estate office. Another now shop is La Maison du Citron (House of Lemon) from Menton, just outside Monte Carlo and home of the annual lemon festival. The shop has lemon in many forms, among them: lemon olive oil, lemon jelly, lemon powder, limoncello, and soap in the shape of lemons. One can only hope this very chic shop will succeed but Antibes and chic shops is usually an oxymoron.
Another new development here is SWIMMY, a site where you can rent time in someone's private pool. The concept leaves me at a loss for words. The famous baker, Jean-Paul Veziano, who was selected to supply the breads for the wedding dinner of Prince Albert of Monaco among other honors is now closed in the afternoon. JP is third generation in this eponymous bakery where the line stretches down the street every day they are open. In addition to making wonders such as the fougasette (an orange flavored sweet bread), he makes pain de Correze, a round, dark sour dough-like bread with 13 ingredients and is famous for his pissalad or pissaladiere, an onion tart with anchovies and olives. His sweet or savory tourte au blettes (pine nuts) is another one of his well known masterpieces. JP is also the equivalent of a Chicago alderman and has always been cheerfully helpful. He holds court in his kitchen while he puts huge trays of whatever he is making at the time into the wood fire ovens. Shirtless and in shorts, he smilingly chats away on his cell or with friends who stop by. He will not air-condition his kitchen because it would change the outcome of the baking; I wonder if that was not a contributing factor in deciding that the place would not open in the afternoon any more.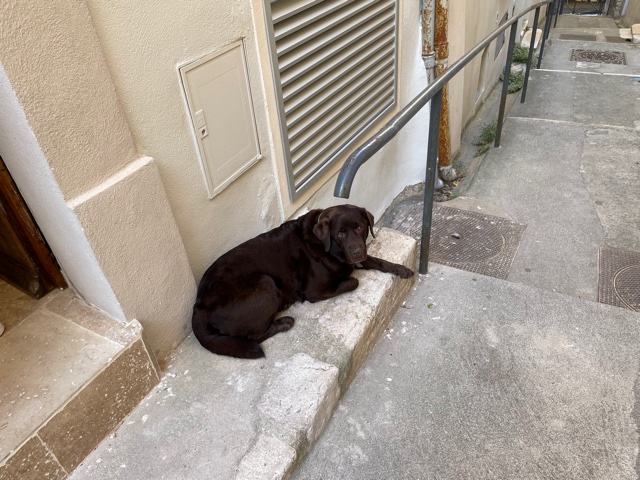 As for Igloo, the resident inspector cat, he has not yet decided to come to Antibes preferring more northerly climes. Iris, the chocolate Lab, has taken up residence in the passage down to the market and happily enjoys all the odors both good and bad that waft up from there. Another new dog in town is the one made of sand that sleeps outside of the Pimm's, a cafe popular with both tourists and locals in the new part of town. Every day the young artist creates his wonderful dogs from sand to the delight of passersby. And if you think that Chicago has a monopoly on dangerous electric scooters and sidewalk bicycle demons, guess again. Much of Antibes is pedestrian but the silent electric scooters and ubiquitous bicycles leave us all hoping for a safe outcome of our outing day and night.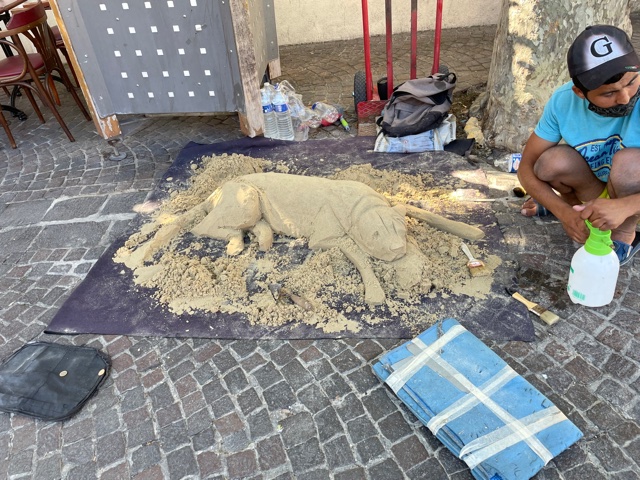 We seem to be having an infestation of snails. No matter how often I knock them off the pot on the terrace they reappear the next day. I was always under the impression that snails moved, well, at a snail's pace but somehow they get from the floor to the rim of the pot which is 25.5" high in less than 24 hours. I leave you with that conundrum.