Rue Winterbotham Carpenter as envisioned by Constantin Brancusi

By Megan Mckinney
The first Joseph Humphrey Winterbotham left a great deal more to Chicago's world of art than the Winterbotham Collection and his family's subsequent gifts to the Art Institute. In 1876, he became the father of Luritia, better known to her contemporaries, and to the legion of other admirers who have followed, as Rue Winterbotham Carpenter.
Many of these admirers associate Rue primarily with her astonishing interior design achievements, particularly the spectacular rooms of a favorite Chicago social club, which today look as they did when she completed the job more than nine decades ago. However, we respect the club's privacy and will focus on other aspects of this remarkable woman's life. That is, after a quick peek at her design of the club's singular ballroom below.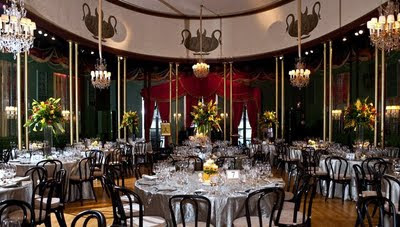 Rue's father had not yet brought 20th century European painting to the Art Institute permanent collection through the Winterbotham Plan when the 1913 Armory Show exploded in New York, and then in Chicago and Boston.  Although the show, formally named the International Exhibition of Modern Art, was well attended when it landed at the Art Institute, it was not well received.
Here is the Armory Show poster child, Marcel Duchamp's Nude Descending a Staircase. It wasn't as though Chicago didn't have an art world in 1913, it did. There were at least 30 commercial galleries, displaying and selling traditional American works, as well as some English representational painting and a little conventional French art. But the current great collectors, the Bertha Palmers, Frederic Bartletts and Martin Ryersons, were not shopping at home and what was being offered in Chicago was far from avant-garde, or even "important".
Rue was one of a handful of Chicagoans, among them gallery owner Alice Roullier and artist Grace Farwell McGann, who were determined to create a forum for presenting the exciting contemporary art being developed abroad. They wanted to give serious visibility to the new and daring in poetry, literature, music and dance, as well as in the visual arts, with a significant venue. The answer was The Arts Club of Chicago, founded in 1916 with Grace McGann as president, in tiny, shared quarters in the Fine Arts Building, above.
Rue Carpenter in 1920 by Arthur Ambrose McEvoy.
In 1918, Rue succeeded Grace McGann as president of The Arts Club and gave the site new energy. She arranged the first show of Picasso drawings in Chicago, as well as exhibitions of work of other European artists such as Rodin and Braque. She moved the club to a larger space in 610 South Michigan and, in 1924, to the North Tower of the Wrigley Building—both venues with interior space she designed in collaboration with architect Arthur Heun.  
The glamorous new quarters offered room to display art as well as to entertain and socialize within the growing Chicago modern art world of artists, art lovers, and gallery owners.
Down at the end of this hall is Brancusi's Golden Bird, an Arts Club purchase during Rue's presidency; the sale/gift of the work to the Art Institute toward the end of the century would help finance the club's most recent move and put The Arts Club in an enviable financial position.
Rue was greatly valued as an individual. She had married composer John Alden Carpenter, whose style in the music he created was "mildly modernistic and impressionistic." They had one daughter, Genevieve, named for Rue's mother, and the trio lived in a charming house—its interior design, of course, by Rue—at 700 North Rush toward the final days of the street's ultra-social McCormickville heyday.
Arthur Meeker, midcentury chronicler of top drawer Chicago, wrote of Rue as "an original genius…the most brilliant woman I have ever known" But he also wrote, "she taught us how to frolic…she gave us lessons in the neglected art of taking things lightly." Meeker added, "You never could tell whom you were going to meet at the Carpenters—Stravinsky or Karsavina, Marcel Duchamp or Mrs. Patrick Campbell…Like as not they'd be sitting on the cushion next to yours…guessing charades or playing musical chairs—just not being celebrities."
Another look at Rue Carpenter.
Rue knew "everyone," especially the international "everyone." She had traveled widely since she was a girl—particularly in France; she was completely bilingual and participated thoroughly in the entire European art scene. When sufficiently tempted, the Carpenters were part of the Cote d'Azur Gerald and Sara Murphy ongoing party; they were Murphy houseguests, for example, with Picasso and his then wife, during the summer of 1923.
The active, youthful Rue stunned everyone when, on December 7, 1931, she collapsed in the waiting room of her doctor's office at 307 North Michigan Avenue, where she had gone to be treated for a cold. Within minutes she was dead of a cerebral hemorrhage at the age of 55.
The Mies van der Rohe staircase, a symbol of the Rue Shaw Arts Club presidency.
 The "other" Rue was daughter of Rue Carpenter's brother, John Humphrey "Jack" Winterbotham II, and his wife the former Anne Reynolds. After graduating from Foxcroft, the younger Rue studied art abroad for several years and was said to "show very real talent" in painting. In June 1932, she married Alfred Phillips Shaw, who the Chicago Tribune wrote was "one of the best known of the younger architects in the city." Together they were prominent in the Chicago social and arts community; in 1940, Rue Shaw became president of the Arts Club and remained so until her 1979 death.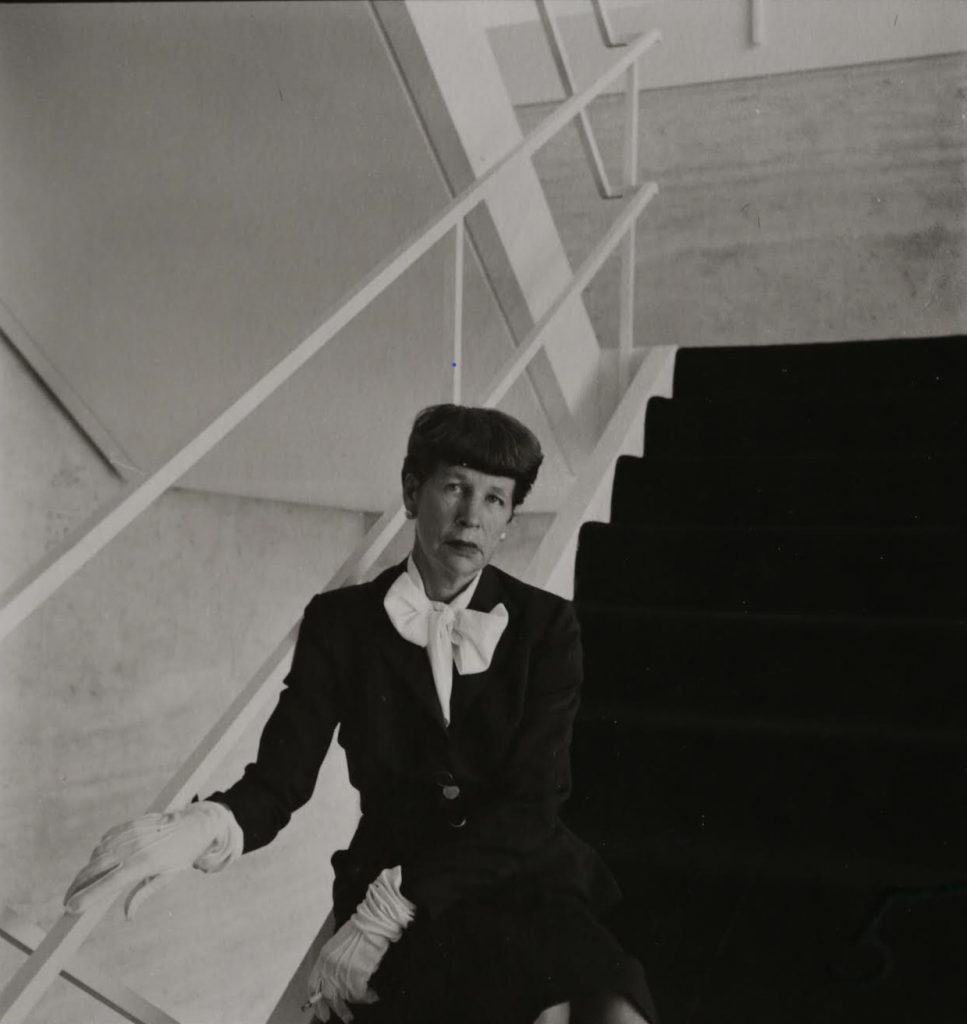 Rue Shaw on the Mies staircase.
In June 1951, The Arts Club moved into a new building at 109 East Ontario giving architect Ludwig Mies van der Rohe—commissioned by Rue—clear scope in which to design the interior, including the stunning staircase that has become the club signature. Rue Shaw continued her aunt's superb work—and that of Bobsy Goodspeed, an interim president—in bringing exceptional artists, musicians and lecturers of international importance to the city, including Alexander Calder, with whom she became friends. She was also a member of the Art Institute's twentieth century painting and sculpture committee.
When The Arts Club moved two blocks east to its current location at 201 East Ontario Street in 1997, the move was financed by the sale of the Brancusi acquired during Rue Carpenter's presidency, and greatly enhanced by the gem of Rue Shaw's tenure, the Mies staircase, neatly rescued from 109 East Ontario.   
Publisher Megan McKinney's Classic Chicago Dynasties series The Winterbothams concludes with this segment.
Edited by Amanda K. O'Brien
Author Photo: Robert F. Carl