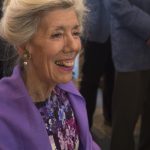 BY JUDY CARMACK BROSS
Light-hearted guests leaped at the opportunity to wander through tunnels of light, amid sculptures of fancifully hued flowers and under tree paths alive with astonishing colors. It was Lightscape Preview Night at the Chicago Botanic Garden in Glencoe, once again a sold-out success, raising $1 million and attracting 600 visitors.
Co-hosted by The Woman's Board, Board of Directors, and Guild of the Chicago Horticultural Society, the Lightscape Preview was co-chaired by Woman's Board members Kathy Paleczny and Karin Palasz, Board of Directors Matt Banholzer and Suzanne Burns, and Guild members Ali Gerchen and Meg Kellerman.
Lightscape was made possible by the generous support of Northern Trust and Catherine and Frederick Waddell. Culinary Landscape served as caterers for the evening, with spirits provided by Beam Suntory.
Guests enjoyed trailside hot bites and seasonal drinks while walking the all-new 1.25-mile path filled with favorite artistic installations, like the Winter Cathedral, and new and reimagined pieces, including singing Christmas trees, shooting stars, and shining space creatures.
The after-dark illuminated and music-filled trail is open through January 2. Visitors are urged to purchase tickets soon as possible as Lightscape sells out quickly.
The Chicago Botanic Gardens comprises 385 acres of landscaped gardens featuring millions of plants, flowers and trees in 27 different gardens. Its educational opportunities are available for all ages. This is the 20th anniversary of its Plants of Concern program to track the status of rare, threatened, and endangered species in northeast Illinois. A landmark program at the time of its conception, Plants of Concern has remained a model for long-term, collaborative community science and still represents one of the only programs of its kind in the world.
For more information, visit chicagobotanic.org.
Photo credit: Robert Kusel