Dr. Joanne Smith Helps Usher in a New Era of Patient Care at the Shirley Ryan AbilityLab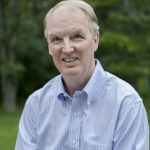 By David A. F. Sweet
Across seven decades, the former Rehabilitation Institute of Chicago was renowned for breakthroughs, such as mind-controlled bionics. Without fail, year after year, U.S. News & World Report named it the best rehabilitation hospital in the United States.
So why did the non-profit's CEO and president, Dr. Joanne Smith, propose a number of years ago to build a completely different type of hospital — and change the iconic name?
"We learned from our patients that they don't care about the process of rehabilitation; they care about outcomes," said Smith, who's now in charge of the Shirley Ryan AbilityLab, a $550 million facility that opened in 2017 in Chicago. "More than 10 years ago, I started dreaming of this amazing hospital that was a crucible for better, faster patient outcomes. They want to live their best, happiest, and most independent lives. This insight has driven my career; it is my calling.
"When I suggested taking a venerable name and brand and turning it on its head, people looked at me like I'd been working too hard. I always had confidence that it would not only work, but it would usher in a new way to provide healthcare, a new age."
The 26-story, 1.2-million-square-foot space — named after philanthropist Shirley Ryan, who with her husband Pat made a large donation to the hospital in 2016 — is revolutionary. Boundaries between medicine and science have been removed, as physicians, nurses, therapists, technologists, and others work together in the same space, surrounding patients and applying research in real-time.
"This unique model enables patients to have 24/7 access to the brightest minds, the latest research and the best opportunity for recovery," explained Dr. Smith, who started at the Rehabilitation Institute as a physician in 1992. "On average, it takes approximately 17 years to turn a new discovery into patient benefit and 86 percent of scientific discoveries never even make it out of the lab. The goal of Shirley Ryan AbilityLab is to fundamentally change the game, to make that process happen much faster with increasingly better results."
Shirley Ryan AbilityLab deals with spinal cord and brain injuries, stroke recovery, and more. Patients have included those who were thrown from the truck during a tractor-trailer collision, breaking vertebrae and many ribs; another who mysteriously became paralyzed while working in an office; many who have battled multiple sclerosis. Thanks to its army of more than 2,000 clinicians, scientists, and staff, Shirley Ryan AbilityLab serves more than 50,000 patients a year.
And those patients aren't the only ones who benefit from the institution's breakthroughs. Noted Dr. Smith, "The advances we make and the solutions we discover help everyone in the world who faces such challenges. Because we serve humanity, we have long championed collaboration and education, and we share everything we learn and create."
Danny Dolan, a member of the Shirley Ryan AbilityLab board of directors, knows first-hand the importance of the hospital's care. When it was still known as the Rehabilitation Institute, Danny's young son John needed its services from birth, when he was paralyzed from the neck down. He passed away at a young age, and Danny responded by creating the John Dolan Golf Challenge, which raised more than $4 million for the Rehabilitation Institute over 20 years.
Dolan has known Dr. Smith practically from her first day at the Rehabilitation Institute. He was impressed in the 1990s when she crafted a vision for a day rehabilitation business, as well as when she took over as CEO and president in 2006 and overcame a perilous financial situation.
"She's extremely smart," Dolan said. "Nowhere in the world had her vision been done before. There was some strife, as it was a leap of faith. But her ability to execute her vision with her leadership team has set her apart."
One of nine children in Detroit, Dr. Smith grew up in a family and a faith that emphasized service to others. Combined with her passion for science and art (which emphasizes creative thinking), she is not wholly surprised she has ended up in the role she has, given the requirements of her position.
During medical school at Michigan State, she was profoundly influenced by a 13-year-old girl she met who had spina bifida. Her legs didn't work, so the surgeons removed them. Later she was outfitted with wooden prosthetic legs attached to a rigid plastic bucket into which she'd sit her pelvis.
"Once in the bucket, strapped to the wheelchair, this happy teen became a sad one, one who couldn't function the way she wanted to," Dr. Smith recalled. "In an effort to fix her appearance and fit with society's expectations, she was made less able and independent … and importantly, less happy. Ever since, I've lent my professional shoulder to the shifting — and growing — momentum of the movement against 'dis-abling' people."
Patients at the Shirley Ryan AbilityLab motivate her every day. Said she, "Helping our patients achieve outcomes no one thought possible is thrilling. Watching our patients fight to get better and then hitting it out of the park is the greatest blessing of my career."
Unsung Gems columnist David A. F. Sweet can be followed on Twitter @davidafsweet. E-mail him at dafsweet@aol.com.