By Melissa Ann Quidang
They were friends since grade-school, dated for seven years and had been engaged for two years. Chicago Firefighter William Pesch and my sister, Chicago teacher May Quidang were forced to postpone their April wedding due to the lockdown that occurred in March 2020.
With a new date set, the two encountered disaster after disaster as the pandemic continued to impede their efforts of happily ever after. Their venue was willing to reschedule their wedding to November 2020. When that date rolled around COVID-19 was raging. It seemed almost impossible as another lockdown was announced, and families consisting of elderly were too afraid to join the ceremony.
The two thought enough was enough. "We were getting irritated, angry, and annoyed, but we didn't know who to be mad at," William said. The two decided to plan a whole new wedding within a month at a different place, postponing their biggest party with friends and family for September 2021.
William Proposing to May
So how exactly did they get married? May pulled some strings at the Catholic school she worked at as a teacher, Bridgeport Catholic Academy. They agreed to have her, and her then-fiancé get married at their church, called Nativity of Our Lord. "For a church wedding, a marriage is a sacrament that takes up to six months in preparations. We had three weeks," May said. To prepare for their wedding, they shortened their guest-list of 280 to 25 people, promising extended family and friends a bigger celebration in September 2021. 
Overview of the entire church and guests Photo Credit TWA Photographic Artists
For decorations, the two scoured social media and found themselves face to face with Facebook Marketplace. The social media platform consisted of used wedding decorations sold for lower prices. The conditions of such decorations varied but were often in good condition. Other decorations were bought online or craft stores. "Never engrave your name or date on your wedding items," William said, "because you could resell it again later." A hard lesson was learned to not engrave their names and dates on everything because the pandemic made it almost impossible to tell whether they had to postpone it again.
| | |
| --- | --- |
| Photo Credit TWA Photographic Artists | Photo Credit TWA Photographic Artists |
To take precautions against the pandemic, the two went to Etsy, another online platform that sells artsy items and decorations. From there, they were able to buy personalized masks for their wedding party and decorated masks for the rest of the guests. They also bought boutonnieres and sanitizer stickers. It was cheaper for them to purchase small individual empty sanitizer bottles and fill it using a large sanitizer container.  
| | |
| --- | --- |
| Bride, groom and groomsmen, and bridesmaid masks | Decorated Hand Sanitizer Bottle |
For the ceremony, if you could find an adorable little helper to dispense sanitizer for incoming guests, that would be perfect. Another precaution they took was using tape. Using tape is an ideal marker to signify where and where not to go. It was used in the church for both the regular congregation and the wedding. "It is best to follow the procedure set by the venue and then add extra precautions yourself," May said.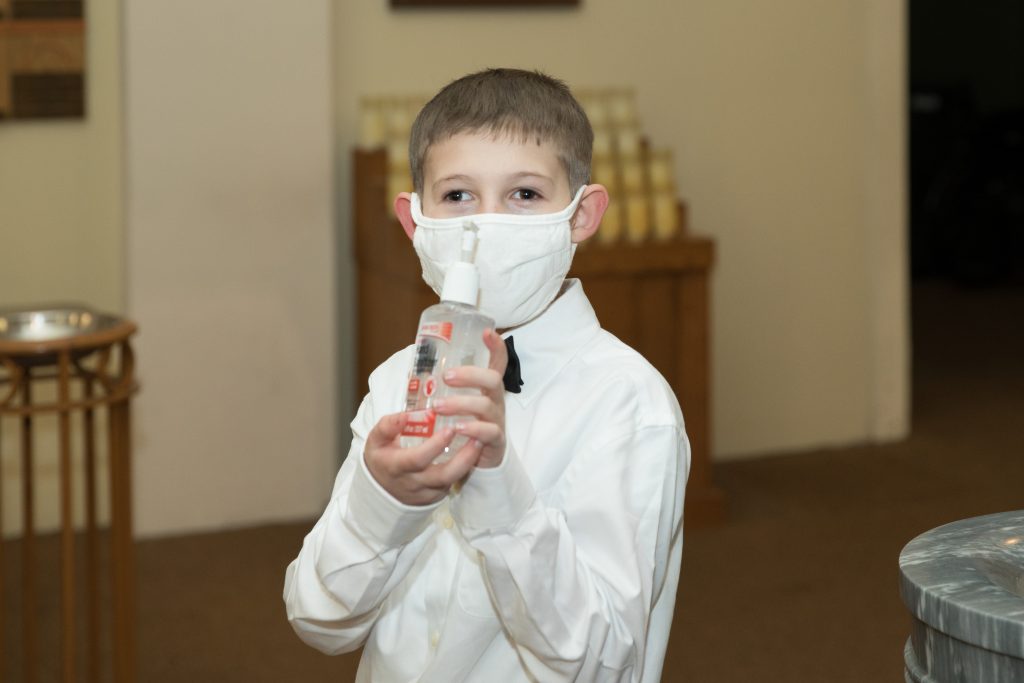 Little Boy Giving Sanitizer to Incoming Guests Photo Credit TWA Photographic Artists
As the time neared, the bride snuck to the back of the church so the groom would not see her. After finalizing some smaller details and beautifully decorating the church with flowers and lanterns, the bride walked down the aisle with both parents clinging onto her, to a crying groom as he saw his bride for the first time. It was a beautiful ceremony consisting of close family and friends. With the ceremony finally completed, they walked out of the church as a newly wedded husband and wife.
| | |
| --- | --- |
| A view of the church with decorations Photo Credit TWA Photographic Artists | William and May Finally Married Photo Credit TWA Photographic Artists |
Pictures were taken with laughs as the photographer maneuvered family members from point A to point B with hilarious accuracy. Laughs were stifled, smiles were bright, and then a cleanup of all the wedding decorations ensued. More photos were taken outside, family members toasted with champagne, the little boy had apple juice, and a limo came to whisk away the newly married couple to their next destination. 
| | |
| --- | --- |
| Little Boy Covering his Eyes Photo Credit TWA Photographic Artists | Siblings, spouses, and parents surrounding the Newly wedded couple Photo Credit TWA Photographic Artists |
However, guests made it to the reception before the newly wedded couple who made a slight detour to the cemetery. Their first stop was to honor their son, who passed the day of his birth in 2018. Next, they visited William's grandmother who sadly passed a few months before their November wedding due to health concerns not affiliated with COVID-19.
| | |
| --- | --- |
| William Antonio Pesch (2018-2018) Photo Credit: TWA Photographic Artists | William V. Pesch (1923-2007) and Delores M. Pesch (1927-2020) Photo Credit: TWA Photographic Artists |
For the reception, William and May were faced with constant barriers concerning food. At first, it was assumed that the reception would take place in the church basement, but they were declined due to COVID-19. Next was a restaurant, but a week before their wedding, a government-issued lockdown took effect, causing restaurants to cease their in-door dining. The particular restaurant they were looking at proceeded to shut down their out-door dining as well. With nowhere else to go, William and May had their reception in their apartment. To make everyone feel safe and comfortable, windows were left open on the cold November day, and they cleaned and sanitized their apartment from the ceiling to their dog, who couldn't help but eye the wedding cake. One person was allowed in the kitchen to distribute portions of food, and masks were recommended to be worn at all times except when eating or drinking.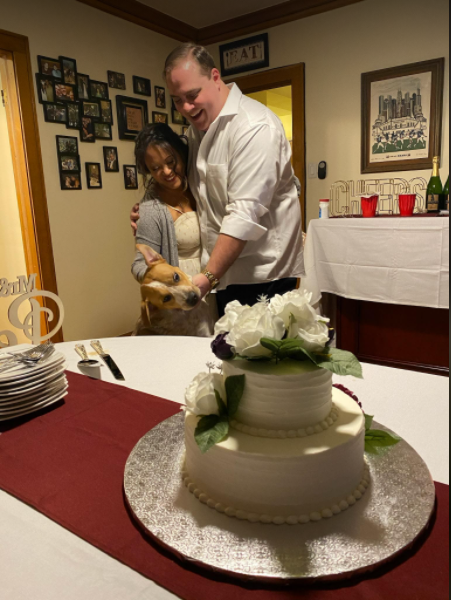 With the event ending, William and May said their smaller wedding wasn't what they wanted, but it was better than expected. They even had time to share their first dance together.  "After having the smaller wedding, we sat down and had a good conversation with our wedding party and family without being interrupted. So when we have our big wedding, we won't feel so bad about not talking about them," May said.
With everything that happened just to get married, such as the pandemic, postponement, worried family members, cancellations, and money issues, they were relieved to have finally married. The stress that others feel for planning a wedding usually results in the ring bearer dropping the rings or a groomsman wearing a red tie instead of maroon. Yet, as William said, "If people say that you can get through planning a wedding without murdering each other, you'll be fine. But if you can get through it in 2020, you're golden."