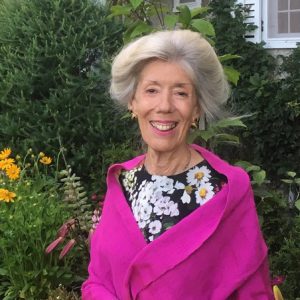 By Judy Carmack Bross
The original Thelma Kelly in Chicago chose a very special way to again celebrate our city. Three-time Tony recipient Chita Rivera danced into town as an honoree at the recent Porchlight Music Theatre's ICONS gala at Gallerie Marchetti.  A surprise video salute from her co-star George Chakiris dazzled the original Anita of West Side Story.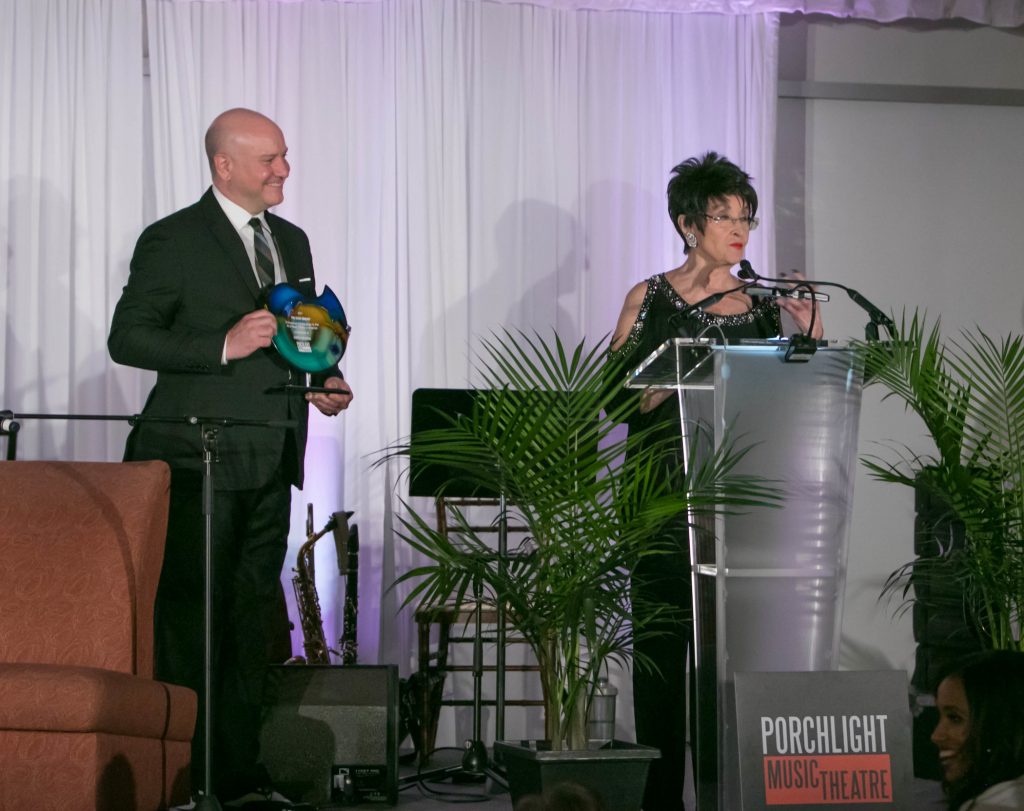 Artistic Director Michael Weber presents the ICON Award to Chita Rivera at  Porchlight Music Theatre's 2021 ICONS Gala, October 20, 2021. 
Artistic Director Michael Weber saluted Rivera with musical and dance performances by Porchlight troupers showing how "How Chita Got to be Chita," including numbers from Sweet Charity, Seventh Heaven, Mr. Wonderful and West Side Story.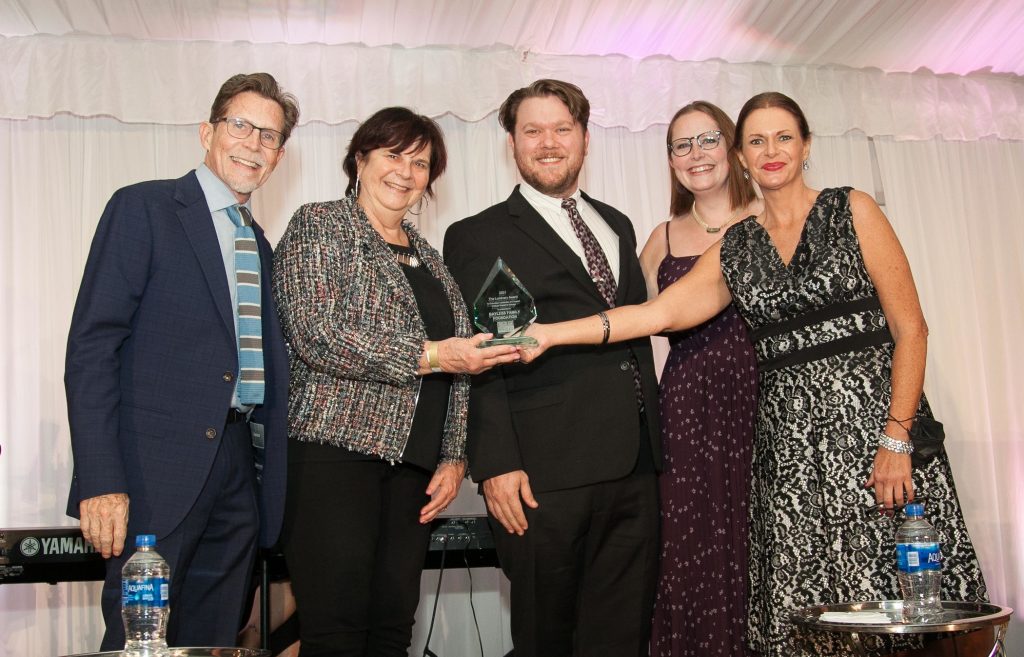 Luminary Award recipient the Bayless Family Foundation Rick Bayless, Deann Bayless, Lanie Bayless Sullivan and Kevin Sullivan accept the award from Porchlight's Executive Director Jeannie Lukow at  Porchlight Music Theatre's 2021 ICONS Gala, October 20, 2021. 
Hometown heroes Rick and Deann Bayless and the Bayless Family Foundation received the Luminary Award, while Latino business and civic leaders were honored as 2021 Scene Changers. Porchlight devotees Bill Kurtis and Donna La Pietra and Honorary Chair Patricia Mota, CEO, of the Spanish Alliance for Career Enhancement (HACE) was honorary chair, led off the meet and greet with the evening's superstar. Emcee NBC5's Matthew Rodrigues was joined by his NBC5 "Chicago Today " co-host Cortney Hall in the audience.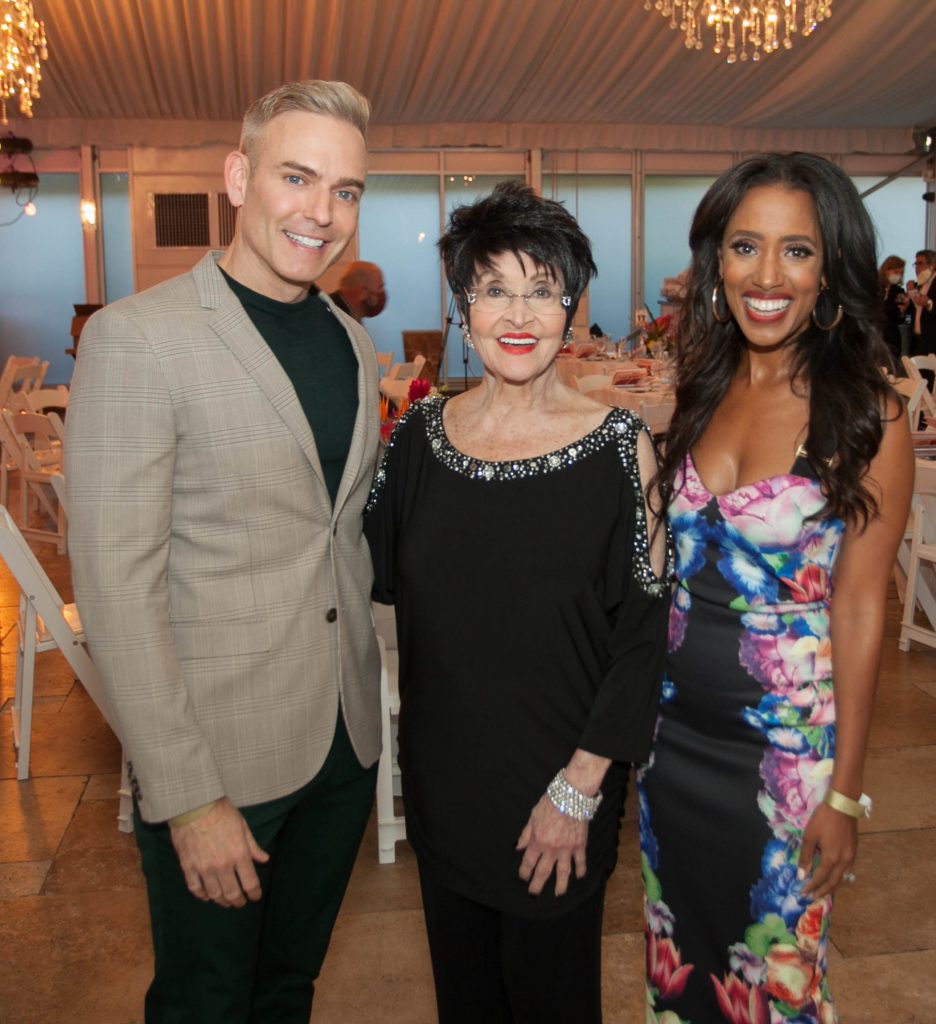 Honoree Rivera with NBC5's Matthew Rodrigues and Cortney Hall
"As you can imagine, after such a long period without live entertainment to be able to gather and to have the 2021 ICON and Broadway legend, Chita Rivera, in person, was incredible," Executive Director Jeannie Lukow said. "Porchlight was thrilled to be able to be with our new and loyal fans to celebrate Porchlight's history and thank publicly all the honorees from Ms. Rivera, to the Bayless Family Foundation to Latino leaders of various organizations. The response from those in attendance was beyond our expectations and we are grateful to all."
Lukow presented The Luminary Award to The Bayless Family Foundation, underscoring its philanthropic support of arts organizations, including Porchlight Music Theatre and their "enthusiastic support" by attending performances, Lanie Bayless Sullivan and Kevin Sullivan joined Rick and Deanne Bayless approached to accept the award, Bayless thanked Porchlight and spoke of the importance of theatre and his excitement about the upcoming season and theatre returning to the stage.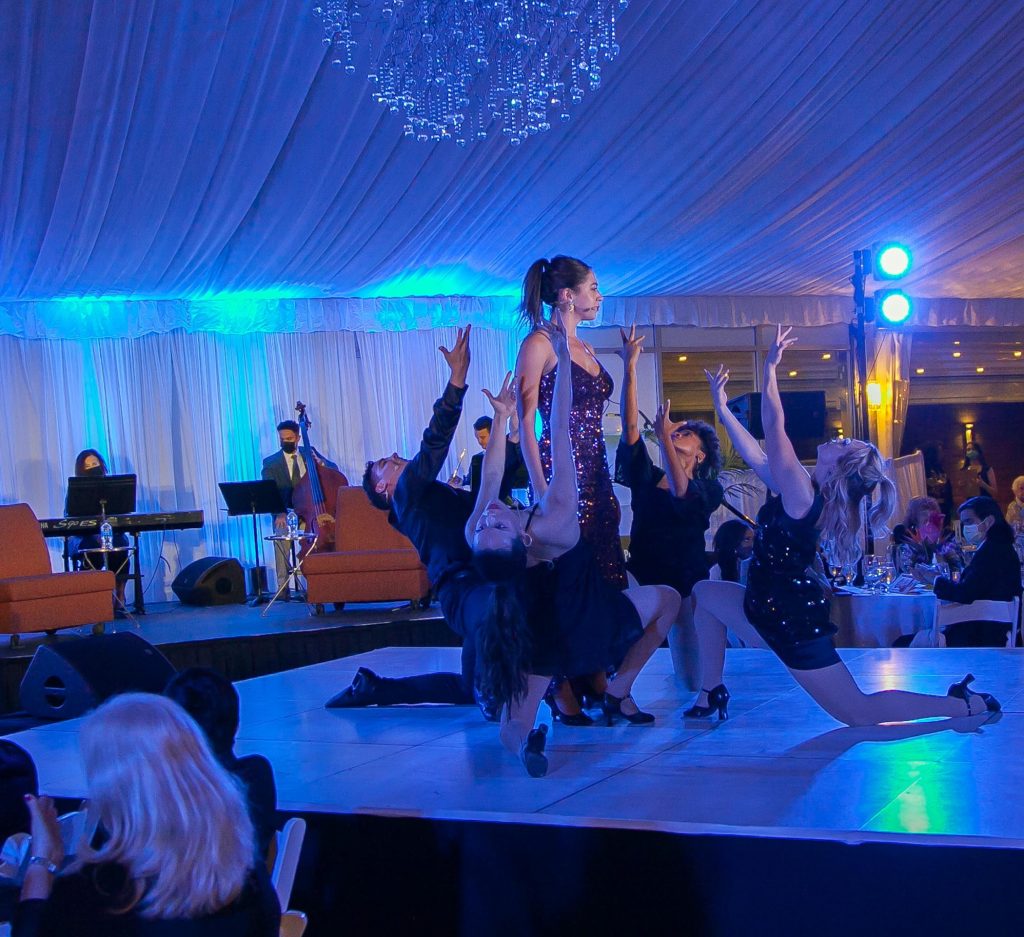 Development Director Carmen J. Gonzalez  spoke of her role as Equity, Diversity and Inclusion Chair and what that has meant to Porchlight as an organization. Gonzalez also spoke of making a cold call Mota to be honorary chair, which she accepted with enthusiasm. Mota came to the stage to recognize the 2021 Scene Changers, leading business, civic and cultural leaders in the Latino community.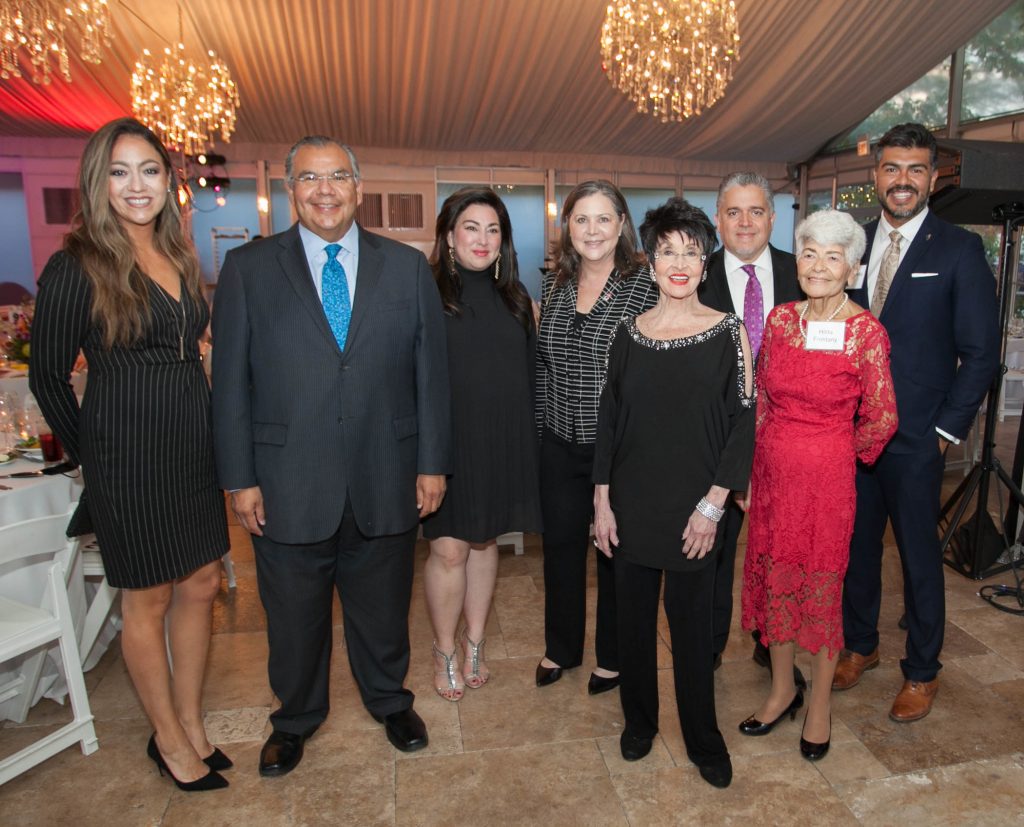 She then recognized the Scene Changers celebrating organizations and leaders who are "changing the scene" of Chicago's cultural landscape. The 2021 recipients are: Olga Camargo, CEO and founder, FARO Associates, LLC; Martin R. Castro, President and CEO, Casa Central; Dr. Ana Gil Garcia, Professor Emerita and Fulbright Scholar, Northeastern Illinois University Department of Educational Leadership & Development; Hilda Frontany, Board Chair, Rincon Family Services; Marlene Gonzáles, President, LCG Group LLC; Iris Y. Martinez, Clerk of the Circuit Court of Cook County; Xavier Nogueras, co-founder, Illinois Unidos and founder, BOCA Media Group; Sylvia Puente, President and CEO, Latino Policy Forum; Shell Reyes, President, Shell Reyes Designs & Appraisals; José R. Sánchez, President and CEO, Humboldt Park Health and Mario Treto, Jr., Acting Secretary, Illinois Department of Financial & Professional Regulation.
Auctioneer Greg Dellinger led the most successful live auction in Porchlight's history, inluding a private dinner at the Bayless home.   Bayless took the mic to encourage all to join him and his wife for an unforgettable experience. He then upped the ante by describing what was in store including a tasting of his personal tequila collection. Chef, Gale Gand, joined him to say that she would be making desserts for the dinner and Lanie Bayless of the Bayless Family Foundation and spirits director for Frontera Grill and Frontera Hospitality said she would create a specialty cocktail for the evening. The generosity of the hosts and their guests was then doubled when they offered two people in the audience an opportunity for this once in a lifetime dinner, with all proceeds benefiting Porchlight's artistic and educational offerings.  
The penultimate performances, titled "Chita the Diva," shared numbers from Ms. Rivera's Broadway career that included Bye Bye Birdie, Chicago, The Rink and Kiss of the Spider Woman. 
WGN's Paul Lisnek interviewed Rivera onstage about her career and her directors, including Fosse, Jerome Robbins and Stephen Sondheim.   Lisnek also surprised the honoree with greetings from Chakirisand her friend Angela Lansbury.
Weber introduced the closing performance from The Visit which  Rivera starred in at The Goodman Theatre..
Performers from the ICONS gala, in numbers directed by Weber with Creative Associate Adrian Abel Azevedo and music directed by Linda Madonia included Ariel Dorsey, Alejandro Fonseca, Michelle Lauto, Mia Navarez, Laura Savage, Kyra Source and Keely Vasquez with costumes by Bill Morey.
 Through live performance, youth education and community outreach Porchlight impact thousands of lives each season, bringing the magic of musicals to the Ruth Page Center for the Arts and to neighborhoods across the city. Porchlight has built a national reputation for reimagining classic musicals, supporting new works and young performers, and showcasing Chicago's most notable music theatre artists.  
Now in its 27th season, Porchlight's production history includes more than 70 mainstage works with 15 Chicago premieres and five world premieres. Porchlight's commitment to the past, present and future of music theatre led the company to develop the Porchlight Revisits and New Faces Sing Broadway program series.
Porchlight's education and outreach programs serve schools, youth of all ages and skill levels and community organizations, most notably the ongoing collaboration with Chicago Youth Centers. Porchlight annually awards dozens of full scholarships and hundreds of free tickets to ensure accessibility and engagement.
The company's many honors include 178 Jeff Award  nominations and 45 Jeff awards, as well as 33 Black Theatre Alliance  nominations and 12 BTA awards.