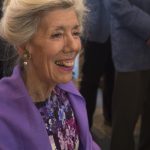 BY JUDY CARMACK BROSS
Porcini mushrooms, Manchego cheese, kumquats, fresh basil, concord grapes—what are the most unusual and delicious pairings for your chocolate recipes? We asked Cocoa + Co.'s new chef, Meg Galus, and Samantha Schwalm, Classic Chicago's columnist and chef, to share what they have tried. Creative gourmet and food historian Richard Shepro and our Antibes correspondent Katherine Harvey added their own international chocolate perspectives.
Galus, the former pastry chef for Boka Restaurant Group and new co-owner with Kim Hack of the popular Old Town destination on Wells Street, serves as Cocoa + Co.'s pastry chef and chocolatier, preparing beautiful bonbons and chocolate croissants among other temptations.
The walls lined with 150 different specialty bars, handmade truffles like works of art, baskets of warm chocolate pastries, plus specialty boxes like the Halloween baskets that flew off the shelves last month fulfill Hack's mission when she founded the shop in 2015 as a chocolate lover's playground. Neighborhood friends gather in the café to sample the seven different kinds of drinking chocolate among other beverages as the days reflect a bite of winter.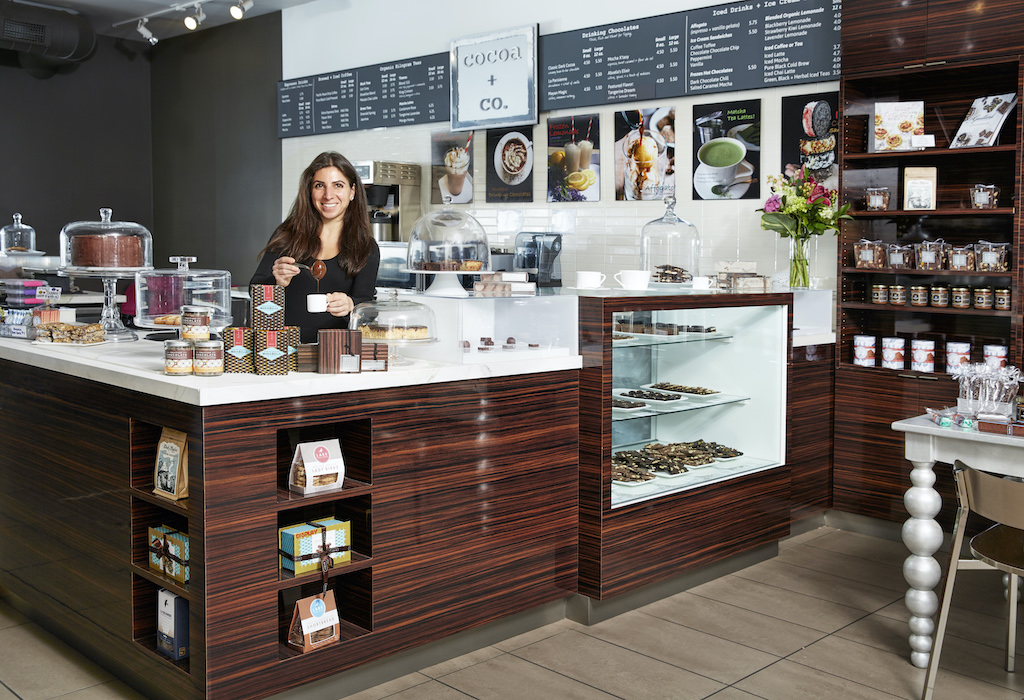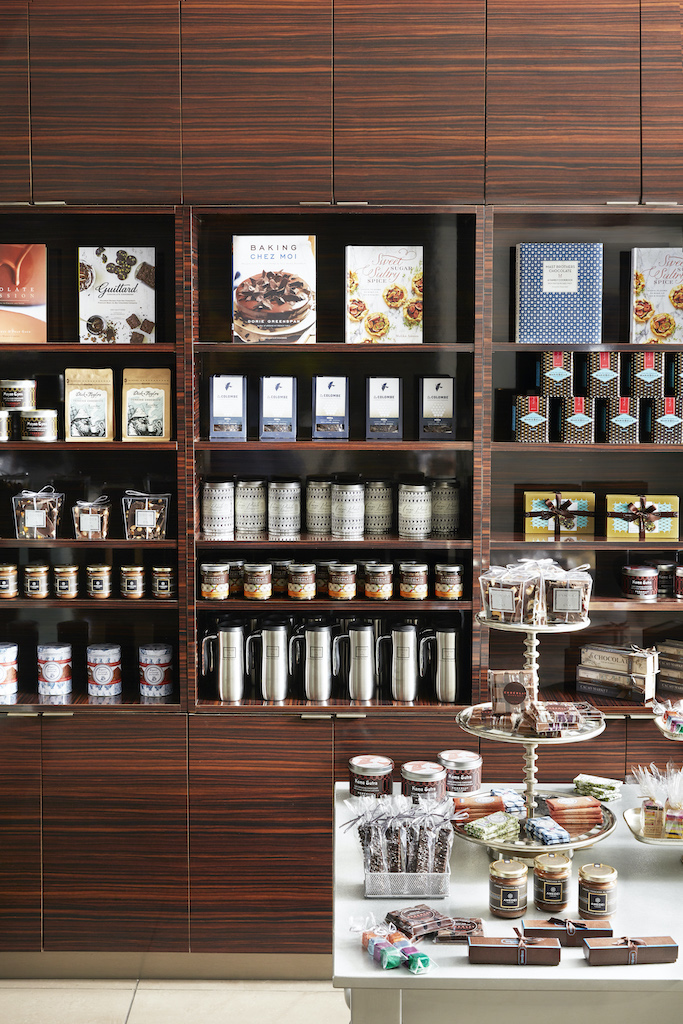 "I grew up in a family of chocolate lovers. I loved plain m&m's and homemade chocolate sauce," Galus says, while chocolate chip cookie dough won out as Hack's favorite childhood chocolate treat.
Samantha Schwalm, founder of Paris Kabat Catering, feels that chocolate can boost your endorphins and contribute to a happy feeling: "A little taste at the end of the evening can help the blood flow—try a few little bites. It also combats the bitter taste of coffee."
Schwalm points to mole sauce, the seven recipes that made Oaxaca, Mexico, and Rick Bayless famous. "The play between the cocoa beans and the chili peppers is fantastic," Schwalm shares. "I also like little bites of chocolate on a charcuterie board with hard parmesan cheese, nuts, and grapes. Apricots really pair well with dark chocolate."
She reveals that a pinch of cocoa is a secret ingredient in her fabulous blackberry sauce for pork: "I use a little red wine, balsamic vinegar, and a pinch of cocoa powder in place of sugar with the blackberries—no water needed because there's enough in the berries. You can't quite put your finger on what the taste is."
Although Richard Shepro admits that he's not somebody who craves chocolate, he loves certain chocolate dishes, especially where the chocolate is dense and bold: "I'm partial to the tremendous variety and quality of Valrhona chocolate, produced in the Rhone valley from chocolate sourced from around the world, although there are many great chocolates produced in the United States. A recent episode of This American Life included a Chicagoan telling New Yorkers the fact that in Chicago 'the bridges smell like chocolate.' (It then went on to discuss the EPA's pollution case against Blommer for spewing too much particulate chocolate into the air.)"
"In any case," he adds, "Valrhona was one of the first, if not the first, to identify all their chocolates with a percentage indicating how much cacao is in the finished product, ranging from 85% for Abinao, intensely bitter, to a delicious slightly caramelized milk chocolate called Tanariva at 33%. When we aren't having a dessert, sometimes my wife, Lindsay, and I just have a small square of each of two kinds of Valrhona chocolate: they are something to be savored."
Shepro loves the physics and chemistry of cooking with chocolate, even its pitfalls: chocolate can get grainy if not heated, cooled, and tempered in just the right way. "The induction cooktop we have at our house is perfect for melting chocolate because it produces an extremely even heat at quite low temperatures. I freeze my ice cream and sorbet mixtures in a Swiss-made device called a Pacojet that makes ice cream backwards, taking a solid frozen cylinder and having a high-speed rotating blade shave off microscopically thin bits just before serving that are such small particles that your tongue can't detect them individually and the ice cream tastes unusually smooth."
He continues, "The first time I was at the Oxford Food Symposium in 2012, there was a British ice cream expert demonstrating the Pacoject who was surprised I had one, but I had seen it at Michel Guérard's restaurant in the southwest of France a few years before. Monsieur Guérard is such a perfectionist that when we first started going, any dish, including any ice cream, had to be made at the beginning of the meal so it had time to be made to order, frozen to a creamy consistency. But in the '90s, he switched to a Pacoject where the frozen block is turned into ice cream in seconds, at the last minute. My family decided to get one for my birthday and M. Guérard's pastry chef, Sebastien Perbost, spent time showing me how he used it."
Shepro particularly loves making bitter chocolate sorbet, saying it's fascinating to experiment, witnessing the little changes from the type of sugar or chocolate, or amount of water, that can make a huge difference in the final texture. He has also observed the way the intensity of color can affect how people experience the flavor. "Then if you sprinkle a tiny bit of flaky salt on to the sorbet just before serving, there is a fascinating taste that is created, refreshing but more intensely flavored—it's, in a way, the chocolate equivalent of the Breton salted caramel that became so popular in France and then in the US. I have one I call Bitter Chocolate Sorbet #11 that I especially like to serve with a few bits of flaky salt."
To Galus, sea salt and chocolate are fine pairings: "It's like six degrees of separation—salt enhances the flavor. A pinch can do wonders. I use Japanese, Himalayan, French, all with different mineral characteristics."
"Chocolate is more complex than almost any other food, with over 700 mineral and aroma characteristics," Hack explains. "Many people think that it all began with the Aztecs and the Mayans.  Actually, in the Amazon forests of Ecuador, there recently was found some sort of chocolate beverage from 5,500 years ago. And doctors recently announced that an ounce of chocolate daily is very good for you."
During COVID, she replaced the Cocoa & Co. private tasting room with virtual tasting events for corporate and other clients exploring this complex food. A variety of their international bars are sent out ahead of time to participants and the tasting and teaching sessions last for one hour: "We love pushing people's palettes in new adventures," she says. "I have been in the restaurant business for awhile and one of the most unusual desserts we ever did was milk cocoa, hazelnuts, basil, and Manchego cheese composed on a beautiful plate. It was a stream of consciousness reaction."
Katherine Harvey, who takes us along to Antibes in her evocative columns, relates that in France "there's so much competition at the top in the chocolate world, either from chefs choosing to execute something entirely unique or chocolate companies creating with every fruit, spice, and pepper at very high prices. What is lovely is the street food: that perfect chocolate crepe beautifully folded over when it is removed from the pan. And children still adore a pain au chocolate, that pillow of puff pastry with stripes of chocolate inside, when they return from school."
And here's something you'll adore: Samantha Schwalm's molten chocolate cake, a favorite request of both her own children and her clients. She says, "Molten Chocolate Cake was created by Chef Jean-George Vongerichten and can be found on almost every restaurant's menu these days. During the pandemic shut down, my kids asked for these delicious, decadent treats. So here is the recipe, which is based off of one we found in Food & Wine Magazine."
Molten Chocolate Cake
Ingredients
1 stick of unsalted butter
6 ounces bittersweet chocolate
3 tablespoons milk chocolate morsels
2 eggs
2 egg yolks
¼ cup sugar
¼ tsp salt
2 tablespoons all purpose flour
Directions
Note: I feel that they bake better if you make ahead and refrigerate while dinner is being made and served. Take out of the fridge while cleaning up dinner, then bake.
Preheat a 450 oven. Grease and flour the bottom and sides of your 3.5-inch ramekins.
In a double boiler, over simmering water, melt butter and chocolate over low heat. Stir occasionally. In a separate bowl, beat the eggs, egg yolks, sugar, and salt on high. Continue beating until the mixture thickens and becomes a pale yellow.
Make sure you whisk the melted chocolate until smooth. Then, slowly fold into the chocolate mixture, along with the flour, into the egg mixture. Pour evenly into the ramekins. Bake for 6 minutes.
As soon as they come out of the oven, let the cakes cool for 1 minute, then run a butter knife along the sides and pop the cake out onto a plate. Serve immediately.
Cocoa + Co. is located at 1651 N. Wells St. Visit their website at cocoaandco.com to learn more.