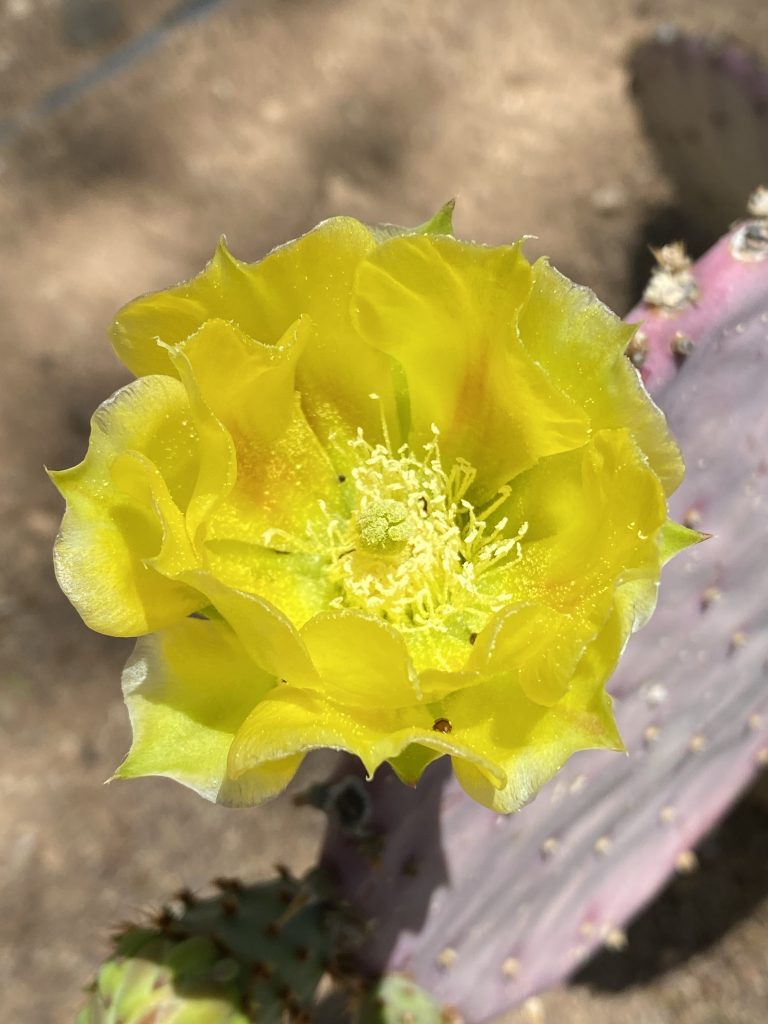 Sunny prickly pear flower.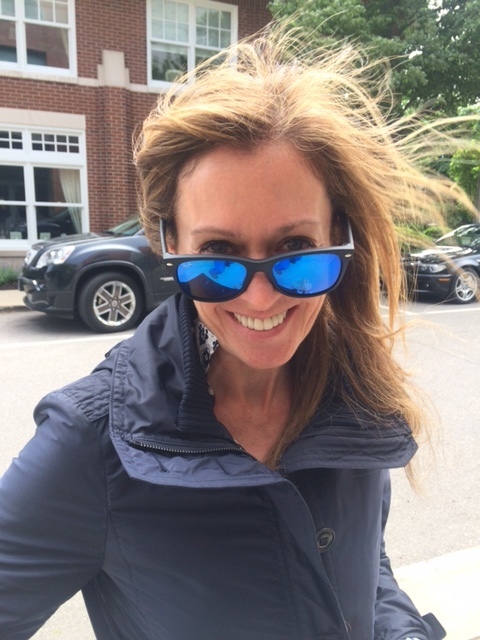 By Wendy Wood-Prince
It seems that wanderlust is a permanent affliction. After a full year, plus some, of staying home, the itch to hit the road was becoming impossible to ignore. The last year and a half have been weird to say the least. When the first stay at home requests hit, I admit I enjoyed being at home, no work, no meetings, no rushing around driving in traffic…….it was a relief to stay close to home, walk my dogs and just chill. As time progressed the desire to get out into the world again got stronger and stronger. Once fully vaccinated, I was raring to go and my good friend Pamela suggested we head back to Miraval in Catalina, Arizona, ironically the last place I had been before the pandemic took hold.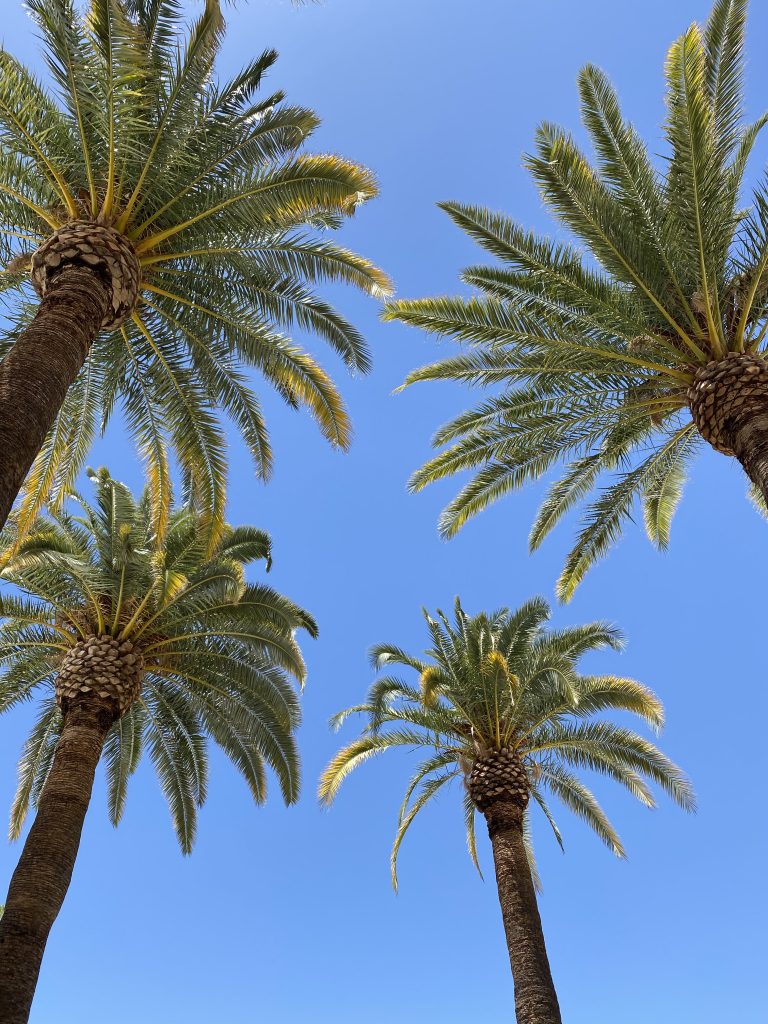 Looking up into the azure blue sky. 
Like a mole coming to the surface of the earth after months tunneling underground, my blinking eyes and dulled brain had to get used to the idea of being out in humanity once again. I was a little skittish, everything was new, rules of where to stand, how to communicate in a mask, how to talk to another human after mostly talking to my dogs, zoom meetings, all made me feel a little weird. Even so, I wanted to go and explore the world again!!
Excited as a child to be traveling, I settled on the plane, watching out the window as we took off. As I listened to the pilot and flight attendants make their announcements, I felt a renewed sense of appreciation all around.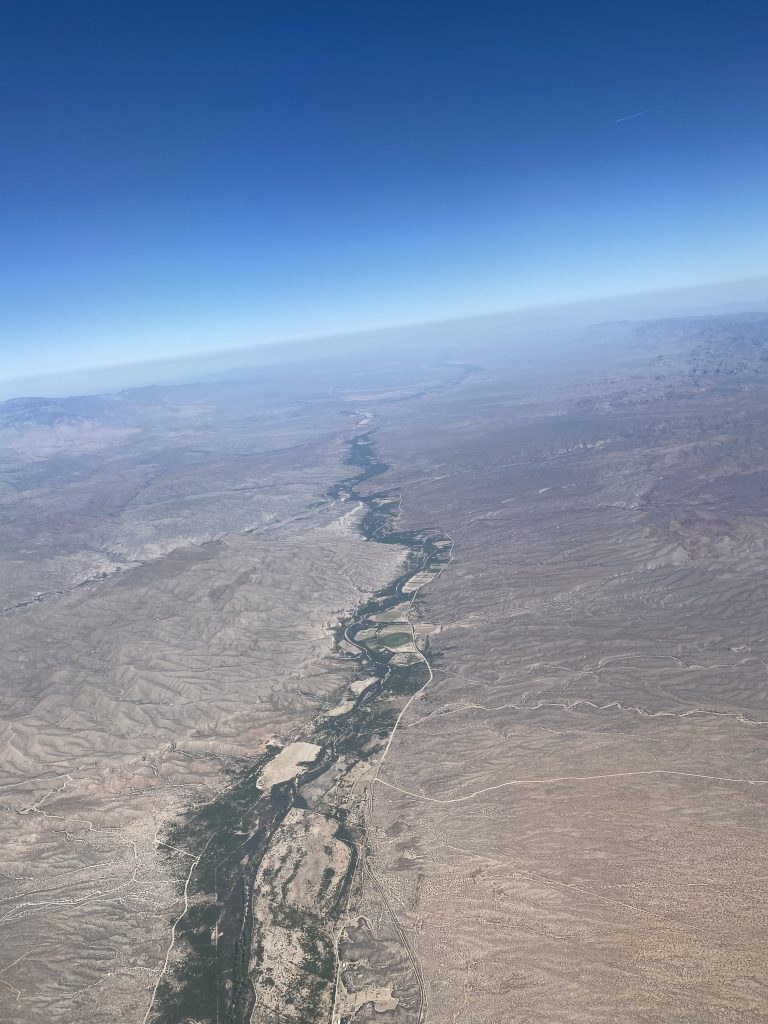 Green meandering valleys below. 
Arriving at Miraval itself was no different. Everyone was truly happy to see everyone else. Quarantine stories were shared, even with masks (there were still strict mask guidelines when I arrived) human interaction was relished by all. Life had a glimmer of hope! The mountains, the flowers, lizards, deer, even the cacti made everyone happy. Miraval already has a spiritual and mindful vibe and it was heightened by renewed appreciation from guests and staff alike.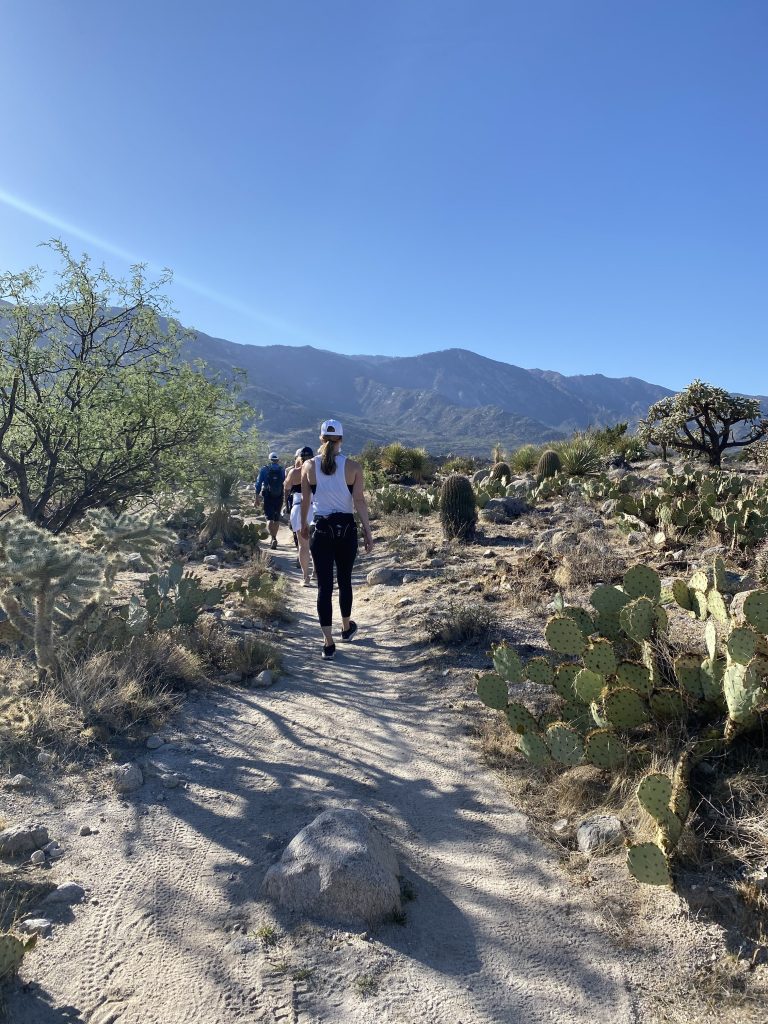 Early morning hike.
Hiking was first on my list. The guides that lead the hikes at Miraval are a great bunch. Equipped with tons of knowledge of the local flora and fauna they lead groups through the desert topography with expertise. Listening to facts about how plants behave based on the temperature, sunlight and water availability is fascinating. Luckily the guides are very vocal about the dangers of various types of cactus needles and equipped with scissors, pliers, tweezers and ointment in case a hiker inadvertently bumps into some. After listening to their brief explanation of barb types in cactus needles,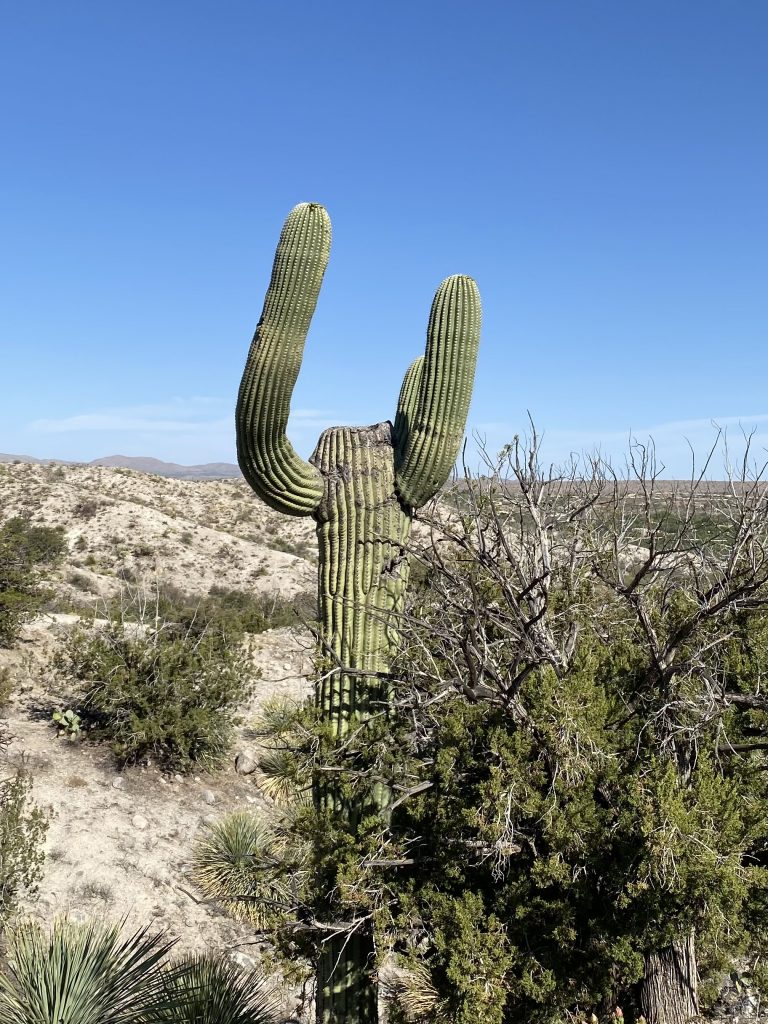 The "Headless Horseman" of Saguaros.
I developed goose flesh on my legs at every pass of spiny needles. Out of earshot for the snake discussion, I made sure there was a hiker in from of me and one directly behind me and then I watched my flank like a hawk! Not one snake was spotted during the hikes!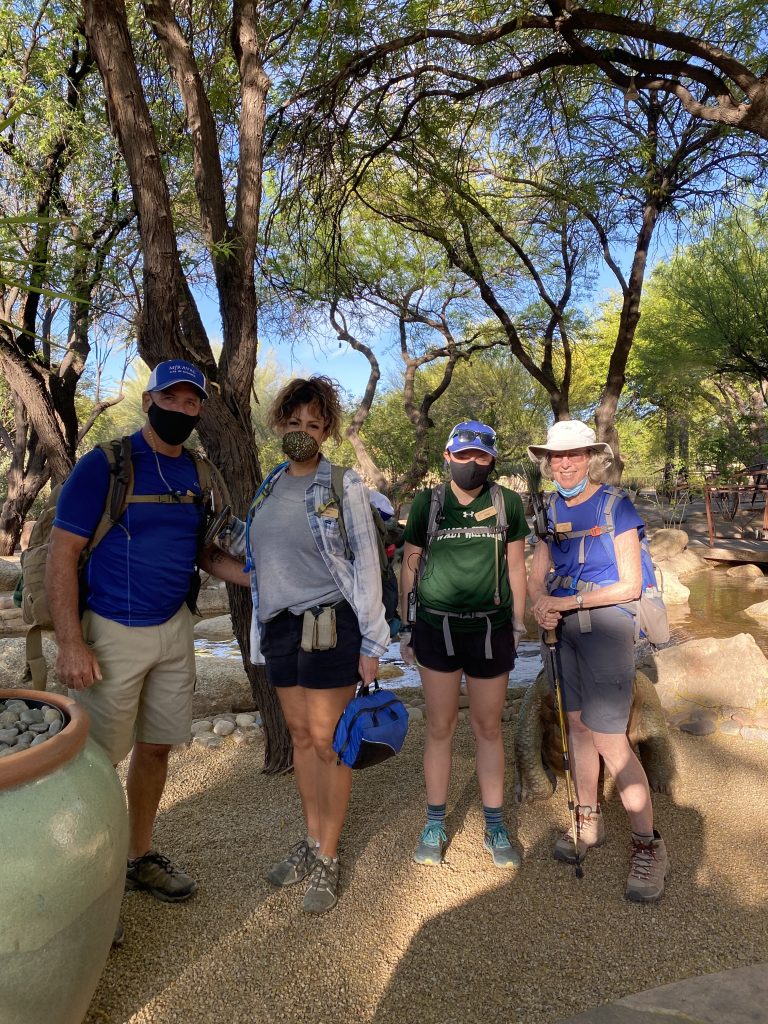 Happy Hiking guides ready to go.
Hours of hiking inevitably leads to sore muscles and Miraval's spa is a cut above. The spa therapists were equally grateful to be working and interacting again. The joy to interact and treat people for their aches and pains was palpable as every treatment I received was administered with care and happiness.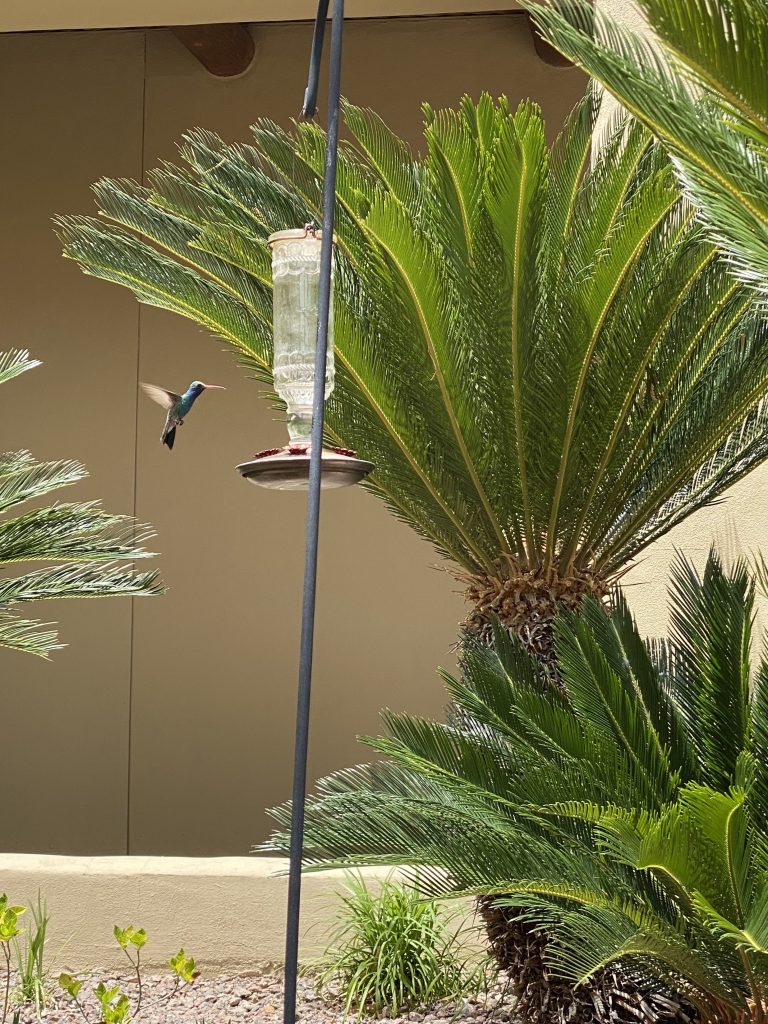 Being patient and quiet has its rewards.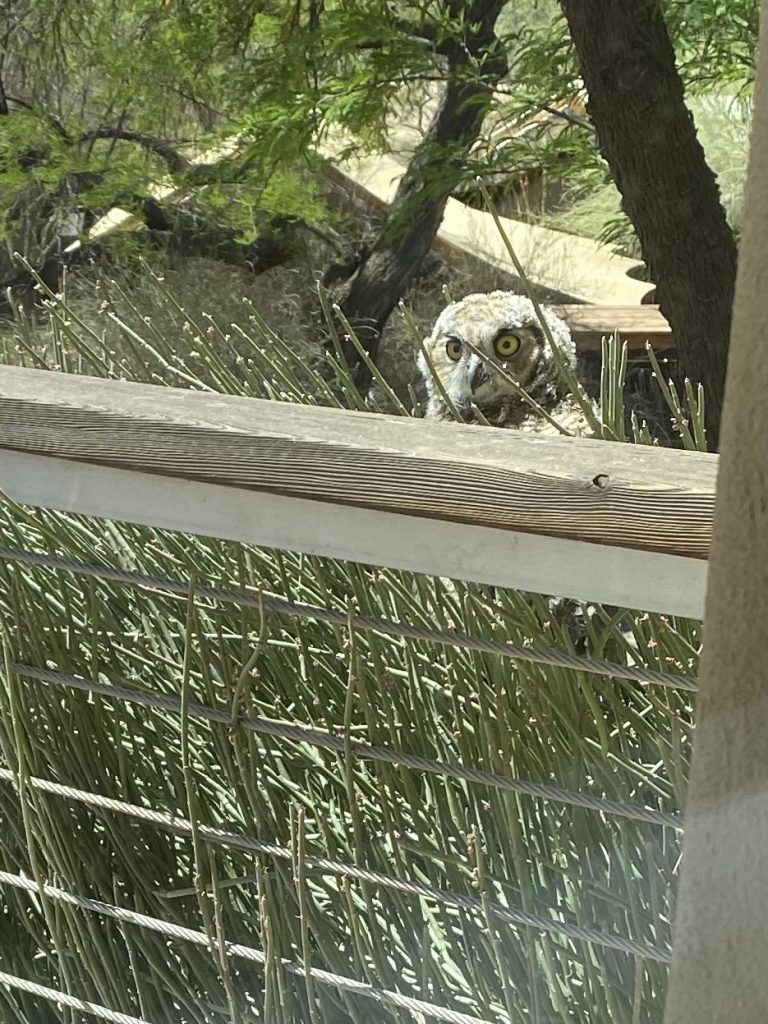 Thrillihng to witness a baby owl sitting on its nest.
This trip gave me renewed excitement for traveling again and a reminder that it truly is the journey and not the destination where beauty appears in the small moments and the minutiae of each moment. Now, where to next???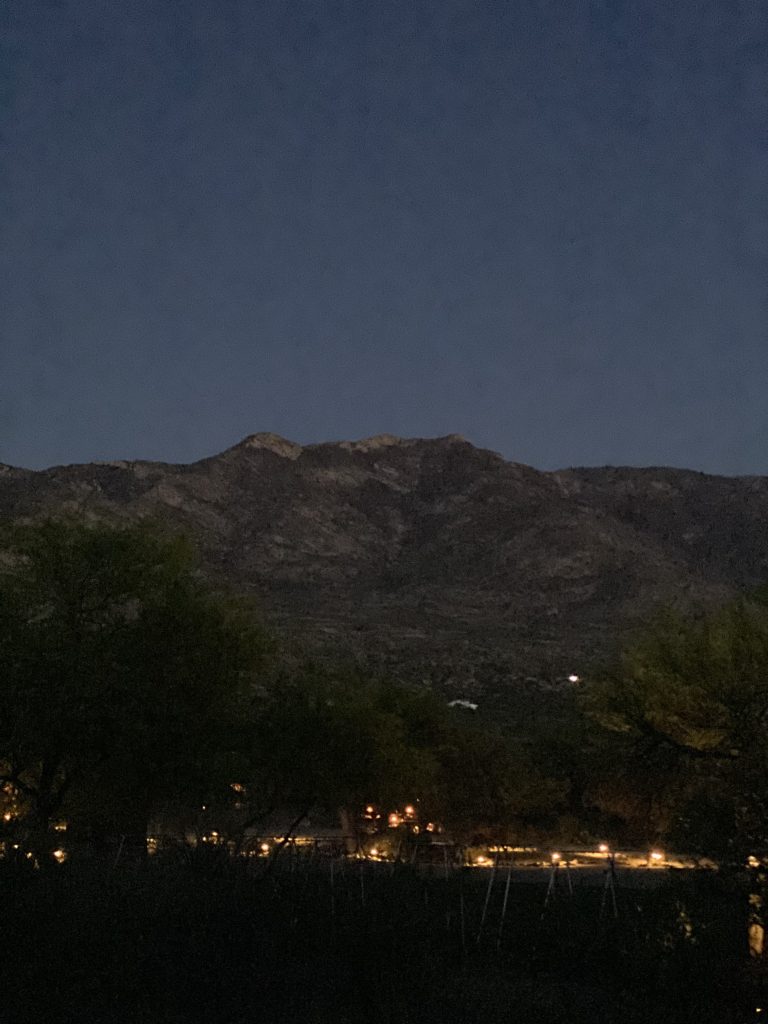 Soaking in the serenity of the night.