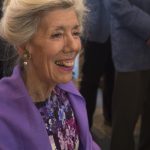 BY JUDY CARMACK BROSS
When you are talking about $1.2 billion in tax returns, people should know your name.
Classic Chicago salutes Ladder Up, which has helped 750,000 hard-working clients secure the tax refunds they need, gain the knowledge to navigate today's complex financial systems, and obtain financial aid to make college dreams a reality. The economic empowerment organization provides free and confidential tax return preparation to low-income taxpayers at its locations in Chicago and Springfield and has made possible $249 million in college financial aid for deserving students.
Like many of the most effective social service non-profits, Ladder Up began with one person's dream and determination. In 1994 entrepreneur Robert Burke, then a 22-year-old volunteer basketball coach on Chicago's west side, saw how hard the families of the kids he coached were struggling to make ends meet. He was in his first year as a financial analyst for Arthur Andersen and knew there was a need to solve and serve. His goal became to secure unclaimed tax credits for the underserved in that community.
He recalls, "I was coaching at a Catholic School, and a nun came up and asked what I could do for the community. I had grown up in a working-class family and through the education, I was lucky enough to receive at Notre Dame and Harvard, I had the competence to go out and try to make something happen."
"I saw the importance of financial literacy," he continues. "With our tax system, one size is supposed to fit all. The process, with its 76 pages of different tax explanations, is daunting, and many people are so frightened or intimidated or are working two jobs and have no time. It isn't clear how to pursue the refunds they deserve."
Already an entrepreneur at heart, Burke got started. He recruited 90 colleagues to prepare tax returns at no cost and his efforts that first year paid off: over $150,000 in tax returns were delivered to 120 families. Now head of Burke America, his own ladder up included assignments at TSI Holding Company and Goldman Sachs before starting his own company in 2007. He continues to serve as Ladder Up board chair.
Since Burke built the first rung on the ladder, over 34,000 volunteers have signed on to assist in income tax preparations. In a year made even more complex by the pandemic, Ladder Up is recruiting volunteers to meet the challenge before the extended May 17 tax deadline.
Ladder Up Executive Director Kathleen Stark shares, "Everyone understands that taxes are complex, no matter what economic background you have. We want our clients to have the level of services that clients at a higher financial level can access. Pre-COVID that meant sitting down at a real desk and talking to real people, now talking is via Zoom and other connections, as well as in person. This year we have seen so much desperation and there are tough conversations that we have to have. We want to help show that there is light at the end of the tunnel."
Ladder Up serves Illinois residents who earn up to $32,000 as an individual or up to $57,000 per household. Stark explains, "Last year was a difficult year at baseline: the new pandemic assistance and tax changes related to it will necessitate getting extra help in navigating this uniquely challenging year. The pandemic impacted every aspect of life and created more instability. There are more people eligible due to unemployment."
In an effort to provide service for as many clients as possible with a limited amount of space, this season they transitioned to a "drop-off" model based out of Ladder Up's main office on Orleans Street in River North. Clients make an appointment and then come to the office to have their case reviewed and their documents scanned. Safety precautions such as plexiglass dividers, deep cleaning, social distancing, and other measures are firmly in place. Taxes are prepared remotely, and clients come back at a later date for a quality review appointment where they will receive their completed tax return and refund information.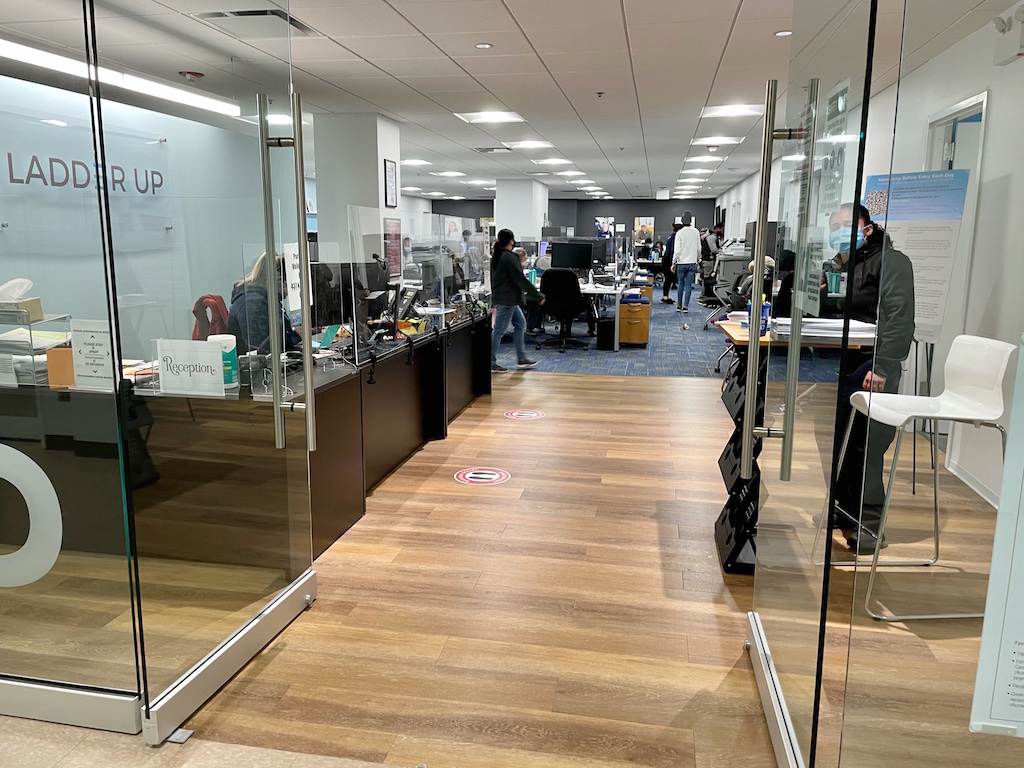 This year has created the extra challenge in finding space to meet with clients. In the past, libraries, food banks, and other locations have donated their space. This year Ladder Up is serving more clients, while working with less space. The demand for volunteers is also on the rise.  They are searching for any bankers, lawyers are those with financial backgrounds who might have time to share.
Although taxes are prepared remotely, volunteers can work either in person or virtually, meeting one-on-one with clients to review their completed 13614-C and supplemental intake sheets, ensure they have all required tax documents and ask any necessary follow-up questions to make sure all relevant information is documented. Volunteers can also work as exit interviewers, either remotely or in-person at a drop-off site. This includes meeting with clients to review their completed tax returns and make sure that all information is accurate.
Climbing the economic ladder through education is at the center of the organization's mission. College Financial aid information and application assistance are provided. College Knowledge workshops cover topics such as student loans and that repayment process, college finances, and educating students on how to live independently on a tight budget. Other services offed by Ladder Up include banking assistance and financial education, including seminars on budgeting, savings, credit ratings, and how to navigate financial and tax documents. There's a live hotline and attorneys on staff.
Ladder Up's Advisory Board reflects some of Chicago's keenest financial minds that work with the talented and hands-on Ladder Up board: "There are definitely wonderful moments," Burke says. "I remember the smile on the face of the woman we were able to tell that she had $16,000 in tax credits and past child support over four years. She said she was going to apply it to a down payment for a home."
To learn more or become a volunteer, visit goladderup.org.