By Elizabeth Dunlop Richter
"Family is who you choose…my beloved Alpha Kappa Alpha…. our Divine Nine and my HBCU brothers and sisters."  With these words and more, Senator Kamala Harris accepted the Democratic nomination for Vice President of the United States. Harris was giving an historic shout out to her college sorority and the Greek system at her alma mater, Howard University.
Kamala Harris at the Democratic Convention, August 19, 2020
It's rare that a politician thanks a fraternity or sorority at such an important event. The popular image of Greek life in "Animal House" or  "Legally Blonde" does not inspire. But AKA is not just any sorority.
In the Black community, sororities play a far different role from what Greek life appears to be in the media.  In her acceptance speech, Vice President-elect Harris stressed the challenges ahead, saying "We've got to do the work." "Doing the work" also underlies the concept that Black sororities provide members with a lifelong commitment to community service and a source of inspiration, expectation, and support.
Alpha Kappa Alpha (AKA) was the first sorority for Black female students, founded in 1908 and incorporated in 1913 at Howard University. AKA is one of the Divine Nine, the nickname for the nine sororities and fraternities founded for Black students in the early 20th century, primarily at HBCUs (historically Black colleges and universities). Many leading Black women in Chicago are members, including Cook County Board President Toni Preckwinkle (AKA) and Lt. Governor Juliana Stratton (AKA). Cook County States Attorney Kimberly Foxx is a member of Delta Sigma Theta.
Harris might have been talking about not the new administration, but AKA itself.  One of the sorority's five tenets is "to be of Service to All Mankind." In fact, service is what distinguishes all four sororities of the Divine Nine: Alpha Kappa Alpha, Delta Sigma Theta, Zeta Phi Beta, and Sigma Gamma Rho.
Kimberly Evans, Executive VP, Northern Trust
Harris' words resonated with Northern Trust executive Kimberly Evans, "I felt the world shift a little bit, she said." Evans had virtually grown up with the Divine Nine. "It started in elementary school," she said, "it was always my teachers, principals, community activists, people who organized for our church and food drives. I always thought it would be great if one day I could be that too." She remembered that they always wore their fraternity or sorority gear, sweatshirts and hats. "We still do that today," she said.
At the University of Illinois Evans had pledged Delta Sigma Theta. She said that during the recent election, "We'd wear something in solidarity with Kamala."  All four sororities joined together for the common cause of voter registration. An Atlanta dance studio owner was inspired to create the nonpartisan "stroll to the polls" campaign that went viral, uniting sorority sisters across the country.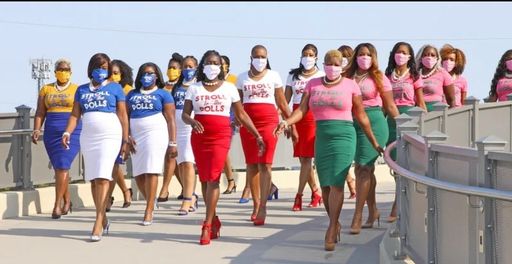 Black sorority women "stroll to the polls" in Atlanta, wearing their sorority colors
Getting out the 2020 vote was the focus for attorney and WVON radio host Kimberley Egonmwan. She's the social action chair for the Chicago chapter of the National Pan-Hellenic Council, the organization supporting all Divine Nine organizations. Potential voters were encouraged to register, vote, and urge others to do so, mindful of Covid-19. Voter pandemic cards were distributed, reminding people to wear masks, wash hands and use hand sanitizers. Many chapters provided rides to the polls.
Kimberley Egonmwan honored with the Gisele M. Casanova Outstanding Leadership Award November, 2020
A long-time member of AKA, like many of her sorority sisters Egonmwan was aware of Black sororities growing up. "As a child, my mother took me to many activities and a lot were run by women in the community who were members of these organizations…many were members of AKA. [I met one] when I was a debutante in the Chicago Links Cotillion" she recalled.  When Egonmwan was at the University of Illinois, AKA had no active chapter; she joined a year after graduating, relatively common among the Divine Nine. "The draw for me is that it's always been about the community service aspect… We celebrate lifelong sisterhood."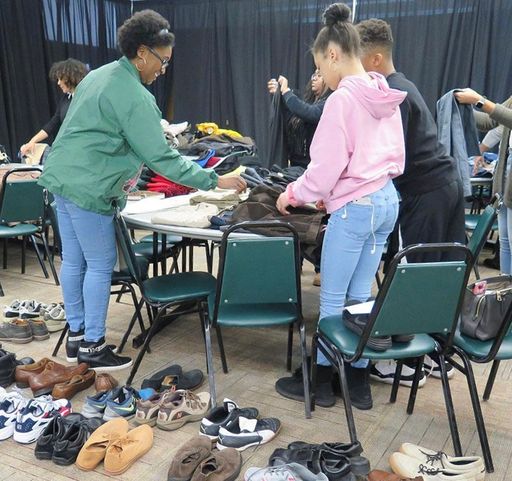 AKA member Ontisar Freelain and her son, Kadir Freelain and daughter, Kendi Freelain help sort over 800 items for the Featherfist Veterans Shelter on the 2020 Dr. Martin Luther King, Jr. Day of Impact
The power of sorority sisterhood was not anything award-winning journalist Maudlyne Ihejirika experienced growing up. In fact, she didn't even know the sororities existed until she got to college.   Born in Nigeria, she was raised in Downers Grove and attended a Catholic elementary school; she discovered AKA as freshman at the University of Iowa. "The Black student union reached out to new students to let them know there was a community to support them," she recalled. She spent her freshman year meeting students from a variety of sororities and found that for a Black student at a predominantly white university, they were key to her social life. "I did my research and learned that AKA best fitted my character and interests and values…at the time I pledged I learned that Maya Angelou was an honorary member and I wanted to be a journalist. She and member Toni Morrison were among my writing heroes."
Journalist Maudlyne Ihejirika
Ihejirika credits AKA for her closest friends. "I was gifted with a bond that I could not have imagined.  The women I pledged with became immediately family…the only competition was who could get the highest grades! We had to keep up our average." Academic achievement led to professional achievement. With her B.A. in journalism from University of Iowa, an M.S.J. from the Medill School of Journalism at Northwestern University and an honorary Doctorate from Saint Xavier University, she writes the long-form Sun-Times "Chicago Chronicles."  A frequent guest on television and radio news programs, she's currently president of the Chicago Journalists Association Charitable Fund.
For Ihejirika, re-engagement with AKA came some years after college. "There was a point midway in my career where I felt like I needed to bounce some issues I was dealing with in corporate politics and fairness in the media off some accomplished women. I reached out to an AKA member…. and I was immediately able to plug into an instant mentor who continued to check in on me, giving me advice. The resources were there." She's now actively involved in AKA events through friends in Bolingbrook and Chicago chapters. "The impact of the Divine Nine on the Black community in local and national arenas is exponential in terms of political and economic leadership and civil rights."
For some families, sorority membership is a powerful multi-generational tradition. Three generations of Satia Orange's family have been members of Delta Sigma Theta. Her mother Ruthe Langley Marshall attended high school on the campus of Missouri's Lincoln University and remained to get her degree and meet Orange's father, who would work as librarian at the college.  Orange grew up across the street from Lincoln and like her mother, attended high school on campus. She got to know the school well, its sororities and fraternities and their songs and "steps." Despite rumors that she would pledge AKA, she followed her mother as a Delta.
(left to right) Satia Marshall Orange with her daughter Tiffani Orange
It took Orange's daughter Tiffani more determination to join. There was no chapter at her college, St. Andrews Presbyterian College (now St. Andrews University) in Laurinberg, North Carolina. Inspired by her mother and grandmother, she was able to pledge at a regional Delta conference in Columbia, South Carolina. As Orange looked on, her daughter was pinned by her grandmother.  
An older Delta member later fondly remembered Orange's mother. "She'd give you 'the look' and you'd check to see that the seams of your hosiery were straight. [She taught us] to stand up and walk correctly, to soften the voice… There was an expectation that you would look the part of a professional person." Orange observed, "The new generation is less concerned about whether your seams are straight…now the stress is on voting rights and tutoring kids." Her daughter would finally enjoy sorority life in the Delta chapter at the University of Iowa where she earned her MBA.
Ruthe Langley Marshall
Like her late father (later dean of libraries at Eastern Michigan University), Orange trained as a librarian and served as Director, Literacy & Outreach at the American Library Association, winning its Distinguished Librarian award. She has lived in many cities in her career, including Milwaukee, Winston Salem, and Chicago. In each place, she has found friends through Delta Sigma Theta who have helped her in so many ways. "It's very important when you move into a community, especially an urban community…You meet women of all ages, all interests, all projects…[it might be] a soup kitchen or mentoring students; there's something you can connect to."
Orange salutes the Delta commitment to community. "Even at 78, [I} have a level of pride at seeing how they are making a difference all over the country. It's from the day you are initiated until the day you're gone."
Vice President-elect Kamala Harris has often spoken about being a role model for little girls of color. Her sorority sisters will no doubt ensure that these little girls also know that women like Harris have the advantage of being part of a powerful and supportive sisterhood.
Maudlyne Ihejirika says, "AKA is one of the best things that I ever did for myself. AKA women are strong, are driven, are competitive, are persistent, and beautiful.  AKA is beyond proud to have one of our members in the White House…it's historic for Black women."