Book by Lake Forest Native Sheds New Light on the Late Bernie Madoff's Ponzi Scheme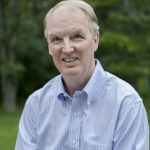 By David A. F. Sweet
As the end of Bernie Madoff's reign of fraud neared in December 2008, his secretary of 25 years, Eleanor Squillari, was confused by her boss's behavior.
The Wall Street mogul couldn't stand up sometimes; he'd lie for long stretches on the floor of his Manhattan office. The once-energetic hedge-fund manager would also stare catatonically out the window. Finally, during a particularly bad spell, his sons Mark and Andrew rushed him out of his company's Midtown headquarters to his co-op to try to understand what was happening with their father.
Squillari soon found out why Madoff had been completely out of sorts. Once he arrived at his co-op with his sons, he confessed to them that he had been operating a Ponzi scheme – what was soon revealed as the largest in the history of the world. They immediately turned him into the FBI.
Squillari's recollections, along with interviews with Bernie Madoff – who died this week at 82 while serving a 150-year prison sentence — and his wife Ruth, help form a riveting tale for Lake Forest native Jim Campbell's first book. Set to be published by McGraw Hill on April 27, "Madoff Talks: Uncovering the Untold Story Behind the Most Notorious Ponzi Scheme in History" is a gripping look at a scandal that wiped out Madoff's 16,000 investors – and, by Campbell's estimates, more than 700,000 others around the world. It prompted suicides – including by one of Madoff's sons, Mark.
How did Campbell choose this topic for his debut work? Host of two syndicated radio shows in Connecticut that deal with business and crime, the graduate of Tufts University and Choate interviewed Andrew Madoff to prepare for a show regarding another Madoff book. Then, Andrew's mother, Ruth, moved to Old Greenwich, Ct., Campbell's hometown. He offered to take her to lunch, and the seed of a book was sown.
Campbell's access to important sources was substantial – and a key reason why a major publishing house gambled on a novice author. He has been the only writer to interview both the Feds who investigated Madoff and also his family. Among media types, Ruth Madoff confided almost solely in Campbell. In the midst of serving a 150-year prison sentence, Bernie Madoff – whom Campbell found brilliant yet delusional — even waived attorney-client privilege so the author could ask his lawyer any questions he wanted. Thanks to Madoff's secretary Squillari, Campbell could examine Madoff's diaries, calendars and list of contacts. Bernie's son Andrew also spoke with Campbell.
Few remember Madoff built up a legitimate $3 billion business – he even was tapped to head Nasdaq, the stock exchange best known for high-flying tech names — before embarking on the Ponzi scheme in the 1990s. In essence, he had zero reason to pivot to an illegal venture. So what was he thinking?
"To my mind, it was not greed that drove Madoff to run the biggest Ponzi scheme ever," Campbell writes. "He had a compulsive need for control as a king of Wall Street. He could not psychologically accept investment losses. Ever."
The book opens with veteran Wall Street salesman Frank Casey calling on Rene-Thierry Magon de La Villehuchet, an aristocratic French money manager. Casey asked if the businessman would work with his hedge fund. Magon de La Villehuchet said he used only one fund, but he couldn't tell Casey which one, because he would be tossed out of it for breaching the secrecy. This fund was so great, he said, that it had uniquely reliable returns and no management fees.
Casey was highly skeptical. By chance, as Magon de La Villehuchet excused himself to take a phone call, Casey turned over a paper on his desk and, for the first time, encountered Bernie Madoff's name.
Casey and two co-workers dug into Madoff's business and delivered allegations of fraud to the Securities & Exchange Commission five times over six years. But it wasn't the SEC that brought down Madoff. Simply put, a Ponzi scheme needs more cash coming in than going out to work. As the Great Recession darkened the land late in 2008, Madoff floundered at bringing money in, while investors rushed to cash out. The day people found out about his arrest, requests to liquidate accounts bombarded the office.
One of Madoff's closest associates, Frank DiPascali, admitted to the FBI that none of the trades at Bernie L. Madoff Investment Securities were real – not one, ever. His defense team needed six months talking with him just to understand how the whole operation worked before meeting with prosecutors.
Though Madoff's Ponzi scheme was quite complex, Campbell said the book comes down to a simple premise. "Ultimately," he explained, "it's a timeless morality tale with villains, heroes and victims, who become survivors."
Campbell credits growing up in Lake Forest with giving him a great moral foundation and good values — both from his parents, Barbara and Melfort, and the friends and families they interacted with.
"Many of the parents were business and civic leaders," Campbell said. "Quiet legends, people of integrity, ethics and good values. Bernie clearly missed out on that."
Unsung Gems columnist David A. F. Sweet is the author of Three Seconds in Munich, an in-depth look at the most controversial sports finish of all time amid the backdrop of terrorism. E-mail him at dafsweet@aol.com.