Lake Forest Track Star Competes at Top Levels Around the World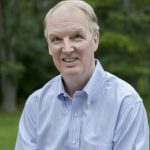 By David A. F. Sweet
A little more than two seconds is all that separated Helen Schlachtenhaufen from the upcoming Olympics in Tokyo.
Competing in the 1500-meter race at the Olympic Trials in Eugene, Ore. in June, the Lake Forest High School graduate moved up seven places in the last 300 meters — a furious pace — to try to make the U.S. team. But her 4:04:41 time fell just short, good for fifth place when only the first three places qualified.
"It was definitely a bittersweet finish," Schlachtenhaufen said. "I wasn't having a great day, but I fought back pretty well. I'm proud of it, but I want more."
Considering she didn't start running until her freshman year of high school, it's amazing how far she's progressed. While playing soccer, she realized she was better running before practice than playing the game. Her soccer coach said she should try out for cross country. Even though she arrived late for the tryout, she ran so well she was placed on varsity. Same for track.
Her track coach on the Scouts, Nathan Sweet, recalled Schlachtenhaufen's physical sturdiness.
"What separates the best of them, Helen included, is the ability of the body to handle and respond to the work being asked for it to do," Sweet said. "Helen was able to really produce fabulous workouts and races and recover in a way that did not lead to physical breakdown."
Despite her successes at LFHS, including a North Suburban Conference championship in cross country her sophomore year, she was forced to try to make the Dartmouth College track team as a walk-on. By her senior year there in 2017, she captured the Ivy League title for the indoor mile for the second time and set a new Dartmouth record in the 1,500 meters (4:11.15) before graduating with a degree in psychology.
Her coach at Dartmouth, Courtney Jaworski, explained why she became a college standout.
"Helen's ability to dial-in with a mature mental outlook, focus on detail and drive to be great is what made her Dartmouth career so successful," she said. "One of Helen's strongest attributes is her ability to read a race and respond perfectly."
Since Dartmouth, Schlachtenhaufen has only improved, even though she's faced obstacles.  Earlier this year, her coach was let go by her sponsor, Saucony.
"That was an abrupt transition," said Schlachtenhaufen, who now has a new coach, Kurt Benninger. "For a couple of months, I was kind of coaching myself. It wasn't great. But sometimes the down time makes you realize how much you want it."
That desire helps soften the fact that the life of a pro track athlete can be grueling.
"It's a single-minded focus where you shut everything else out," the 26-year-old said. "When you get to a certain point, you have to make a lot of sacrifices for the sport. Your schedule is very different than other people's. The summer is our busiest time, but for others, that's when they go on vacation."
To that point, only days after the Olympic Trials ended, Schlachtenhaufen flew to Stockholm to compete in the high-level Diamond League meet there (she ran a personal best in the 1500 meters with a time of 4:01:09) and is slated to race in England July 13 – all while missing a family reunion. (Her mother Susie encouraged her to go abroad, understanding the tremendous opportunity to compete against the world's best.) Schlachtenhaufen is considering a career in medicine – her specific interests involve specifically endocrinology, neurology, and genetics — but she is dedicated for the moment to working hard as a professional athlete.
She isn't the only one in her family to follow a running career. Her great grandparents, Albert and Ellen Post, were heavily involved in running. Albert served as the assistant manager of the U.S. men's track and field team for the 1960 Olympics in Rome before being promoted to the 1964 Olympics squad in Tokyo. Ellen held the world's record in the 220-yard dash in 1926 and 1927. She had to give up her Olympic invitation in 1928 due to the imminent birth of Helen's grandfather, Richard.
Speaking of the Olympics, there's another one in three years. Will Schlachtenhaufen try to make the Summer Games in Paris?
"It's a little daunting to think about continuing training for the next three years," she said. "But I do love it."
Sporting Life columnist David A. F. Sweet is the author of Three Seconds in Munich about the 1972 Olympics. E-mail him at dafsweet@aol.com.