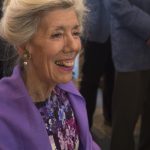 BY JUDY CARMACK BROSS
A three-part virtual evening series on new French architecture running April 28, May 12, and May 26 follows the sensational Grand Chateaux virtual tours offered earlier this year by the Alliance Française of Chicago. Pauline Sheehan and Ann Thompson, both architects and members of the Alliance's Women's Board, have invited three of the world's top architects to share details on their projects in Paris, Arles, and Nîmes—some of the most exciting things happening in new French architecture and design today.
A companion series to the Arts of France Symposium scheduled for fall, the series should attract a diverse audience united by a fascination for international architecture and design. Criteria for choosing the architects involved in the program included global significance, community-driven design, cultural emphasis, and sustainability.
The enthusiasm both Sheehan and Thompson have for this online offering was instantly apparent over our recent Zoom conversation. Both chairs spent an academic year abroad in the French School of Architecture at Versailles, describing the experience as life-changing. When they received the green light on this series they created a wish list of top architects currently doing innovative and intriguing projects in France.
"Ann and I feel very honored and excited that our first-choice architects accepted our invitation to speak to the Alliance Française," Sheehan, AIA, a former architect with Perkins & Will, and a senior architect with Lucien Lagrange before she retired, told us. "Our last speaker is Chicago's own Jeanne Gang. We talk of Frank Lloyd Wright and Mies van de Rohe here: she will be the third name in that pantheon. I don't know if a lot of people know that Time Magazine named her as one of its top 100 most influential people of 2019."
Thompson, AIA, Executive Vice President of Architecture and Design of Related Midwest, leads the design and planning of projects of mixed-use, mixed-income, and affordable and luxury development in her firm. "We were thrilled to execute with a very high caliber of speakers, each internationally recognized for their projects and for having set new standards in international design," she shared. "Each project has a big environmental component and because none of the architects are French they show with a fresh pair of eyes how an architect interprets France. Two of the projects are in the south of France, in Arles and Nîmes, escaping the strong gravity of Paris as we explore new regions."
Sheehan added: "The speakers will address what it is like to work in France, how the culture and history of the place affects their design decisions. What I find especially interesting is that none of these architects are French, so they bring the fresh perspective of the outsider."
On April 28 Sara Lopergolo, a partner at Selldorf Architects, will discuss Luma Arles, a new contemporary art center that brings together artists, researchers, and creators from every field to collaborate on multi-disciplinary works and exhibitions. Lopergolo is currently partner-in-charge of two high profile and highly different museum projects: the Museum of Contemporary Art in San Diego and the Frick Collection in New York. Selldorf Architects has been involved with the master plan and adaptive reuse of industrial buildings at an old rail yard in Arles.
Kim Herforth Nielsen, Founder and Creative Director at 3XN, will discuss the Palais des Congrès, a 700-seat multi-purpose auditorium and exhibition hall in the heart of Nîmes during his May 12 presentation. Le Palais des Congrès, a dynamic new space for business, entertainment, and public gathering, is inserted among Roman ruins and medieval buildings in the ancient city of Nîmes. The firm's branch GXN focuses on environmental design research across biological, technical, and social dimensions.
On May 26 Jeanne Gang, Founding Principal and Partner at Studio Gang, will show the Center in Paris Project, an academic center for the University of Chicago and a new hub for scholarship and cultural exchange in Paris's rapidly developing 13th Arrondissement. A mixed-use academic and residential center, it is integrated into the city with bio-diverse green spaces.
Mary Ellen Connellan, Executive Director of the Alliance Française, shares, "This new series is a natural extension of the Symposium on the Arts of France, as architecture is commonly known as the mother of art. Our focus is on what is happening now, today, in France from the perspective of premier, global architects, which gives us the opportunity to explore a whole new element of French culture and to exchange these ideas with the public."
Conery Hoffman, Manager of Outreach Programming and Business Development, explains how the idea began: "Myriam Bransfield and the late Mary Blust, chairs of our Symposium on the Arts of France, and I had put together some goodie bags that needed to be delivered to the grand patrons and patrons of the series. Due to the pandemic, all in-person events were canceled and we were not able to hold our normal lunches that take place after the lectures. The bags included a bottle of champagne, macarons from la Fournette, and a lavender bunch. Myriam and I had the task of hand-delivering these bags, so one day, we hopped in her car and made our way to the South Loop to begin our journey."
He continues, "We worked our way north, up the Magnificent Mile, through the Gold Coast, stopped in Lincoln Park and even further, and then, down Lake Shore Drive. After looking at all the beautiful architecture I said to Myriam that the Symposium on the Arts of France should incorporate a series on architecture, something to complement what we currently do, not in place of but in addition to it. Myriam continued driving, thought about it a moment, and said, 'If Mary is in, I'm in!' And the series was born! We thought of Pauline and Ann immediately and now we have a series on New French Architecture."
Sheehan expanded over Zoom: "The pandemic plus-side here is that virtual presentations allowed us to dream big and access leaders in design from around the world. Very few of us will ever have the good fortune to spend thousands of dollars on a work of art, yet most of us will buy a home. Many of us visit a museum a few times each year, but we are surrounded by the built environment daily, a dynamic living gallery, thus developing an appreciation for the art of architecture."
The essential goal she feels for this lecture series is to increase awareness within the Alliance Française community. Established in 1897, following the World's Fair, the institution has been "the place for all things French in Chicago" for nearly 125 years. They hope to develop this series into an annual social gathering to benefit the organization's mission.
"The themes may vary, from interior design to landscape architecture, but always with a focus on what is new, intriguing, and exciting!" Sheehan explained. "We have invited a select circle of people, Francophiles involved in the arts and design, to join our Host Committee in addition to Myriam Bransfield and the late Mary Blust."
The Host Committee, in formation, includes Bill Abromitis; Anne Hill Bird; Suzette Bulley; Gabriela Cleveland; Mary Ellen Connellan; Joan Craig, AIA, LEED AP; Sandy Faurot, AIA; Susan Faurot; Lili Gaubin; Conery Hoffman; Gail Hoffman; Corbin Horn; Leslie Logsdon; Miranda Maxfield; Florent Mettetal, AICP; Janis Notz; Jim Prendergast, FAIA, IDA; Meg Prendergast, IDA; Cheryl Sandner; Kristina Schneider; Marc Sievers; Liz Stiffel; Noren Ungaretti; and Karen Zupko.
To learn more and to register, visit af-chicago.org.