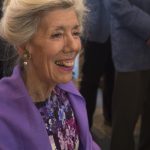 BY JUDY CARMACK BROSS
A New Trier graduate now shines as lead curator at the newly opened (and perhaps the most famous museum in the world right now), the M+Museum. The museum, which dominates the Hong Kong skyline, features exhibitions shaped by Wilmette-born Pauline J. Yao, Lead Curator for Visual Arts.
Opened November 12 in the cosmopolitan city's West Kawloon cultural district, M + presents a comprehensive collection of twentieth and twenty-first century culture encompassing visual art, design, architecture, and the moving image. Designed by Swiss architects Herzog and de Meuron, its iconic presence dominates Victoria Harbour and its opening has commanded the attention of the international art world.
"M+ is similar in size to MOMA, the Tate Modern, or the Pompidou. It is great to have a large museum finally in Asia and in Hong Kong. It is world-class architecture and few other museums have its size and scope," Yao explained over Zoom. "There are national museums in Korea, China, Singapore, and other Asian locations that tell their country's story, but M + represents multiple countries side by side. Our collections are Asia-focused but international as well. We are funded by taxpayer money and we offer access to all."
"With most museums, the collections have been there for fifty years or more. Part of the excitement for me was building the collection," Yao added.
With COVID restrictions, Hong Kong has been closed to most travelers, but the two opening exhibitions she installed have been bringing in many visitors from the area.
One of her astonishing installations is titled Asian Field, a solo exhibition by the well-known British sculptor Antony Gormley. It is huge—approximately 2000 square meters—and comprised of 200,000 small sculptures. In 2003, the artist invited around 300 people of all ages from Xiangshan village (now Huadong Town in Guangzhou city) to make clay figurines over five days. There were three simple instructions: each figurine had to be hand-sized, capable of standing up, and have two eyes. Otherwise, each maker was free to improvise and each small figurine was individually placed.
Yao described, "As an installation, Asian Field is meant to be experienced from a single point of view. As you gaze across a sea of figures, they appear to look back at you. It is almost like a carpet when you view it. It is beyond political or social commentary, it is a reminder that we are all human. Although Gormley was unable to come in for the opening due to COVID, I worked closely with him on the installation. Children and adults are captivated."
Her other current installation features rooms filled with the works of 120 artists: "It is with tremendous joy to wander through the rooms and finally see works that have been in storage and now are properly displayed."
Growing up in the Midwest, Yao decided that she wanted to learn more about her Chinese heritage. "I come from a mixed family background: my father came to the US from China, my mother was born in Chicago," she shared. "I thought through the study of the language, I could learn more about Chinese culture, art, and history. I had gone to New Trier, a big school, which I loved, but chose a smaller college, Pitzer, in Claremont, California, where I became immersed in Asian studies and Asian art history. I worked as an assistant curator at the Asian Art Museum in San Francisco, curating several shows and learning so much. I found I was most interested in more contemporary Asian art done by living artists. I was very lucky to spend a year abroad traveling in China and learning the languages."
Her proud uncle, Chicagoan Charles Stewart, told us a little more about Rao and her family: "Her dad was, I think, only the second surgeon of Asian origin Northwestern Memorial hired. He arrived here from Hong Kong in the '60s with $100 in his pocket and retired 20 some years ago as one of the internationally known NU cardiac surgery pioneers. Her sister followed in her father's footsteps and was just elected as president of the Chicago Surgical Society. Their brother is making his name as a jazz composer and trombonist in New York."
He continued, "Pauline had been in Beijing two years, initially on a Fulbright, when she and three artist friends founded an independent gallery in 2008, Arrow Factory, named after the hardscrabble area, where they refurbished a vegetable shop to make exhibition space for struggling artists. That project put her on track for the M + curatorship as well on the map for many aspiring Chinese artists. The Arrow Factory storefront, according to one observer, was instrumental in opening the Beijing contemporary art scene."
Censorship speculation and the M+ Museum have made major headlines in the past months. "We stand very firmly behind the freedom of self-expression," Yao emphasized. "We don't try to be provocative per se but feel that we want to be the best partners with our artists. We want art to be open for many, for debate and conversation. We do not want to close down discussion in any way."
To learn more about the M+ Museum and Yao's installations, visit mplus.org.hk.
All images courtesy of M+, Hong Kong unless otherwise noted.