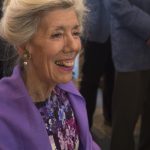 BY JUDY CARMACK BROSS
Hotelier Laurent Boisdron has offered rooms with a view to discerning customers from Paris to Dubai to Manila, but the new GM claims the best sights will be those from his Sable Hotel on Navy Pier, looking south onto Lake Michigan and the Chicago skyline.
Despite the pandemic and the fact that Navy Pier doesn't re-open until later this spring, the 223-room hotel, part of the Curio Collection by Hilton, has had brisk business since its opening day March 18: "We've been very busy and have amplified our hiring process," explains Boisdron. "We had 40 guests the first night and 129 the second, and reservations are growing, most from Midwesterners who want to see what we are like and to have Navy Pier all to themselves. Navy Pier has been in Chicago for 100 years and we are its first hotel."
The elegant and trilingual Boisdron exudes the confidence of knowing what guests want. From age 14 when he first served ice cream at his aunt and uncle's restaurant in his native Nantes in France, he's wanted to explore the world as a host. Since leaving his hometown in Brittany, Brussels, London, Barcelona, and Boston have been cities where he has honed his hospitality.
He shares, "You want to have the best product on the market, and location is surely essential. Many of the places where I have worked have also been on the water and I have loved that. The Sable has the unique fabulous view of the lake and the city. Service is key as well. Sometimes it is hard to find the most talented people, but we have an outstanding international staff."
With 25 years in hospitality, he fulfilled his career dream of working in Asia before being hired by developer Robrt Habeeb, CEO of Maverick Hotels and Restaurants. Most recently at the Conrad Hilton Manila, Boisdron returned to Chicago in June 2020 with the anticipation that the Sable would open in November. Although the pandemic delayed that dream, it gave Boisdron and others the opportunity to master the complexities of launching a hotel at this tricky time: "We had only a limited staff, and the pressure of opening during the pandemic was greater—you need flexibility. But the hotel business is very exciting and focusing on the guest brings it all together. It's wonderful that the demand is greater and greater."
My late husband, John, and I first met Boisdron on Lake Atitlan in Guatemala where we traveled with him and two of his Chicago friends to stay at what we considered one of the most enchanting little hotels in the world, the Casa Palopó – Relais & Chateaux. At the time, Boisdron was director of food and beverage for the Sofitel Chicago Magnificent Mile.
Gavin Kern, once the terrifically popular maître d' of the Club International at the Drake, who was our guide during this trip describes Boisdron as "hospitality incarnate": "Laurent has such a broad range of expertise and experience that his involvement never fails to exceed expectations. Whether we travel for adventure or business, we want the journey to be transformative and with Laurent's guiding hand it all seems to happen effortlessly," Kern shared with us recently all the way from his restaurant in Antigua, Guatemala.
Doris Timmen, Director of Business Development for Sodexo and a close friend of Boisdron who was also on this not-to-be-forgotten Atitlan trip, heralded his return to Chicago. "As a long-time friend and a former colleague, I feel compelled to highlight the extraordinary effort and the meticulous months-long preparation that Laurent put into the long-awaited opening of the beautiful Sable Hotel. I am so proud of Laurent and what he has achieved under most difficult circumstances during this ongoing pandemic. Having been in charge of a hotel opening myself many years ago, I can truly appreciate the enormity of the work that was accomplished," she says. "I so admire Laurent's grace and composure throughout this process and love seeing him in action with his team and guests. A true professional at every level with the vast experience of many years working in the finest hotels in the US, Europe, and Asia, I know that the Sable Hotel will be wildly successful under Laurent's leadership."
Boisdron exudes enthusiasm for the Iberian and Latin menus at Lyrica, the hotel's restaurant with sweeping views, himself fluent in the language after having worked in Spain. "There's good music, tapas and small plates, cavas and cocktails, and much more, plus seating for 100 on our outdoor terrace," he says of the new eatery.
He is equally enthusiastic about returning to Chicago and bringing his expertise to The Windy City: "I love the lifestyle and travel that is part of the hotelier experience—I have followed my dreams. When you are able to make it at a hotel in Asia, as I always wanted to do, there is such a feeling of fulfillment. At the end of the day it is all about the guest experience and we do the very best we can to be adaptable."
For more information about the Sable Hotel, visit sablehotel.com.