North Shore Native Pete DeYoung Has Helped Lift the San Diego Padres into the World Series Discussion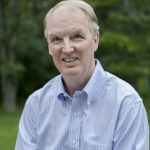 By David A. F. Sweet
One day in 1986, 10-year-old Pete DeYoung rushed around foul territory at Wrigley Field, recovering tossed bats and performing other duties as a batboy for the Chicago Cubs. Before pitcher Rick Sutcliffe strode to the plate for the home team, he asked the youngster to rub his bat for good luck, perhaps because pitchers are notoriously poor hitters.
After DeYoung obliged, Sutcliffe entered the batter's box – and was promptly hit by a pitch.
"He flung the bat in my direction and said, 'Thanks a lot for the luck, kid,'" recalled DeYoung, who grew up on Chicago's North Shore.
Some would have given up on the game at that moment. Instead, DeYoung has devoted his life to it. He has ascended the ranks to become the pro scouting director of the San Diego Padres, a franchise which has never won a World Series – but has its best chance in a generation as spring training is poised to begin.
The history of the Padres is not stellar. Debuting in 1969, they finished in last place six years in a row. For decades Jack Murphy Stadium — a charmless, multipurpose venue – was their home. In the shadow of the Los Angeles Dodgers two hours north, the Padres epitomized the typical small-market franchise who had trouble luring big free-agent names. (To Chicagoans, they'll always be the team that destroyed the dreams of the 1984 Cubs, whose first World Series since World War II appeared guaranteed after procuring a 2-0 lead in a best-of-five series.)
But in part thanks to DeYoung's keen eye, the Padres are now one of the most envied franchises in baseball. They have built a top-ranked farm system and executed savvy trades. Perhaps the most important one occurred in 2016 for then-prospect Fernando Tatis Jr., a swap the Los Angeles Times attributed to DeYoung's expertise.
This past season, the 21-year-old shortstop finished second in the National League in home runs and led the Padres to their first playoff berth since 2006. What did DeYoung and the scouting group see in one of the game's most exciting talents at a time when Tatis was barely old enough to drive?
"We loved his body, athleticism, passion, bloodlines and energy," explained DeYoung about the budding star, who just signed a $340 million contract extension that runs 14 years. "We felt there was strike-zone awareness and potential for power as well as speed. All of these attributes made him very attractive in that deal, but we certainly never envisioned him taking off as quickly as he has."
DeYoung ended up in a front-office role because his playing career was cut short. After graduating from Deerfield Academy, he was named All Ivy League twice as an infielder at Brown University. Once college was over, he played in the Independent Northern League for a number of years. But as a member of the Gary Southshore Railcats in 2004, a shoulder injury required surgery and prompted him to think about his future away from the field.
During Major League Baseball's winter meetings in California later that year, DeYoung met Kevin Towers, the general manager of the Padres, and procured an internship for the 2005 season.
"My main role that summer was to write advance reports on the hitters we would face each series," recalled DeYoung. "Coinciding with my video advance work, I would chart pitches during our home games, so I got a great seat to watch games and see what pitches played and didn't play and get instant feedback on my reports each series."
Scouting has changed greatly since then, as data and analytics have proliferated and changed how players are evaluated.
"It is an ongoing challenge to blend or balance what we see with our eyes with what we are able to discern through the numbers and data," DeYoung said.
During the pandemic last year, the challenge became even greater, as scouts were not allowed to see players in person. DeYoung and his team dove into video and tried to stay plugged into the players remotely. Armed with information gleaned in this impromptu manner, the Padres pulled off a stunning number of trades in the 48 hours before the Major League Baseball deadline – including a nine-player deal with the Cleveland Indians that netted them talented pitcher Mike Clevinger. The aggressive moves spurred their run to the playoffs. They continued to make bold transactions this offseason, practically stealing pitcher Yu Darvish from the Cubs and adding another sterling starter, Blake Snell.
"To be able to trade for three of the top pitchers in the game over the last five months while still having 6-7 of the top 100 prospects in baseball left in our farm system is truly a testament to the quality and depth of prospects that we have built over the years," said DeYoung, who enjoys skiing, fly fishing and playing golf and tennis in his spare time. "We feel like this is just the start of hopefully a long run of winning baseball."
The Sporting Life columnist David A. F. Sweet can be followed on Twitter @davidafsweet. E-mail him at dafsweet@aol.com.