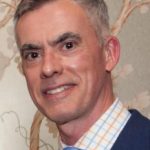 By Philip Vidal
This column features upcoming events in Chicago.  Over the past year, there have been a dearth of events to consider and screen.  But all of sudden I can't keep up as COVID-19 restrictions are relaxed and the city reopens.  Governor Pritzker is targeting June 11 for a full reopening of Illinois, and Mayor Lightfoot is targeting July 4 for Chicago.  Even Mother Nature is cooperating.  Lake Michigan's water levels are lower than last summer, so beaches are reappearing in time for lakefront fun. 
A number of Chicago traditions were put on hold last year but resume this summer.  Others didn't go away and are back again this year. 

The SOAR Farmer's Market is back, every Tuesday from June through October. Photo by SOAR Chicago.
One of my favorite summer traditions is shopping at my local farmers market.  The Tuesday SOAR (Streeterville Organization of Active Residents) Farmers Market opens June 1 in front of the Museum of Contemporary Art (MCA).  The selection can be intimidating, but last year I bought exotic (at least to me) produce for the first time.  Also on June 1 the MCA's Tuesdays on the Terrace live outdoor jazz concerts resume in the Anne and John Kern Terrace Garden. 
Now streaming on Apple TV, "1971: The Year That Music Changed Everything." Photo by Apple.
The historic Maxwell Street Market reopens June 6 (and thereafter on the first and third Sundays of the month).  I attended nearby St. Ignatius College Prep in the early 1970s, but I never ventured over to the original Maxwell Street Market to have one of the famed pork-chop sandwiches.   I do, however, recall dining in the early '70s at R.J. Grunts shortly after it opened June 10, 1971, and Lou Malnati's Pizzeria, which opened in Lincolnwood that same year.  Aliotta Haynes Jeremiah's iconic song "Lake Shore Drive" was released 1971.  That must have been an auspicious year for music because Apple TV has a new series entitled "1971: The Year That Music Changed Everything." 
The Lovin' Spoonful's 1966 hit "Summer in the City" must have inspired Northwestern University professor Bill Savage to name his seminar series "Summer in the City: Public Spaces and Chicago Identity" that runs June 24-July 29 at the Newberry Library.   It's just one of the many seminars that are a part of the Newberry Library Summer 2021 Adult Education Seminars available online from June 15 into early August.  There are also seminars on music, philosophy, language, and theater, besides those about Chicago and its history.   

The Chicago History Museum hosts its 27th annual Making History Words virtually on June 2. Photo by Chicago History Museum.
Speaking of Chicago history, the Chicago History Museum's 27th annual (virtual) Making History Awards on June 2 honors Kenneth Griffin, Julieanna Richardson, and Ryne Sandberg.  I understand that wholesome, Hall of Famer and Chicago Cubs legend Sandberg is now the spokesperson for Verilife, a Chicago-based cannabis company.   The times are a changing.  
Perhaps another sign of the changing times is the first ever drag brunch at Macy's on State Street's Edwardian Walnut Room on June 12 in celebration of LGBTQ Pride Month.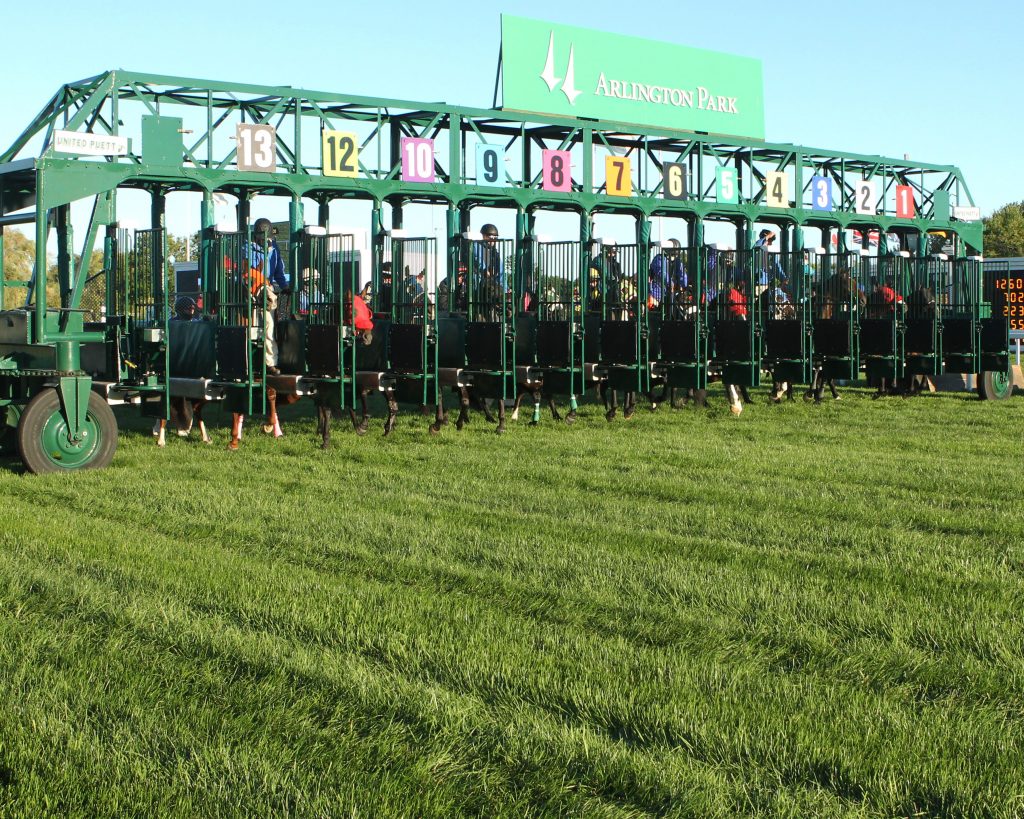 The Arlington International Racecourse hosts their final season this year. Photo by Arlington Park.
The British monarchy is perhaps the epitome of tradition.   The special four-day holiday weekend to mark Queen Elizabeth's Platinum Jubilee, at 70 years Great Britain's longest reigning monarch, is June 2-5, 2022.   The Queen's fondness for horse racing is legendary.  If you too have a fondness for the ponies, and you can't make it to Royal Ascot this month, then head to Arlington International Racecourse.  Founded in 1927, this might be its last season.  Also founded in the 1920s, the Oak Brook Polo Club's 99th season runs June 27-September 26.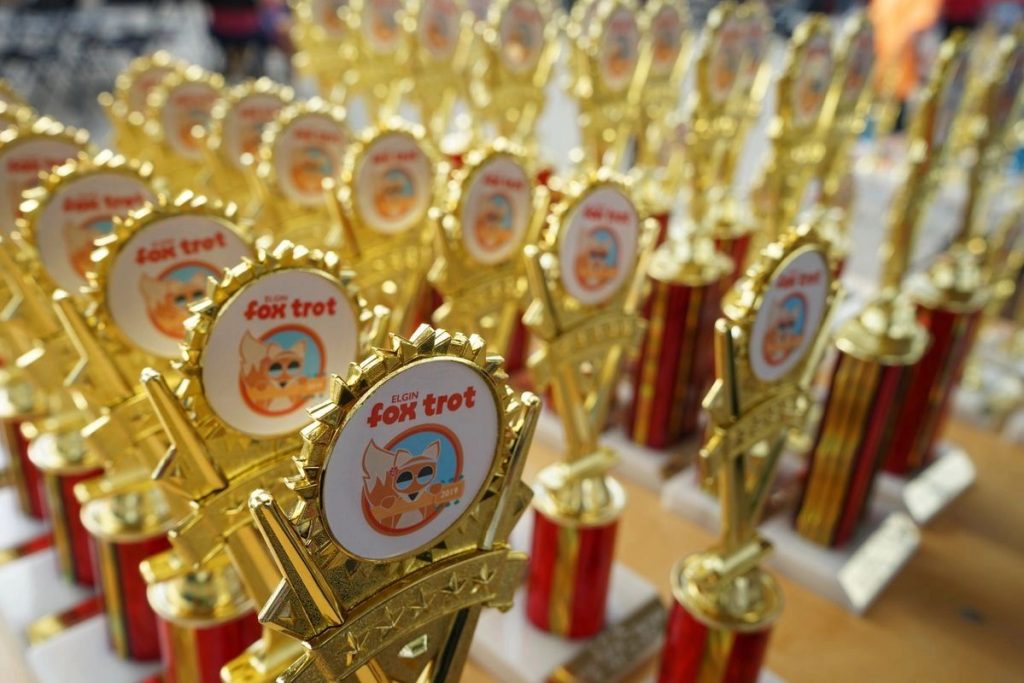 The 44th annual Elgin Valley Fox Trot race takes place June 6. Photo by Elgin Valley Fox Trot.
If you prefer a foot race, then sign up for the 44th annual Elgin Valley Fox Trot race on June 6.  If you prefer car racing, then you might want to check out the virtual NASCAR iRacing event through Chicago's Loop on June 2.  Plans are to have a real-life race in Chicago, perhaps in 2022.   If Monaco can host its Grand Prix along the Côte d'Azur, then why can't Chicago have a NASCAR race along Lake Shore Drive?   I live on Lake Shore Drive and on some nights it already sounds like I am in the midst of a Grand Prix race.  Another digital event that will have you covering lots of territory across Chicago is Lucky Plush Productions' "The Map of Now," a multi-venue, interactive, interdisciplinary digital festival, June 25-26. 
While the iRacing event and "The Map of Now" are virtual, many events are now live and in-person.  As part of "Open Culture"  city-wide initiative, the City of Chicago will host pop-up performances in Millennium Park  starting this month, as well as a series of monthly concerts for fully vaccinated Chicagoans under the "Protect Chicago Music Series."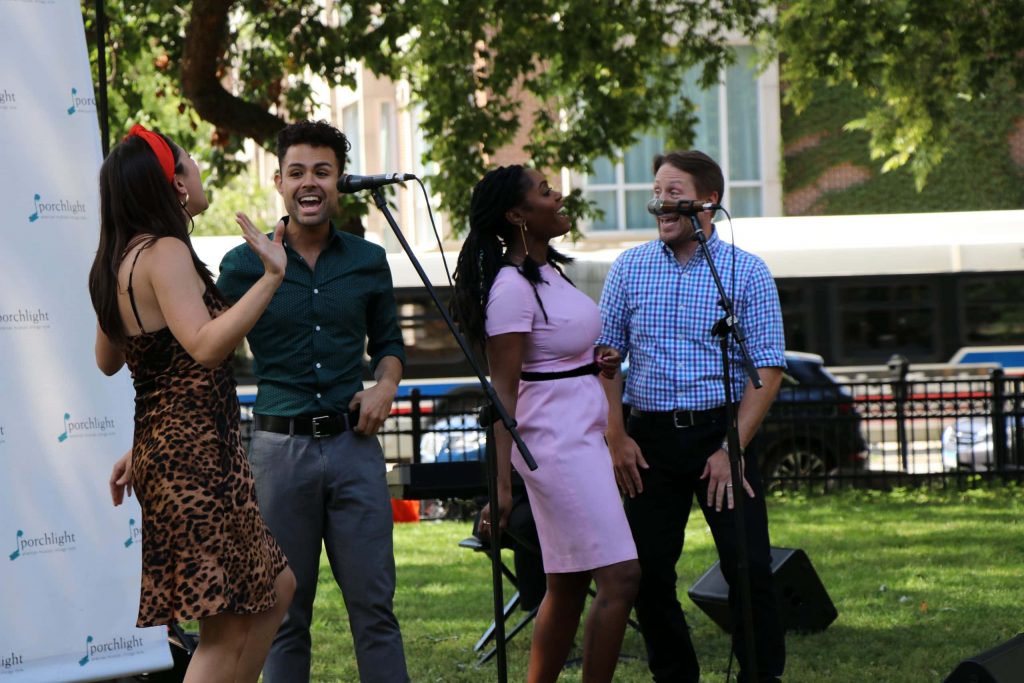 "New Faces Singing Broadway 1979," an outdoor concert at North Shore Center for the Performing Arts in Skokie will be on June 12. Photo by Porchlight Music Theatre.
As part of their Out Back Summer Sessions concert series, Porchlight Music Theatre (American Musicals. Chicago Style.) presents "New Faces Sing Broadway 1979," an outdoor concert at North Shore Center for the Performing Arts in Skokie on June 12. The Illinois Philharmonic Orchestra (IPO) hosts "IPO String Quartet: Price and Webern," on June 23 as part of their "Socially Distanced Summer" in-person concert series at Olympia Fields Country Club.  The Chicago Symphony Orchestra (CSO) hosts their first live concerts with limited-capacity audiences since March of last year.  Performances for "Strum" are June 3-6 and the last live concert of the 2020-2021 season, "Overture" June 10-13.  CSO for Kids – Episode 6: "School's Out" premieres for free on CSOtv June 3.
School is out.  Yay!  But was it ever really in session?  Summer camps, another summer tradition are back this year.   Indeed, the JCC Chicago Campchi in Lake Delton, Wisconsin, has been a summer tradition for one-hundred years.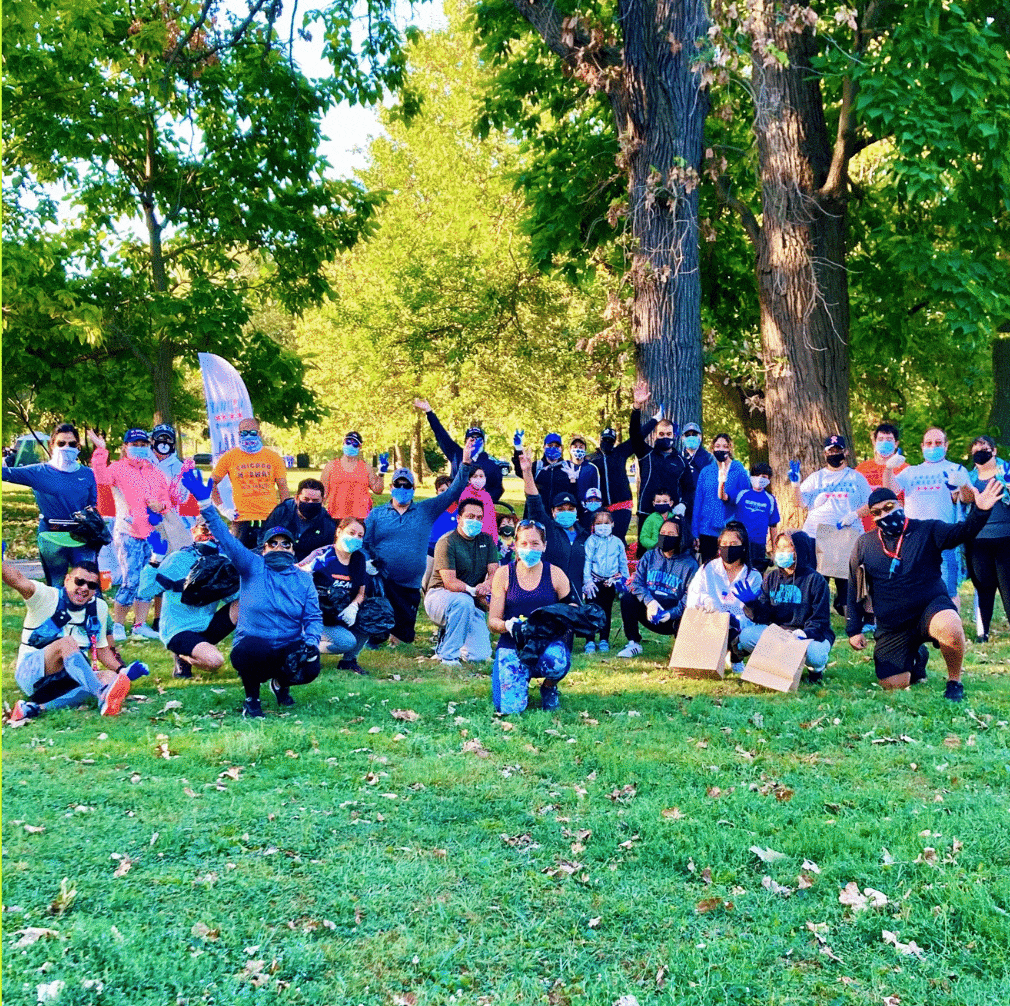 Help clean Chicago's parks by volunteering for Pitch In for the Parks throughout the month of June. Photo by Chicago Parks Foundation.
Help ensure that our parks are in good shape for the Chicago Park District Summer Day Camps, which run June 28-August 6, by volunteering for Pitch In for the Parks, a city-wide volunteer park clean-up project sponsored by the Chicago Parks Foundation.
Another summer tradition and one of the U.S.'s oldest art fairs,  Old Town Art Fair is back this year from June 12-13.  If it's too hot out to enjoy the art, duck into an air-conditioned museum.  The DuSable Museum of African American History which is celebrating its 60th anniversary this year, reopens on June 19, which is both the summer solstice and Juneteenth National Freedom Day commemorating the abolition of slavery on June 19, 1865.   
I'm a long-time fan of the nearby Smart Museum of Art at the University of Chicago.  The pendulum swung to a focus on modern and contemporary art but I am pleased to see that they've tapped into their talent pool of art historians and scholars.   Presented by the Feitler Center for Academic Inquiry and curated by Nora Lambert, PhD candidate in the Department of Art History at the University of Chicago, "Love, Lust, and Loss in Renaissance Europe," continues through June 13. 
Some of Frida Kahlo's most famous works will be projected on theMART beginning July 5. Photo by Art on theMART.
At the College of DuPage, the McAninch Arts Center and Cleve Carney Museum of Art host "Frida Kahlo Timeless," June 5 – September 6.   The works are on loan from Mexico City's Dolores Olmedo Museum. As part of the Art on theMart series, images of some of Kahlo's most famous works will be projected onto the south façade of theMart from July 5-September 16.  
Also part of the Art on theMart, portraits of President Obama and former First Lady  Michelle Obama will be projected onto theMart June 17-September 16 in conjunction with the "The Obama Portraits," an exhibition of the official portraits of President Barack and former First Lady Michelle Obama by Kehinde Wiley and Amy Sherald, respectively, coming to the Art Institute of Chicago, June 18-August 15.
When I think of portraits, it makes me think of caricatures and cartoons.  Chicago has a rich history of cartoons, and local cartoonists like Chris Ware continue the tradition.  The book "It's Life as I See It: Black Cartoonists in Chicago, 1940-1980" edited by Dan Nadel with a cover design by Kerry James Marshall is out June 1.  "Drawn to Combat – Bill Mauldin & the Art of War" continues at the Pritzker Military Museum & Library.  A cartoonist during WWII, Mauldin later focused on politics and was a political cartoonist at the Chicago Sun-Times from 1962-1991. The Chicago Cultural Center reopens on June 2 and then hosts the exhibition "Chicago: Where Comics Came to Life, 1880-1960" June 19-October 3.  That exhibition bookends nicely with the Museum of Contemporary Art's "Chicago Comics: 1960s to Now," which also runs June 19-October 3. 
The Museum of Contemporary Art mounts a retrospective of Chicago artist Nick Cave next year. "Nick Cave: Forothermore" runs May 14-October 2, 2022.  Honor Nick Cave and his partner, Bob Faust, also an artist, at the Chicago Artists Coalition's annual Work in Progress benefit on June 9.  They were also featured in an article "How Chicago Artists Have Made the City Streets a Walking Gallery" in Departures March/April about Chicago's vibrant art scene. Nick Cave is one of the jurors for The Loft Teen Arts Project, a youth art competition for artwork that will be shown in Steppenwolf Theatre Company's new The Loft education space. 
Now through August 15, Rome comes to the Oakbrook Center through "Michelangelo's Sistine Chapel: The Exhibition." Photo by SEE Attractions.
A summer vacation is also a tradition for many.  Overseas travel might still be difficult, but a bit of Rome is now in the western suburbs.  "Michelangelo's Sistine Chapel: The Exhibition" continues through August 15 at Oakbrook Center and features life-size photos of the famous frescoes.
A few summers ago, I was invited by friends on a canal trip in France.  I declined, and now wish I had taken the trip before travel became so limited.  It's not quite the same thing as a canal trip through France, but I might consider one of the mule-pulled canal boat trips that are offered on Saturdays and Sundays on the Illinois and Michigan Canal through October 31. 
Dates, times, locations and availability are subject to change.  Please stay healthy and safe and keep up with the latest COVID-19 information and guidelines.