BY LAURIE TOTH
While going through a career change over twenty years ago, I kept being advised to "Do what you Love!".  Well that seemed quite impossible as my loves included Ballet dancing, Gilded Age Chicago and Royal History. None of those things could I make a career of and actually earn money to support myself.  Not to mention I was also the "material girl" and definitely liked the finer things of life! Ballet dancers are usually very athletic, slender 20-year olds and to do anything curatorial in a museum you need a minimum of a master's degree; preferably in Art History or Decorative Arts or Historic Preservation. None of these did I have. But after much urging from my well-meaning friends, I called the Chicago History Museum and asked if they ever had a volunteer working in their Costume Collection. Fully expecting the answer to be No, I was surprised when they said Yes, and all I would need to do is send a letter and resume to the Volunteer Department.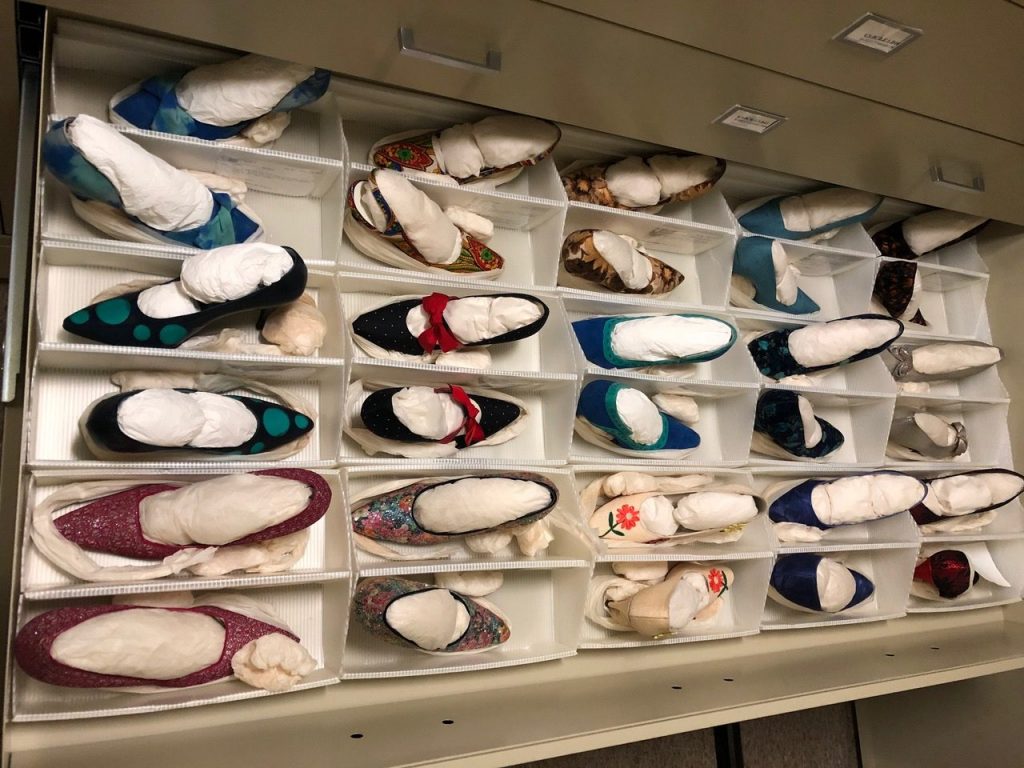 A few weeks later I received a call that the Costume Curator would like to meet with me to discuss volunteer opportunities in the costume collection. The interview went well because it ended with her extending an invitation for me to work every Friday from 9 am to 4:30 pm. My project would be the shawls. My job was to identify all the shawls housed in the museum and off-site in the large warehouse in Harvard, Illinois and have them brought on site.   I would then get to open the archival boxes, examine the shawls, fill out a detailed report on the condition of each and then photograph and repack them.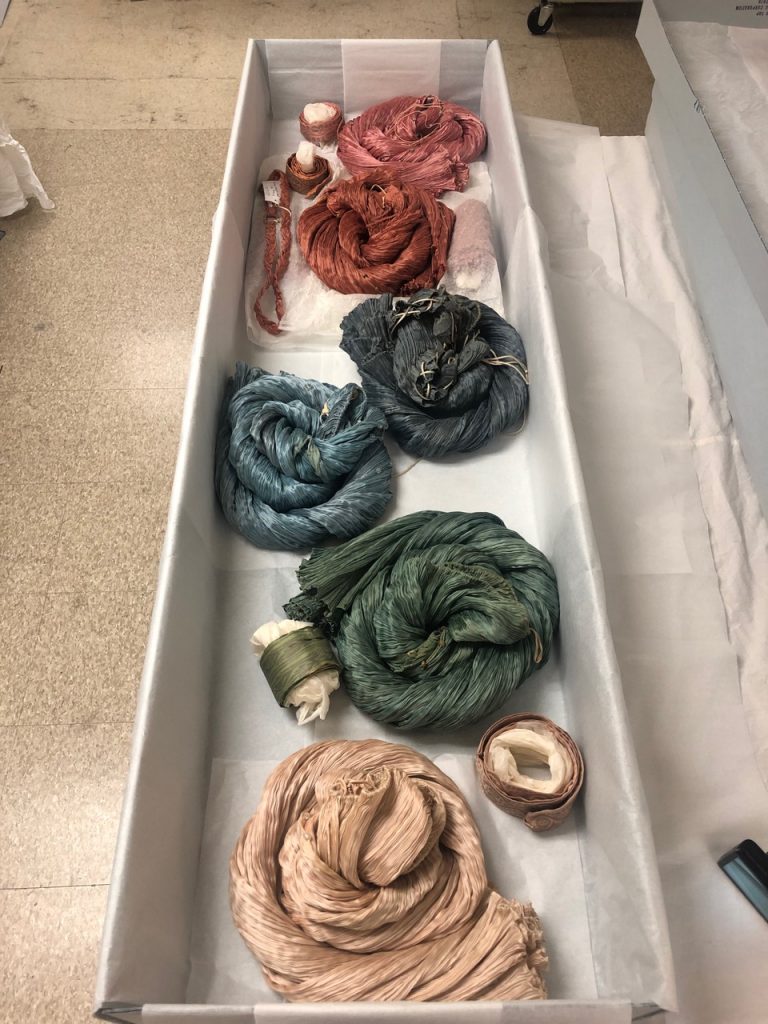 My first Friday I was so excited, I hardly slept the night before and the bus ride from Edgewater, where I lived at the time seemed just way too long. I couldn't wait to get to the backdoor entrance of the Chicago History Museum – which is the entrance all employees and volunteers entered! Security gave me a temporary name tag which I had to wear whenever I was in the Collections areas and which I had to turn in each evening when I left each Friday.  I was then directed to the magical realm of the 4th floor!  
My first day was training with the Curator on how to handle textiles and the following weeks were spent with the Conservator who trained me on what problems to look for; like deteriorations, bead disease, and insect infestations. Lunch was with the Curators in the Employee Cafeteria, where we all brought our own lunch.  I felt so important eating lunch with those who held my dream job. Then in the blink of an eye, it was 4 pm and the Security guard with urging me to wrap it up and go back upstairs because they needed to lock up and the temperature would soon be dropped. This was done to protect the textiles. The Costumes are stored in the basement and the access to them is complicated, it involves a huge freight elevator, a special key to the elevator and then keys to each room. The room with the shoes, the room with the hats, the room with the early celluloid jewelry that had to be watched daily for deterioration. If you asked if I had a favorite room, it would be the shoes. Large cabinets that moved apart electronically housing shoes from early Chicagoans from the 1800's — to the present day.   Each one more fabulous than the last, my favorites being 1890's to 1930.
I lived to be there every Friday!  Some Fridays the Costume Curator was off, so I was asked to help one of the other Curators or Collections Managers. A favorite was working with the antique toys. A fond memory is the day the Collection Manager of Toys and I picked a favorite toy, we called it the Curators Toy of the Month.  It was a Bear with wheels on a string that you could pull, it still roared, and its mouth opened to reveal a large nail for a tooth. A toy that would not be allowed for sale or given to a child today for sure. We photographed it and hung the photo on the door to the Curatorial office.  Another fun time was when I was asked to photograph a rack of dresses. I was to put them on a mannequin, photograph them and rehang them. Filling out a detailed form on condition, size, provenance, etc. It was like reliving my childhood days of playing with Barbies…. dress them up, undress and dress them up again!!  Only this time it had a real purpose; preservation of a garment for future exhibits and generations to admire.   
Because I loved the 1890's-1920 and Worth Gowns especially were my favorite, whenever the Curators had one out, they would leave the box out for me to take a peek before it was rehoused.  But they always cautioned they did not want to hear me scream all the way up on the 4th floor from the basement!!  Opening one of those boxes was beyond exciting, requiring a very deep breath because the most perfect dress laid perfectly inside! Velvet, satin, ribbons, pearls, lace, and jewels; this was an era when it must have been over the top fun to dress up and to see and be seen! You could almost imagine the excitement of who would win the "most envied dress award" for the evening and just how it would be described in the morning Chicago Tribune. Which by the way, the Chicago Tribune always detailed the attire of the Chicago 400 at their Gala's and Parties!
My time in this magical world came to an end when I received a job offer I could not turn down. It was to work for the Joffrey Ballet as the Subscription/Boutique Manager. So, with many tears I said my goodbyes to my shawls, costumes, toy bear, curators, conservators and security guards vowing one day to return.        
The training I received there was invaluable. I learned organizational skills and research skills that I have taken on to my other jobs.  
One last note, I eventually began working for a Fortune 500 company. I was invited about ten years ago to join the Costume Council of the Chicago History Museum that raises money to support the Costume Collection. So not hands-on anymore, but still a valuable part of that world. At the first Costume Council gala I went to, I was dressed up and feeling very fancy. Who should come up to me, but an old friend, the Security Guard, saying "Where have you been??  We miss trying to get you out of the Costume Rooms every Friday!" I promised him I would one day return!