By Pauline Kurtides Sheehan
INTRODUCTION
The Panhellenic Council's strict rules for sorority rush were notable for their one exception: the use of alcohol was permitted only if flambéed over food, this concession allowed the sisters of Kappa Kappa Gamma to serve authentic Crêpes Suzettes in Grand Marnier at their "pref night" dinner.  That the delicious dish was prepared with great bravado by a pair of handsome student chefs before the admiring crowd of girls only helped seal the deal, and I was delighted the next day to receive a highly coveted bid. This was my kind of place.
Thus began my adult adventures in entertaining and being entertained. 
Although I was studying liberal arts, I had many friends in the School of Hotel Administration at Cornell University; it was home to some of the most entrepreneurial and social students on campus, always the creative force behind the best campus parties.
A seafood raw bar over sparkling crushed ice at a "smooth" fraternity date night dinner? Put on your kilt and fancy clogs; preppy.

A Dress-Up/Dress Down Party featuring a high-low menu? Wear your designer denim & diamonds; not so preppy.

Fortified aperitifs, spiraled fiddlehead fern salad, and a fresh blueberry tart for dinner with the Dean? How civilized.

Private label champagne for a black-tie Casino Night that started as a speakeasy in 1918? What's the password?

Cafeterias where alumni restaurateurs return to host fine dining experiences for the student body? Go Big Red!

A full set of fine china and crystal for daily use in a student rental house? This friend's family owns a 5-star restaurant.

A candle-lit bridge lined with dozens of sparkling champagne flutes at the entry to a cliff-side house party? What a welcome!
These and other images of entertaining with style were etched into my impressionable brain.
I enrolled in the Management Lecture Series, a popular elective for Cornellians both in and out of the Hotel School, where each Friday afternoon we were regaled with stories of fame and fortune by notable graduates working in the hospitality industry. This 1-credit class was an easy "A" and required only brief critiques of each speaker's presentation style, effective use of the stage, and ability to engage the audience with humor. The dress code (not kidding) was coat & tie cocktail attire because there followed an amazing happy hour in the Statler Hotel's Rathskeller where, in the days before email and cell phones, we made our dates for the coming weekend and networked with prominent alumni.
Important lessons in presentation with panache and social civility were learned. 
I may not have been a "Hotelie," but as an English major, there were other lessons to be learned such as setting the scene, plot and character development, establishing a point of view, creating drama … "all the world's a stage."
Graduate school followed for a Master of Architecture degree and shifted to the literal creation of the stages and places upon which people would live out their lives. An academic year abroad in Versailles and travels throughout Europe opened my eyes to new foods, beautiful fresh markets, and a variety of dining experiences, from the brasserie and café to a sublime picnic on the Palace grounds beneath a formal allée of trees.
Hosting the perfect small dinner party is not unlike crafting a play or designing a space: putting together the right characters, with intention and creativity, in a setting created for drama and pleasure.
Fast forward a few decades.  Pandemic hits.  Ugh.
Thereby prepared and inspired, and thanks to my handy cell phone camera, herewith follows a casual photo album full of helpful tips and examples of how to host with warmth and confidence, making your guests feel special and welcomed, and creating happy memories that, like those above, may linger for years to come.
Bon appétit!
Pauline
IN THE BEGINNING
This activity was an exercise in hope, in the belief that the future would be better and back to normal.
For many of us, the pandemic period of isolation at home has been that chance to get organized at last.
I began by taking out everything, emptying drawers, cabinets, and closets, unpacking moving boxes, etc.
Take stock and really look at what you have already and where there are gaps in your collection.
Consider creating an inventory in an Excel spreadsheet and invest in good storage containers.
I indulged in a certain amount of "retail therapy," things were on sale and I love tracking deliveries.
While estate sales and retail stores were often on hiatus, it was very convenient to buy things at an auction.
Buying something sight unseen can be risky, but always ask for a condition report with photos first.
Play around with colors, patterns, and textures to discover happy combinations and new uses.
Treat it like your wardrobe: try things on for size, find your favorite "little black dress" and accessorize.
To create an eclectic look, mix and layer old things and new things, high and low, plain and fancy.
Use what gives you pleasure, carries happy memories, and enhances the style and décor of your home.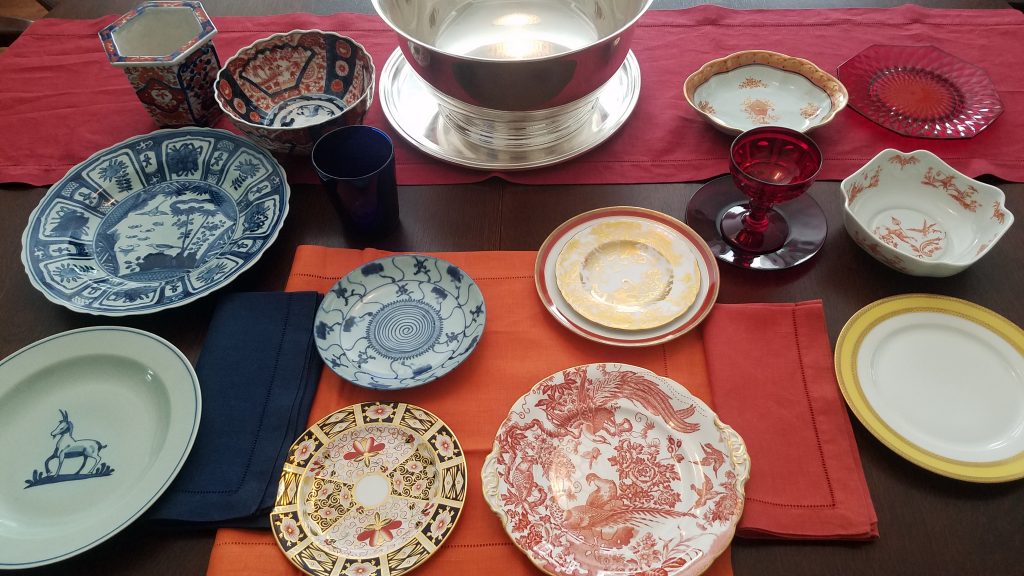 I am crazy for Italian linens and love to use colorful napkins, placemats, tablecloths, and runners.
Look at your china patterns and glassware to start with for colors to tie together pieces and create looks.
While I have dozens of vintage monogrammed white linen napkins, darker colors are easier to care for.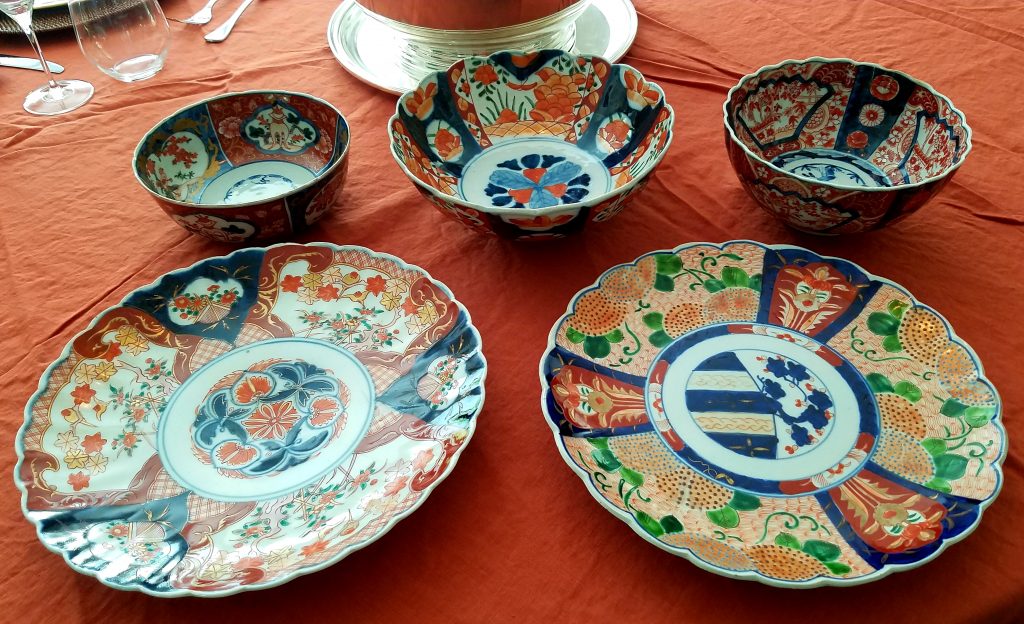 GOOD BONES
The dining room is the heart of our home and an essential part of our dinner party planning.
We love a round table and searched for years for something that would expand and we found it at last.
Our 62" diameter pedestal table will seat 6 to 8 people comfortably and expands with three 15" leaves.
With the leaves inserted, we can seat 8 to 10 comfortably, 12 in a pinch, even with our wide armchairs.
Six is the ideal number for a dinner party, but I prefer to invite eight people for a more dynamic evening.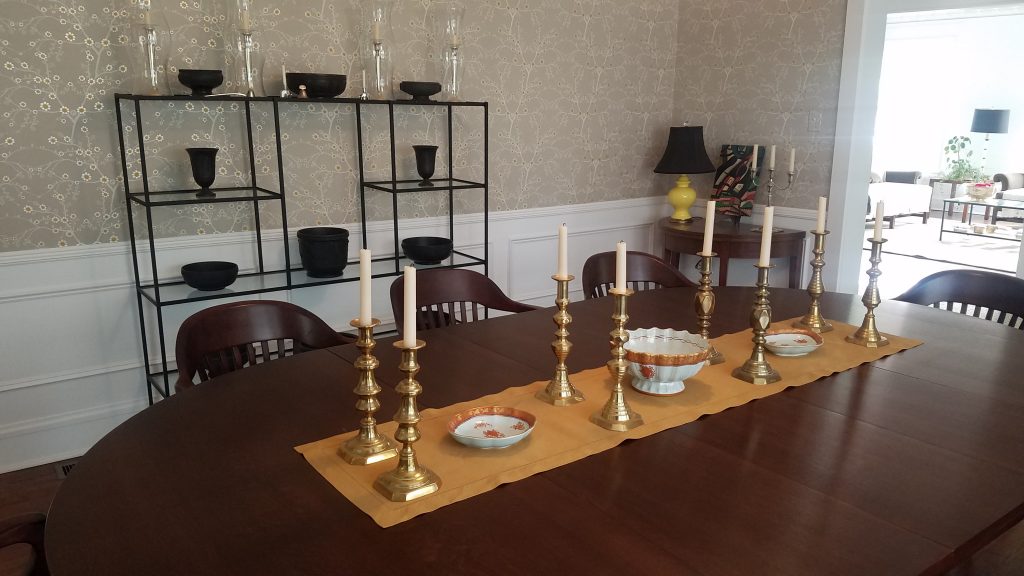 Over the years we collected a variety of vintage Bank of England armchairs, in oak, teak and mahogany.
With our new oak dining table, we were able to refinish the chairs to match the table and one another.
In three corners of the dining room, we have demilune tables that unfold into small round tables.
These are very handy to set up little stations for water pitchers and other items needed for service.
The chandelier is a placeholder that is growing on us, inherited from the previous homeowners.
PLAYING AROUND
Once you have a grip on what you have, start exploring your options by creating mockups and layouts.
This is a fun part!  Look not only to your china but to your favorite paintings and nature for color combos.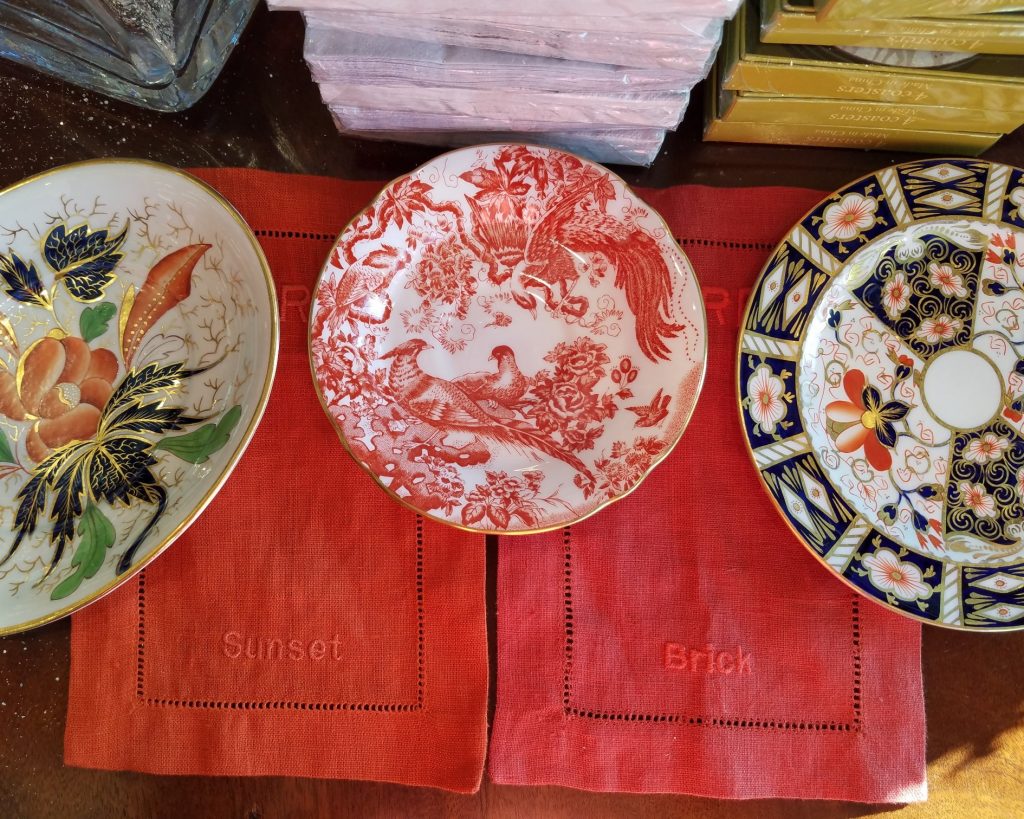 Note how the same pale green linen placemat works well as a base for so many different colors.
Once napkins disappear onto laps, a runner keeps the accent color active and creates a display area.
And what to do with cups and saucers now that no one drinks coffee after dinner any longer?
Here is an experiment with a variety of cup sizes and utensils for … Soup? Ice cream? Mousse? Sorbet?
Don't let the original purpose of a piece keep you from using it for something else, if suitable.
THE MATRIX
There is no need to own multiple china services, but it is nice to own several sets of dinner plates
These larger plates can be used for salads, entrees, and desserts, no need to fuss with smaller plates.
The idea is to use plates in a different pattern for each course, coordinated with the food on the plate.
Here the varied patterns share compatible colors and styles although nothing is too matchy-matchy.
Change the mood with chargers: porcelain is more formal and colorful; rattan is more rustic and relaxed.
Another way to easily change the mood is with tablecloths in a variety of patterns and colors. 
Here, the same plates shown above are transformed with a different background.
These Indian block prints pick up colors in the plates. The cool tones are suited to spring and summer.
 More Indian block prints but in warmer tones suitable for fall and winter, still the same plates.
If you have only one china pattern, you can change the mood simply by changing the tablecloth.
More seasonality: the first set of plates featured pinks and greens best suited to spring and summer.
For fall and winter, switch to patterns featuring darker and richer colors such as gold and orange.
Using a solid or a printed tablecloth and changing chargers allows you to vary the mood, as before.
COLLECTIONS
For some the thrill is in the chase, so having something you "collect" can be a fun pastime.
It is nice to be on a mission or to have a goal at an antique show, flea market, or for an online search.
The other thing about a collection is that the whole is greater than the sum of its parts … bigger impact.
Arranging these items can be an art in itself, creating patterns or miniature architectural landscapes.
FESTIVITY
Fresh flowers at home are essential to any celebration, especially the small dinner party.
They may be as simple as flowering branches or as complex as a piece inspired by "Breaking Bad."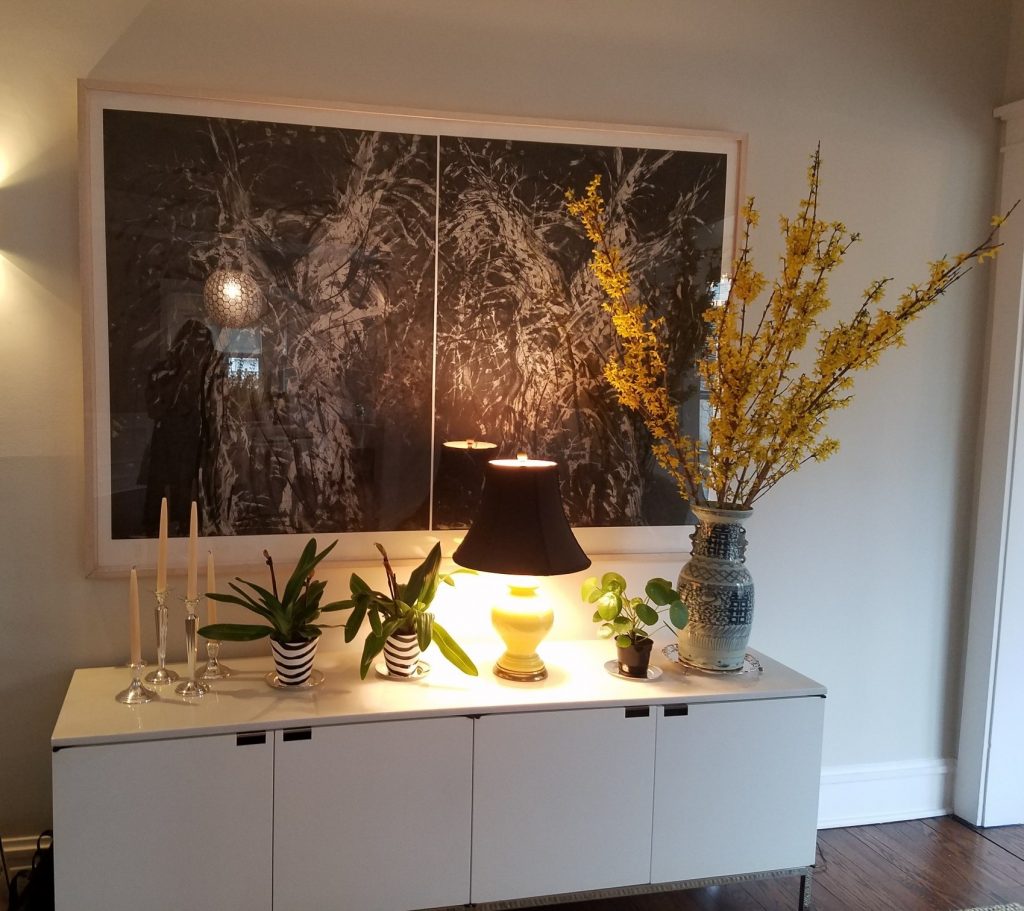 Collect your favorite containers in one place for extra inspiration when arranging flowers.
Never underestimate the power of balloons! And present every cake on a stand with a great ceremony!
TRAVEL INSPIRATION
Your dinner parties may be enriched by your travel experiences, not only in conversation.
Be open to trying new things and bring home ideas for preparing and serving foods in new ways.
China and silver can be evocative souvenirs, reminding you of your travels with each use.
THE TABLES
And where does all this experimentation lead? Too many happy hours spent with friends and family.
Here follows a year's worth of tables, ordered month by month, plus one for Good Luck. 
We are looking forward to many more small dinner parties Chez Sheehan in the coming year.
TABLE ONE:
A dinner to celebrate the New Year with old friends.  A massive prime rib is roasting as we are toasting.
Here a series of miniature vases connected to trays allow for low flowers to be arrayed along the table.
Lots of wine glasses promise a festive evening; always be sure to keep the goblets filled with ice water.
TABLE TWO:
A Birthday Dinner for my husband with a special selection of wines from a recent trip to Burgundy.
In lieu of gifts, our guests are asked each year to write and perform a piece in honor of the birthday boy.
Over the years we have enjoyed everything from limericks to rap, haiku to Dr. Seuss-inspired rhymes.
Large 6×9 cocktail napkins serve as fabric coasters to protect the table from chilly glassware.
Satsuma citrus fruit decorates the table and picks up the orange colors in the china and linens.
The crowns recognize the arrival of the Three Kings and are enhanced by the brass candlesticks.
My family's Greek tradition is to hide a good luck coin in the New Year's Bread, who will win?!?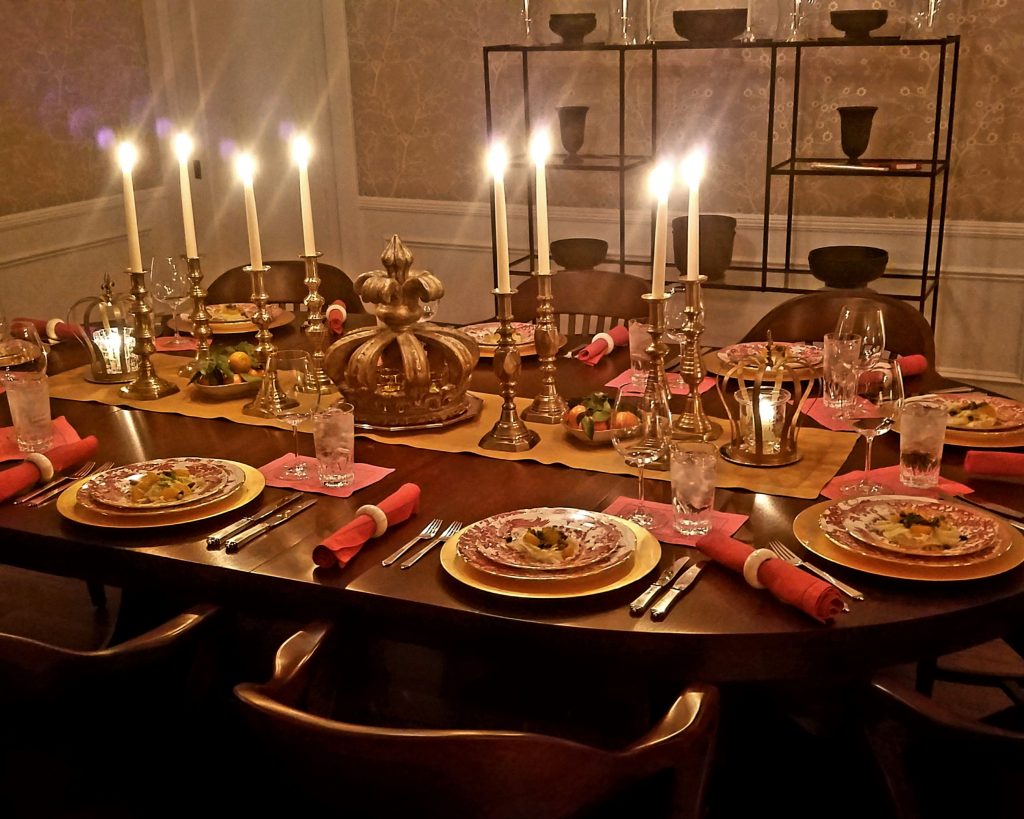 Often, I will set the table with a plated first course to get the meal started and everyone in their place.
Then into the kitchen for a buffet main course set out on the island so everyone may suit themselves.
Finally, dessert is served at the table and I offer fresh fruit as well plus handmade chocolates from Piron.
TABLE THREE:
A planning meeting for the Field Museum Women's Board 'Women in Science' benefit luncheon.
I brought a collection of vases from home to decorate our table in a private dining room at a local club.
The orange and yellow ranunculus flowers pick up the colors of the Chinoiserie style décor.
Often there are special sets of china and fancy silver serving pieces available for your use, just ask.
(Committee Member Jan Lariviere, wife of then Field Museum President and CEO Richard Lariviere.)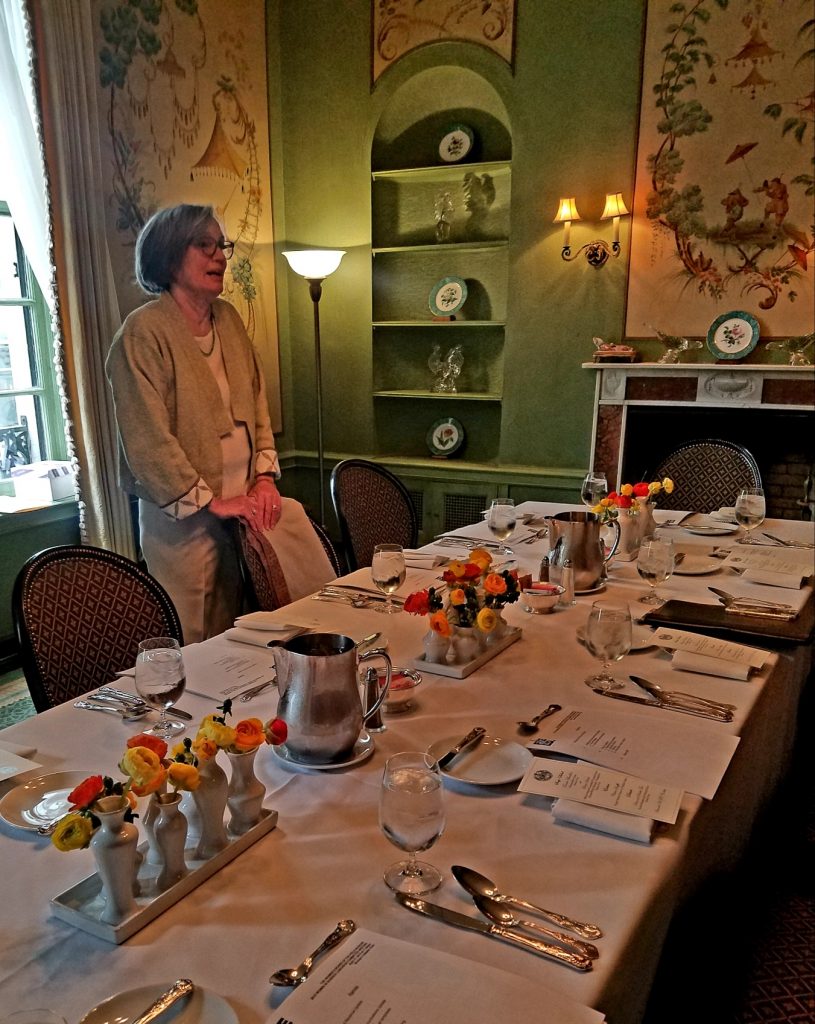 TABLE FOUR:
A simple dinner for six … the conversation was focused and wonderful!  Happy Birthday to me!
Note the antique Delft tile accents and the scalloped edge on the tablecloth.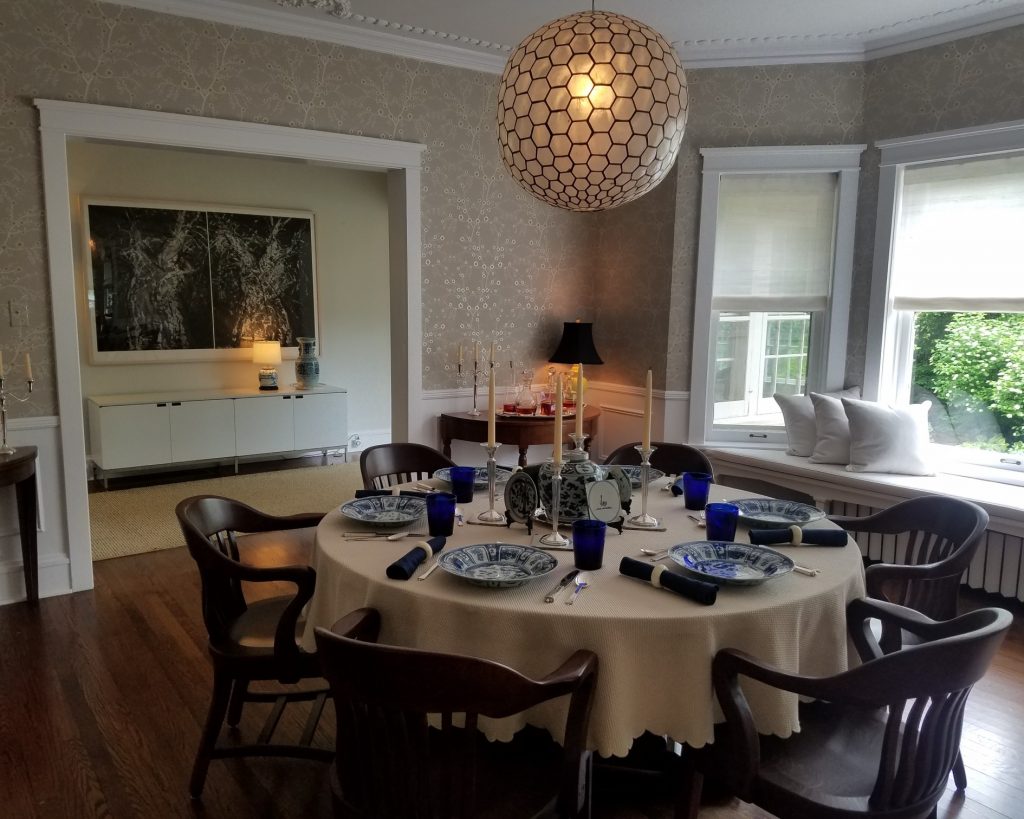 TABLE FIVE:
Run for the Roses with a Derby Day Dinner featuring mint julep cups, a souvenir from New Orleans.
Note how the runner lightens the table and creates a long focal point so that all may enjoy.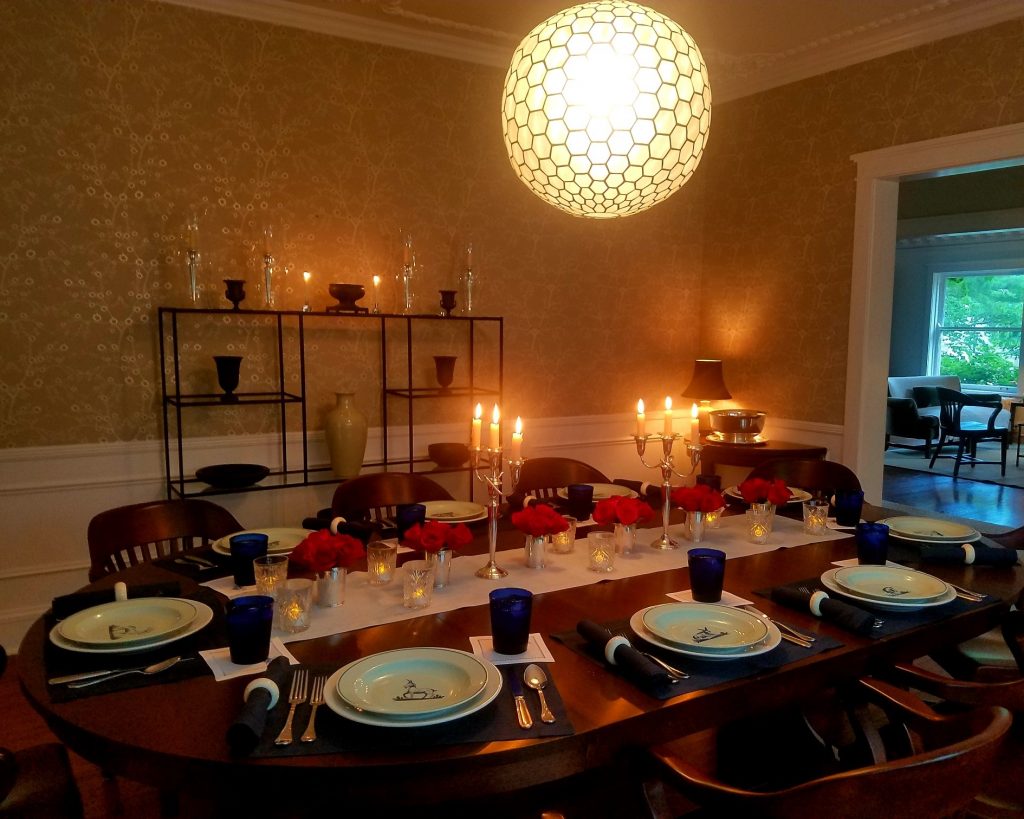 TABLE SIX:
Dinner to honor our guest speaker, internationally renowned floral designer Bruno Duarte of Toronto.
Hosted jointly by Winnetka Garden Club (when I was Program Chair) and the Garden Guild of Winnetka.
No way was I going to attempt a "novice" centerpiece arrangement, so potted violets saved the day.
I like it when the centerpiece may be dismantled so that each guest takes home flowers as a party favor.
For more than six, I use place cards; people will mix better, and the guest of honor is placed accordingly.
(WGC award-winning floral designers Weezie Monroe and Molly Stephan flank Mimi Olson of GGW)
TABLE SEVEN:
Red, White & Blue for the 4th of July featuring Wedgwood plates with historic collegiate scenes.
Here the round table was expanded with only one 15" leaf to create more space for 8 people.
The tablecloth is a king size matelassé coverlet that works perfectly with these table proportions.
TABLE EIGHT:
The Committee meets to plan a subscription supper dance started over 75 years ago in Kenilworth.
A casual potluck and barbeque for old friends, a second table was needed in the room beyond.
The large pewter wine cooler was carried home from the Paris flea market, what a great souvenir!
No candles during daylight hours but get them started when you set the table so they will light easily.
TABLE NINE:
Dinner for my Book Club, established in 1994 (before Oprah's) and attempting a post-Covid revival now.
I could spend time on the table because I bought fresh lasagna for dinner from Convito Italiano.
Fall colors celebrate the season and, as we were off to the theater, I served movie candy for dessert.
TABLE TEN:
A post-Thanksgiving holiday dinner with silver trays and crystal dangles reflecting flattering candlelight.
A cozy family evening with some early Christmas crackers for silly fun, paper crowns and lots of laughter.
Bring along party favors to a restaurant or club to personalize a celebration: we call it "Party in a Bag."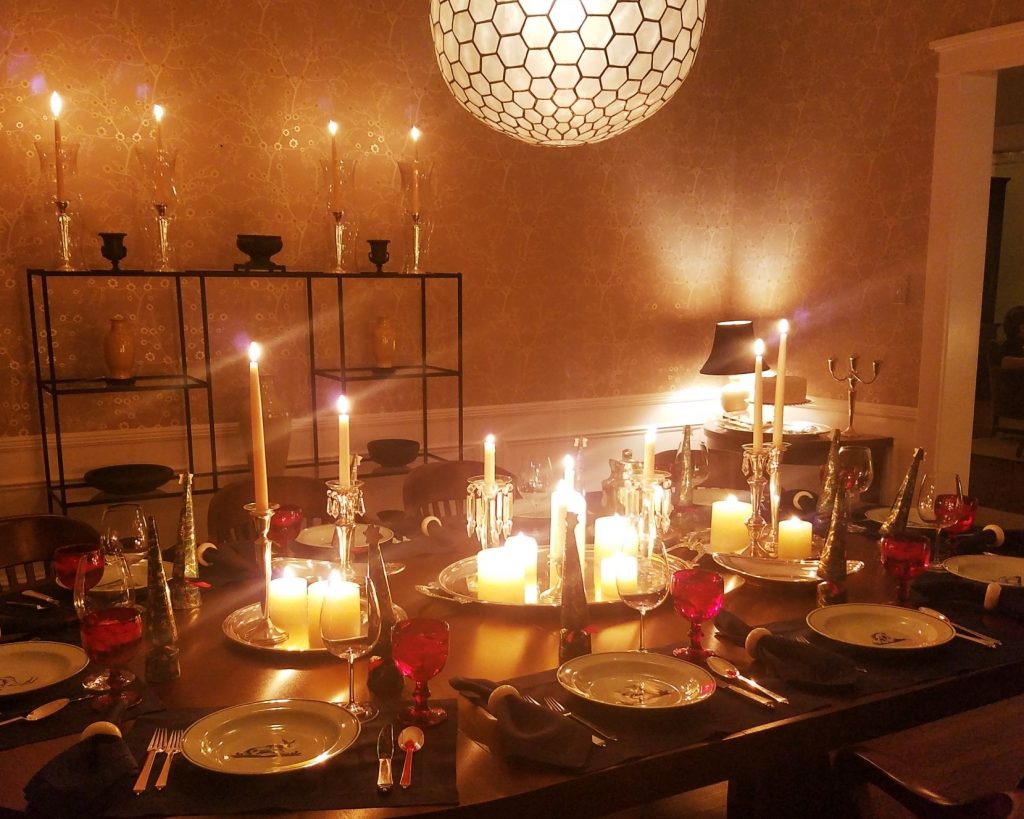 TABLE ELEVEN:
Fast forward to Thanksgiving Dinner for two during the pandemic year, what a contrast, alas. 
Here using pattern on pattern on pattern; the patterned cloth was layered over a solid cloth to the floor.
We ordered lots of carryout because leftovers are key, including my favorite Cream of Mushroom soup.
When we registered for wedding china, we opted for soup plates rather than handled cups with saucers.
The flat soup plate, especially if it is large, is more versatile for serving salad, pasta and messy desserts.
TABLE TWELVE:
The hand-carved and gilded Crown reappears for a Christmas Dinner for Two during pandemic times.
Layer a runner or placemats over a tablecloth for more color and pattern; here, it connects the diners.
The collection of antique Victorian brass candlesticks reflects the warm glow of candlelight.
What started with three pieces inherited from my family now runs to over three dozen pieces.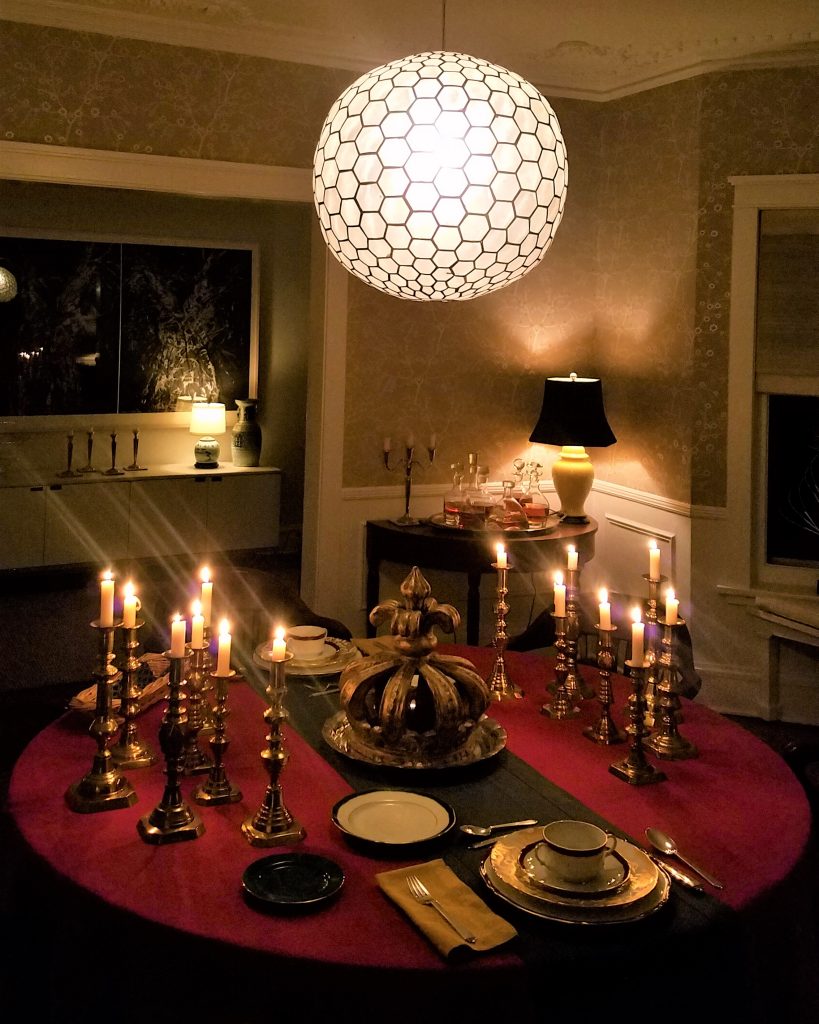 TABLE THIRTEEN:
Around the Sun one more time and another New Year's Eve table for two, ringing in 2021, a better year.
The old-fashioned orange and clove pomander balls scent the air as they perch atop trumpet vases.
A new set of dinner plates from Santa make their formal debut and prove themselves to be seasonless.
One way to build a collection is to give a place setting or piece for each birthday, anniversary, Xmas, etc.
A friend of mine from Kentucky received a mint julep cup engraved with the date for each big occasion.
MISCELLANEOUS TIPS
One favorite: After the entrée, serve each guest an individual plate with an assortment of fine cheeses;
add to each plate dried fruits, toasted nuts and a small handful of lightly dressed salad greens … voila!
This combines a cheese course and a salad course in one, served in the European style later in the meal.
Inspired by the cheese carts (yes, plural, there were three) after a leisurely lunch at Le Grand Véfour.
Tip: in Europe, book lunch instead of dinner at the fancy places to eat with locals, great relaxed service.
Another tip: Scatter your table with little treats (jellybeans, Hersey's kisses) for dinner guests to nibble.
For a Valentine's Day brunch, each guest has a red velvet chocolate-filled heart under their place card.
I love Paperless Post; invite digitally and then send nice reminder cards in the mail to those who accept.
IN CONCLUSION
Looking forward to future small dinner parties Chez Sheehan? What are we to do, post-pandemic?
Well, we are redesigning the landscape and garden at our 1912 home in the Lakeshore Historic District.
I envision a long, narrow king table running down the center of the lawn, along the allée of birch trees.
I dream about our antique wrought iron garden gates from Provence swinging open to welcome friends.
I imagine the path lined with shimmering champagne flutes and votive candles, casting a golden glow.
My fantasy? An apartment in Le Palais-Royal in Paris, overlooking the formal gardens. Maybe VRBO?
Perhaps this is a reincarnation of my youthful, college days?  Not such a bad place to be. 
I will close with the classic Greek toast: To your health!
Pauline
p.s. This is dedicated to my helpers in the kitchen, behind the scenes yet in the center of the action.
I didn't discuss food much in this story because my husband is the chef; I'm not even the sous chef.
He is the one with the professional knife skills, witness the Pommes Anna and the Apple Tarts he made.
I swear, "The Great British Baking Show" helped get us through this past year and then some.
Okay, I'd better stop now.  I hope you have found some inspirational ideas for design and hospitality!