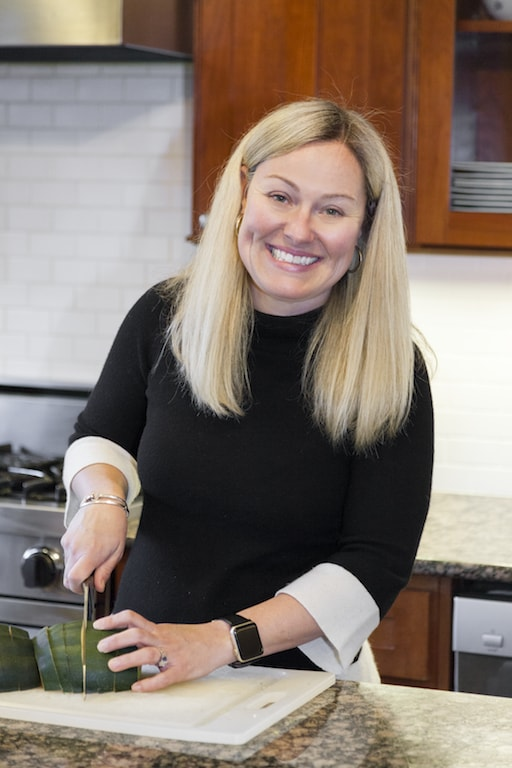 By Samantha Schwalm
There are plenty of perks to eating in season. For example, it is cheaper to eat seasonal
fruits and vegetables. Not to mention, it is the healthiest way to eat, and will help your
local farmers and markets thrive. Although, there isn't an abundance of spring fruit found in the Midwest, there are plenty of fresh vegetables. Some of the Midwest's signature spring vegetables are beets, carrots, parsnips, brussel sprouts, and radishes. You can also find mushrooms, a variety of lettuces, and fresh herbs. As all Midwesterners know, Spring weather can be unpredictable. It can change daily from warmer weather (on these days, one can find some crazy Chicagoans who will wear a pair of shorts) to bitter cold days that feel more like December than April. Because of these drastic changes in climate, I have listed below a few recipes to keep you cool on those warm days, and included a risotto that you may want to eat while snuggled up next to a roaring fire with a warm blanket. I hope you enjoy them!
Brussels sprout salad:
This salad should be made ahead of time. It gets better after it marinades in the dressing for about an hour.
In a food processor with the slicing attachment, slice your Brussels sprouts. Put them into a large mixing bowl. Add 1 cup of cranberries. Then add 1 can of drained garbanzo beans. Next, add one cup of roasted, salted, and chopped almonds. Finally, add 1/4 cup of goat cheese.
For the dressing, you will need a separate smaller bowl. Combine 1/8 cup of White Balsamic Vinegar, 1 tablespoon apple cider vinegar, 2 tablespoons honey, and 2 tablespoons grainy mustard. With a whisk or fork, start mixing the ingredients together. While continuing to mix, slowly pour in 1/2 cup of olive oil. Pour the dressing over the salad and toss. Let it sit in the refrigerator for at least an hour. Toss again
before serving!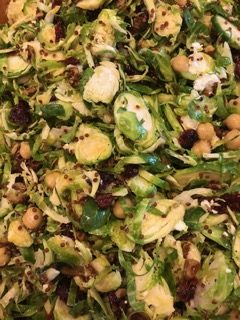 Peach Salad:
In a salad bowl, place fresh spinach, Burrata cheese, and sliced peaches. Sprinkle salt and pepper to taste over the salad. For the dressing: In a small bowl place 1/4 cup olive oil, 1/8 cup balsamic, 1 tablespoon diced shallots, and 1 teaspoon honey. Whisk together and pour over the salad. Toss and enjoy!
Risotto:
32 oz of good chicken stock
3 tablespoons unsalted butter
1 cup of Arborio Rice
1/2 teaspoon salt
1/2 cup Parmesan
1 bunch of asparagus
1 bag of frozen peas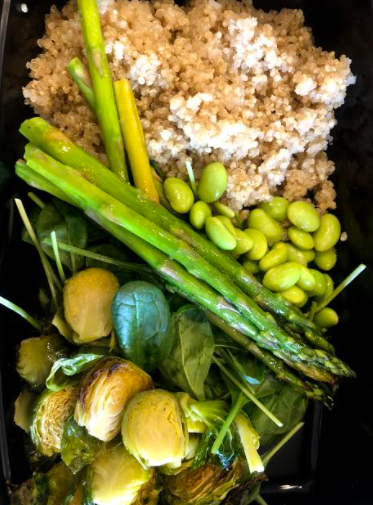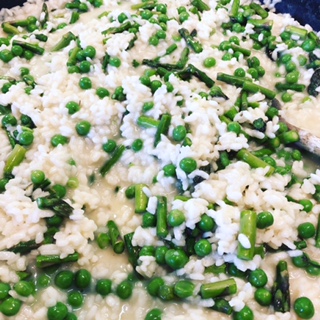 * In order to have creamy risotto, you must bring the stock to a boil, and have it simmering in a saucepan over medium. Reduce heat and keep warm.
* Melt the butter in a large skillet or wide-bottomed pot (like a dutch oven).
* Add the rice, and stir it into the rice. Continue to stir the rice until it becomes almost
translucent. This is essentially toasting the rice to bring out a nutty flavor.
* From this point on, you want to continuously stir the rice. This will make your risotto
creamy and smooth.
* Add 1 ladle of broth (½ cup to ¾ cup), and stir until completely absorbed.
* Repeat until rice is alienate (tender to eat), it will take about 15 to 18 minutes of total cook time for the rice. Turn off heat.
* In a separate sauté pan, place diced asparagus and peas. Sauté until both are bright
green, and then fold into the risotto before serving.
* Add salt to taste and cheese (please note the cheese will add a salty taste). Stir gently
for 2 minutes. Serve immediately in warmed bowls, with more grated cheese over top, if
desired.