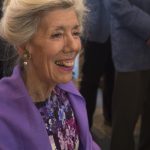 BY JUDY CARMACK BROSS
We follow last week's "Pets and the Pandemic" feature with "Dogs in Art," thanks to the healing and heavenly works of Mark Krisco, an artist, curator, and lecturer at the School of the Art Institute. Also highly regarded for his still lifes and portraits, Krisco follows in a long line of painters from Velasquez to Hockney, Manet to Warhol, and Titian to Picasso, whose dogs have delighted viewers for centuries.
Krisco's painting of Duke, Gloria Groom and Joe Berton's dog, included in "Pets and the Pandemic," elicited numerous emails inquiring after its artist. Perhaps because he has an uncanny ability to capture the personality of dogs, in this instance, Duke's merriment. And long after a beloved pet has passed, his paintings preserve faithful memories. Krisco shares, "When a dog named Audrey died, her owner was bereft. I suggested that maybe the portrait that I would do might show one of her favorite spots. I visited the park where they took walks and incorporated it into the painting."
Krisco creates his portraits by using photographs that the owners provide of their pets: "I once did a cousin's dog from life. I got 10 minutes from the dog, then he ran off and chased squirrels, coming back for another 10 minutes," he remembers. In addition to images, he spends time learning about his subjects through stories, descriptions and anecdotes.
The artist's own dog, Kilo, whose name traces back to his owner's street number at the time (1000), is described as "one in a million." A true character, the dog is the subject of many stories: "The quickest to relate is we had a household where Italian cooking reigned and so Kilo, who of course preferred people food, loved tomatoes. Once someone visited us carrying a brown paper bag full of fresh tomatoes just picked from the garden, and Kilo somehow knew tomatoes were in there. He tackled the person as well as gulping down whole raw tomatoes. Few survived!"
The native Chicagoan received his undergraduate and master's degrees from the School of the Art Institute in painting, selecting SAIC for his post-masters work in art history. He wrote his thesis on Fairfield Porter, the American artist known for his landscape paintings on the East Coast, who also loved painting dogs: "One of his best paintings shows his daughter Elizabeth with their dog Bruno," Krisco says. "It was Bruno who barked and ran to get help when Porter collapsed with a fatal heart attack."
But it is Edouard Manet, whom he feels is the finest painter of dogs of all time, who is his greatest source of inspiration when it comes to pet portraiture. "Prior to Manet, dogs were just part of the scene. Manet made them subjects of the painting themselves or play a more important role," he explains. "Toulouse Lautrec also painted dogs at this period."
The giant painting by Alex Katz featuring the face of his dog Sunny at the Milwaukee Museum of Art stands in sharp contrast to the actual dog. One of the museum's favorite paintings, it was part of articles written by Krisco on the painter: "What a surprise when I met Sunny while interviewing Katz. I was sitting there eating my breakfast and up came Sunny who sat just higher than my ankle, a tiny dog!"
20th-century American artist Albert York, who died in 2009, has been a touchpoint for Krisco's work, both in his paintings of dogs and of flowers. Jacqueline Onassis, Bunny Mellon, and Edward Gorey were among York's collectors. At a September 2020 show of his work at the Davis and Langdale Company in New York, the New Yorker described York as "maybe the most highly admired unknown artist in America."
"As for me, I discovered him on my own but understood I was on the right track of a truly great artist when I read Porter's article about him," Krisco explains. "Almost every single York exhibit, and there were never many, included what Fairfield Porter wrote about York. The truth is York was so discerning a painter that he usually only managed about to produce four new paintings a year. Because he produced so little, most exhibitions were mostly based on paintings already sold and now loaned. It also made his paintings very much sought after, his two major collectors being Jackie Kennedy Onassis, who had the most (I believe many of hers were gifts), and Edward Gorey. Gorey once took out a full-page advertisement in the New York Times begging to purchase another York painting."
He continues, "The truth is, although small (most not bigger than twelve inches square), they seem to contain the entire world. I was happy to learn that the AIC had purchased one, although it has not yet been on view. How intense they are was proved by a story a friend told me of being invited to a very posh dinner party on the Upper East Side of New York. This room was so large it had a table that seated twenty people and yet the only decoration these people had on the walls of that large room were two Albert Yorks behind either end of the table! My friend then commented that those two Yorks filled the space of this enormous room."
He is fascinated by how life often seems to overlap: "I've been thinking how Jackie Kennedy was biggest collector of York's work and how I, as the very last archivist at Marshall Field's, got to curate the Mark Shaw Kennedy exhibition at Fields 7th-floor galleries, titled "The John F. Kennedys by Mark Shaw: A Family Portrait." Mark Shaw was their personal photographer. I got along so well with his son and his family and they loved my exhibit design so much that they also let me exhibit Jackie's personal letters to Shaw. (This, of course, the year Caroline lit the large Walnut Room Tree.) So nice to have this direct Kennedy experience."
Krisco curated several exhibitions for the Marshall Field's Archives, and served as the curator of the Francey and Dr. Martin Gecht Collection from 1975-2013. He has been a lecturer at the SAIC and adjunct lecturer at the Art Institute of Chicago since 1993. He has lectured on Fairfield Porter at the 2006 Oxford Round Table and served as one of the pair of jurors for the Bacardi Limited Biennial at the Bermuda National Gallery in 2008.
The artist said his time working with the Francey and Dr. Martin Gecht Collection was particularly influential. He says, "They, as well as myself, were very proud when this collection made the February 1979 article in ARTnews in an article entitled "Collections in Chicago: Love Affairs with Art," which highlighted the best art collections in Chicago. I loved being their curator partly because their collection reflected Francey and Martin's love: it was born of joint purchasing decisions and many pictures were gifts from Martin to Francey, with many pictures celebrating her red hair. In fact, he had an entire room ceiling to floor with Toulouse-Lautrec works because Lautrec was also a great admirer of red-haired women."
"I personally respected Martin and learned a lot from him because he was a true connoisseur, meaning he did not have much book knowledge, rather he learned by looking," he adds. "Often I ran into him at the AIC on his lunch hour always taking in a little more. He then would turn to me and say Back to my hovel because he knew that would always make me smile. Some hovel! My job was to research everything I could locate on each piece he wanted to purchase and often these revealed many surprises. Always, it would reveal the gift of his great eye. He loved art and knew it was an honor to live with it. I heartedly respected this above all."
Returning to painters and their canine subjects, there are those who chose a breed and stuck to it. Dachshunds were muses of some of the most famous artists of our time including David Hockney, Andy Warhol, and Pablo Picasso. Although Andy Warhol painted his own two dachshunds Archie and Amos frequently, it is his 1972 painting of Maurice, a dachshund belonging to one of his collector's, which might be his most famous portrait of the breed. Picasso's dachshund Lump was memorialized in both works on paper and canvas, as well as ceramics, and in a delightful book published in 2006.
But then there is the dog that got away—literally spirited away from John Singer Sargent's London studio for the more peace climes of central England. According to New York architect and author Newton Phelps Stokes, the portrait was supposed to be of his wife, Edith, of New York and Murray Bay, Quebec, and a mastiff. Sargent had rented the dog for the sittings, but at the last minute, the dog's owner disappeared into the countryside with the very large dog in question. Stokes always said in a self-deprecatingly that he stood in for the mastiff. The 1897 painting is one of the Metropolitan Museum's most iconic, and Edith is often described as one of the first truly modern women.
Fast-forwarding a century, to an icon of our modern times, Ralph Lauren, who is thought one of the biggest collectors of paintings of dogs. Krisco is inspired by a September 2010 article from the first issue of Ralph Lauren magazine entitled "Dogs We Love" and a poem that appeared in it:
Dogs who slumber at the feet of Kings.
Dogs who guard the ancient ruins.
Dogs who go valiantly into battle.
Dogs who beg at the dinner table.
Dogs who are immortalized by lyric and paint.
Dogs who are heroes, helpers and saints.
Dogs who were there when history was made.
Dogs who are forever our friends,
Our children,
Our confidants,
Our soul mates.
Mark Krisco's paintings may be viewed on Bird and Tale's website.