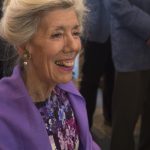 BY JUDY CARMACK BROSS
Surely the award for the most intriguing website name goes to interdisciplinary artists and School of the Art Institute graduates Brad Stumpf and Jeffly Gabriela Molina, who founded Bird & Tale in 2019. We honor these Chicago creatives for highlighting the work of emerging artists who are missing in-person exhibitions due to the pandemic but now have a home on Bird & Tale.
The online shop houses a curated selection of contemporary art, objects, garments, jewelry, and accessories created by a diverse international group of artists and designers, offered at accessible prices. A quick visit takes you to paintings by one of our favorite Chicago artists Mark Krisco, hand painted silk scarves taken from Molina's surreal paintings, and its own virtual gift shop, which sates our longing for the fabulous gift shops our museums offer.
Molina, who grew up in Tachira, Venezuela, explains the origins of the site's name and its offerings: "We took the name Bird & Tale from the bird lamps Brad makes out of heavy paper. Each article on our site has its own tale, its own story. It isn't just stuff, but things that are precious and retain their value. Our hope is that they will be passed down to the next generation."
"We want to meaningfully enhance the makers' and the consumers' experience," Stumpf adds. "We choose artists who make work that stands out for its quality, beauty, and sustainability. We believe that to love what one does well should be the requirement to thrive in the contemporary market. Bird & Tale is a company that represents and promotes artists, designers, and artisans that love passionately and immeasurably that which they create with purpose and intention. They share their stories with our clients. Our mission is to add substance and beauty to people's lives. We hope to nurture a culture of keepsakes."
One such keepsake is the aforementioned bird lamp that Stumpf has designed. He tells us a little about how these came into being: "The bird lamps weren't lamps in the beginning. I made paper birds but decided to add warmth and light. I work for a lighting company and decided that illuminating the birds would add warmth. It really fills the bird's body. I do birds you see every day like cardinals and pigeons. I have been painting birds since I was five years old, growing up in St. Louis."
The scarves Molina has created for the site make up another notable and highly collectible range Bird & Tale has available. Printed and hand-rolled in Italy, the scarves are made of 100 percent silk charmeuse. Molina came up with the name Amanda Lily for the brand along with her mother and sister—"amanda" translating to "loved one."
"The Meaning of Life is the title I gave to the collection, and I believe that title encompasses the feelings that run through the other artworks that also inspired the collection. The scarves are titled after the original artworks such as Passage, Piece of Heaven, No Need to Assert Thyself Loudly, and The Meaning of Life. To design the scarves, I used images of my own paintings and watercolors to create patterns and new iterations with compelling edges," she says.
This is a collection inspired by feelings of hope, love, memory, and loss, with each piece telling a different story. The scarves bring together moments of life with more surreal elements: "Although my work traffics in the quotidian, I am drawn to both Surrealism and Magical Realism. Both genres have nurtured my ability to create images. Magical Realism is often associated with Latin American literature. In pictorial terms, it has allowed me to paint realistic views of contemporary life complemented with magical elements that serve to precisely emphasize that reality. Like a dream reflected on a windowpane, a memory carried on by the passing of a shadow, or a sky full of ideals."
This proclivity towards surrealism, magic, and fantasy can be found across the website and the designs it carries, from Ajovang's Contemporary Cinderella to the functional sculptures of Lesley Jackson, and the limited edition prints created by Chicago-based artist Chris Capoyianes, says Molina.
In 2020, New York curator and wardrobe stylist Taylor Hansen Hughes joined the Bird & Tale family as its fashion director and co-curator and has produced an expanding offering of one-of-a kind fashion.
"So many people turn to vintage stores today because the fabrics used in the past were just so much better," Molina shares. "Vintage clothing is worth repairing if necessary. We love that we feature handmade items. Paulina Perez has two sweaters on our site, both hand-knitted with dyes made from turmeric and pine cones."
Bri Foster, a clothing and costume designer, artist, stylist, and educator based in Montreal, Canada, works with a wide range of mediums and techniques, from beading and embroidery, to painting and mixed media collage. She now brings to the site's gift shop her latest: dolls. From rag dolls to doll-themed clothing and accessories, she makes each piece by hand.
The website tells her tale: "As children, we were encouraged to play, to imagine, and to dream. Dolls evoke nostalgia for childhood's past, and connect us to that playful, creative inner child. They transport us back to a time when our spirits were free, and we expressed ourselves more authentically. Dolls represent both our inner and outer selves—the parts we share with the world, and the parts we keep to ourselves.'
The gift shop section also features jewelry, zen bath sets, fashion, and whimsy. Their 35 artists come from Ireland, Germany, Panama, Mexico. and other countries and include two emerging designers from New York.
Bird & Tale will be attracting customers looking for distinctive handmade items at reasonable prices well after COVID fades into the rearview mirror: "We are planning pop up shows for the summer and the holidays," Stumpf says. "We want to meet our customers."
But its role over the past months of bringing together artists whose exhibits we might have missed, simulating a stroll in a museum gift shop, and sharing items that are both beautiful and sustainable will always be appreciated and quite appealing.
For more information about Bird & Tale, visit birdandtale.com.