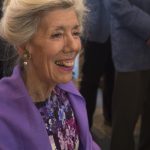 BY JUDY CARMACK BROSS
Seeing your book made into a movie by a world famous producer is only a fantasy for most authors but soon to come true for Winnetka's Catherine Grace Katz. The Daughters of Yalta, the incredibly researched and rousing book subtitled A Story of Love and War has been acquired by Sony Pictures and the Academy-Award nominated producer Amy Pascal.
The 29-year-old New Trier and magna cum laude Harvard College graduate who has already made "100 and counting" Zoom and socially-distanced appearances promoting the book, shares: "Amy Pascal produced our family's all-time favorite movie A League of their Own, about the all-women baseball team, as well as both of the most recent Little Women movies. We've had fun as a family casting our dream stars, although I don't have any say in that part of production. My mother, Andy, and I agree that Jon Hamm might make a great Averell Harriman, the diplomat who was known as one of the handsomest and richest men in America."
"Daughter Diplomats" is how Katz terms Harriman's daughter Kathleen, Franklin Roosevelt's Anna, and Winston Churchill's Sarah, who joined their fathers at the Yalta Conference. Though the daughters arrived in an unofficial capacity at the 116-room Livadia Palace, built by Czar Nicholas II and situated on the Black Sea, they used their knowledge of diplomacy and their ability to keep secrets to great advantage.
"Yalta was the precipice between World War II and the Cold War. For the daughters, it would be a very dangerous journey, and each felt the weight of her father's position in a different way," Katz explains. "Anna's role was maybe the hardest because she knew the truth from her father's doctor. Not even Eleanor Roosevelt was as fully aware that FDR was dying of advanced congestive heart failure. He would die two months after the conference."
She adds, "He always said he appreciated his daughter's loyalty and chose her to accompany him to Yalta rather than Eleanor. She was 38 and a mother at that time."
Kathleen Harriman, whose father was U.S. Ambassador to the Soviet Union, was a war correspondent based in Moscow and a champion skier who learned the sport at Sun Valley, developed by Averell. Glamorous, competitive, and brash, she was, at 27, the youngest of the daughters brought to the Conference.
But it was canny Sarah Churchill, an actress who would co-star with Fred Astaire in MGM's Royal Wedding and served as an RAF officer during World War II, who started it all for Katz: "Our family has vacationed at the Cloister on Sea Island, Georgia, for many years. I remember seeing as a little girl a photograph there of Sarah with her husband, Antony Beauchamp, following their elopement in 1949," she recalls.
Coincidence brought her together with Sarah again. "My book began in a bookstore, Chartwell in Manhattan, called 'The world's only Winston Churchill Bookstore.' It is located in the lobby of my office in my previous life as a graduate history student turned financial analyst," she shares. "The owner of the bookstore knew I was ready to leave my financial job and return to history. He introduced me to the International Churchill Society that had just recently opened Sarah's papers. I became one of the first to view the papers and was asked to write an article about her. I became fascinated by Sarah's wartime experiences and realized that a 5000-word article would not be enough to tell the story."
In 2014 Katz received her MPhil in modern European history from Christ's College, University of Cambridge, where she wrote her dissertation on modern counterintelligence practices. Prominent spies at the time, including Kim Philby and Alger Hiss, appear in her book.
Her devotion to each of the families she profiles has led to friendships with the descendants of each daughter, and she has visited several at their homes: "The three families gave me access to all the papers, places, and interviews I needed. I felt that the three daughters had found me." As a result, you can feel the intimacy and humor woven through this sweeping historical story.
Intrigue and romance both abound in this story: both generations of Harrimans were dispatching letters at this time to one of recent history's femme fatales, Pamela Churchill. Churchill, wife to Winston's son, was Kathleen's best friend during the wartime London blitz, and the secret love interest of her father, Averell. (The two would eventually marry years later.)
Pamela was not the only Churchill involved in a hidden romance. Sarah was having an affair during this period with the United States Ambassador to the United Kingdom, John Gilbert Winant. Kathleen had her own fling with Anna Roosevelt's married brother Franklin, Jr., while Anna herself was carrying a secret: that of her father's longtime love for Lucy Mercer, who would be with him when he died.
Although Livadia Palace had been the luxurious Crimean seaside retreat of the Czar, and home to many a covert tryst, the Nazis subsequently looted it, stealing anything they could carry including sinks, toilets and doorknobs. Kathleen Harriman, due to her father's role as Ambassador in Moscow, was given the assignment to get it ready for serving the dignitaries. Although glorious amenities, including the finest caviar and champagne delivered from Moscow's Hotel Metropol, some conditions could certainly be termed primitive. And privacy wasn't in the cards. Aides were assigned to hold places in the bathroom line for their superiors and one athletic aide would jump up and down to look over the curtain and call out who he observed was taking too long in the bath.
Just as these details spark a new emotion in the reader, each book presentation brings something new to its author. "I finished my last big draft two days before the pandemic closed everything, but I am so fortunate to have reached thousands of people on Zoom," she says. "The Book Stall in Winnetka had an outdoor event, and my high school homeroom teacher, grade school teachers, family, and friends attended. It was just wonderful. Recently on a Zoom presentation in Boston, a viewer told me that his father had been commander of the ship that ferried FDR to Yalta."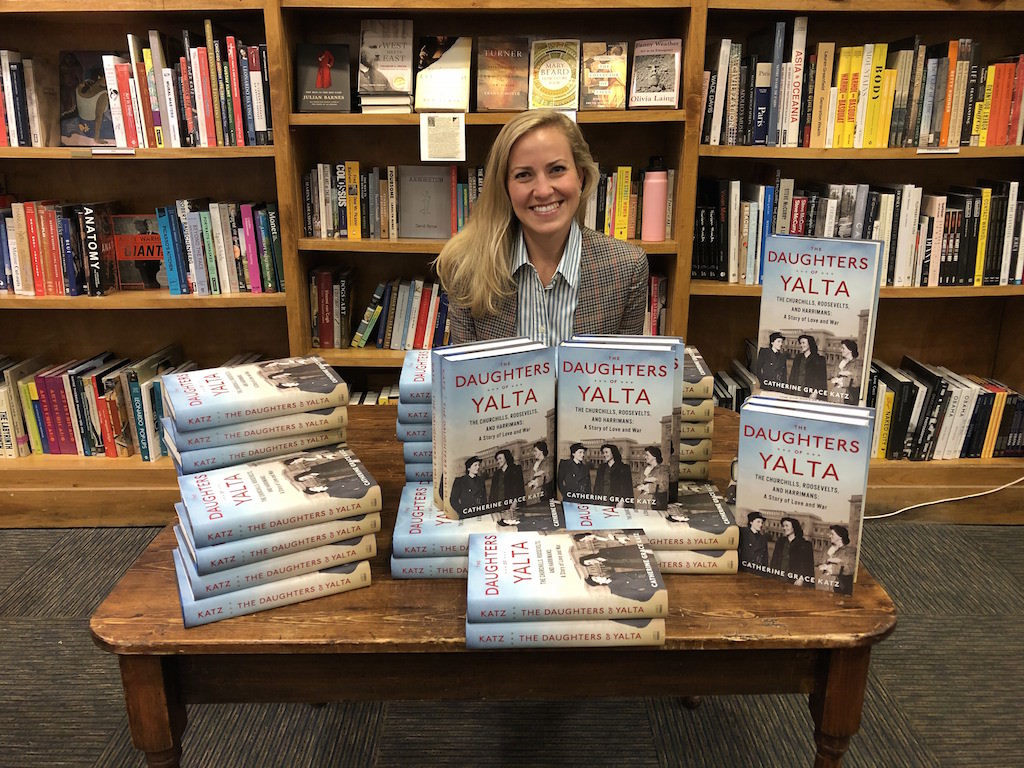 I was lucky to attend a talk planned by the adroit Allison Schmidt, whose daughter grew up with Katz. The author's younger sister, Anna, also a writer and a freshman at the University of Chicago, attended with proud mother, Andy. At the program Katz told the audience that her mother instilled in her, her younger sister, and brother Oliver a love of reading and just being curious: "We'd be on a trip to the grocery store and even when we were quite young, she talked to be as if we understood larger topics. She read to us constantly—the Narnia books, Beatrix Potter, about British history and so much more. We often just sat on our porch and told stories."
Katz credits her mentor, the author and Chicago writing professor Gioia Diliberto, with her favorite writing advice: Describe first in a paragraph, then in a sentence, and then in a word what the book is about. And then never lose sight of that word you have chosen. "For my book, that word is relationships," she says. "These are huge personalities, leaders of nations but also fathers with daughters."
Her own advice for non-fiction writers? "Don't shy away from topics that have been written about," she offers. There are at least 1000 books about Churchill and many about Yalta. But there are always new things that we didn't know about or documents that have never been seen before. Events change before our eyes over time as well."
Katz will return to Harvard Law School for her second year in September. She will explore her next book project as archives, closed during the pandemic, open up. "There is strong legal component at the heart of most historical events so I look forward to combining both after my studies," she explains.
And in the meantime the casting of the movie based on her extraordinary book, much to the delight of its dedicated readers—and the entire Katz family!
The Daughters of Yalta is published by Houghton Mifflin Harcourt. Learn more about its author at catherinegracekatz.com.