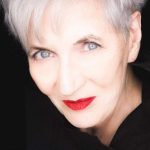 By Jill Lowe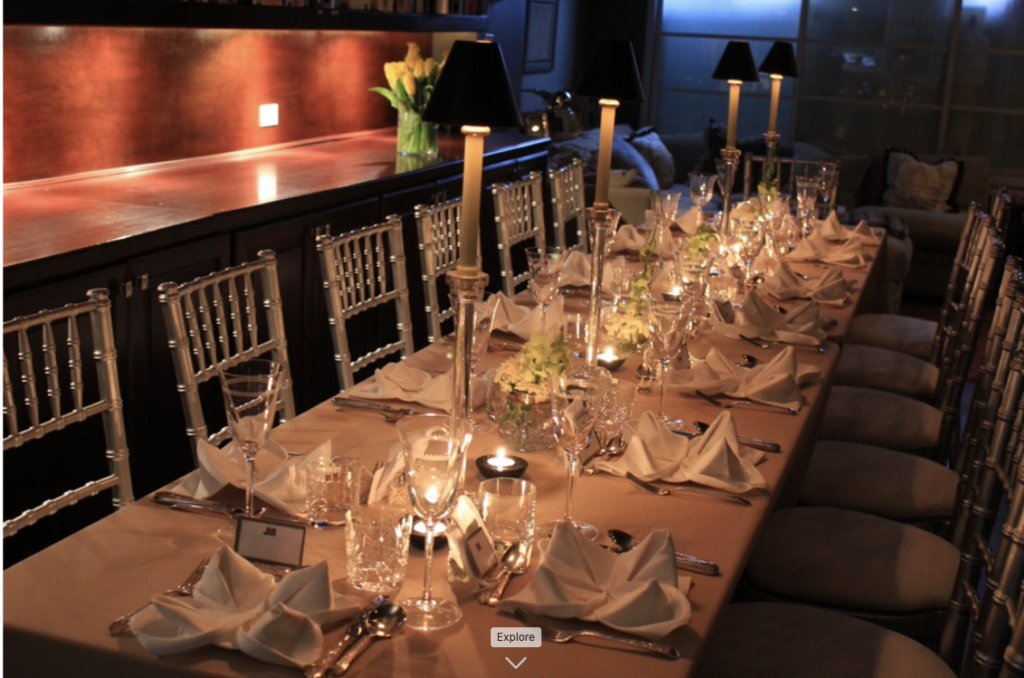 In days of yore the hallmark of my dinner parties had included exuberant invitations, flowery, fanciful menus, meticulous table settings with contrivances, froth & nonsense, with gifts for guests. De riguer was the focus on the absurd, the attraction to novel yet tasteful ideas, and an appeal to a sense of humor. When Covid made such fancy impossible, it opened the opportunity to channel my imagination toward making beautiful imaginative dining settings for 2. Now as things begin to change we will start hosting small dinners with a newly ebullient appreciation for the magic of social interaction.
I cannot wait…
Before the pandemic, invitations included elaborate pop-up cards, bespoke booklets, the menus sometimes included such features as minuscule printing so as to make use of the magnifying glass gift for each guest.
We adapted many things to allow for special dining for 2 during the pandemic. Some foods served by me before the pandemic were often very labor-intensive. eg I really don't think I will attempt again the GOLDEN PEARS. I poached pears dipped in chocolate painted with edible gold!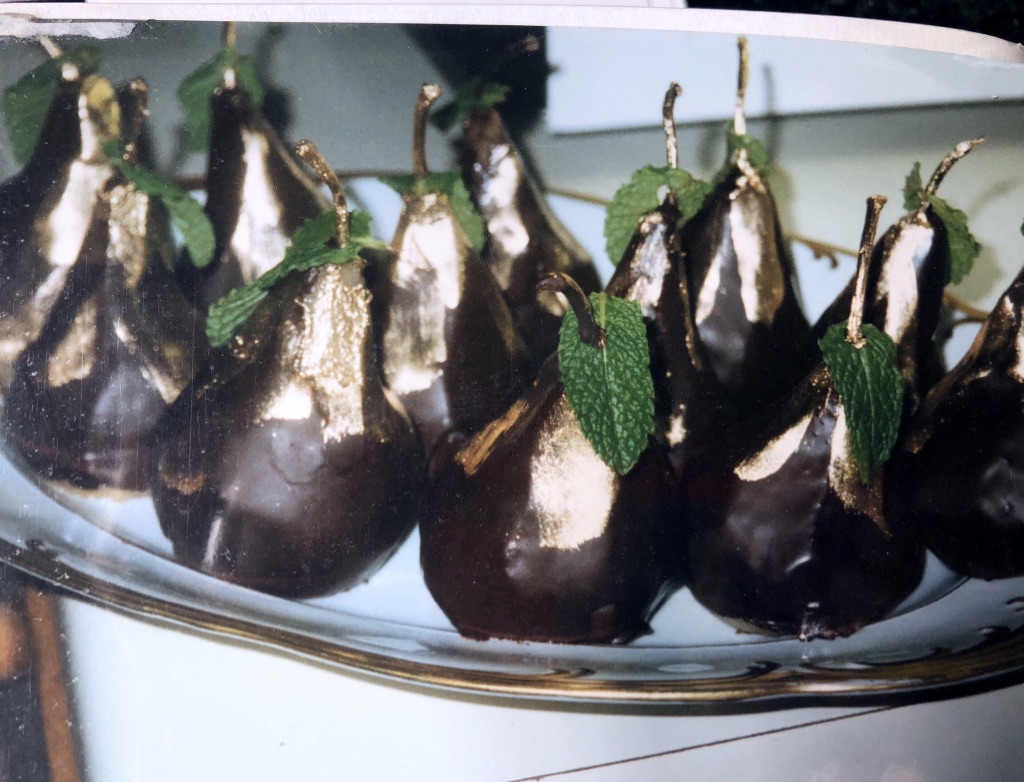 I am likely to continue such humorous menu items as Fragomamella. The days after the TV cooking show "2 Fat ladies" had me serving this for dessert often. This dessert translated as "Strawberry Breasts" of course had to be served in pairs.
During the pandemic, I was able to experiment with table settings. I do not hesitate to use flowers with fruits.
I brought out all the table linens and dishes: mustard toile tablecloth combined with the sunflowers and cobalt blue is so enticing.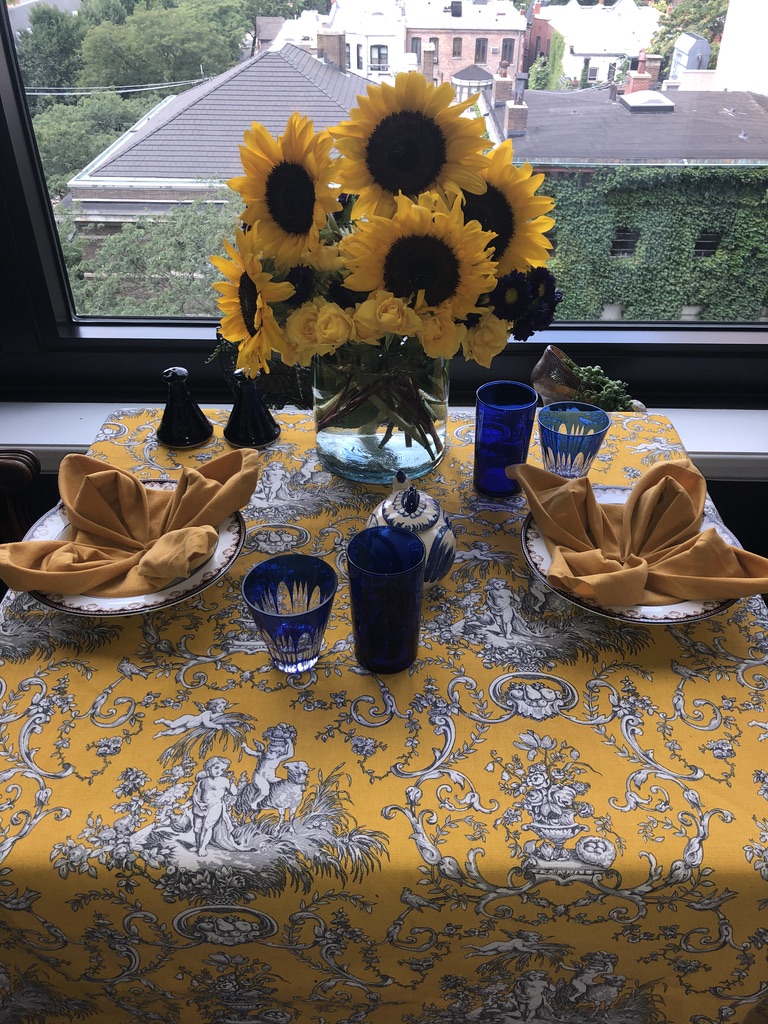 Pastel pink, lime green, and delicate blue: so pleasing
Oh-oh! Dinner during a snowstorm! Lamb chops on the menu with a sprig of mint ready.
| | |
| --- | --- |
| Pastels for a setting | Organic setting with succulents |
I also tried different effects for larger parties, easily adapted for dinners for 2 or smaller dinner parties. I am obsessed with lighting. The use of submersible candles and their application is endless.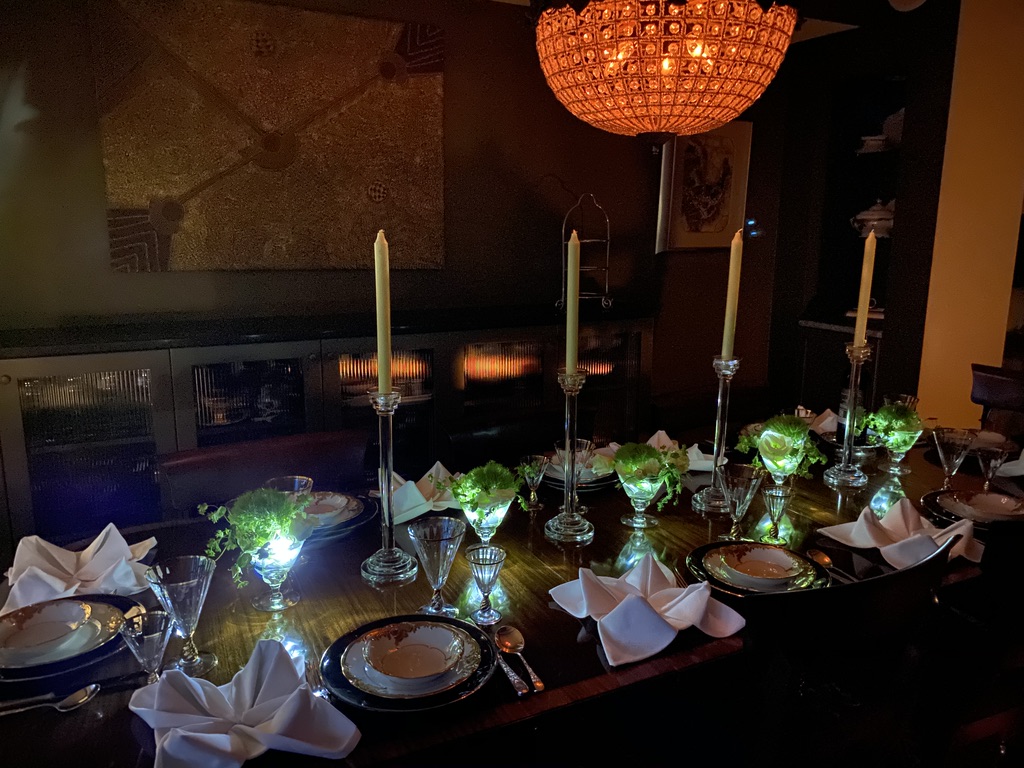 Along came summer & dinners outside with the setting sun were just so glorious.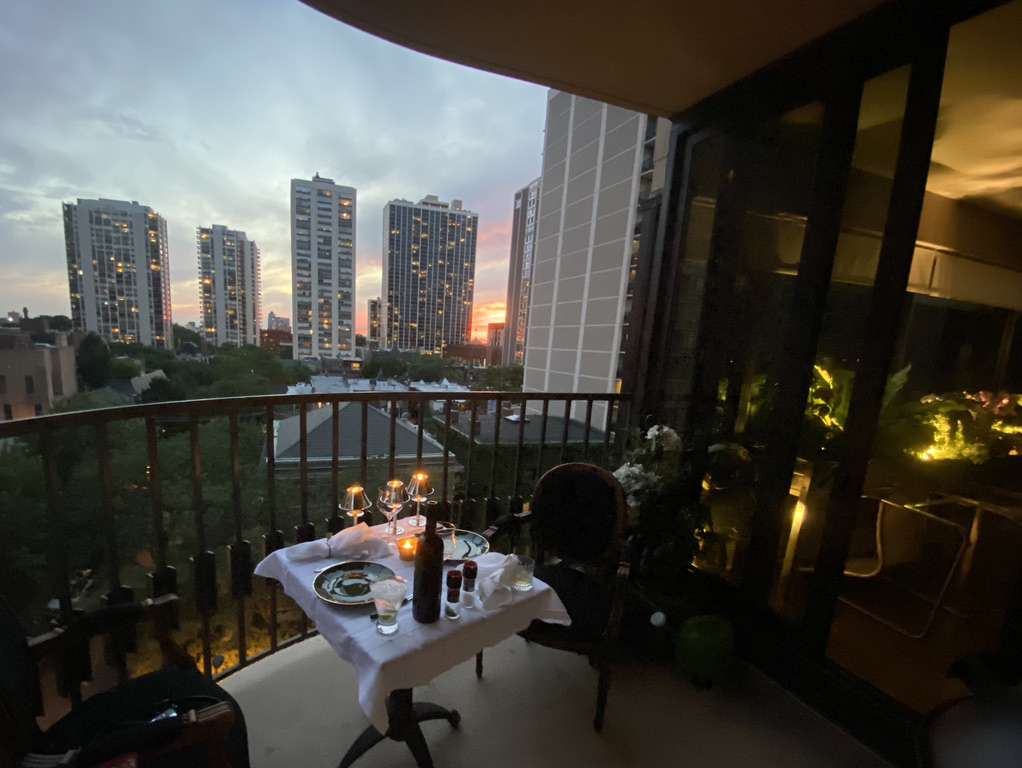 Roast chicken, sliced tomatoes and crunchy baguette ….oh and some rose wine!
If you have been lucky enough to see a grandchild during the pandemic, such as we, this food project was ideal. Never too early to start children on food presentations.
Some wonderful summer foods:
| | |
| --- | --- |
| Fig & Labne salad | Ice cream with Passionfruit |
| Summer rice roll with lobster meat | Mozzarella basil & cherry tomatoes |
A shrimp tree will always be good when we return to larger dinners.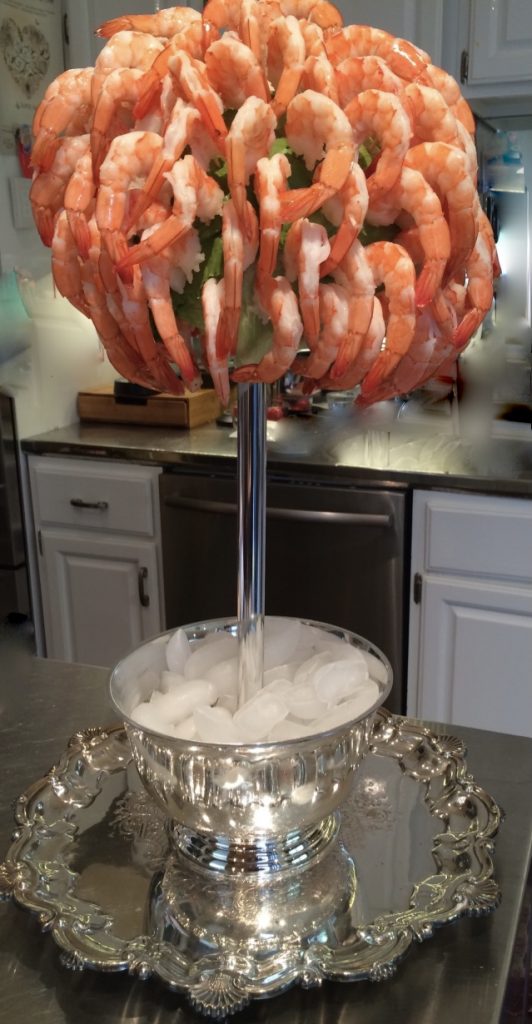 As winter approached, it was time to bring out the caviar pie: even for 2
And Panne cotta with Balsamic Strawberries and quail eggs.
I did do simple foods presented well. Here is Shepherds Pie and Trifle dessert in mason jars under the domes.
We did enjoy Greek salads in mason jars was so good to have on hand for a simple supper.
Halloween arrived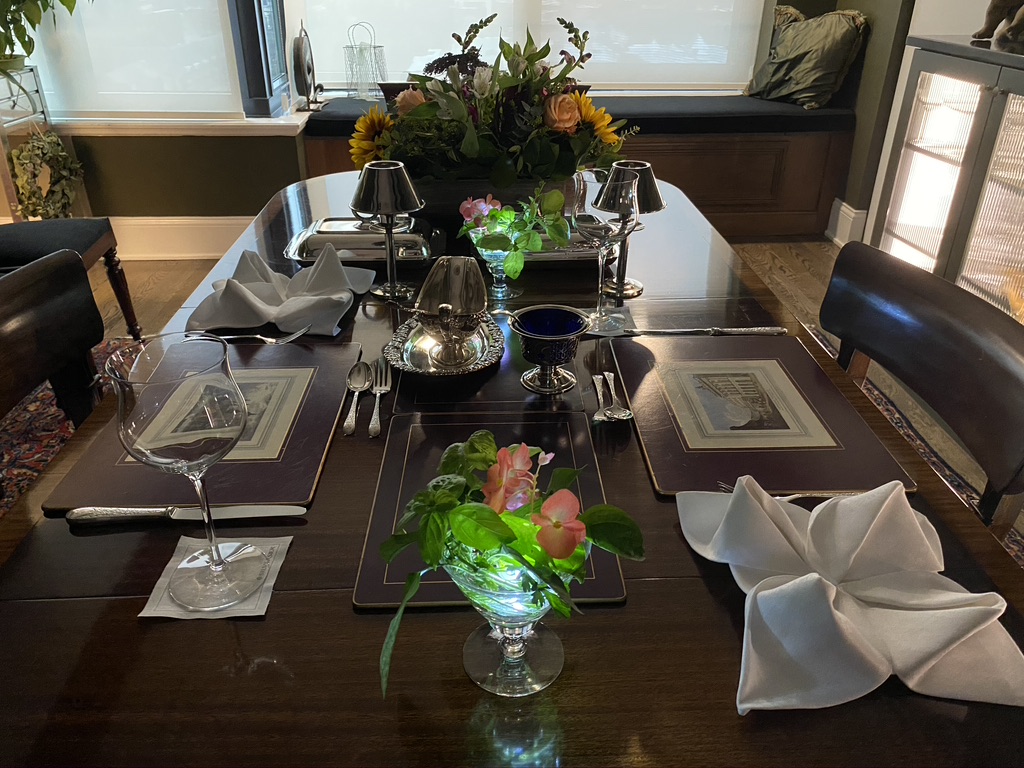 The Holidays in the pandemic. Table set for 2
And now Spring againCorned Beef time. Too, napkin folding I find very satisfying. It was a wonderful time to learn new folding techniques.
I grew wheatgrass for bunnies. Quail eggs are JUST the right size! My napkins to look like bunny ears were easy.
Flowers at any time are wonderful. Trader Joes have such affordable abundant flowers. I went wild. I'm told Astromeria did not exist 40 years ago but there was a need for a long-lasting flower with a long, straight, firm stem and VOILA! the Astromeria! It fills a lot of voids.
The Future
Finally, looking forward to the resurgence of dinner parties, small at first, now, more than ever, the words of Sylvia, the cartoon by Nicole Hollander in 2003, are what we subscribe to, to enable marvelous dinner parties with civility.