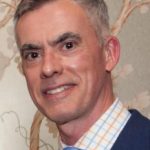 By Philip Vidal
If you made formal New Year's resolutions (in the midst of the pandemic, I gave myself a break and did not), February is a good time to follow-up and assess your progress.  I recently saw a list of the usual top ten New Year's resolutions: exercise/lose weight, eat healthier/better, save money/spend less, reduce stress, get more sleep, learn a new skill, travel, read more, get organized, spend more time with friends and family.  Most New Year's resolutions for 2021 probably look a bit different.
The pandemic has constrained travel, though Southwest Airlines is expanding its service in Chicago. Already a prominent carrier at Midway Airport, Southwest adds service to and from O'Hare starting February 14.   The American College of Sports Medicine named online training as the top fitness trend in 2021.  Online training offers lots of exercise options and it's a great way to try something new, and a good way to help support a trainer.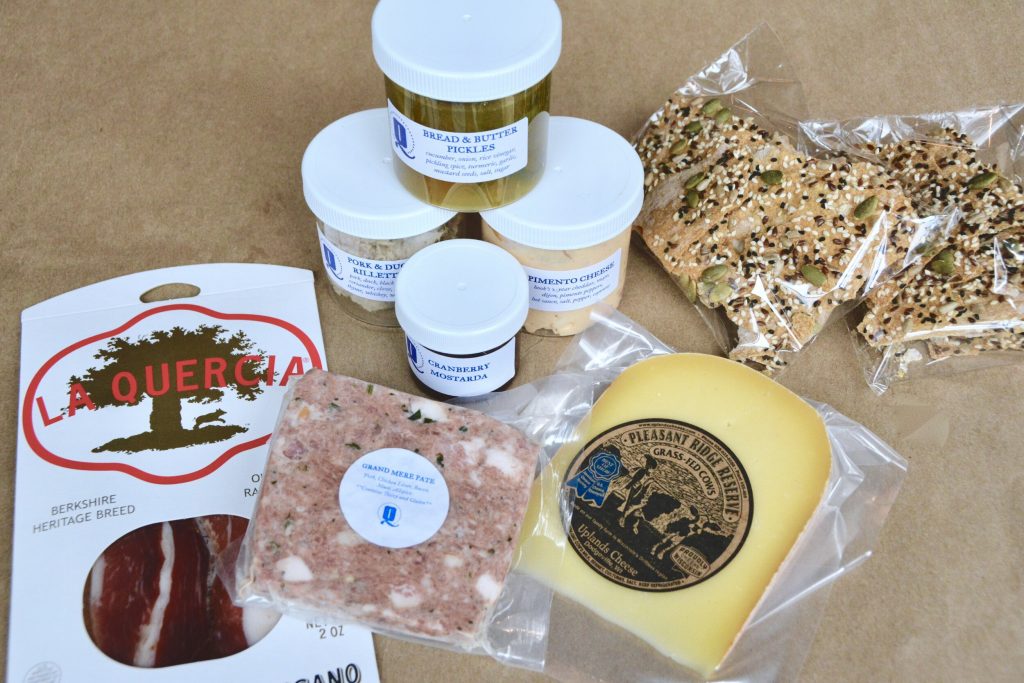 One of the many meal kits offered by different restaurants in Chicago. Photo of PQM Charcuterie & Cheese Box by One Off Hospitality Group.
Eating healthier/better has become a bit easier with meal kits from national brands such as Hello Fresh and Home Chef.  Another way to support local restaurants is to order a meal kit.  Bistro Campagne, Meal Kits by Stephanie Izard, One Off Hospitality Group (Avec, Publican) and Smyth at Home: "On the Line" Tasting Menu are just a few that offer meal kits.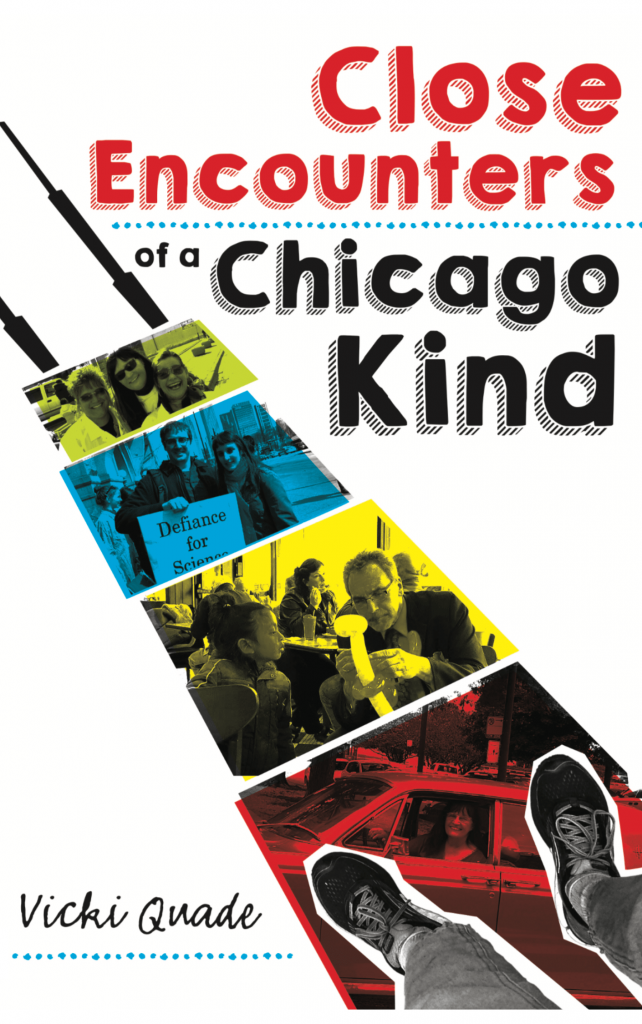 Co-Creator of "Late Night Catechism", Vicki Quade has a new book "Close Encounters of a Chicago Kind." Photo by Eckhartz Press.
With respect to reading more:  I'd like to read Vicki Quade's new book "Close Encounters of a Chicago Kind," a series of brief stories about her everyday experiences in Chicago.  Quade is the co-creator of the long-running (28 years!) comedy show "Late Night Catechism."

Register for one of the Alliance Française de Chicago's winter online classes beginning February 6th. Photo by Alliance Française de Chicago.
Learn a new skill or craft:  My good friend Sarah Ames told me about Masterclass.com and Domestika.org. Masterclass.com offers online classes from top-notch instructors like chef Gordon Ramsay, photographer Annie Leibovitz, and musician Carlos Santana.  Domestika.org also offers interesting options to unleash your creativity. Learn a new language, possibly French?  The Alliance Française de Chicago's winter online classes begin February 6.   The Newberry Library's online adult education program offers many Chicago-centric seminars, such as "Six Plays By and About Chicago" and "A Virtual Walking Tour of Chicago" on February 10, and "An Oral History of Chicago Theater, 1940-2020" on February 11.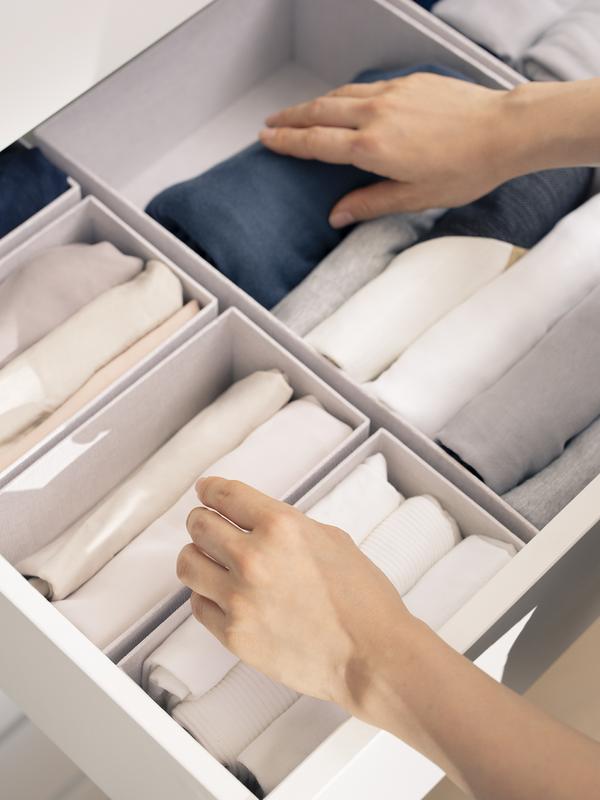 Want to get organized this year? Check out The Container Store x KonMari collab for storage solutions. Photo by KonMari.
Get organized:  In the past, the Newberry was part of my annual 'get organized' resolution.  I'd donate books to the Newberry Library for their annual Book Fair.   They currently aren't accepting books, but the Newberry's website lists several organizations that are.  Books for Soldiers and Operation Paperback are two other charities that will take books.  Give clothes, housewares and such to Goodwill at their donation centers or blue drop-off bins. The Brown Elephant locations in Andersonville and Lakeview are open for contactless drop-offs.  For those who want to get uber-organized, Marie Kondo, aka KonMari, the organization queen, has partnered with The Container Store.
A Chinese New Year's tradition is to completely clean your home, as part of "out with the old and in with the new." Chinese New Year is February 12.  It's the year of the ox – a year of stamina – appropriate for the times.  Other holidays this month are Valentine's Day on February 14 and Mardi Gras on February 16.  I have a sweet tooth so I look forward to February 16, which is Pączki Day in the U.S., when pączki (filled doughnuts) are readily available.

Join Chicago's Congo Square Theatre Company's digital Festival on the Square, a three-day virtual celebration of the arts. Photo by Congo Square Theatre Company.
This year's Mardi Gras in New Orleans probably won't be as raucous as in years past. Still, Congo Square in the Tremé neighborhood of New Orleans is the inspiration for Chicago's Congo Square Theatre Company's digital Festival on the Square, concluding with their 2021 Visions Benefit honoring Ron OJ Parson and Les Coney, February 4-6.  Part one of their sketch comedy series, "Hit'em on the Blackside," continues through February with new bi-weekly webisodes starting in March.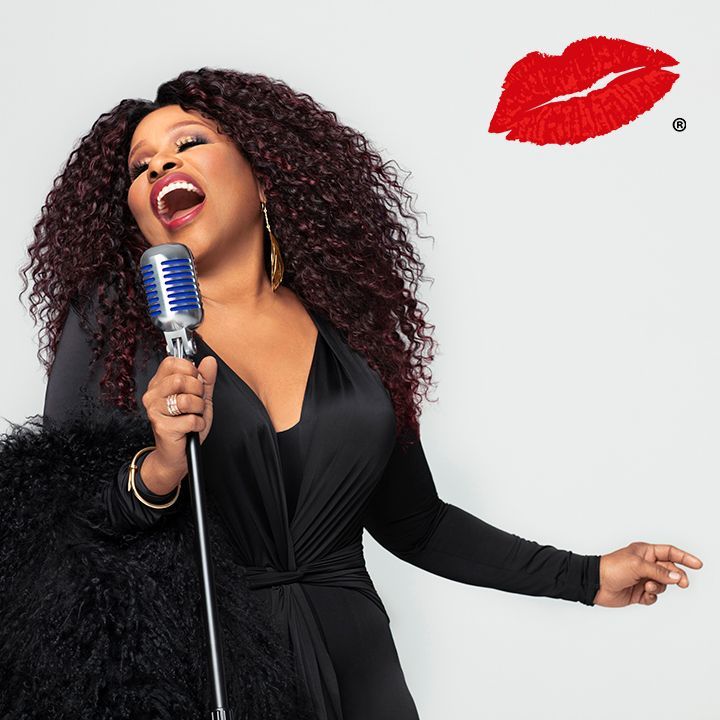 WTTW airs "Chaka Kahn Homecoming" featuring Kahn's 2019 Harris Theater concert, February 25.
February is Black History Month.  WTTW airs "Josephine Baker: The Story of an Awakening" on February 11 about the Jazz age dancer who became the toast of Paris, and "American Experience: Voice of Freedom" about opera singer Marian Anderson on February 15. "Legacy: The Untold Story of Chicago Black Music" airs February 14.  "Chaka Kahn Homecoming" features Chicago-born vocalist Chaka Kahn's 2019 concert at the Harris Theater on February 25.
"Immersive Van Gogh" is slated to open February 11 at Lighthouse ArtSpace Chicago in Germania Place.   My paternal grandparents came from Germany in the 1920s and settled in Old Town.  My grandmother told me that she went to functions at Germania Place when it served as a meeting hall for Chicago's German-Americans.   I've never been in Germania Place, but I did see movies next door at the Village Theater.  The theater has been closed for many years, but the façade has been preserved as part of the new 1550 North Clark residential building.
While Germania Place can still be visited and enjoyed, many buildings haven't been so lucky.   Just a few blocks west, John Belushi made his debut at the comedy club Second City fifty years ago in Piper's Alley.  Second City's façade contains fragments of a frieze of famous German writers and playwrights taken from Adler and Sullivan's Schiller Theater Building (1891) before it was demolished in 1960 to make way for a parking garage.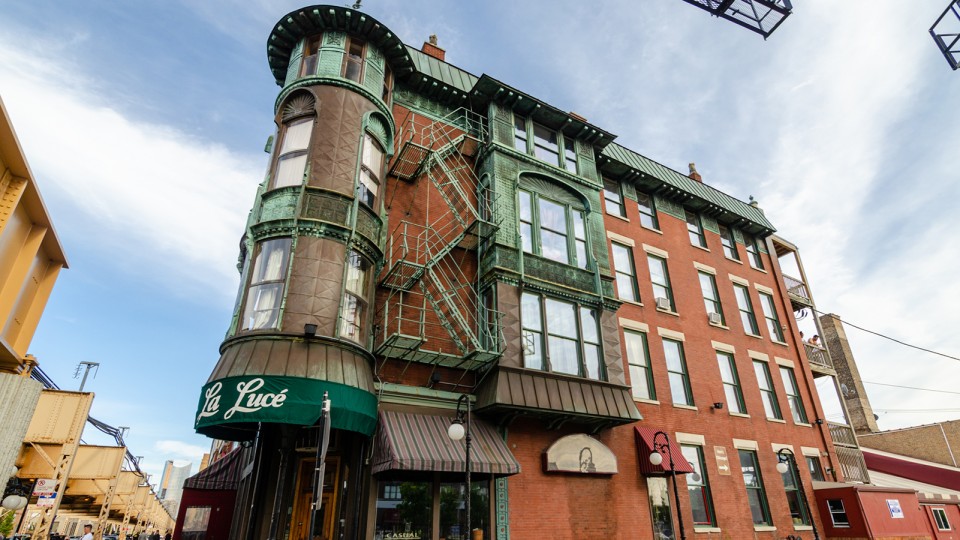 Discover the "Chicago 7," Chicago's most endangered buildings, at the Chicago Architecture Center's virtual event, CAC Live: Chicago's Most Endangered Buildings 2021, February 24. Photo by Chicago Architecture Center.
For the past 19 years, Preservation Chicago has come out with its annual "Chicago 7" list of Chicago's most endangered buildings.  In the past, the list was announced during a very popular in-person sold-out event at the Chicago Architecture Center.  This year the Chicago Architecture Center will unveil this year's "Chicago 7' list during a virtual event, CAC Live: Chicago's Most Endangered Buildings 2021, on February 24.  The event is free, but registration is required.  Spoiler alert:  The photo on the promo shows the Victorian building at 1393-1399 Lake Street that was originally a Schlitz 'tied house' tavern and most recently was La Luce restaurant.
Schlitz' tied-house taverns were dotted all over Chicago, just like Virginio Ferrari's sculptures.   One sculpture, "Earth Forms" (1978), is in the lobby of my apartment building.  I was honored to meet the sculptor a few years ago at a cocktail party hosted by neighbors.  I think I first noticed his work when I saw his monumental stainless-steel sculpture "Being Born" (1983) at State and Washington in front of the then Marshall Field Department Store during the unsuccessful attempt in the 80s and early 90s to turn State Street into a pedestrian mall with widened sidewalks, and without automobile traffic.  When State Street was restored in 1996, the sculpture was moved to Orleans and Ontario at the entrance to the Kennedy Expressway.  The venerable Chicago firm, Joseph T. Ryerson & Son, assisted in fabricating the sculpture. Virginio Ferrari's "Cosmos" exhibition runs through March 15 at the Bridgeport Arts Center.

The Dover Quartet kicks off the Chicago Chamber Music Society's 85th season on February 24. The virtual concert is free and registration is required. Photo by Chicago Chamber Music Society.
The 85th season of the Chicago Chamber Music Society series goes virtual.  Their series of four chamber music concerts kicks off with a free concert (registration required) by the Dover Quartet on February 24 at 11:30 AM.  If you're not already a subscriber, the first free concert should be more than enough to entice you to order tickets for the other concerts in the series.  If you're unable to watch a concert at the scheduled time, you have at least a week to watch it if you have registered.
"Reimaging Tomorrow" is the theme for Goodman Theatre's virtual fundraising event on February 22 to support their education and engagement programs. "Reimaging Dinosaurs" on February 23 is the third of six presentations in the Auditorium Theatre's "National Geo Live" virtual series.
The Auditorium was the place to be in January and February when dance companies visited Chicago and performed there.  Forty plus years ago, all I could afford were the nosebleed seats.  What I'd give to see a live performance even from one of those seats. Next best is a virtual performance.  The world premiere of Yoshihisa Arai's "Boléro" streams for free February 12 on the Joffrey's YouTube channel.  This is the Joffrey Ballet's first performance since the pandemic began.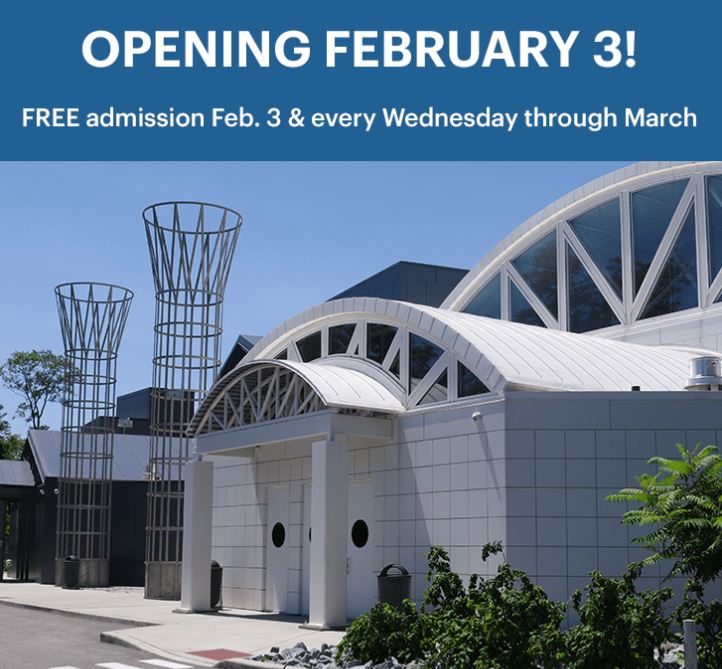 Visit the Illinois Holocaust Museum and Education Center reopening February 3 with free admission (online tickets required). Free admission will be extended on Wednesdays through March. Photo by Illinois Holocaust Museum and Education Center.
Museums and other institutions have reopened or will soon reopen.  The Field Museum and the Shedd Aquarium have reopened.  "Mandela: Struggle for Freedom," an exhibition (in-person and virtual) runs February 20 through September 12 at the Illinois Holocaust Museum and Education Center,  which reopens on February 3 and is offering free admission on February 3 and Wednesdays through March (online tickets required). The Art Institute of Chicago reopens February 11.  I didn't get a chance to see "Monet and Chicago." The exhibition has been extended so now is my chance.
Lincoln Park Zoo and Brookfield Zoo are currently closed to the public through March 4 and February 28 respectively, but fingers-crossed they will open sooner, though probably not in time to host Groundhog Day ceremonies.  So just as we have done for years, we must turn to Punxsutawney Phil  on February 2, Groundhog Day, to learn whether he did or did not see his shadow, predicting six more weeks of winter or an early spring.
Dates, times, locations and availability are subject to change.  Please stay healthy and safe and keep up with the latest COVID-19 information and guidelines.