Chicago firm hopes to find gold at Olympics, Paralympics in Japan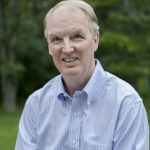 By David A. F. Sweet
Every four years, agencies who represent Olympic athletes hope for feats that will spur prime media coverage of their stars. But few expect their Paralympic athletes to achieve such publicity.
Back in 2012, Matt Stutzman – a U.S. archer born without arms who uses his left foot to place the arrow – nabbed a silver medal during the Paralympics in London. For Chicago Sports & Entertainment Partners (CSEP), the achievement for the man dubbed the Armless Archer – who holds the world record for the most accurate arrow shot at greater than 300 yards — was pure gold.
"He was on the front of The Wall Street Journal in a picture above the fold," said Scott Kirkpatrick, a Chicago native who helped found the firm in 2008.
Stutzman – who appeared on the ABC show To Tell the Truth last year — is expected to be in Tokyo in August for the Paralympics, along with three Olympic athletes represented by CSEP for the Games in July: water polo goalie Ashleigh Johnson, a gold medalist who has qualified; Mariel Zagunis, a four-time medalist as a fencer who also has qualified, and rugby star Madison Hughes, who is expected to make the team later in June. (Two other Olympians under the CSEP umbrella — shooter Kim Rode, who was gunning to become the first Olympic athlete in history to win medals in seven consecutive Games, and gold-medalist wrestler Jordan Burroughs — failed to qualify.)
Save for basketball, track and field, swimming and one or two others, the Summer Olympics are dominated by niche sports one hears little about except during the fortnight of the Games. But these sports are the ones CSEP excels in. The group advises under-the-radar athletes on corporate programs and partnerships to maximize their business goals. The CSEP partners help reduce the noise and distractions of an Olympic and Paralympic year so their athletes can focus on the competition at hand.
Of course, because of the pandemic, these athletes are facing an unprecedented situation in trying to prepare for Tokyo.
"They haven't been able to compete," Kirkpatrick said. "They can train, but that's not the same. Usually, they'd be in competitive mode once they arrive. That's a hard thing to replicate."
The firm's criteria for choosing athletes it hopes to represent includes whether they possess a unique story, whether CSEP can help them tell that story and whether they are likely to procure solid business opportunities. On the other side, why do Olympic and Paralympic athletes choose CSEP?
"We're not the biggest agency, so we spend a lot of time with our athletes," said Kirkpatrick, who works with partners Patrick Quinn and Jeannie Goldstein to best position their clients. "If they want to get into public speaking, we have a whole course so they can become better speakers. And we'll help them write their speeches."
After graduating from Deerfield Academy and then Middlebury College, Kirkpatrick procured an internship with Kemper Sports in the mid-1980s. He turned that into a full-time position by the time the PGA Championship arrived at Kemper Lakes outside of Chicago in 1989. He started becoming heavily involved in events in Hawaii, such as the Women's Kemper Open and the Maui Basketball Tournament. Amid Chicago's quest to land the 2016 Summer Olympics and Paralympics – a strong bid that was bested by Rio – Kirkpatrick co-founded the firm which specializes in Olympic and Paralympic competitors.
In terms of finding brands for athletes to represent, Kirkpatrick said the 12-18 months before the Games is the key time to pounce, as companies are diligently assessing athletes' rankings. For the competitors CSEP will represent during the 2022 Winter Olympics in China, for example, those deals have been struck. For the Tokyo Games, CSEP secured pacts for Ashleigh Johnson with big names such as Ralph Lauren, Comcast and Jolyn.
CSEP also represents former athletes such as track-and-field star Jackie Joyner-Kersee and gold-medalist swimmer Janet Evans, whom the company brands as Legends.  Even though they don't compete anymore, they share their insights on the experience of the athlete village, what it's like to represent your country and more during corporate meet and greets, with the media and with spectators. Kirkpatrick pointed out that "active athletes will not have time to engage with fans like Legends can," though unfortunately they won't be able to travel to Tokyo this summer because of COVID-19 restrictions. Joyner-Kersee will conduct interviews with news outlets from her home.
In fact, none of the three partners will be able to go to Tokyo. In the past, Kirkpatrick has usually chosen to attend the Paralympics, like when he watched the Armless Archer transfix the crowd in London.
"The most amazing thing is that when you are at the events and the crowds are cheering and the athletes are competing at the highest level under incredible stress, you don't even think about what their 'disability' is — you are watching great sport," he said.
The Sporting Life columnist David A. F. Sweet is the author of Three Seconds in Munich, an in-depth look at the most controversial sports finish of all time amid the backdrop of terrorism. E-mail him at dafsweet@aol.com.