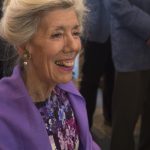 BY JUDY CARMACK BROSS
"The world was our oyster until we found ourselves trapped inside the shell," explains Jenni Gordon, author of 151+ Nights, an international cookbook and guide to how one family gloriously took on the pandemic with love, creativity, and music from around the world.
Gordon's "shell" was Spring Creek Farm, a 150-year-old farmhouse in Three Oaks, Michigan. Extended family members were her companions, favorite recipes and new ones gleamed from around the world served as her remedies, and music from reggae to bullfight marches filled the air.
"Some nights I cooked for four, some nights for eleven. On March 17, the first day of shelter-in-place, I ran to the grocery store to fill my freezer, pantry, and larder. Soon after, we decided to move to our farmhouse. I planned, I shopped, I defrosted, I marinated. I poured through old cookbooks and scoured cooking websites. Thus my project began," she recalls. "Our family traveled the world without leaving our dining table."
Together Gordon and her family travelled gastronomically from Shanghai to Salamanca, China to Casablanca, Morocco to Gstaad.  They hit every corner of the United States, hitting destinations like New Orleans, Honolulu, and even a stop at the Badlands. Past vacation fun, new tastes, and musical selections always insured that terrific conversation flowed: "When I chose Pete Seeger music, we had the chance to talk about social justice. It was wonderful having that time together."
"When we realized that we would be sheltering in place, Three Oaks sounded like just the right spot for our family," Gordon shares. "I love to cook and had a collection of spices like fennel seeds and ground sumac, which I brought along. We grew many things in our garden including herbs, tomatoes, and arugula, and Barney's Market in New Buffalo is a great place to shop." Gordon delivered something delicious and different every single night while still a full-time realtor in Chicago (and having a banner year to boot).
The vintage record player at the farmhouse was put to good use, along with her iPhone, inspiring culinary creativity: Gladys Knight & the Pips accompanied shrimp and cauliflower grits while Maurice Chevalier crooned to the Coq Au Vin. Polka played while everyone ate stuffed cabbage. Gordon put on bluegrass when she served her favorite fried chicken recipe. Gordon kept a sampling of musical genres and gastronomical offerings on heavy rotation.
Her parents and children joined the dinner table frequently and loved the photos she shared from their international travels as they toasted their fond vacation memories, often contributing ideas and pitching in with the prep work for these meaningful meals.
More than cookbook, the result is a celebration of its participants, including her grandmother, with Persian roots, and her tap-dancing, song-writing father, Allen. The book includes photos of the eaters as well as what Gordon refers to as "the real list," a handwritten record of menus and music, starting with salmon with blueberry chili and asparagus from Chengdu, Szechuan, China, accompanied by the Chinese Youth Chorus.
But Gordon's book was not the end of it all. She recently hit night number 294 in her quest to have 365 nights in all for her ambitious project: "I sometimes get stumped now because I don't want to repeat music or a location. Several nights we did order out for pizza. And no, I don't think there will be a second book," she says. Most of all, Gordon simply wanted to bring a little joy every day to her family over the past year.
Through her cookbook, she shares much of this joy with its readers, through the personal commentary accompanying many of its recipes. Here's a favorite:
In 2009, my parents took all of us to China. It was the first of many great adventures. We were together for breakfast, lunch, dinner, and in between. We had one argument (mea culpa). Tonight, we had the sounds of Mulan to remind us that we are all warriors.
On Night 101 they "traveled" to London, listening to the soundtrack of 101 Dalmatians, doing their best Cruella De Vill We all did our best Cruella De Vil impressions. "As the sun set, we heard the sound of the train pulling through town, which was followed by a loud pack of coyotes. Perhaps they were sounding the Twilight Bark," she laughs.
Gordon is selling 151+ Nights: How We Travelled the World and Fed Our Family's Soul During the Pandemic for $35 with all proceeds going to the Lakeview Pantry. If you would like a copy, please donate $35 in Jenni Gordon's honor to the Lakeview Pantry, then text Gordon with your shipping address at 847-778-0359.
Follow Gordon on Instagram @EatListenDream.