By Stuart Dyer
Stuart Dyer wearing a 1970s Lily Pulitzer skirt with a print designed by Suzie Zuzek
What comes to mind when you think of the Lilly Pulitzer brand? Most likely it's their instantly recognizable vibrant and colorful prints. But do you know who was responsible for creating that signature look? Surprisingly not Lilly Pulitzer as you might expect but a relatively unknown Key West artist named, Suzie Zuzek (1920-2011). The wonderful, whimsical prints that the brand is known for sprang from Zuzek's fertile imagination. It could be argued that Zuzek was responsible for creating the iconic "Lilly look" – one as recognizable as brands such as Pucci or Chanel. However unlike Pucci and Chanel, the designer of the signature look for Lilly was unknown. For a quarter century, Zuzek created the vast majority of the prints that defined the Lilly Pulitzer brand. Unfortunately, Zuzek was never recognized for this. The Smithsonian's Cooper Hewitt Museum in New York had scheduled a retrospective of Zuzek's textile designs for Lilly Pulitzer for this past Spring but it has had to be postponed due to COVID-19. It will most likely open in the late Fall or during the Holiday season.
Zuzek's painting for the print, Maggie 1973
Zuzek was born in 1920 on a dairy farm in Gowanda, New York. As a child she loved to draw and this carried on throughout her teen years. Eventually she went to college for illustration and textile design at the Pratt Institute in Brooklyn, NY. Upon graduating, Zuzek was hired by the New York textile company, Herman Blanc where she created fabrics for dresses as well as for the home. In 1955 Zuzek moved to Key West, Florida with her husband who was a Key West native. Once there Zuzek continued to design for Herman Blanc on a freelance basis but unfortunately she became separated from her husband and needed to find more work. As fate would have it she was introduced to Peter Pell and Jim Russell the owners of Key West Hand Print Fabrics – a silkscreen printing company in Key West. The two were looking to hire a textile designer. Until that point Pell had been designing the fabrics but neither he nor his partner Russell had a background in textile design or fashion. They were theater transplants to Key West from New York City who had fallen into the ownership of Key West Hand Print Fabrics. The pair was thrilled to meet Zuzek and hired her. Almost instantly Key West Hand Print Fabrics was transformed and selling whimsical, brightly colored printed fabrics. Zuzek's designs reflected the vibrancy and the natural life of the Keys.
Suzie Zuzek drawing 'All Florida II' in the late 1960s
Not long after Zuzek was hired, Lilly Pulitzer who had recently started a business in Palm Beach making dresses out of colorful fabrics from the five-and-dime store came to Key West. Once in Key West, she happened upon Key West Hand Print Fabrics and instantly fell in love with Suzek's textile designs. Lilly placed an order for fabric – the largest order Key West Hand Print Fabrics had ever received and upon her return to Palm Beach, she doubled it. The dresses made out of Zuzek's prints were such a success that Lilly never looked back and became Key West Hand Print Fabrics biggest customer – sourcing all of her prints there from 1962 – 1985 and eventually acquiring a 51% share of Key West Hand Print Fabrics. Every season, Zuzek created piles of drawings for Lilly to choose from. Lilly's name was then incorporated into the ones she chose. The designs that Lilly did not choose were printed for Key West Hand Print Fabrics' own line of apparel and fabrics.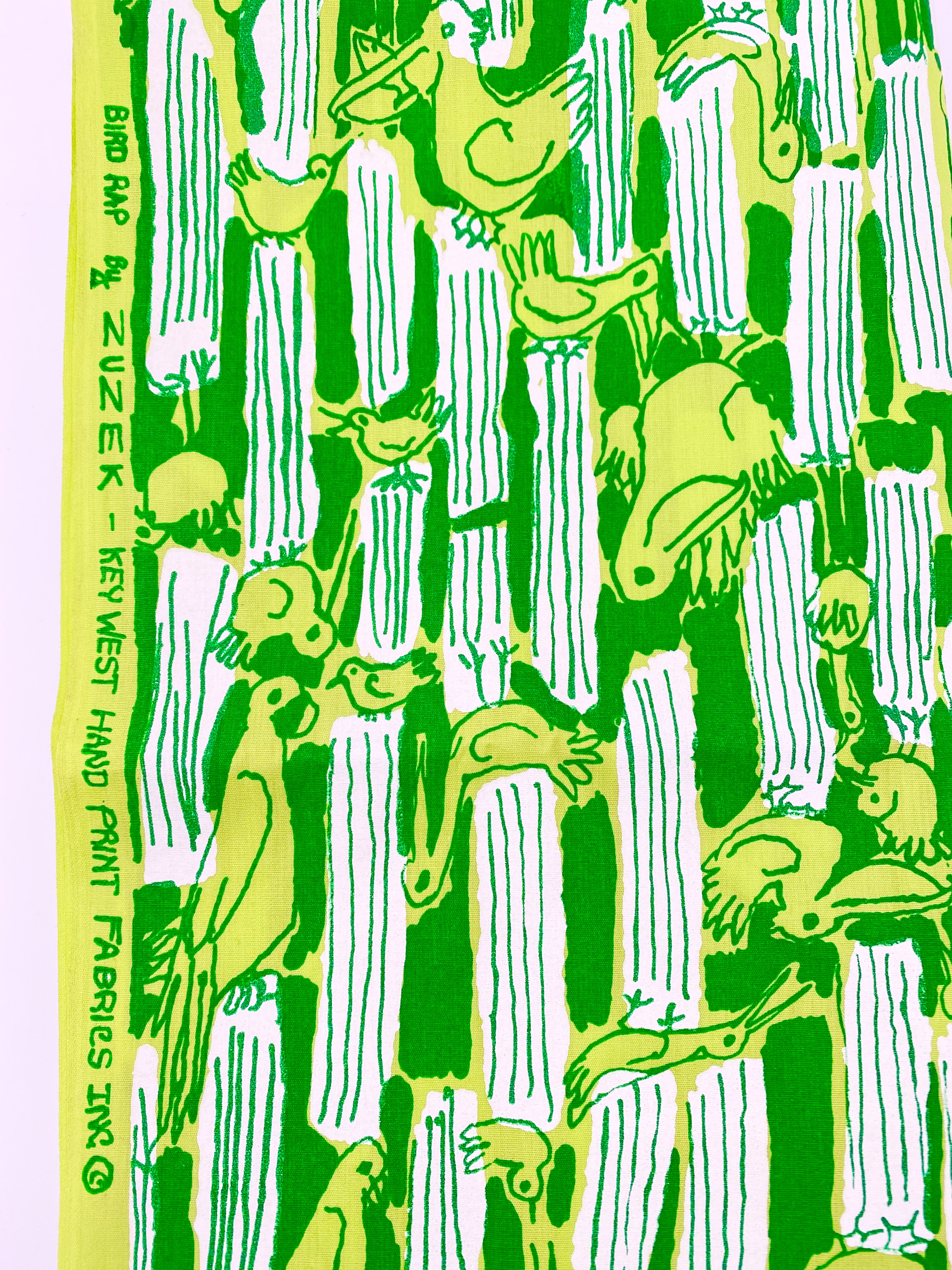 Fabric from Key West hand Print Fabrics signed, 'Bird Rap by Zuzek' in the selvedge
Key West Hand Print Fabrics' workroom with three sixty-yard silkscreen tables, 1960s
Lilly Pulitzer dresses were worn by Lilly's socialite friends and first received mention in the press in the Society columns. The biggest boost to the label occurred when Jackie Kennedy was pictured several times in the press wearing Lilly Pulitzer shifts. Women everywhere clamored to get their hands on these dresses which could only be purchased in Palm Beach or a few other exclusive resort spots. The dresses conveyed a sense of status and of being in the know. At the same time the dresses seemed revolutionary/new. They were the antithesis of the more formal dresses that the generation before Lilly would still have been wearing – structured dressed that required the wearer to wear a girdle, stockings and a slip. The Lilly shift was lined and cut straight so that undergarments such a a girdle or stockings were not required. The prints also reflected a movement towards the new. They were whimsical and colorful, sometimes acidly bright and in step with the counterculture movement. As the fashion historian, Caroline Rennolds Milbank said, "The Lilly style could swing both daring and conventional simultaneously, which is highly unusual."  
Jackie Kennedy wearing a Lilly Pulitzer shift made with Zuzek's 'Polka Daisies' print, 1962
Wendy Vanderbilt (right) and a friend wearing Lilly Pulitzer photographed by Slim Aarons 1964
Men also embraced the Lilly look by wearing Lilly's Men's line called, Men's Stuff. Lilly mostly chose Zuzek's animal prints for the Men's Stuff line and it too reflected a bit of a rebellious spirit. Formerly conservatively dressed men were suddenly seen on the social circuit and out and about at places like the golf course wearing crazily patterned jackets, trousers, knit shirts, ties and bathing suits.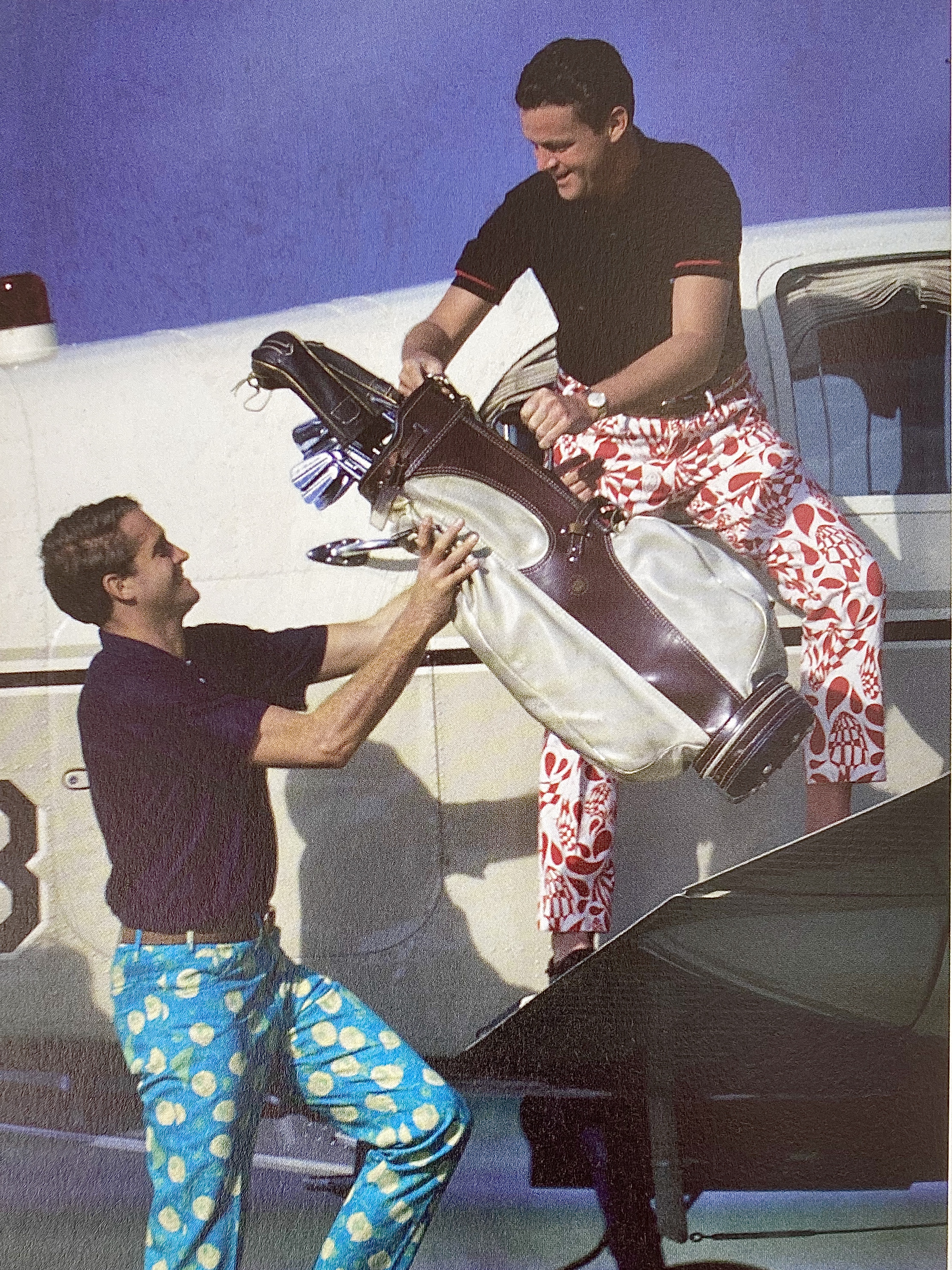 Two men wearing Lilly's Pulitzer Jeans on the tarmac, 1967
Zuzek's painting for the print 'Daisy Zoo,' 1972
Using Zuzek's prints, Lilly had successfully created an entirely new and iconic look. Resort wear was born and Lilly Pulitzer was recognized as the first American resort wear brand. Lilly Pulitzer offered resort wear all year long and Lilly was famously quoted as saying, "It's always Summer somewhere.
Jacqueline Bisset wearing Zuzek's 'Lilly's Creatures' printed on a suede tunic for the August 1969 cover of Vogue
The popularity of the Lilly Pulitzer line lasted a long time. However in the 1980s people's tastes started to change. They wanted to wear clothing made out of natural fibers, earth tones and embraced shoulder pads. The Lilly look become out of step with the times. In 1984 Lilly Pulitzer Inc filed for Chapter 11 and sold off it's largest asset, Key West Hand Print Fabrics. Zuzek decided to retire from textile design and focused full-time on her art. She created sculptures, painted tiles and painted wood panels.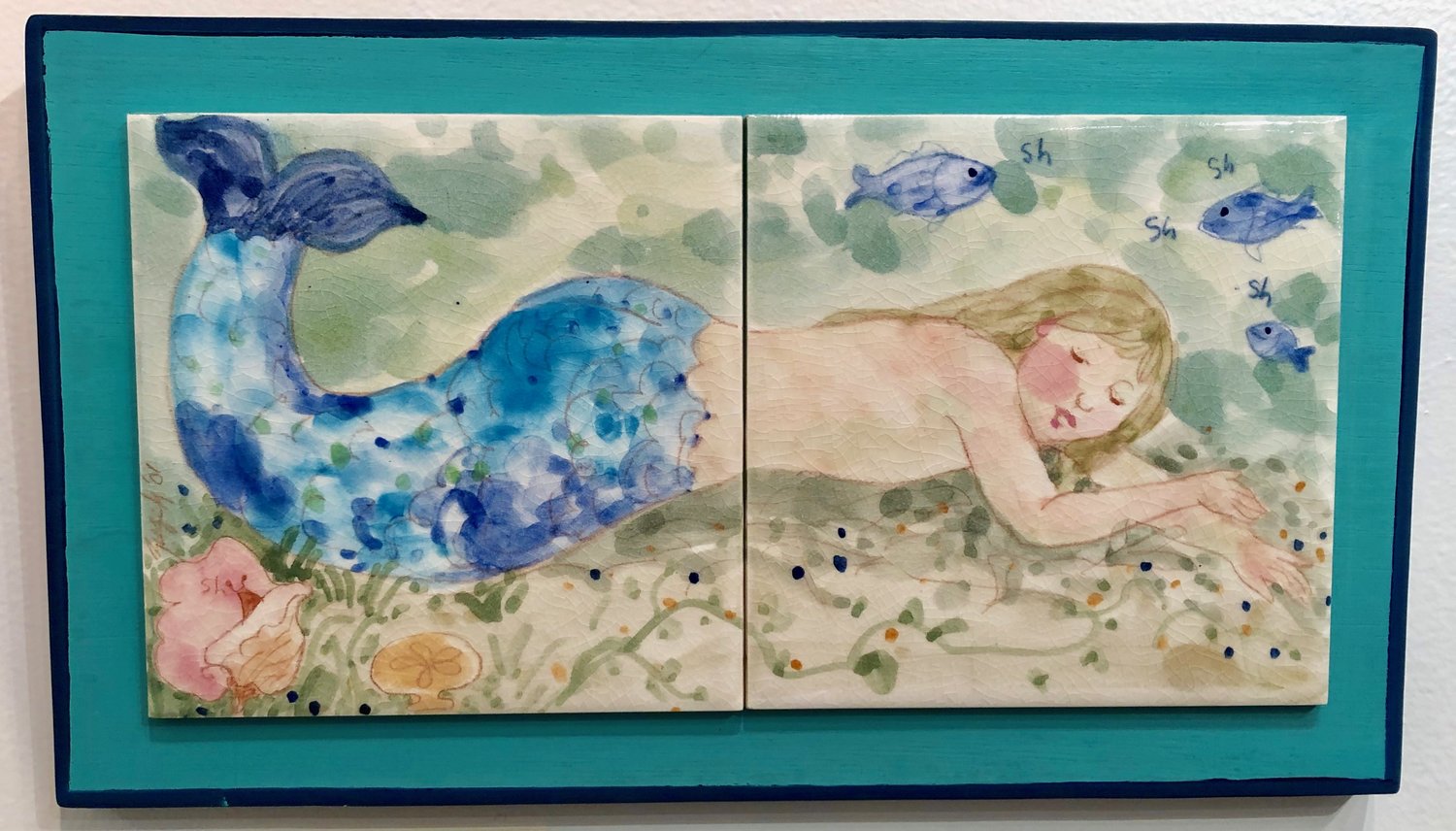 Painted tiles on wood by Suzie Zuzek
Painted wood panel by Suzie Zuzek
Unfortunately Zuzek died cash poor and unrecognized for the work she had done to help create one of the most iconic American brands. She never received what she considered to be adequate compensation for all of the years she spent creating designs for Lilly Pulitzer. Zuzek tried for a long time to request royalties for her designs but she never received anything but her base salary. This is truly tragic as despite being primarily anonymous, Zuzek has been one of the most avidly collected American textile artists of the second half of the 20th century and contributed hugely to the success of the Lilly Pulitzer brand. I hope that once COVID-19 is over, that the Cooper Hewitt Museum will be able to resume its exhibit on Zuzek and that she will gain some of the recognition for the major role that she played in the history of fashion.