By Wendy Wood-Prince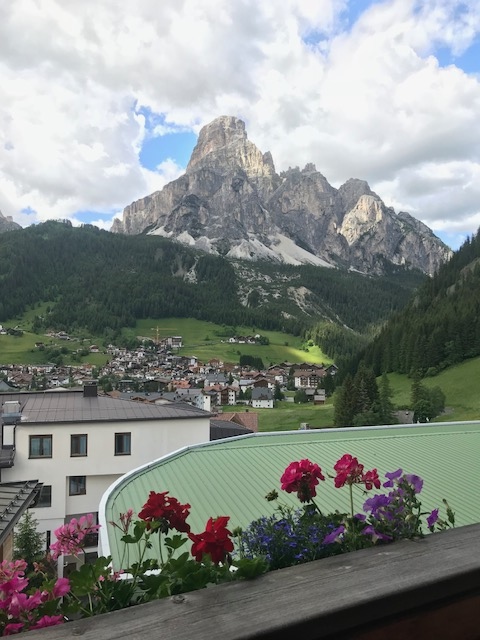 One of the best things about being in the travel industry is the opportunity for perpetual exploration. The world has endless places to see and life and landscapes beyond imagination. This summer I had the opportunity to experience stunning Italy, courtesy of Lake Forest Travel Bureau and a company called Waterstone, which represents various hotels throughout Italy.
One of a small group of eight, we met at the Venice's Marco Polo airport, boarded a small van and headed up into the Dolomite mountains. The roads quickly become narrow, winding and the scenery more and more spectacular as each kilometer rolled by, and I confess my head was bobbing with jet lag as I fought to stay conscious but the crisp mountain air and cerulean blue skies snapped me out of the haze. We were headed to the village of Corvara, located at the base of Mount Sassongher. Corvara was the birthplace of winter tourism in the area and the first chairlift ever constructed in Italy. With 130 kilometers of ski slopes for skiers, snowshoeing and winter hiking available, the town looks like it came straight out of a snow globe. There is a famous ski run called the "Hidden Valley" that has a long, flat base where you can pay a few Euros to have a horse and sleigh drag you 1.5 kilometers back to the chairlift.  And though winter sounds amazing in Corvara, I digress, as we were there in the summer.
Bartenders at the ready in the cozy Hotel La Perla bar.
Summer in the Dolomites is equally stunning. There is plenty of hiking, mountain biking, road biking and e-biking to do! The mountain streams are flowing with the freshest water I've ever tasted and green, grassy vistas are abundant. We arrived at Hotel La Perla, located in Corvara for a few nights. The Austrian influence is everywhere in the area and it might be easy to forget that you are still in Italy,  even at Hotel La Perla the Austrian influences are abundant. Family owned, the hotel itself looks like a Swiss chalet and the staff wear authentic Austrian style uniforms. The rooms are extremely comfortable and the attention to detail and personal touches are abundant. Two perfectly crafted, homemade cookies placed on a plate and covered with a small glass cloche awaited my arrival in my room. Warm wool blankets were outside on my balcony to ward off any mountain chill while taking in the amazing mountain view and the staff is attentive but not cloying.
Hiking in the foothills.
Sleep came easily the first night, the combination of the time change, jet lag, a delicious and meticulously prepared dinner and breathing the crisp mountain air, knocked me out before my head hit the pillow. Morning came quickly and we all met Marco, Hotel La Perla's resident summer guide, for our days' excursion, a hike in the foothills of the Dolomite mountains. We loaded into the hotel's vintage van, nicknamed the Dolomiti express, and headed up the mountain. We arrived at what could be best described as the set for The Sound of Music, bright, grassy fields slowly undulating in the breeze with wildflowers tucked into every rocky corner, backed by tremendous rocky mountains and piercing blue skies. The hike itself was literally and figuratively breathtaking, we were huffing and puffing as Marco regaled us with stories of history and war from the region, stopping to show us a particular flower or a bullet he found from the War to end all Wars. Some of the most treacherous and brutal battles of World War I took place in the Dolomites. Stone fortresses that held cannons or housed soldiers are still evident, and I couldn't help but feel some solemnity for such a peaceful place where marmots scampered but which had once been a place of massive suffering and death. We stopped on a beautiful spot that looked out over many valleys and ate a picnic lunch. Chit chat was minimal as the beauty of the place and the evidence of a long past war was much to soak in. After lunch we made our way slowly down the rocky paths and grassy fields. This walk was made all the more fascinating due to Marco's encyclopedic knowledge of the area.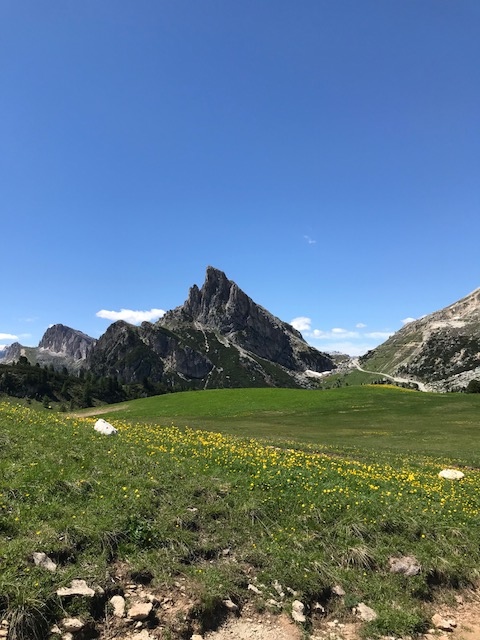 The stunning Dolomites.
That evening we ate at the Michelin star restaurant located in the hotel called La Stua de Michil. The Michelin Guide says "It would be no exaggeration to describe this restaurant as one of the most romantic in Italy – the traditional wood furnishings add a charming, intimate feel to the Stube-style dining rooms". The restaurant is made up of various dining rooms and nooks so that each table feels intimate and cozy. The food was amazing and delicious and of course, the wine pairings were perfection. From our salad of fennel, yogurt and cherries to black rice, wild ruchetta (arugula) tuna and goat cheese, the menu went on and on with inventive deliciousness. We also had the privilege of a window into the kitchen so that we could watch as the preparations were made and the chef rang a little bell each time a course was ready to be brought by our servers.
Historical chapel Corvara.
After another amazing sleep, we gathered for a day of E-biking. Let me just say that the phrase "just like riding a bike"  doesn't exactly translate when it comes to E-mountain biking with literal mountains, streams, rocks and gravel combined with a four speed motor and 12 plus gears!!! With crisp and throaty Germanic accents our local guides, Gino and Barbara showed their strength in patience as we learned the E-biking ropes, with a fair amount of crashing, falling and general spastic riding!  Once "mastered", we whizzed through fragrant pine forests and crossed wooden bridges over gurgling streams. Gino would pull over at a trough in a forest with fresh mountain water flowing into it. he encouraged us to drink as he showed us different plants and explained which ones to make tea from to drink for various ailments and which ones just smelled good. We stopped in a village called San Cassiano for a lunch of pasta and champagne on the sunny outside deck of a hotel called Armentarola. After lunch we took our sore and slightly bruised bodies and headed back to Corvara. A challenging but thoroughly enjoyable day!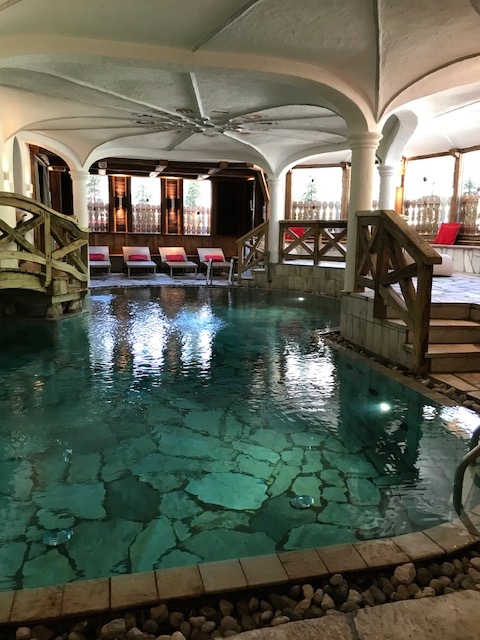 The glassy pool in the spa at the Hotel La Perla.
That afternoon we enjoyed spa treatments and swimming in the extensive hotel spa area which includes a sauna, treatment rooms, a even a kneipp which I had never heard of but of course, had to try. A kneipp is a knee deep pool shaped in an oval and divided into two sides. One has very cold water in it and the other hot water and the idea is that you walk in a clockwise direction through the cold water and then the hot and this stimulates circulation. The cold water was VERY cold!! It was a relief for my weary legs after all of the mountain activities.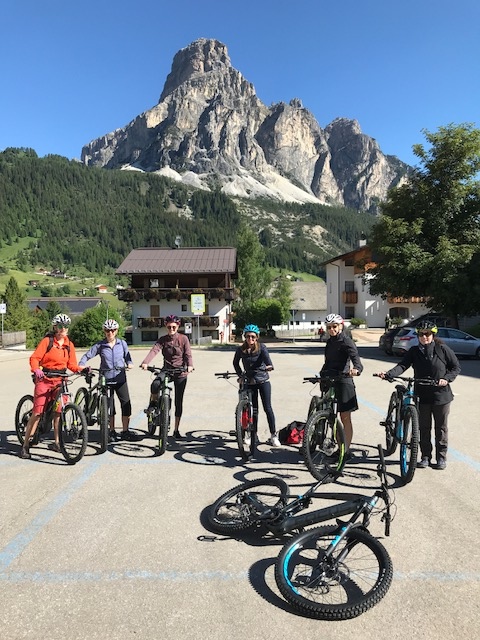 Getting ready for E-biking.
The evening brought another fabulous dinner at the casual restaurant at the hotel called O'steria L'Murin. We ate spare ribs and delicious bean soup and drank homemade blueberry grappa. The Dolomites delivered a wonderful summer escape filled with fresh air, breathtaking scenery and wonderful hospitality.
Stunning scenery around every bend.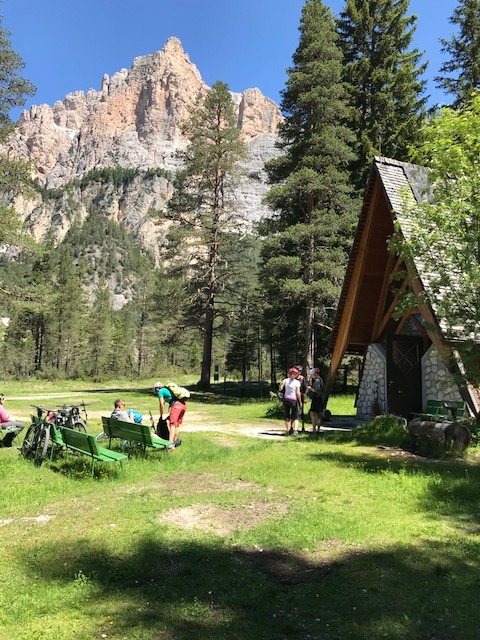 Get the Worldwide connection through Wendy at Lake Forest Travel Bureau's lakeforesttravel.com.