BY JUDY CARMACK BROSS
"I have always loved the old fairy tales, the magical," says Chicago designer Summer Thornton, author of the recently released Wonderland, encouraging us to "fall down the rabbit hole" and create fantasy living.
Since Wonderland's spring release, it has been a design coffee table treat of a book, inspiring adventures in decorating.  Whimsical textiles, surprising patterns, wallpapered ceilings, secret gardens, and a plethora of pop art—all Thornton favorites—illustrate how she blends sophisticated interior design with lighthearted creative elements.
Thornton says that her philosophy is simple: "Do what you think is right. Don't ask 'what am I supposed to like?' Just do what you like instead. The best ideas are sparked not out of necessity but out of pure imagination. Allow yourself the freedom to create. It is your home."
She continues, "A lot of people look at decorating in a very functional way. Moms of very young children place practicality as a top goal. That's understandable. But I encourage my clients to start with an image, dream, or story that tells of the environment that you want to create."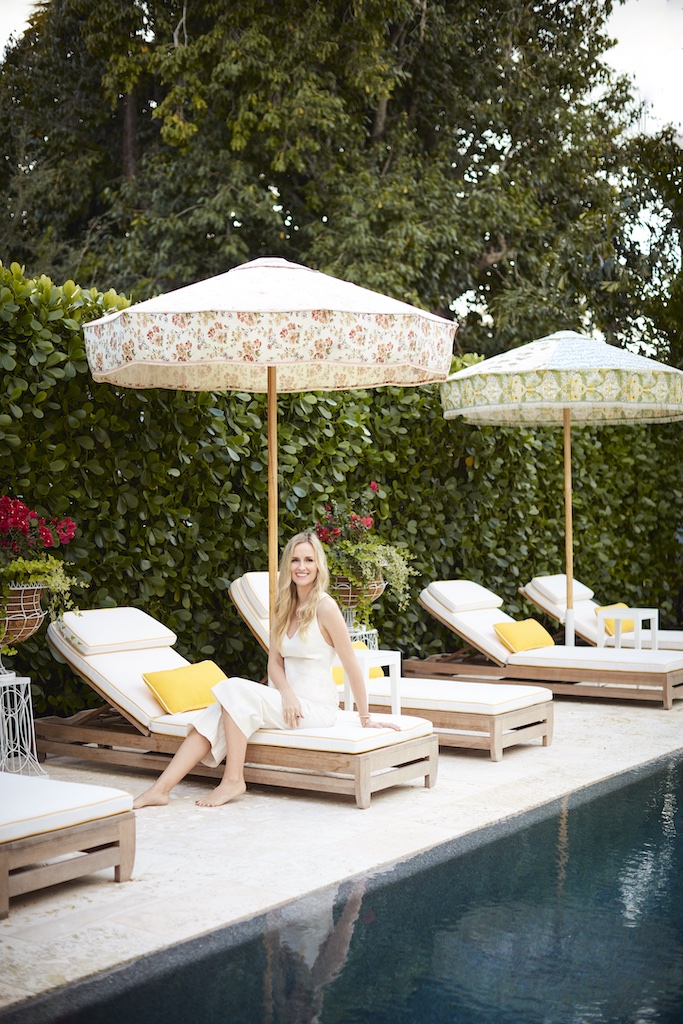 Thornton, who does residences and high-end vacation and rental properties around the world, explains that most of her current projects have been taking her out of Chicago to both coasts (with properties in San Francisco and Florida), up to Michigan, down south to Atlanta, and all the way to Mexico (her own home). She says, "Freedom, frivolity, joy, abandon: these are the things that influence my design of vacation homes. My clients are perhaps more open to possibility with them rather than anywhere else."
But her book starts right here in the Windy City with own Victorian in Lincoln Park, which she says reflects her romanticism (Wonderland is dedicated to her husband and business partner Josh Thornton). Using a soft pink she remembered from an ancient house on a Venice canal, Thornton accentuates her living room with fresh flowers, shells, coral fans, and other items of nature, a love since her childhood: "That's the romantic side of me, but the incredible paprika sofa with lilac fringe, that's my fearless side."
"As a child I was never really content with normalcy or everyday life, so instead I concocted ways to make it more fantastical," Thornton writes, describing how she loved to make the bluebell-filled woods close to her house a personal dream world. "As an adult, I am still that same person. I don't take myself too seriously. I draw inspiration from the imaginary world and help my clients do the same thing."
Right now Thornton is building a modern house around the tradition central patio tradition."It is built with chukum, the ancient Mayan stucco which revives the technique of mixing in resins to make a sort of living plasters," she explains. "We chose a warm shade of pink. I have always wanted to combine the shades of pinks, greens, and oranges, including jade and cactus greens and tangerine."
She says she is proud to be known for her passionate mixes of vivid color: "I think that's my superpower. My color choices stir things up and inject energy and a joie de vivre into every room."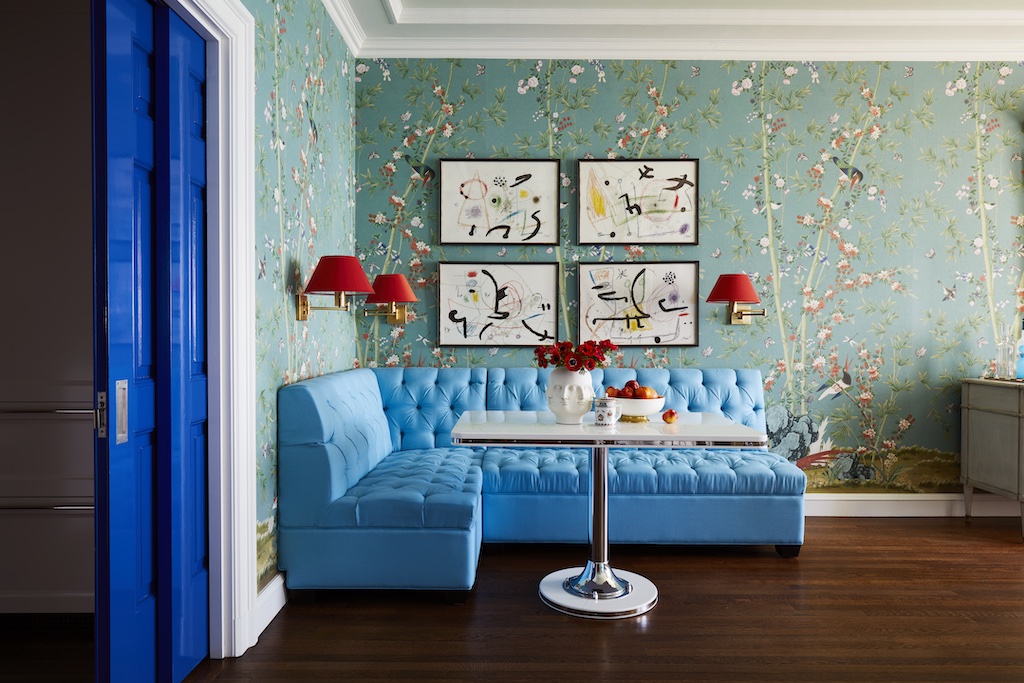 Many vibrant colors radiate throughout Wonderland. Thornton provides sage advice on how to make a bold palette work: "There are so many patterns and palettes. Step back from your project and ask 'what color should I paint my walls?' Collect on Instagram and from magazines 150-200 images that you like, and see what colors are repeating. If orange or whatever color doesn't appear, you probably don't want to consider that color."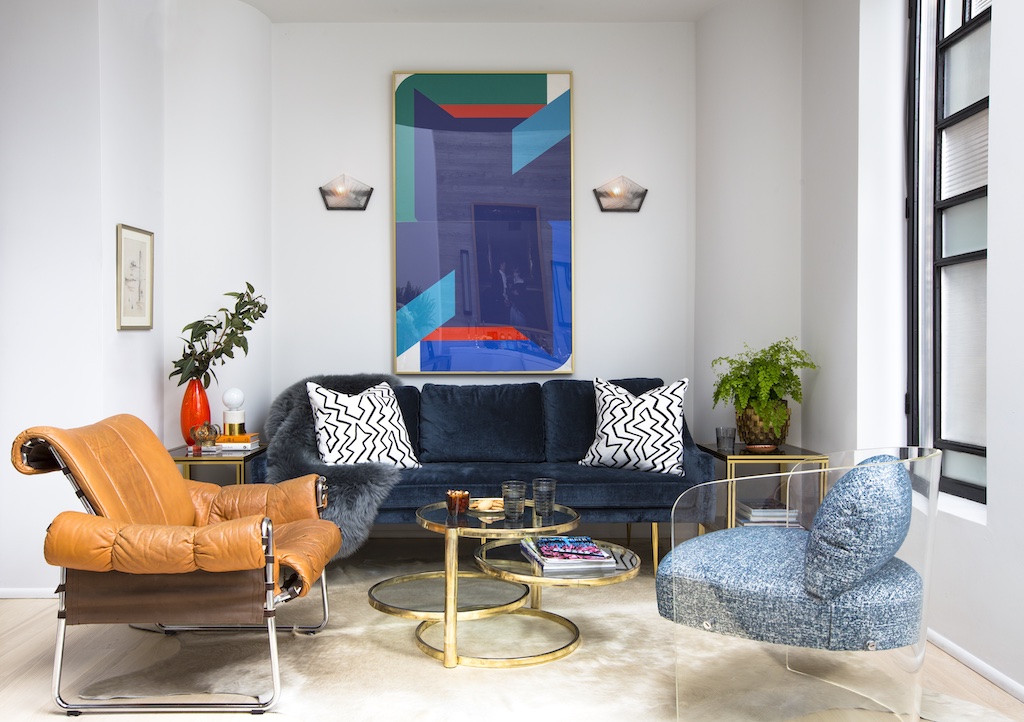 She also lends wisdom on mixing not just colors but styles and eras. "I love mixing things up, portraiture with pop art, which somehow brings the dead back to life," she writes. "I use vintage pieces as liberally as possible because they really grab you. They take you out of the ordinary and out of your comfort zone to a place in time when people thought differently. It it's old, I fall hard."
Thornton says that little things like pillows can make an impact, and a great place to mix together a variety of prints. She suggests a classic old-world chintz with a traditional Scalamandre tiger and a Thai batik fabric to loosen things up.
Though she designs with a sense of whimsy, she does have her boundaries, compiling together a list of decorating don'ts:
You don't have to have white cabinets to have a bright kitchen. 
Don't just accept today's form of casualness. For some of my clients, only the utmost in formality will do: silver leaf ceilings, gilded mirrors, silk velvet, and china on the table every day. I am proud to bring artisanship back, filling these storied homes with hand cast metals and mouth-blown glass.
I'm not a fan of islands in kitchens. They have become so ubiquitous that they can be obnoxious and often look bulky. I prefer a larger table for the family to gather around because it feels airier and less permanent. It brings back an intimacy to the kitchen which an island tends to steals away.
Her family's favorite spot to gather is just steps away from their kitchen, in a secret downstairs garden. This has also become a go-to spot for bringing friends together to celebrate: "When I host, I like to think that I am telling a story or setting a stage for a movie. I want my guests to enter a different world. I once had a Midsummer Night's Dream party. I covered the tables with moss, we all wore floral headpieces, I placed candles everywhere. A tattooed harpist with blue hair played ethereal music from the balcony above the garden."
This storybook imagery and sense of magic is woven through Wonderland, also reflected in a favorite quote from Lewis G. Carroll's Through the Looking Glass: "Why, sometimes I've believed as many as six impossible things before breakfast." Thornton makes the fairy tale come to life with her interiors, turning blank pages and blank spaces into settings where you can create your own stories.
To learn more about Summer Thornton's work, visit summerthorntondesign.com.