BY JUDY CARMACK BROSS
L'apéro! Short for aperitif, l'apéro says "happy hour"—made even happier by the Alliance Française through their upcoming Plein Air Concerts series. Picture an intimate walled garden, music drifting through the air, and a crisp glass of wine at your table. These outdoor gatherings are sure to be this summer's most enchanting.
On July 5, experience French jazz singer, harpist, and composer Isabelle Olivier and Nathalie Colas, a soprano from Strasbourg, performing Baroque and French impressionist melodies and chansons by Josephine Baker and Kurt Weil, intertwined with new and original compositions by Olivier. Return to the garden July 12 for Olivier taking her place back on the stage, this time with jazz percussionist Ernie Adams.
In between the first two concerts of the series the Alliance hosts two Bastille Day celebrations on July 9, put on by their Professionals Group.  A family party, featuring bubbles and balloons, begins at 3:00 p.m. and is followed by a celebratory soiree that evening chaired by Ivan Gutierrez, Jess Quilling, and Shekinah Thornton. The evening is capped off by the singing of the French national anthem, "La Marseillaise," with opera star Sam Rubin.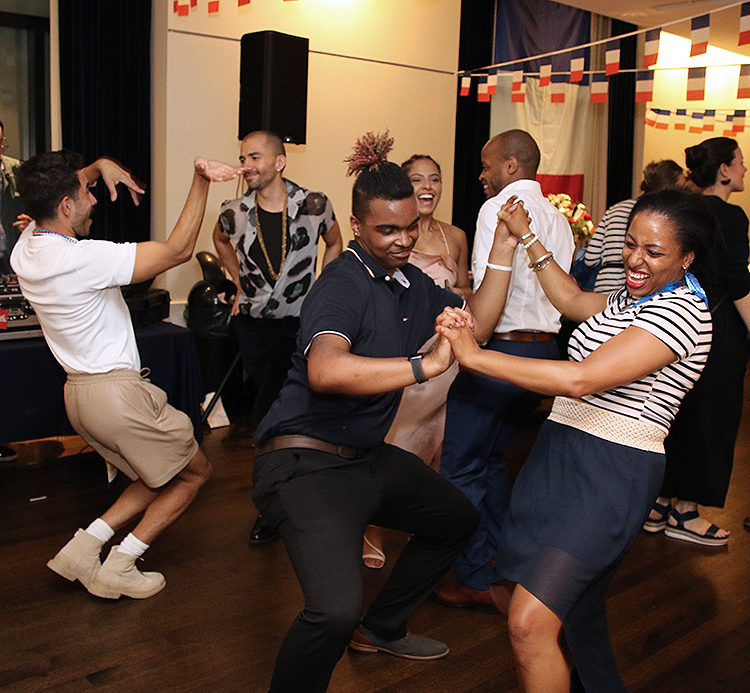 Plein Air performances continue with the formidable Greta Pope and talented guitarist Curtis Robinson on July 19. The special friendship between composer Cole Porter and Paris Club owner Ada "Bricktop" Smith will be told in song August 9 by Pope and pianist Paul Cosino (Bricktop taught him to Charleston, and he wrote "Miss Otis Regrets" for her).
The hour-long concerts end on September 20 with Nathalie Colas and Eugenie Cheng spotlighting French melodies by female composers. All begin at 6:30 pm, following a chance to savor l'apéro at 6.
Alliance Executive Director Mary Ellen Connellan captures the mood for us: "This past Tuesday my husband, Kevin, and I had the pleasure of enjoying une soirée de jazz with the remarkable chanteuse Greta Pope. Nestled in the jewel-box garden of the Alliance we savored the music, sipping perfectly chilled rosé while sharing a café table with dear friends David and Libby Horn."
She adds, "There are more concerts to come that feature extraordinary musicians in a relaxed setting doing what they do best: performing to an appreciative audience."
The concert series was first forged in the fall of 2020, when only outdoor events were sanctioned. David Horn, who chairs the Alliance Board, and wife Libby volunteered to turn the outside space at their Chicago Avenue headquarters, into a boxwood garden with urns of beautiful flowers.
Aimee LaBerge, Alliance Program Director, beautifully brings it to life: "There is a beautiful big tree in the middle, which provides shade and cools things off. With a cold French rosé, nuts from the South of France, and music with a French connection, it is a very pleasing l'apéro."
For further information about the Plein Air Concert Series and Bastille Day at the Alliance, visit af-chicago.org.