BY JUDY CARMACK BROSS
The pop of blazing hues, the pulse of jazz beguiling you, and the audacious joy of fashion from the 1970s and '80s at the Chicago History Museum gallery show us why so many are wild for those disco decades. The museum's just-opened "Treasured Ten" exhibition, gives us two creations each from five celebrated designers: Stephen Burrows, Scotty Piper, Barbara Bates, Patrick Kelly, and Willi Smith. Never before exhibited by CHM, the garments chosen from the collection's more than 50,000 pieces, weave story threads of celebrities dressed, Chicago places changed by their great talent, and roots of street clothes woven in with the designers' own stories.
Collections Manager Jessica Pushor, along with Charles E. Bethea, the Andrew W. Mellon Director of Collections and Curatorial Affairs at CHM, curated the exhibition, which is sponsored by the Museum's Costume Council.
"The clothing we wear and the styles we embrace often reveal what we value and what we aspire to, ultimately helping us understand ourselves and examine the world in which we live," Pushor explains. "The garments are expressions of their creators' experiences and identities. Dressing celebrity clientele as well as everyday people, they produced engaging, conscientious, and stylish designs while contributing their own perspectives to fashion."
"The actual clothing has signs of the times as well. A Burrows piece has a sweat stain—there was lots of disco dancing going on," she laughs. "A Scotty Piper suit still has a hint of his cigar."
Chicago designer Barbara Bates, known for dressing "the tall boys," as she described Michael Jordan and other athletes in her leather creations, was present at last week's exhibition opening. She and Burrows are the only designers in the show who are still living—both Kelly and Smith sadly died young from complications related to AIDS (Smith has a panel in the original NAMES Project AIDS Memorial Quilt).
A vibrant coral suit worn by influential Chicago executive Barbara Burrell, designed at Bates's boutique on Indiana Avenue near McCormick Place, graces a mannequin along with another suit designed for her. Photos nearby show Bates with Jordan as well as rapper MC Hammer in a Picasso-inspired sweater she designed. Bates is still going strong. During the pandemic, she was asked by the city to create 250,000 reusable silk and leather masks.
Born in Vicksburg, Mississippi, Patrick Kelly was a Francophile who loved the buzz of Paris and called it his domain. One of the most eye-catching items in the show is a glove-fitting gray dress with lipstick red sequins, which he designed for Bette Davis's last appearance on the David Letterman Show. His other creation is a beautifully fitted women's cotton suit, circa 1988, shown in detail below.
For a time, Kelly was a professor at the International Academy of Merchandising and Design in Chicago. He deliberately grappled with the images of systemic racism, translating them into blatant commercial statements. He was a cult figure during his brief career, tragically ended by AIDS in 1990.
Among the photos that accompany Willi Smith's designs is a one of Smith with his sister and frequent model, Toukie Smith, who also modeled for Kelly. The tapered trousers and sweaters paired with sneakers that he did for WilliWear reflect his pioneering street couture. Smith was considered to be the most commercially successful Black American designer of the 20th century.
"In 1983 he began concentrating on that combination of leisure and sportswear considered street couture. Throughout his career, he strove to do really good, well-designed basics. These weren't showy or made to show how clever the designer was, but to focus on you, the wearer," Pushor reveals.
One of the most fascinating designers in the show is Scotty Piper, who created a fashion empire from his tailor shop at 47th Street in Bronzeville, where he worked for 50 years. "He was the go-to guy for young black men's graduation suits.  Harold Washington bought his from Piper," Pushor says. "Piper loved to dance in the Bud Billiken parade, and it is fascinating to look closely at a suit he designed for himself. The stripes go inward as he creates a princess dart which gives more of a slim waistline. It is beautifully tailored and is almost an optical illusion."
Piper was a great photography collector and several of his photos are in the exhibit. An autographed photo featuring musician T-Bone Walker accompanies those of a few of the many young people whose first suit or prom tuxedo was crafted by Piper.
Stephen Burrows, who now lives part-time in Savannah, captured the paint box colors and form-fitting disco shapes (with instructions to wear without underwear) better than anyone else in those decades. A photo in the show features Charlie's Angels icon Farrah Fawcett in one of his signature chain mail dresses at the Oscars, seen here.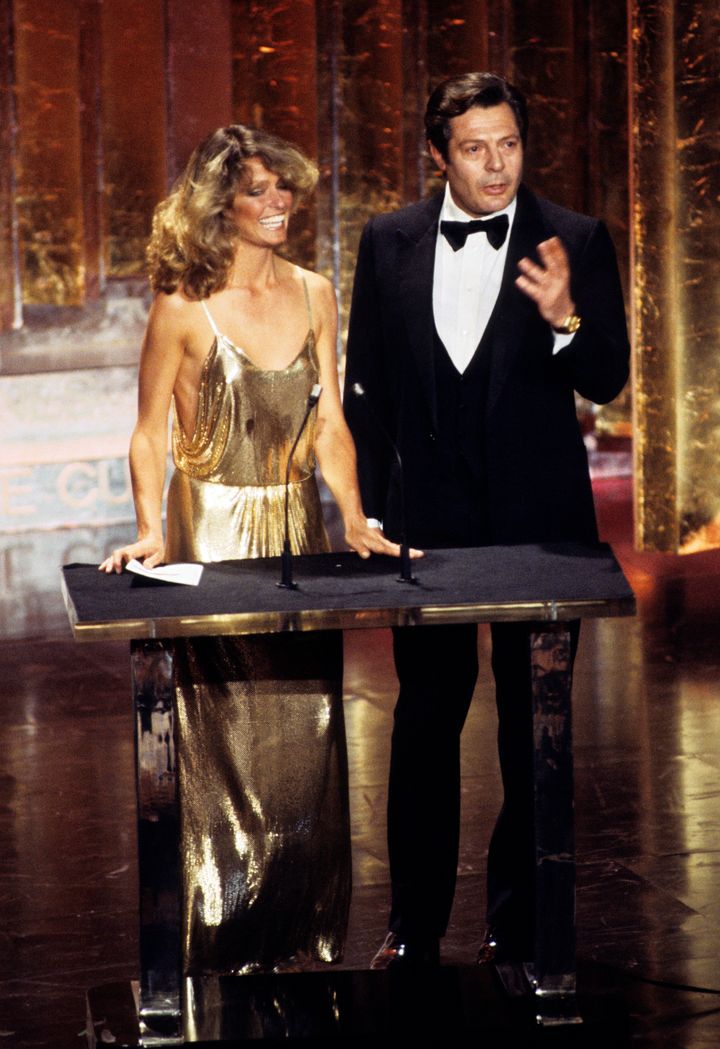 Fashion maven Dorothy Fuller, founder of Chicago's Apparel Industry Board, was a close friend of Kelly, Smith, and Burrows and invited them to Chicago often. Each appeared in the Ebony fashion shows staged here and around the country.
Pushor describes herself as the physical caretaker of all the items in CHM's massive collection, started in 1920, including jewelry, socks, hats, and even Stan Mikita's hockey stick. "I am a generalist," she says. "If you can wear it, I can take care of it."
She told us how the exhibition came about: "There are, of course, lots of people who work on an exhibition, including directors and vice presidents, no curator goes rogue, but here's how it began.  During the pandemic, I was seated at the kitchen table going through and cleaning up my data and cataloging parts of the collection. I realized that past exhibits have dealt with the 1920s through the 1950s, with lot of evening dress, but here were decades we hadn't done, and an opportunity to show four pieces of men's wear as well. The accompanying stories we tell are snippets, like appetizers, which we hope will tempt viewers to go into more depth about the designers."
Treasured Ten is open now through January 16, 2023, at the Chicago History Museum. Visit chicagohistory.org for more information.